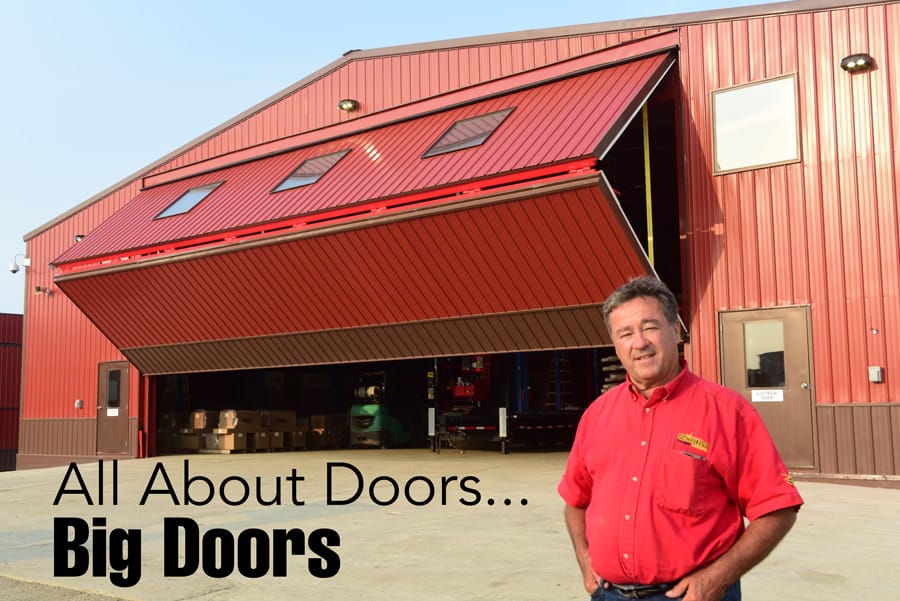 A Minnesota farmer turned manufacturer, Mike Schweiss, is known as one of the world's leading makers of bifold and hydraulic doors used in agricultural, industrial and commercial buildings.
Mike Schweiss, of Hector, Minnesota, is one focused individual. Rather than devoting time and energy to a wide variety of activities and undertakings, Mike finds fulfillment in two areas of interest - doors and horses. From his point of view, everything else is pretty much a diversion. It's been that way for much of his adult life.
Doors are Mike's first passion. "I just can't stop thinking about them," says the 68-year old. "From the time I get up in the morning, until when I go to bed at night, doors are on my mind."
Mike's obsession with doors is a good thing. He's the founder of Schweiss Doors, one of the world's premier manufacturers of bi-fold and hydraulic doors. If you've spent any time around large farm shops, airport hangars, truck company warehouses, or storefronts in upscale shopping malls and restaurants, you've likely been up close and personal with one of Mike's doors. Schweiss Doors are in place in facilities throughout the U.S. and Canada, as well as in countries in Europe, South America and Asia.
Getting into the business
Doors weren't on the radar screen for Mike early in his working life. After graduating from high school in 1971, he worked on the family dairy near Hector, a small farming community located about two hours west of Minneapolis/St. Paul.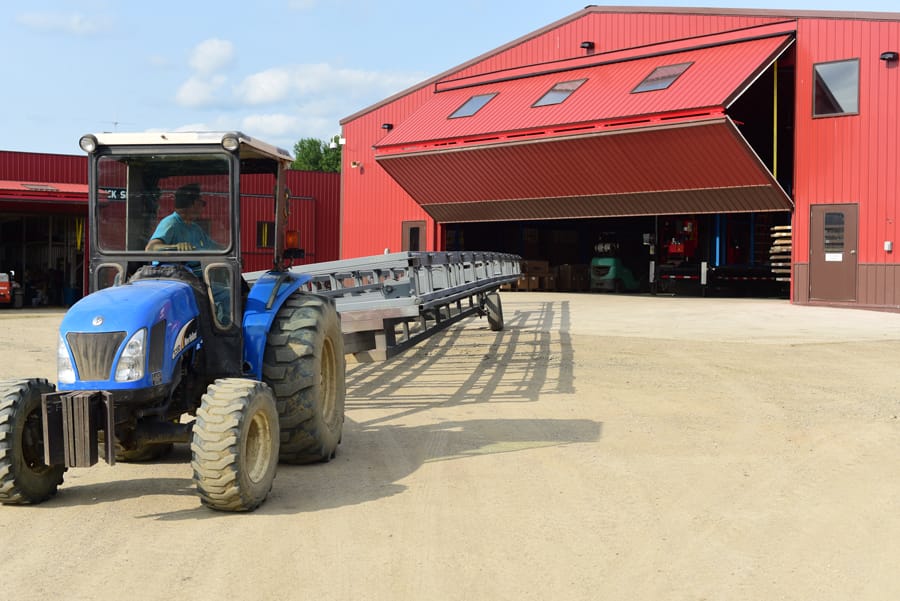 The window design on this bifold liftstrap door allows a good amount of natural light into the building.
To supplement his income from farming, Mike began making mechanical chicken pluckers in his spare time. "The income from farming wasn't all that great back then, and I wanted some extra spending money," he explains.
Over the next several years, Mike started branching out and manufacturing hog farrowing crates, farm trailers and a dozen or so other ag related items. By the time a major drought arrived in his part of the country in 1976, he was man aging three full-time employees. "I decided to get out of the dairy business and concentrate on making things," he relates.
The moment that changed Mike's life forever came about in 1980. "I was at a wedding dance and a friend came up to me and said, Mike, you're good at making things. Why not make a bi-fold door?'' And I said, 'What's a bi-fold door?'"He told me to come and see him the next week so he could fill me in. An hour and a half later, he died of a heart attack on
the dance floor. I couldn't stop thinking about his idea."
A few months later, Mike made his first door - a 14-foot x 14-foot unit - for a utility shed owned by the local county highway department. "I built it wrong every which way," he says. "But it was a start. I ran an ad in the paper and waited for the phone to ring. After that, it was one sale at a time."
Throughout the 1980s, Mike zeroed in on making his bi-fold doors for farms and agriculture-related business. To differentiate his doors from competitors' products, Mike designed a system that relies on nylon straps rather than cables for operation. "I was familiar with farmers and what they wanted and needed because I was a farmer myself," he says. "It was a natural market for me to get into."
Opening doors to new markets
In 1990, the business took a major turn when a friend invited Mike to tag along on a trip to the Experimental Aircraft Association's annual airshow in Oshkosh, Wisconsin. "I went over and met aviation people from all over the world. I started making doors for air plane hangars and the business took off to another level."
Mike continued to develop new markets over the next two-plus decades. Truck warehouses became major customers for his doors in the mid-1990s. He also began making designer doors featuring large glass panels for shopping malls, restaurants and other commercial buildings.
Today, Mike figures about 50 percent of his business comes from the agricultural sector, while 30 percent comes from aviation. The remaining business is split between trucking facilities and the designer door market."It works well to have a variety of markets," he says. "For example, when things were turning soft in the aviation industry in 2009, things in agriculture were starting to pick up. It keeps things going along on an even keel."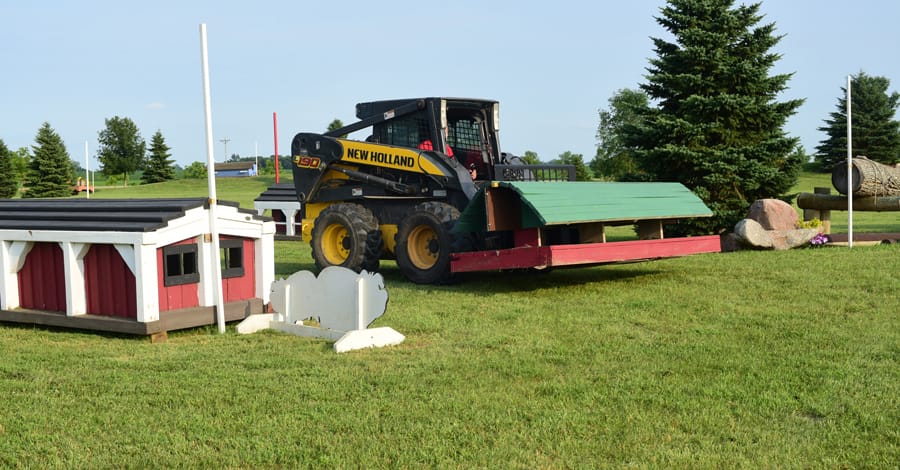 Schweiss skid loaders are used to maintain the cross-country equestrian course and are also used in the door factory.
Ongoing innovation
Coming up with new products is an ongoing challenge for Mike and his 60 to 70 employees. As an alternative to bi-folds, the company also offers a full line of hydraulic doors, which operate off of two cylinders rather than nylon straps. "The advantage (with the hydraulic doors compared to the bi-folds) is that they take up a little less headroom," says Mike.
Other innovations that Mike is particularly proud of include coming up with an automatic latch for his bi-fold doors and developing a do-it-yourself kit that allows customers to buy parts and components to build their own doors.
More recently, the company started a sideline enterprise to retrofit 40-foot steel shipping containers with designer doors (one on the front and one on a sidewall). The units can be used for a variety of purposes ranging from home offices to hunting cabins. "They're great for farm storage too," says Mike. "You can use them to store seed or chemicals or sprayers and other small equipment. The door makes it easy to access everything throughout the whole container."

New Holland tractors are used to mow the grounds adjacent to the door manufacturing facility.
Looking back on how his industry has evolved over the last 35 years, Mike points to the sheer size of doors as the single biggest change. "When I was just getting started in the agricultural market, a 20-foot (wide) door was pretty common. Then I pushed it to 24 feet, then 30 feet, and then 36 feet. Now a 40-foot wide by 18-foot tall door is pretty common on farms. And we're starting to see a lot of 50-footers too. Farm equipment just keeps getting bigger and bigger."
The same is true in the other indus tries Mike services. In 2015, he shipped his biggest door yet, a 94-foot x 62-foot door, to SpaceX, a privately-owned space exploration firm in Hawthorne, California.
"It all comes down to innovation," says Mike. "We try to make our products better every day. We're always dreaming up new ideas and trying to find a better widget."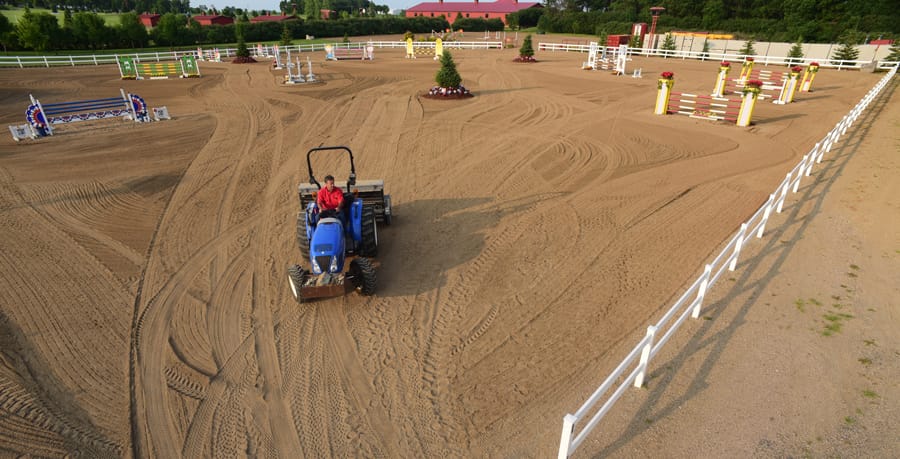 The Stadium Jumping arena is well-groomed before and several times during the competitions that often bring in more than 150 riders from throughout the United States and abroad.
Horse facility built
When Mike isn't thinking about doors, his attention turns to horses. He and other family members (wife, Julie; daughters Brooke, Autumn and Lark; and son, Sky) manage Magister Equitum Stables, a horse stable and training facility located on 100 acres adjacent to the door manufacturing facility. Featured on the grounds are a stable with room for 234 horses, two jumping competition stadiums, a cross country course, an RV campground, and a food stand.
Each year, the stable hosts two, two-to three-day competitions that draw in upwards of 150 horses and riders from around the U.S. "It's a lot of work," says Mike. "But it's something we can do together as a family We all really enjoy it."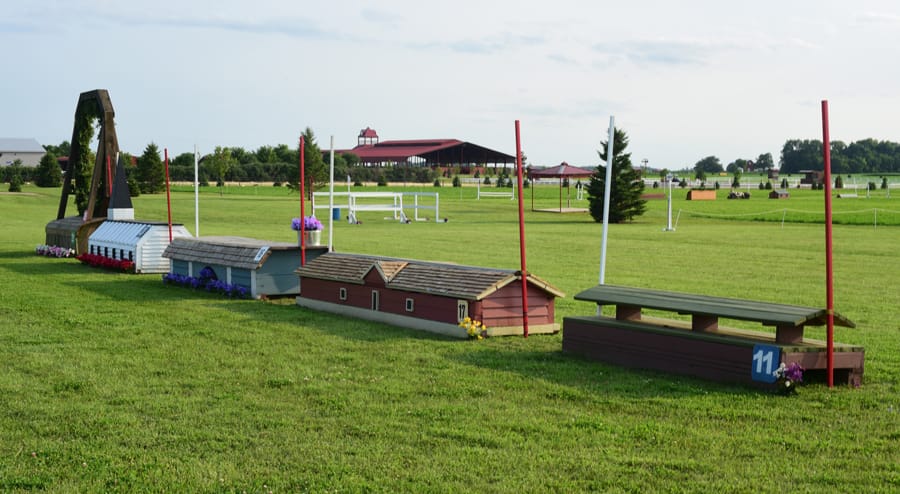 Some of the 25 or more jumps on the horse cross-country competition grounds.
Blue tractors do the work
An extensive line of New Holland equipment plays an important part in both of Mike's preferred undertakings. For the door business, Mike uses several New Holland tractors and loaders for snow removal during the winter months. He also uses the tractors to move trailers loaded with door frames between buildings at the manufacturing plant. For loading doors for shipment, he relies on four New Holland skid-steer loaders.
In the horse enterprise, Mike uses his tractor fleet, which includes two New Holland Boomer™ compact tractors for mowing grass and grooming the dirt surfaces in the stadiums. The skid loaders come in handy for moving jumps and obstacles on the cross-country course.For putting up hay on 50 acres, Mike has a New Holland windrower and small square baler.
A solid working relationship with his dealer goes a long way in explaining Mike's preference for New Holland products. "They're located about 45 minutes from here and they're absolutely great to work with," he says. "It's all about service. If we have a question, we can call them and we'll get an answer. If something needs fixing, we know they'll take care of it right away."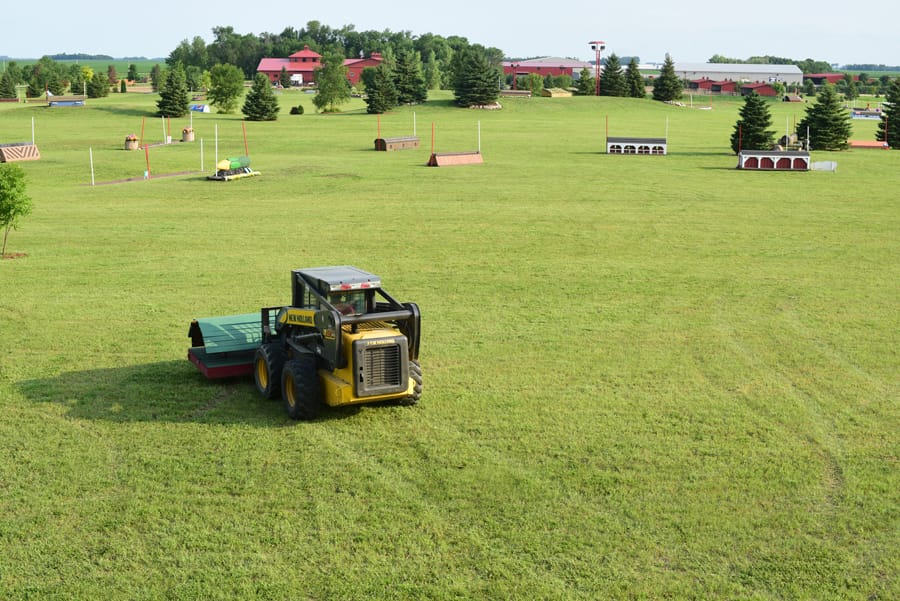 A 230-horse stable, office, loudspeaker system, judging towers and restaurant are on-site at Schweiss Magister Equitum Stables for easy access for riders and public viewing during equestrian events.