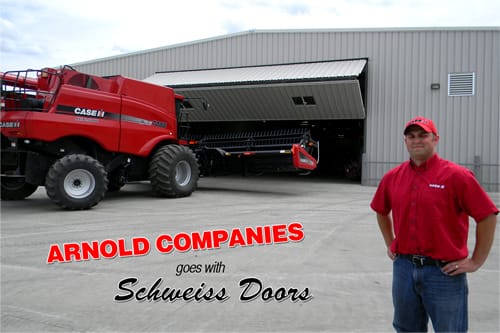 Multiple Stores Key to Farm Equipment Growth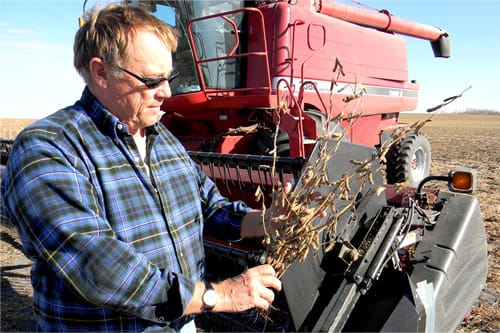 Consolidation is that aggressive word which has been enveloping agricultural business for several years now. In simple terms, it results in fewer but bigger. And that certainly is the recent history of the farm implement business, which used to pride itself on having eight, 10, even 12 or more dealerships per county. Today three or four farm equipment dealers per county is more the usual. But ownership of farm implement stores today often includes multiple locations throughout an entire state.

Arnold Companies, Inc., headquartered in Kimball, MN is a prime example. Besides its 'corporate headquarters' in Kimball, population 746, Arnold Companies also has farm stores in Willmar, Glencoe, St. Martin, and Mankato plus its newest store under construction in Alden, just east of Albert Lea off I-90 and approaching by the Iowa border.

Offering the Case-IH line, the Kimball dealership was established in 1958 as part of a family business entity founded by the Dingmann Hardware Store, which dates back to 1940. Today, owners and brothers John and Peter Arnold share the responsibilities of this six-store corporation. John joined the family business in 1980 just prior to those hectic years when farm income plummeted, interest rates soared into the 20 percent range, and many of farmers were closed out by their local bankers. Peter joined the company in1988 and has managed dealerships in Litchfield and Glencoe.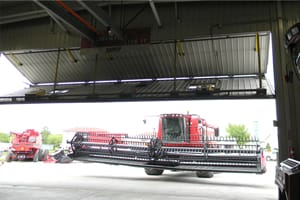 "We've survived because of the diversified agriculture around Kimball. Also, we're close enough to the Metro area so part-time farmers also had work in the cities," said John Arnold, who was interviewed at his Kimball office.

Is loyalty still a key factor in the farm implement business? The Arnold Companies locations service some third-generation farmers. Arnold explains, "We've got great people at our stores. That's key to long-time customer loyalty. But obviously the quality of your farm equipment also drives your customer base from one generation to the next. There's lots of good iron out there today. We've been fortunate to get into some strong markets with dairy farmers because we are the exclusive retail dealer of the Claas forage harvesting equipment in Minnesota."

Is the Internet today a big factor in selling farm equipment? Arnold responded, "It's having a huge impact in the farm equipment industry. People are on our website continuously, or using the different links we have in trade publications, farm magazines, and Tractor House, which features equipment on a daily/constantly-changing web page. So, a good number of our products get sold through the Internet. However, although it may have started with that initial computer search, eventually they make it to an Arnold's store." www.arnoldsinc.com is the traffic vehicle.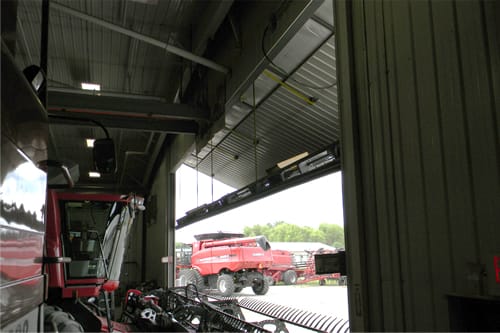 He indicated some of their Case-IH equipment now moves across state lines after first being located on the the Arnold Companies website. But obviously customers from the local trade area of each Arnold's store are key to their business success. And because the stores are located in higher population rural areas, lawn and garden equipment also draws the "non-farmers." Even the company's toy and clothing category attracts attention. People through the front door are basically what this business is all about," said Arnold.

GPS technology is everywhere in the farm equipment business these days. "Every tractor and combine, even crop sprayers, are factory wired providing the capabilities to be GPS driven. We also do retrofitting of older equipment so that it can be GPS driven also."

The Arnold Companies currently have four employees trained and dedicated to providing service and education on what Case-IH calls Advanced Farming Systems. This also involves RTK radio towers set up within their various trade territories which provide the electronic communications needed to power GPS Auto Track and other technology programs.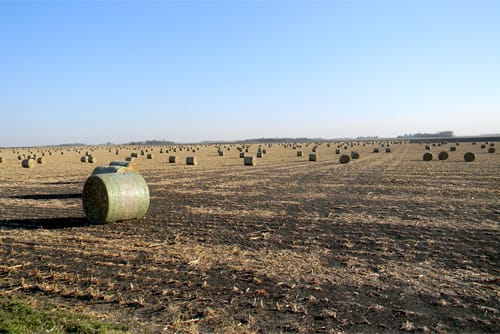 With 30 years of selling farm equipment how does Arnold view the difference of running a farm store today versus 1980? "It's a much more complicated industry," he said. "Equipment is much better, and bigger, and will do more things. But that's partly because a farmer's expectations keep expanding. And that's why I'm proud of our technicians at our various stores. They know how to meet these demands." The Arnold Companies employ nearly 165 people at its five store locations.

Farm equipment costs big money these days, often crowding that half-million dollar level on certain tractors and combines. But thanks to a thriving American agriculture, revenue keeps increasing for the Arnold stores. Nationwide, tractor sales were up 4 percent last year; combine sales up 6 percent. Case-IH offers its own in-house credit plus there are several financial firms eager to provide financing for customers wanting to upgrade their machinery lineup.

At Arnold's of Mankato, General Manager Brent Mueller said their average size row-crop tractor is now about 300 hp and for the 4-wheel drive its 535 hp. In combines, the Class 7 at 325 hp and the Class 8 at 450 hp are top movers but this store also sold several Class 9 units which are 485 hp or greater. Indicative of the tremendous capability of modern equipment, Mueller mentioned two partnership-farmers who purchased a 36-row planter last spring, hitched it to a Case-IH Quad Track and planted 5,000 acres of corn and soybeans in four days running 24 hours per day!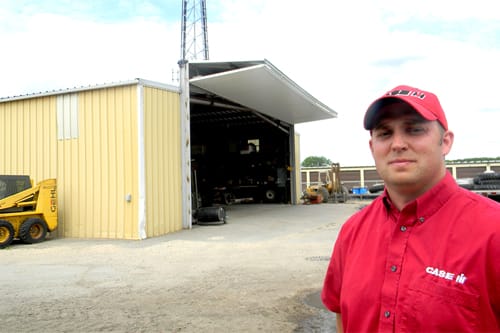 "Their objective was to minimize variances in their several fields so they could complete all spraying at one time," said Mueller. "This also this let them do all their nitrogen work in one time frame. Plus it helped calenderize their harvesting. They could pick and choose their fields rather than spreading out the harvest over a longer period."

He said 98 percent of their sales are "auto guide"- ready and functional to go. Combines, tractors, and almost all planters sold at the Mankato store go out wired ready to use GPS technology. Yes, this technology costs money. Mueller says you can figure about an additional $15,000 for your base system including color monitor. Also many farmers now use cell phone access to RTK rather than pay the fees to tie into an area RTK tower system.

A continually growing U.S. agriculture has been rewarding to the farm equipment industry, Arnold acknowledged. "The past five years have been good years for us. It's a competitive business but great opportunities too," he said. "Despite some squeezing in the dairy and livestock industries, cash grain farmers are coming off a surprisingly strong year. Agriculture will continue to be a major player in our state and national economy so we're pleased to be in a business that serves this exciting and dynamic industry."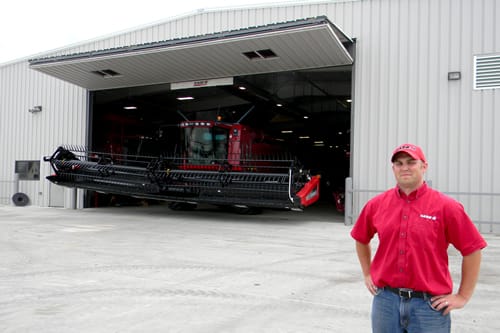 With many older farmers in a transitional phase with a younger son or son-in-law, Arnold noted that today the "deal-maker" on a new piece of machinery is often the younger member of the team. "Dads are stepping aside because they know it's just a matter of time and prefer instead to become 'good helpers' to their sons or sons-in-laws," he explained. "The successful farmer-fathers know how to make that transition so that both ends of the partnership are okay."

Relating to his own stores, Arnold says good used equipment always has a market. But it may require moving that particular equipment to another store location. With this farming transition to fewer but bigger farmers, will more stores be in the future of the Arnold Companies?

"We've done a good job with our expansions to date. So if future success suggests another store, I suspect that could happen," he said. A growing marketing tool for the Arnold Companies is "hands on" field events. For example, tillage demos held at various Arnolds outlets are always popular. Farmers actually drive various tillage tools and see first-hand results. "With more residue issues on continuous corn, farmers are looking hard for what works best," notes Arnold.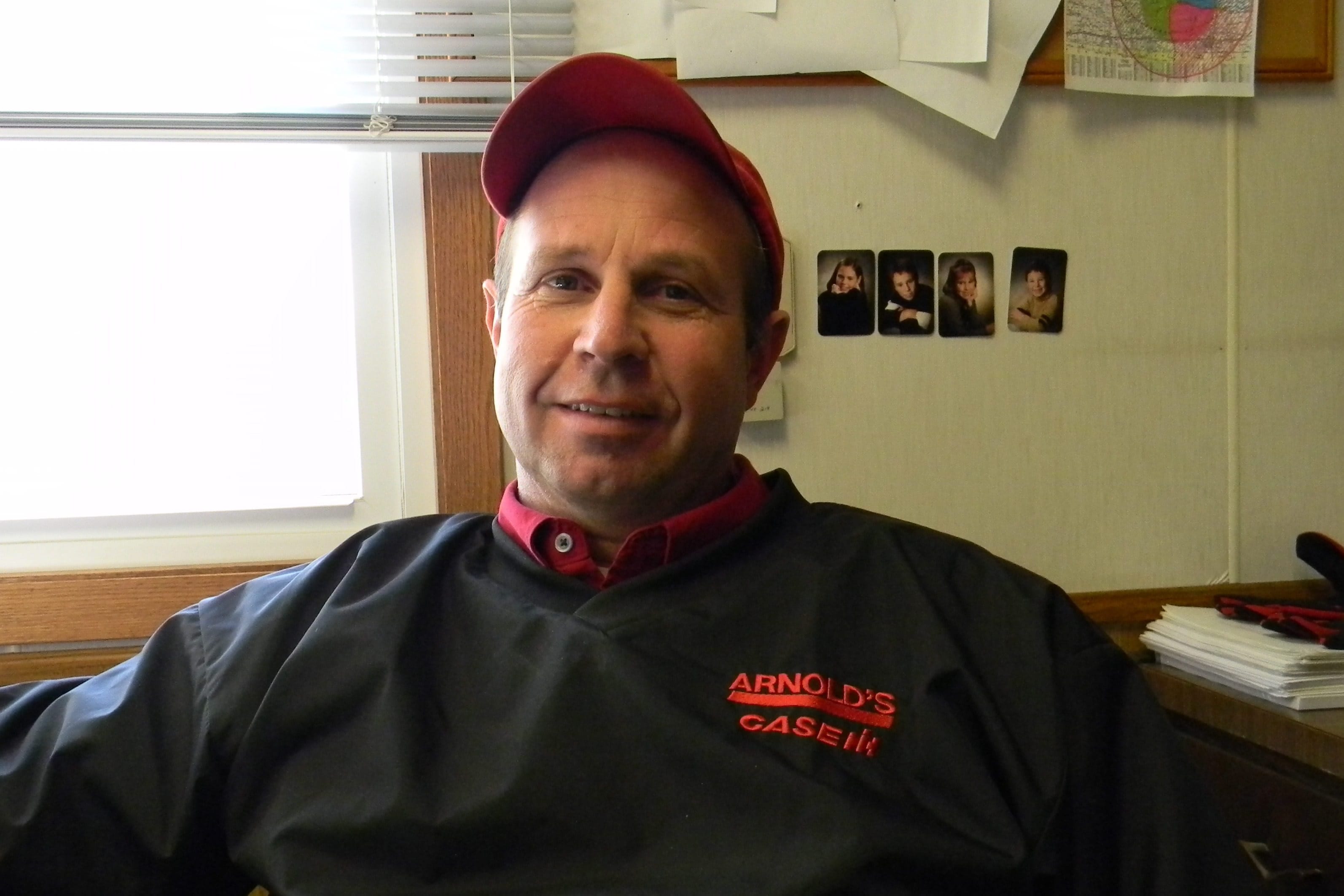 As expected, Case-IH brand equipment is the primary revenue stream for the Arnold Companies. The Claas Forage Harvester is number two and three. Perhaps surprising, is the Drago chopping corn head built in Italy. Not so surprising, however, is that Kubota now ranks number four in revenue generation. With a variety of small tractors and ATVs plus various attachments, loaders, etc., Kubota has wide appeal to the Arnold Compaines customer base and definitely builds traffic in their stores. Perhaps adding to the appeal of the Drago corn head is the fact that it is interchangeable with John Deere, Gleaner, New Holland or even a Massey combine unit.

Other vendors share in the growth of the Arnold Companies Inc. A good example is Schweiss Manufacturing in rural Fairfax, MN. This firm builds both bifold and one-piece hydraulic doors for a nationwide market. A few years back, the Arnold Companies selected Schweiss bifold doors for two buildings at the Kimball location. Subsequently, Schweiss doors were also installed at their Mankato, Glencoe, and Willmar stores plus the new store in Alden. "We didn't want to go with a rollup door for something that big. Schweiss has been in the door business for a long time so we knew their doors were dependable. Our Schweiss doors have functioned just fine so we're very satisfied going with Schweiss."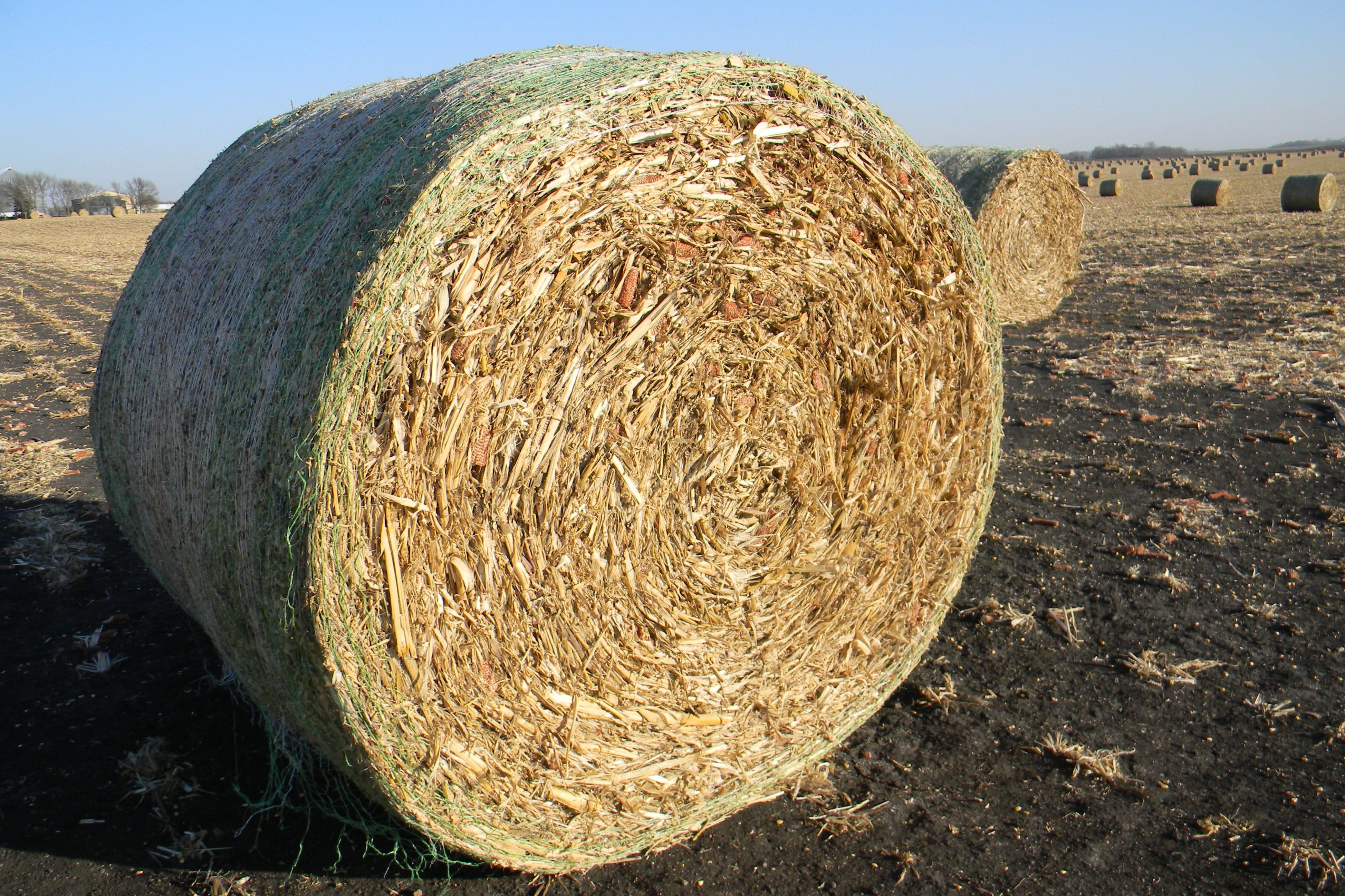 These Schweiss bifold doors are big measuring 40' wide by 18' tall. As farm equipment keeps expanding in size, bigger doors have become a must for farm equipment dealers. These doors easily handle 35' headers, 12-row cornheads, and big planters. "We insulated the shop door and had two windows installed for safety/visibility. With that unique lift-strap mechanism, these big doors open and close quickly. Our shop technicians think this door is the greatest," said Mueller.

Leasing of farm equipment is a small revenue stream at the Arnolds locations. Just too many business complexities get in the way. But a growing trend are farmers who "trade up" every year regardless. Always being on the front end of technology and accessing the latest warranties are partially what drives this, says Arnold.

In concluding the interview Arnold gave credit to the quality of the people he works with as key to the success of the Arnold Companies. Age is not a factor with his employees. "If they're doing their job, they can stay on indefinitely as far as I'm concerned," he said. "We appreciate people who want to work with us so its management's job to share our respect for their loyalties and good work. Being a growing company inspires people to stay with us. Growth energizes all of us and presents more opportunities as well."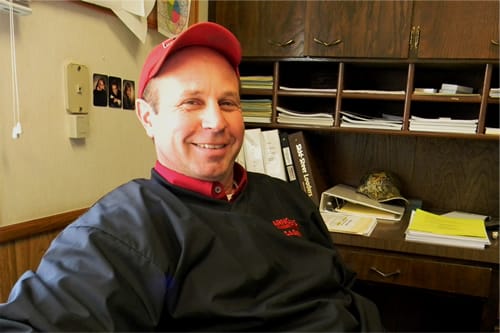 When asked if Minnesota is a good business state, Arnold was forthright. "It's a good place to live," he said "Minnesota has a lot to offer. Do I like to pay taxes? No. Does anyone want to pay taxes? No. But Minnesota has an exciting business environment that can be very rewarding."