Duffie Boatworks, at White Marlin Capital
of the World, expands with bifold doors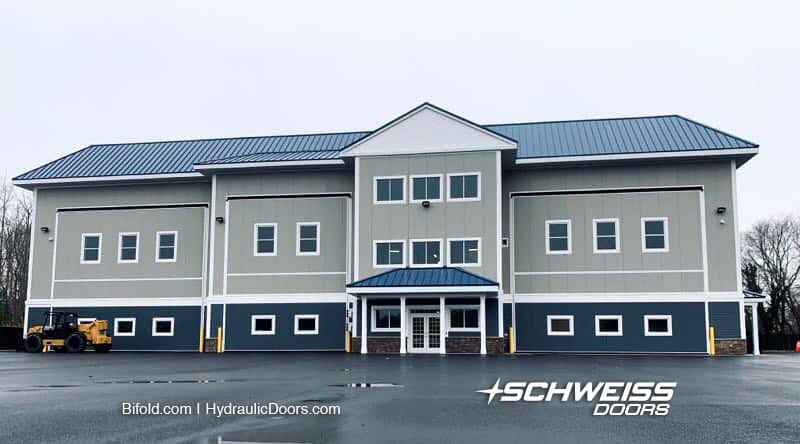 The newly expanded look at Duffie Boatworks in Ocean City, Maryland includes a two-story mezzanine totaling 7,500 SF, which houses 3,500 sq. ft. of office, conference, and support space as well as 4,000 sq. ft. of additional storage and shop spaces. Two very attractive 35 ft. x 28 ft. bifold strap doors and one 25 ft. x 28 ft. bifold are mounted on the outside of the building.
Ocean City, Maryland is well known as the White Marlin Capital of the World. Every year, the angler who catches the first white marlin of the season out of the Ocean City Inlet - usually in May or June - has a chance to win up to $15,000 in prize money.
Summer is one of the most popular fishing seasons in Ocean City, due to the warmer water temperatures, which attract all kinds of fish, including sharks, bigeye and yellow fin tuna, sea bass, flounder, wahoo and marlin.
At this ideal resort town location between the Atlantic Ocean and Isle of Wight Bay, where surrounding waters are active with kayaks and tour boats, is the premier Duffie Boatworks fishing yacht building business.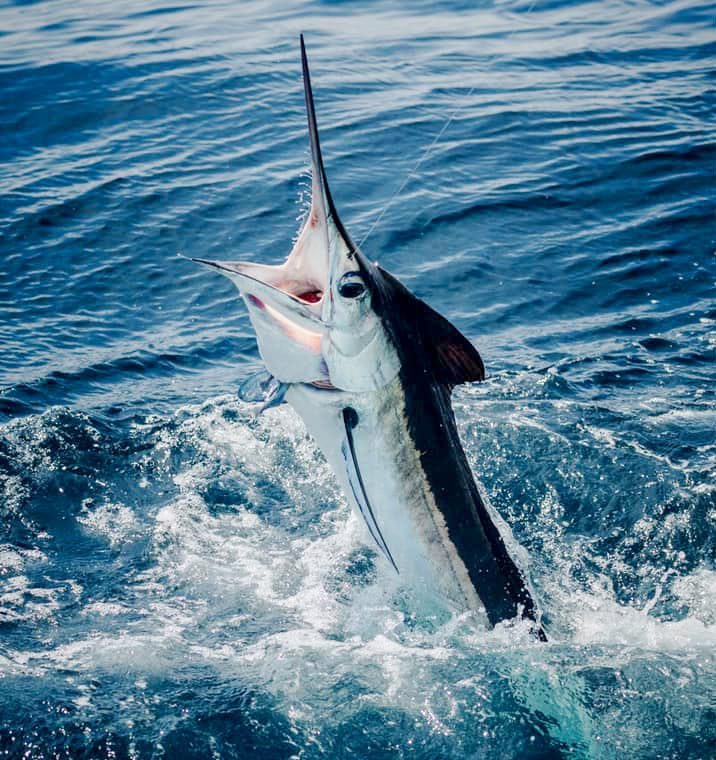 Ocean City, Maryland is well known as the White Marlin Capital of the World. Every year, the angler who catches the first white marlin of the season out of the Ocean City Inlet has a chance to win up to $15,000 in prize money.
Jon Duffie, owner of Duffie Boatworks in West Ocean City, was born to build boats and has been on the water since he was two years old. By the time he was 16, he was completely comfortable navigating and running any vessel from a skiff to a large sportfish. Since Duffie turned out his first boat he has since expanded its facilities with a new 30,000 sq. ft. building.
On that building are three Schweiss bifold doors; two are 35.1' x 28' and the other is 25.1' x 28.' Each door has four large attractive windows with gray liftstraps, autolatches, electric photo eye sensors and an emergency back-up hand crank for use in case of a power outage. The doors are windrated for 128 mph and were ordered through Jeremy Duffie at Consolidated Commercial Services in Silver Spring, Maryland.
Henley Construction Company, Inc. of Gaithersburg, Maryland provided pre-construction services, assisting with the coordination and adaptation of a Butler Manufacturing Blue Scope metal building to the specific needs of this unique facility. Vista Design Inc. architects of Showell, Maryland, helped to forge Duffie's unique vision into an attractive and highly functional manufacturing facility for custom boat building.
The structure includes a two-story mezzanine totaling 7,500 sq. ft., which houses 3,500 sq. ft. of office, conference and support space as well as 4,000 sq. ft. of additional storage and shop spaces. The mezzanine levels are serviced by a three-stop elevator and a three-stop material lift platform, as well as three runs of stairs.
The buildings three boat manufacturing bays, totaling 18,200 sq. ft., utilize a dual overhead rail crane measuring 75 ft. wide by 140 ft. long, with a lift capacity of 50 tons. Overhead clearance in the manufacturing bay is approximately 34 ft. skylights provide natural lighting into the space. The facility displays a blue standing seam mansard roof with attractive texture wall panels, complimentary lap siding and stone wainscot walls.
"Our boats take about 18 to 24 months to complete. These are big boats that we are making now; they are handmade, 60 feet and above, not production boats coming out of a mold like a Grady-White, Wellcraft, Mako or Boston Whaler that are made in about a week. This type of boat building doesn't lend itself to smaller boats," said Ted Spengos, Duffie Boatworks building project manager.
They wanted their first large sportfishing yacht build to capture the look of classical Carolina boat designs. It features a proud bow, aggressive stem, and enough flare to provide lift when crossing a breaking bar or charging into a steep head sea. The Duffie 63' features a teak interior with a satin finish built by Belkov Yacht in Annapolis MD. She has three staterooms and three full heads along with a tackle room with an 8 cubic-ft. freezer and many other amenities. Its cockpit is laid out for tournament fishing and is powered by two C-32 Acert Tier 3 Caterpillar inboards producing 1,925 h.p.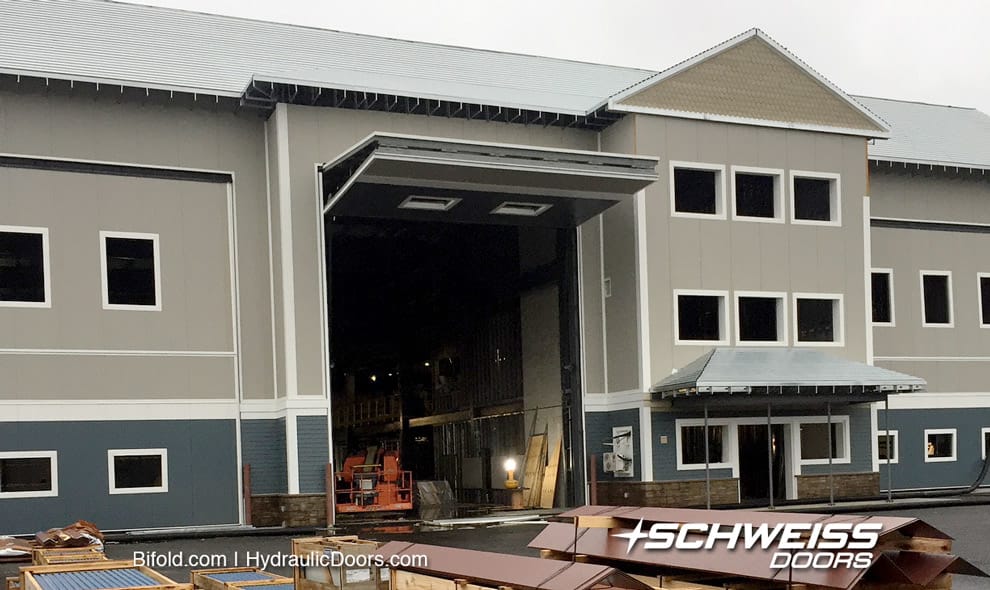 High clearance bifold liftstrap doors give tall tower and antenna fishing yachts easy access in and out of the production facility. The mezzanine levels are serviced by a three-stop elevator and a three-stop material lift platform, as well as three runs of stairs.
Duffie Boatworks
Having been born into a family of boaters Jon Duffie, owner of Duffie Boatworks in Ocean City, Maryland was born to build boats and has been on the water since he was two years old. By the time he was 16, he was completely comfortable navigating and running any vessel from a skiff to large sportfish models.
Duffie was fortunate to grow up in Ocean City during the peak of the sportfish charter industry. Always willing to work and learn from anyone that would offer their time, he quickly gained a reputation as a good captain. As his fishing experience grew so did his knowledge of boats. He learned how the design and layout of a boat is critical to being able to perform proper maintenance and how this goes hand-in-hand with better fishing performance and ease of use.
Throughout his career of charter fishing and fishing the tournament circuit, Duffie has overseen numerous custom builds and re-fit projects with some of the best boat builders in the industry. Every project completed has led Duffie further down the path to becoming a boat builder. Years of traveling from the Northeast down the East Coast, throughout the Caribbean, Mexico, Dominican Republic, through the Panama Canal, and venturing into the Pacific putting thousands of miles behind the wheel of a vessel have given him a broad knowledge base. All of these experiences on the different boats that Duffie has had a hand in the design from the keel up have helped shape his desire to take the next logical step in his career and transition from a boat captain to a boat builder.
Marlin and tuna don't have useless appendages. Every part of their being is purpose built. From head-to-tail, it's all business. From stem-to-stern, so are Duffie Boatworks custom-made watercraft.
Additional services provided at Duffie Boatworks include: Repowers/Refits, teak installation, electronics and gyro installation, basic maintenance, bottom paint and metal work.
Duffie Boatworks is located at 9741 Stephen Decature Highway, Ocean City, Maryland. Phone: 240-372-8117. www.duffieboatworks.com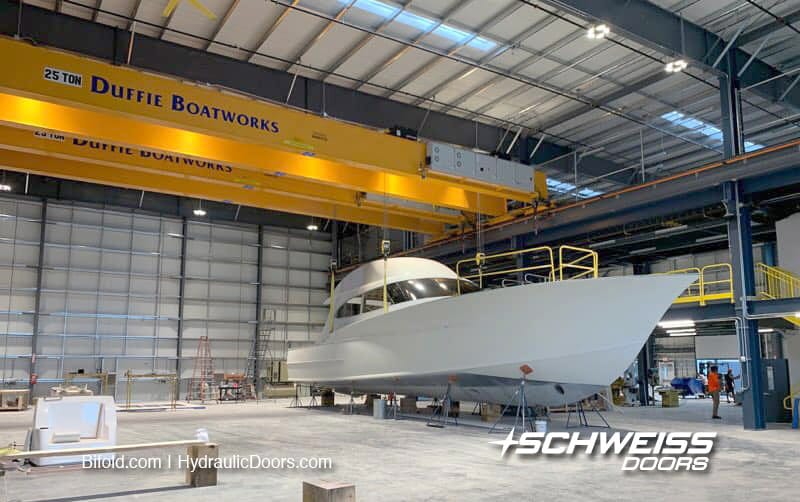 Three manufacturing bays, totaling 18,200 sq. ft., utilize a dual overhead rail crane measuring 75 ft. wide by 140' long, with a lift capacity of 50 tons. Overhead clearance in the manufacturing bay is approximately 34 ft.
Consolidated Commercial Services
Established in 1993, Consolidated Commercial Services (CCS) is a locally owned and operated facilities maintenance services company located in Silver Spring, MD. Serving the greater Washington, DC Metro area, CCS serves a variety of multi-family, commercial, and federal properties including single units, buildings, and communities.
CCS offers a wide range of facility maintenance services ranging from snow and ice management to general contracting procedures such as painting, flooring, and excavating. They offer 24-hour immediate assistance for emergency services as well as planned preventative maintenance. During winter storms and severe weather emergencies, they provide snow removal efforts for clients across the country. Whether you need to proactively address general wear-and-tear maintenance on your property, or your project requires major restoration efforts, their expert team will provide a solution.
For over a decade, Consolidated Commercial Services has been the go-to resource for commercial property/facility managers looking to get the job done with competence, honesty and community in mind. Call them for an estimate on maintaining your property.
Consolidated Commercial Services is located at 57 Randolph Road, Silver Spring, MD. Phone 301-370-4985. www.concomservices.com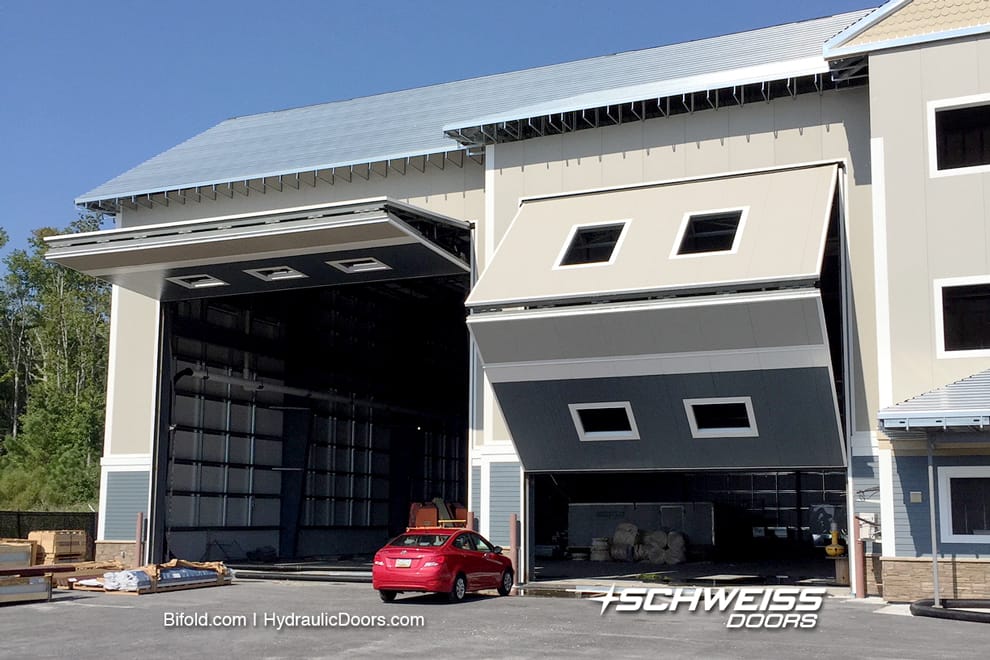 Large attractive windows on each bifold door provide natural lighting into the building space. The finished 30,000 sq. ft. facility displays a blue standing seam mansard roof with attractive texture wall panels, complimentary lap siding and stone wainscot walls.
Henley Construction Company, Inc.
Henley Construction is a family-owned contractor, where employees and clients are like family. They create quality projects through proactive solutions, experience and personal attention, because where they live and work matters.
With a strong belief in the importance of teamwork and communication, Henley Construction has had the opportunity to develop strong and trusting 55-year relationships with the area's top subcontractors and project owners.
As a General Contractor, Henley Construction brings team accountability and respect. There is a certain level of loyalty and cooperation among all participating parties. Their subcontractors assist them in supporting both the industry and clients they serve to grow and achieve their dreams. The Design-Build process with Henley Construction, allows the project team to provide insights into the costs and constructability including estimating, preconstruction, architecture, schematics, engineering, subcontracting, construction, and post-construction. Henley Construction also has the ability to self-perform demolition, excavation, concrete and carpentry.
All elements of the project work, in coordination with other members of the project team, promote high levels of communication and transparency, both imperative to the success of the project.
Henley Construction follows the current industry standard for sustainable construction, LEED, which has been the standard since 1994. They promote a system of sustainable construction that goes beyond minimum building codes to ensure that new buildings will not only be functional today but will be sustainable into the future, energy efficient and made from responsibly sourced materials.
Henley Construction is honored to have been awarded Best General Contractor Local/Regional. This award is highly recognized by the subcontractor community. Since 2014 and for six years running Henley has earned National Associate and Builders (ABC) Step Awards at Gold and Platinum levels.
Henley Construction Company is located at 7940 Queenair Drive, Gaithersburg, Maryland. Ph. 301-417-1006. https://henleyconstruction.com
The addition of a large 80 ft. x 150 ft. marina service building with its large 62 ft. x 60 ft. tall Schweiss bifold liftstrap door and 330 metric-ton self-propelled Marine Travelift is part of a 38-year business plan for Phineas Sprague, Jr. and his wife Joanna, who founded Portland Yacht Services in Portland, Maine in 1981. The expansion was done with his customers in mind.
That list of customers numbers around 12,000, many of whom return once every three years to have their boats serviced. Sixty percent of the boats hauled in by the Travelift are for commercial use.
"The goal was to create a shipyard for my harbor that will last a long time after I'm gone. The building, the bifold door and the Travelift were designed specifically to service particular boats of large size that are in the harbor. The opportunity is to save these people a lot of money in what they used to have to do to maintain their boats. Having an expanded facility here in Portland now means they won't have to travel long distances away from home. It will allow them to do the work on their boats in the off-season in a more controlled environment and to make sure the coating systems on their boats last five or 10 years by having tighter control on the environment. As a subarctic State, the ability to haul boats and bring them inside out of the weather and do the work quickly and efficiently is major money in the pockets of the boats that we service," explained Sprague.
"A good example of this benefit would be the value of more working revenue days for our customers. With this work, building the door, we are able to get a commercial boat out of the weather, turned around and back out on the water perhaps a month quicker because we are not waiting for the threshold of minimally acceptable weather conditions. Having the boat ready to work faster translates directly into found revenue. One owner said this performance improvement amounted to $100,000 a week," added Sprague.
Irishspan Industries owner, Dave Fitzpatrick, just completed his fourth project at Portland Yacht Services in Portland, Maine. Two of these buildings have large Schweiss Bifold doors. The marina service building has a 71 ft. tall eave height with a 112 roof pitch. Its 62 ft. wide x 60 ft. tall bifold liftstrap door is the second tallest door Schweiss has ever manufactured during its 40-year history, only second in height to a rocket hangar door at Cape Canaveral in Florida that is 90 ft. wide x 61 ft. tall. Schweiss also has manufactured other bifold and hydraulic doors that have exceeded 100 ft. in width.
The big door, with sheeting, weighed in at 42,415 lbs. and is windrated at 115 mph. For added strength it has one exterior truss and five interior trusses. It is equipped with four 5 h.p. motors, 24 liftstraps and an automatic latching system. Ten windows were installed in the door in order to take advantage of natural light.
Even though this latest door had a clear opening height of 60 ft. tall, Fitzpatrick said it didn't pose any significant problems to install.
"There were a few challenges installing this big door. I leaned on Dave Schweiss a little bit and he was instrumental in helping us get the door to go up straight. The owner of Portland Yacht Services always liked the original Schweiss door we installed four years ago," said Fitzpatrick.
Portland Yacht Services is a full-service yacht repair facility performing repair and refit of yachts, sailboats, commercial craft and government vessels ranging from 20 ft. to 300 tons. Until now, larger fishing vessels, tugs, ferries, yachts and schooners needed to bypass or leave Portland Harbor for service and repair because of Portland Yacht Services limited hauling capacity.
The design criteria for the Travelift, tall bifold door and the new building were the two boats representing the extreme widths, heights and weight in the harbor. The new 300 metric-ton mobile Marine Travelift with a 42 foot width (replaces a 150-ton Travelift) is capable of pulling the many larger boats and yachts out of the water that require repair, painting or maintenance in general.
The 42 ft. inside dimension of the Travelift is designed for the widest boat in the harbor, the Ft. Gaines, which is a landing craft, capable of carrying 22 cars or up to five large dump trucks, heavy equipment and dangerous cargo such as explosives. With this criteria an unexpected market opened up. Portland Yacht Service can also now service some of the wide catamarans and other vessels year-round in their well insulated and heated floor building. The disruption is that prior to this they could only service a boat about 32 ft. in width and the work had to be done outdoors.
The Schweiss tall door opening and building dimensions were designed specifically so the Travelift can drive the largest Casco Bay Lines ferry boat into the building. Casco Bay Lines is a ferry system that provides year-round passenger, freight, postal and vehicle ferry service to the islands of Casco Bay from Portland, Maine.
Getting away from the vagaries of Maine weather is important where historically, in addition to winter months, rain delays especially during the month of June also added unwanted setbacks.
"I think that the ability to produce a bifold door of this size allows the marine industry, in essentially a semi-arctic State, to be able to up the quality and efficiency and competently take care of the boats that have been made more complex by the added struggle with the vagaries of Mother Nature. It's impossible to do an excellent job applying modern coatings to a boat without a controlled environment; weather is uncontrollable, cyclical and a many edged sword when schedule is important," noted Sprague.
Not only will Portland Yacht Service be able to serve a diverse fleet in Casco Bay including commercial fishing vessels, fireboats and pilot boats, ferries and public agency vessels but it will attract vessels from all over the region.
Sprague said he first became acquainted with Schweiss Doors when he contracted Legacy to erect a building for him. They recommended a Schweiss door, but there was a mix-up which didn't enable Schweiss enough time to build the door.
The original recommendation resonated so he ordered a Schweiss bifold door for his next building. In 2014 Irishspan erected a 160 ft. x 180 ft. building for Portland Yacht Services - it has a 50 ft. x 46 ft. Schweiss bifold liftstrap door on it. To date, Irishspan has installed nine Schweiss bifold doors.
Irishspan Industries is well known on the East Coast for its many large and small building projects; they specialize in pre-engineered steel buildings.
"Installation of Schweiss doors is easy and the owners have been happy with them. I like Schweiss doors, they are designed and engineered well and I prefer the liftstraps over cables because they are easier, safer and cleaner looking - it gives you a better feel. The straps have less moving parts and are less vulnerable to potential problems," added Fitzpatrick.
He said he also gets prompt and helpful service from the folks at Schweiss Doors and the doors are delivered on time and in good shape. He'd recommend them to anyone.
"I know what it takes to make a project run as smoothly as possible and number one is communication. I'm very involved in every project," noted Fitzpatrick. "I learned the hard way from my mistakes and I typically don't make the same mistakes twice. I'm involved in construction as well. I understand that it takes more today than 9 a.m. to 5 p.m. to run a business and because of this, you can always expect to hear from me," said Fitzpatrick who runs everything out of his home office.
"I work best with the end-user and negotiated work, shying away from the bid jobs that have a 90-page manual with them. If we come to a situation in the project, we can talk about it and move on. I work with five different building manufacturers and subs so we are sure to put you in the building to best fit your application and budget."
Portland Yacht Services
Portland Yacht Services is a full service boatyard and marina founded in 1981 by circumnavigators, Joanna and Phineas Sprague, Jr. It provides customers with a full spectrum of services for outfitting and maintaining a motor or sailing vessel. The Sprague's take pride in the fact they have never laid a person off in the history of the company. Their dedicated staff of about 40 employees with over 865 years of experience handles major restoration, refits and repair projects to wood and glass boats, including hull, engine, outboard, rigging, and electrical work, and they have an extensive marine parts department.
After graduating from Tabor Academy, an Honor Naval High School, Phineas was in his family coal mines, in the field and trained at Harvard as a geologist and has an engineering and nuclear field background.
"After my grandfather sold the company while I was in college, my world was shaken. I wasn't sure what I wanted to do so I decided that I wanted to sail and see the world - I'm allergic to the land and since six found relief being to windward in a small boat all day every day. It was a natural choice to find a place in the ocean to recover, learn, explore and think. I met my wife in Florida and married her in Bali. The trip was a four year geologic expedition to see all the places I studied and a personal growth experience," said Sprague.
Carving his own contribution with Portland Yacht Services, he still didn't fall far from the tree. His family is related to the founder of Portland and has a saltwater legacy since the 1600s, notably solving the first energy crisis having replaced wood heating with coal by reconnecting New England with the coal in West Virginia. C.H. Sprague & Son was a vertically integrated operation from the mines to the ships to the coal pockets, power plants, factories and homes. Including brief responsibility in WWII for export of all U.S. coal to Europe and in this role ran 50 Liberty ships - a tough record of excellence to run against.
Phineas went on to an ASME N Stamp Cat. 1 specialty steel fabrication company building nuclear power components, got his MBA, decided to stay in Maine, and was luckily asked to put a fender on a Boston Whaler in his garage and found joy. They went from there to build their current business.
Portland Yacht Services offers a full spectrum of services for motor or sailing vessels of any type or size from sales and maintenance to storage. They specialize in helping owners prepare for extended cruising. You can always trust Portland Yacht Service to provide you with worry-free boating 24-7, year-in and year-out. For 20 years, they've been providing state of the art mechanical services, hull repairs, electronic updates, indoor and outdoor storage, interior refurnishing, mast repairs, everything required to keep your boat safe and fun to be around. They can haul yachts up to 300 metric-tons, have a full-service rigging, welding, A/C electronics, fiberglass, paint/varnish, carpentry and cabinetry facility and more.
Preparing a vessel bound for the sea is a serious responsibility, and they adhere to the high standards of American Boat and Yacht Council (ABYC) and American Boat Builders & Repairers Association (ABBRA). Their mission is to guarantee that you can trust them to receive value and enjoyment from your boating experience and that it will always be worry-free. Whether on land or on sea, call or stop by to take advantage of all they have to offer you.
Portland Yacht Services, Inc. and their new One-Stop Service Center is located at 100 W. Commercial Street, Portland, ME. Ph. 207-774-1067. https://www.portlandyacht.com
Irishspan Industries
The story about how Irishspan was formed is an interesting one that Fitzpatrick normally likes to share in person with his clients. He originally spent 25 years in the commercial bread business working for Thomas English muffins. With that career about to end, he was looking to start his own business. In the search he put together a list of prerequisites for a business and looked to see what would fit the bill. With zero construction experience, and halfway decent sales skills, he found one of the only things that fit the long list of prerequisites was selling pre-engineered steel buildings.
"So I got into steel buildings, surrounded myself with knowledgeable people within the industry and started with many hiccups 'Steel Buildings of Maine.' A year later, with a friend of mine who also had his own business, we formed Irishspan Industries, Inc. The name 'Irishspan' came from our heritage; I'm Irish and he's Spanish. We soon found out 'partners' are made for dancing and I now run the business by myself," explained Fitzpatrick.
More than a dozen years later, Fitzpatrick said he is looking at his best year ever.
Irishspan projects include building horse barns, riding arenas, hangars, commercial, retail, government and military buildings to include designing, concrete design and other general contracting work. No job is too big or too small; it takes him anywhere from New York, Vermont, New Hampshire and of course Maine. He has also quoted projects in Wyoming, Texas, Indiana out to the U.S. Virgin Islands.
At Irishspan, you are not just purchasing a building, you are buying peace of mind that the experience will be headache free from start to finish. Past clients and vendors would agree that when Irishspan commits to a project, they can count on them to deliver.
Irishspan is able to take your project from concept to design to erection, easily. They can be as involved as you want them to be or they can just simply provide you the building for your crew to construct.
Past projects include warehouses, horse barns, aircraft hangars, mini storage units and more. From a simple workshop to a commercial / retail building, from 700 sq. ft. to 50,000 sq. ft., no project is too big or too small. They have the experience and the resources to design your building to your requirements in accordance with all state and local building codes.
One of the many benefits of working with Irishspan is their service. From consultation to delivery, erection to punch-list, you will always be able to reach them directly.
Irishspan Industries is located in Arundel, Maine. Dave Fitzpatrick can be reached by calling (207) 229-2092. For more information visit their website at: https://www.irishspanindustries.com
Michigan yacht restoration building is
fitted with bifold and hydraulic doors
M.E. Yacht Restoration (MEYR) of Holland, Michigan finished the second phase of construction this summer on their new 70,000 sq. ft. three-story state-of-the-art storage, restoration and office facility adjacent to the shores of Lake Michigan.
The new fully insulated building also features a Schweiss 47.4' x 29.7' bifold automatic latching liftstrap door and a 45.11' x 34.1' hydraulic door, LED lighting, radiant floor heat, floor drains, 24/7 RFID key card access and a private ramp on the shore of Lake Macatawa. The changes make a transition to and from their beautiful storage/service facility effortless.
"As our business has grown, the boats have gotten bigger," said Mike Evenhouse President of M.E. Yacht Restoration and M.E. Yacht Sales.
Mike said he got started in the boat restoration business around 2001 with his brother-in-law who had bought a boat to fix up that was damaged in Hurricane Andrew. Thinking that was a really cool thing to do, he told him that if he ever wanted to get in the restoration business that he would like to partner with him on it. Mike ended up buying him out shortly after.
"I loved fixing and repairing them, but I was too picky, so when the boats were done they were better than brand new, but they were older boats and I had a hard time recouping my money, boats damaged by saltwater just don't pay," said Evenhouse. "People would see what we did with these saltwater sunk boats and say 'Hey, can you buff my boat or fix the bottom?' I learned so much because I was buying burnt, sunken trash boats, so working on normal stuff was like nothing. We learned the hard way, I always say that was my college education."
Mike said there are marinas all over the place but they don't have the mentality that ME Yacht & Restoration has. What they do now involves more than just buffing and fixing bottoms. An example is a 50' Sea Ray Yacht where they did a $150,000 remodel by gutting out the inside and putting in quartz countertops, teak floors and custom interiors.
"A lot of people don't know about boats. We are almost like a concierge boat service. If a guy is spending a million bucks on a boat, to spend $30 grand a year to have us make sure it's clean, detailed and all the maintenance done is kind of our niche. We build a relationship with people and customers stay with us and refer us to others once we win their trust," noted Operations Manager, Eric Evenhouse.
"Both doors are used primarily for the same purpose, to get boats in and out," said Eric Evenhouse. "Over the years, Mike has learned that clearance is a big issue for getting the big boats in - we wanted to get into a different market with the 70-plus footers. It always seemed that limitations were always height in these big buildings. It gets kind of costly and hard on a boat when you have to disassemble hardtops, electronics and that sort of stuff. This way we can just wheel them in the building and have them stay the way they are. The hydraulic door was put in for more clearance - with it we gained a good four feet. We like the simplicity and speed of the hydraulic door."
When it came time to purchase doors for his new building Mike said he scouted the Internet and was impressed with what Schweiss had to offer.
"At first I assumed the opening would be too big for a hydraulic door and ordered a bifold door. A guy came in here who built cylinders, he showed me photos and said why don't you get a hydraulic door? I called Schweiss and got the hydraulic door. I like the simplicity of the hydraulic door; less is more. I just love hydraulics. Both doors are very strong. I like the robustness of the way they are engineered. People told me to try other manufacturers - but they all wanted to install the door and to do so would have cost me almost as much as the door itself."
"It was a relatively easy install. Mike was in construction for 20 years before this working his way up from a grunt to President of the company. He was actually the general contractor on these projects and we had the tools and equipment to do it. The instructions were straightforward and clearcut - we got it together pretty quick and everything worked like the way it said it should. The speed of it going up and down is quicker than the bifold door. The bifold is a great door; the initial setup took just a little longer. They both work great, they lock nice and tight and keep the warm air in and the cold air out; we haven't had any problems with either one and the doors arrived on time and in good condition."
"You guys were alway great about getting back to me and giving me answers or making me feel comfortable about how we were doing it. Your instructions were awesome. I took everything one step at a time. Once you install a door . . . if we had to do it again it would be a snap."
As the boating season opens or comes to an end boaters trust MEYR and its 17-plus employees with the ability to retrieve, transport and work on or store their yachts at this enlarged modern facility that got its start back in 2002. The new unique business lies on 16 acres on the former BASF property between Douglas and Howard Avenue. In order to get the site ready for building, Evenhouse had to clear and crush 20,000 to 25,000 tons of concrete foundations left behind by BASF, the former owners.
The new building allows enough room to keep all boats indoors, whether they are waiting to be worked on, being upgraded, cleaned or repaired or are about to be tested in the waters of adjacent Lake Macatawa which connects west directly to Lake Michigan. Depending upon the size of boats being stored they now have about double the amount of storage space over last year, which can amount to about 100 boats.
Their hydraulic trailer is one of the largest (if not the biggest in the world) of its kind. Manufactured by Kropf Industrial Inc., the hydraulic Conolift is able to launch and retrieve boats up to 100 tons allowing ME Yacht Restoration to store nearly any vessel on the Great Lakes.
"We just completed our private boat ramp on the four-acre site on Lake Macatawa," said Evenhouse. "It was quite the undertaking. We had an eight-month delay with the Army Corps of Engineers that for some reason or another got stuck in the mud to get the permit cleared. Quickly after that a coffer damn was built for us and water was pumped out. It had to be maintained 24/7, water pumped out, graded out and excavated with eight inches of concrete placed on top of gravel to make it solid and sturdy for our big 60,000 pound self-propelled lift."
Mike said they are only half the size now that they are going to be. Future plans, depending on the economy, call for a 60,000 sq. ft. private boat condo unit probably the largest private boat condo on the Great Lakes. It will have eight 50' x 150' deep units that he perceives will have hydraulic doors on each one. He also designed his building for future expansion of one large addition or two smaller additions to make it 350' x 400.'
One of the great Lake Michigan vacation spots, Holland is conveniently located midway between Chicago and Detroit. Holland is a city in the western region of the Lower Peninsula of Michigan. It is situated near the eastern shore of Lake Michigan on Lake Macatawa, which is fed by the Macatawa River (formerly known locally as the Black River).
ME Yacht Restoration & Yacht Sales
Since 2002, ME Yacht Restoration has been helping people get the most out of their boating experience. From hauling and storage to repair and maintenance, we are a full-service boat shop that takes pride in getting the job done right and exceeding our customers' expectations. Whether you need a complete rebuild, routine maintenance or emergency repair we're confident you'll be happy you called ME Yacht Restoration.
They are a company founded by and comprised of boat enthusiasts. Our combined experience and talented tradesmen are our most valuable assets. We believe in honesty, integrity and hard work. These principles have helped us flourish from a small hobby business to the ever-growing company we are today.
ME Yacht Restoration can keep your boat clean and motor healthy and make sure that it looks and runs great so you can enjoy every minute on the water. They specialize in Gelcoat and Fiberglass repair, washing and detailing, bottom restoration and paint, woodwork, custom fabrication, mobile service/on-site repair, captain service, hauling and storage.
As a service to their customers who might have a boat to sell or others who are looking for a boat, Mike Evenhouse Yacht Sales can help facilitate their needs.
Both M.E. Yacht Restoration (MEYR) and M.E. Yacht Sales (MEYS) are located at 471 Howard Ave., Holland, MI. and both can be reached at 616.392.2592. For more information visit their website at: www.me-yr.com