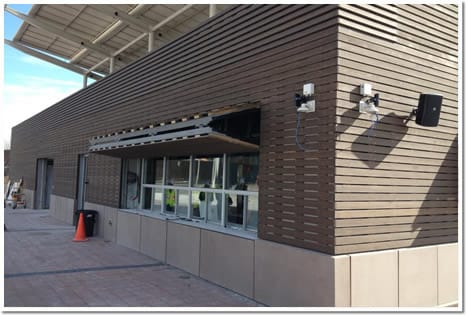 RiverEdge Park and Music Garden is a venue that not many people in the United States have heard of yet, but they will. It is becoming the centerpiece in a 10-year master plan for the city of Aurora, Illinois, that state's second largest city with a population of close to 200,000 people, making it the 112th largest city in the United States. Aurora is located about 45 miles west of Chicago and is accessible by commuter train from there.
RiverEdge, is a 30-acre regional festival park located along the Fox River just north of Aurora's downtown. It is a historically significant location once being the home of some of Aurora's first settlers 175 years ago and the famed Potowatomi Chief Waubonsie. Construction began in 2011 with plans to officially open in 2013. The park connects neighborhoods on both sides of the river and projects a sophisticated, energetic image while celebrating the Fox River, promoting redevelopment, recreation and resource restoration. It will be an attraction, not only for recreation and community events, but also to developers and businesses.
This project is being funded through joint public/private agencies and local, state and federal grants. The Music Garden portion of the park is estimated to be approximately $12.7 million. The Music Garden was be the first section to be constructed and will be completed for the kickoff of the City of Aurora "Downtown Alive!" concert series and a Father's Day event in the spring of 2013.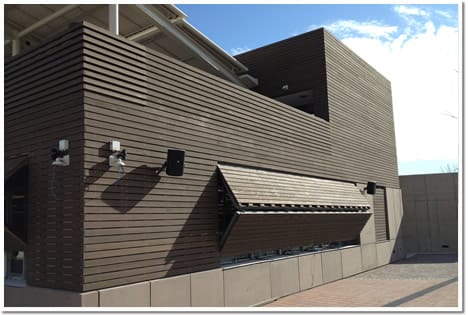 Other amenities within the park will include the Performance Venue, Indian Creek Environmental Center and the Bridge Crossing over the Fox River, Botanic Gardens, Children's Play Area and Water Features. It will be a center of activity all year long. The goal is to have the park programmed from sunup to 11 p.m., with concerts, picnicking, chess games, weekend markets, art displays, nature walks, sledding and ice sculpture competitions and more. A 33-mile trail system along the Fox River connects Aurora to Crystal Lake and on north to the Wisconsin border.
Once the park is finished the aesthetics will be "natural with a modern edge," incorporating materials such as wood, natural stone, steel and glass.
Schweiss Doors in Fairfax, Minnesota was called upon by the architectural firm of Muller+Muller, Ltd of Chicago which excels in architecture, planning and interior designs to provide four Designer Bifold doors on the stage building and at a concession stand below the guest services building.
"We had been working on this project for years and it started out as a natural plan for a park with a stage and service buildings for outdoor performances. At the earliest point we didn't anticipate any doors on the food vending at all. As we started thinking about it, it's a public building, so when the place is closed down we figured we needed some kind of security that was attractive, said David Steele of Muller+Muller.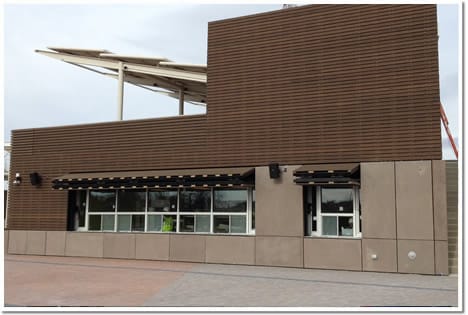 "I'd seen your bifold doors around on restaurants in Chicago. I thought it might be an interesting way to deal with large openings. On Division Street in Chicago there's a restaurant (bifold door) that has glass applied to it. When opened, it creates a sunvisor area in the service area and when they close it, it's like they disappear. It was an interesting architectural thing to look at. I'd seen Schweiss Doors around at a couple of places."
The designer style Schweiss bifold doors have an exterior cladding of cedar slats 3 1/2" x 3/4," with spaces between them. Extra steel was added at the Schweiss factory for extra support. Pressure treated wood was also added to screw the cedar slats to.
His architectural firm, consisting of 14 individuals, was responsible for the entire project, buildings and site. This involved working with civil, structural and sound engineers and lighting designers. He said they've worked on larger projects but not a project that was as wide spread over a large area. "This was a public bid, and a couple other manufacturers were contacted, but Schweiss won the bid. The subcontracted installers did a great job. They worked it out, there was a tremendous amount of coordination because of all the wood and getting it to line up. It was difficult due to the coordination, not the product," explained Steele.
Steele also said the people at Schweiss Doors were great to work with.
"Absolutely, they worked with me closely, this wasn't a typical door. When we got down to the shop detailing we made things work. The doors are working great. For architectural use there are some things you could do. I think it's a great product to use on some interesting architectural things," said Steele.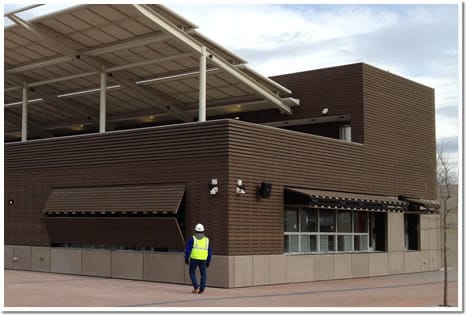 This park was built to hold people. The overall seating capacity of the venue is between 4,500 and 9,500. The rooftop, partially covered viewing area on the VIP Deck above the guest services building alone, can accommodate 200 more people.
The stage building is one of the major attractions. It includes a dock area, manager's office, bathrooms, green room, dressing room, storage and a two story sound mix tower 100 feet in front and at the center of the stage. The stage door is a very tall Schweiss Bifold liftstrap door. The backside of the door goes directly onto the loading dock. There are also locations throughout the park which can be set up with temporary secondary stages for multiple acts.
Not only will visitors be able to access the park by vehicle, rail or bus, but they can travel to the park by watercraft or bike or walk to it on the trail system. The next phase will have a bridge project over the Fox River that could run $5 to $7 million, but that is not yet in the planning stages. Muller+Muller, Ltd. is now working on the Adler Planetarium Walk Through Space and Time Exhibit project in Chicago. It will depict how the universe evolved over 13.7 billion years. It opens July 13. Muller+Muller is headquartered at 700 N. Sangamon St., Chicago, Illinois. They can be contacted by calling (312) 432-4180 or on their website at: www.muller2.com