ANY SIZE HYDRAULIC DOOR
There is no such thing as an odd size. All doors are custom-made for your opening. Schweiss is always willing to make changes that help the customer fulfill his door needs.
PRE-ASSEMBLED, PRE-WELDED AND PREHUNG WITHIN ITS FRAME FOR EASE OF INSTALLATION:
One piece doorframe, manufactured with 2 x 4 tube. Comes complete with continuous subframe and door with hinges re-mounted. Vertical subframe supports the cylinder brackets on each side of the door.
Bolted frame connections for shipping, no welding, easy to install. All Schweiss hydraulic doors are factory welded and made of structural steel tubing. The doors are hinged horizontally at the top of the frame using heavy-duty hinges by each upright tube on the doorframe, which evenly distributes the load onto your door, building, truss, and header. Hinges are factory pre-located to align with the building and truss members. The door swings outward, away from the building. In the open position, the door will be laying flat at 90 degrees. Doors are trussed to provide extra strength. Extra metal in the right place reduces bowing or sagging when the door is open or closed. Each door is fully assembled from the factory, saving you hours of installation time.
HEAVY-DUTY HYDRAULIC DOOR TRUSSES
All of our doors are manufactured with webbed trusses to provide extra strength. The truss is located near the very bottom of the door across the entire width of the doorframe. We have two styles of trusses.
Large Door: 94' wide x 24' tall Hydraulic Hangar Door...
Opens the entire endwall!
External Webbed Truss - Standard - Style One
Placed on the outside of doorframe.
Visible from the outside of the door / building.
Lose No Headroom.
Covered External Truss
Keeps debris and snow from collection under truss.
Raised External Truss
Optional: A raised external truss off the finished floor gives you the advantages.
Internal Truss - Optional - Style Two
Placed on the inside of doorframe. Nice clean look.
Cannot be seen from the outside of the door / building.
Weather elements are not a problem.
Additional headroom required with this style.
HEAVY-DUTY HINGES
Hinges are pre-mounted to the door and continuous subframe. All hinges are self-containted on the doorframe which makes the door easy to install. Hinge pins are 1" diameter attached to 3/8" thick hinge plates.
LIFT POINTS - TWO POWERFUL HYDRAULIC CYLINDERS
Hydraulic doors are opened with two powerful hydraulic cylinders located on each end of the door. Schweiss provides extra heavy-duty cylinders that will give you many trouble free years of operation.
HEAVY-DUTY POWERFUL CYLINDERS... LIKE NO OTHER
Heavy-duty cylinders and components used on each side of the doorway.
Internal cylinder stops keep the door from overextending, adding strength and safety.
Schweiss has a Velocity Fuse on each Cylinder, so the doors CANNOT ever go down and close by themselves. If a hose or tube is broken, the door will stop immediately. Safety Built In!
AUTOMATIC LATCHING... SELF LATCHING AND HOLDS THE DOOR IN PLACE
Hydraulic cylinders automatically pull the doors in tight against your building and will keep the door
in a locked position to provide a tight seal.
Push a button to automatically lock and unlock the door to the closed position.
The hydraulic pump has a built-in positive-hold valve that maintains and keeps the door locked in the
closed position which provides a constant weathertight seal.
PRE-MOUNTED SUBFRAME & DOOR INCLUDES
Horizontal member that attaches to your building.
Vertical member that supports the cylinders and attaches to your building.
One-Piece doorframe with pre-mounted hinges.
MOUNTING STYLES - CHOICES
Flush Mount...... ( H Style ) Requires 5" Headroom
Outside Mount.. ( M Style ) Lose No Headroom
WEIGHT OF HYDRAULIC DOORS
Approximately 5 pounds per square foot.
Give us the exact size of your opening and we will provide the weight of your door.
FAST DOOR SPEED... SPEEDS OF THE DOOR WHEN OPENING AND CLOSING
Cycle time approximately 30 seconds.
Each door has its standard speed preset from the factory.
We can vary the speed of the door, just ask for it.
PAINTING YOUR HYDRAULIC DOORS
Custom paint your door to match your building.
Every Schweiss door is properly prepared for painting. The doorframe members and parts are finished with gray primer. We offer matching touch-up paint to take care of any slight nicks or scratches.
ALUMINUM / GALVANIZED HYDRAULIC DOORS
Schweiss is ready to shift gears at any point. This is the key to our success, whether it be marketing, designing or creating new products. With this attitude and flexibility we have introduced new Aluminum, galvanized doors. Call for special pricing.
ADDITIONAL WINDLOAD / GENERAL DESIGN CRITERIA
Windloaded doors (to meet standard local codes).
Engineer stamps available and approved in all states.
EXTRA BUILDING STRENGTH NEEDED ON EXISTING BUILDINGS
Additional building strength needed to support your door installation, Schweiss will supply a Free Standing Header. All headers are custom built to add extra support to your building structure.
DEAD MAN CONTROL STATION - ONE-STEP OPERATION
A simple touch of the button lets you open/close/stop your door at any height. The motor automatically stops when you take your hinge off the control station. Control station is pre-wired for low voltage.
ELECTRICAL HEAVY-DUTY SAFETY DISCONNECT - GREAT SAFETY FEATURE
Every door Schweiss manufactures furnishes a safety electrical disconnect. This completely disables the door for service, maintenance,
and emergency backup operations. Mount the electrical disconnect so it is accessible from floor level.
ELECTRIC MOTOR 220 VOLT - 2 H.P. OR 5 H.P.
We provide ample horsepower so you can stop your door at any position and change direction without lack of power.
Motor sizes are 2 h.p. - 5 h.p. Each door has its own requirements.
Motors are factory wired with high starting torque, reversible, continuous duty, Class A insulated, complying with NEMA MG 1.
Sized to start, accelerate, and operate door in either direction, from any position and sized to lift your door for many revolutions
for years to come.
All electrical motors are fused and overload protected.
Voltage requirements. We offer 220 volt single phase or 3 phase units.
ELECTRIC CONTROL BOX BY SCHWEISS ONE-PIECE DOORS
What makes our electrical power unit superior
The commercial grade electrical system... The electric control box!
Not only pre-wired for easy installation, it also comes complete with reversing contactor and a strip, providing a low voltage interface for
easy, safe installation of electric add-ons such as remote terminal controls, photo eyes, safety edges, warning lights, horn, and entrance lights.
The electrical add-ons can be included at the time of purchase, or installed at a later date, because
Schweiss has a COMPLETE electrical system setup to handle all the bells and whistles.
ALL SCHWEISS POWER UNITS ARE READY TO WORK. THEY EVEN HAVE THEIR OWN TEST CORD FOR EASY INSTALLATION OF YOUR DOOR. CONVENIENT FOR THE CUSTOMER INSTALLING HIS OWN DOOR.
SCHWEISS HYDRAULIC DOOR POWER UNIT - SELF-CONTAINED
Operates two powerful lift cylinders.
Self-contained electric / hydraulic power unit comes from the factory fully assembled and ready to operate.
Each unit comes pre-wired and factory tested, complete with a 24 V.A.C. control system.
Each power unit has an oil reservoir (4 or 8 gal.), and a direct drive motor to the hydraulic pump protected by an oil filter
(standard on all models) complete with gauges.
HYDRAULIC PUMP SAFETY (FOLLOWING ITEMS ARE STANDARD ON ALL SYSTEMS)
P.O. "Check valves"... What's its function...
Secures the door in a locked position when the door is not being operated.
Secures the door from drifting open.
Keeps the door from settling down at any height or position.
Flow Control Valve
Provided on each pump for smooth descent of the door.
Soft Shift Valve
Provides a soft start and stop. When you activate the door, the special soft shift valve starts
out the door gradually into smooth operation.
OIL FILTER... CLEAN OIL IS IMPORTANT - LONGER PUMP LIFE
Each pump system has a protective screen filtering system, standard.
Power units T-Series come with oil filters.
STEEL HYDRAULIC LINES
Are pre-made with door and cover the entire width of doorframe.
UNIVERSAL MOUNTING BRACKETS LISTED BELOW:
1. Wall mounting brackets - keeps the floor area free and clear.
2. Floor mount stand is self-contained and can be easily moved and placed.
We furnish a universal bracket on all power units which allow you to position the hydraulic power unit anywhere within your building, keeping the inside appearance of your hangar, workshop or warehouse, clean and neat looking. It also keeps you from hearing the pump motor run. Placement is not restricted to just by the door opening.
NEW FULLY ENCLOSED - SCHWEISS HYDRAULIC DOOR POWER UNIT - OPTIONAL
Schweiss has developed a fully enclosed Hydraulic power unit..... With these features.
Neat Clean Cabinet
Sound Retardant
Wall Mount
Floor Mount
THE WALK DOOR FEATURE SAVES INDOOR BUILDING SPACE
We build the walk doorframework into the Hydraulic Door.
We use factory aluminum or steel walk doors of your choice.
All walk doors have a keyed cylinder lock.
Also available is keying multiple doors with a master key.
We offer a 16" x 16" window within the walk door.
We can paint the walk door to match the building.
Walk door - quantity / placement - your choice
Walk door - insulated / with windows
Walk door - keyed lockset / master keyed
Walk door - frame only
Walk door - safety hinges
WE OFFER A SINGLE OR DOUBLE INSULATED WINDOW, FIXED OR SLIDING
Commercial grade.
Sizes are 36' x 48".
All windows have screens and slide open.
Many other sizes available.
Windows may be placed at any height or location.
Allows plenty of natural light into your building.
Specialty windows are catching on fast. They really sharpen the appearance of your door and building project.
They can be made to mirror the rest of the building structure and add a neat appearance.
Windows - Any size, quantity and placement your choice
Windows - Insulated / screens / sliders.
Windows - Frames only.
When installing a hydraulic door on an existing building, try to match the door sheeting with the
building sheeting or substitute other materials.
We can provide self-drilling tec screws with a neoprene washer to apply any type of sheeting to your
doorframe. We offer special color screws to match your sheeting.
External door sheeting and trims.
Wainscot and trims.
Many colors to pick from... your choice.
Inside liner sheeting doors may be finished off with sheeting.
Alternate exterior siding / skins.
Decorative door covering.
Many choices to pick from by contractor or customer.
Stucco
Cedar Siding
Total Glass
Translucent Panels
Decorative Windows
Decorative Siding
Decorative Wood
Home Siding
Vinyl Siding
Rock Face Material
To give your door a finished look on the inside, we offer an inside liner kit for doing only the inside bottom half or the entire inside frame.
HYDRAULIC DOOR BOTTOM RUBBER SEALS
We furnish a 12" rubber boot that seals the bottom of your hydraulic door. The heavy 2-ply, cloth-inserted rubber seal provides excellent
weatherproofing. Note: Existing bituminous surface / concrete varies and seals should be places accordingly.
HYDRAULIC DOOR TOP RUBBER SEAL
This same continuous rubber seal can be used at the top of door hinges to prevent flow of moisture into the door or building.
SIDE WEATHER SEAL KIT - GIVES YOUR DOOR A TIGHT SEAL
The Hydraulic Door is made very weathertight. The sides of each door are sealed off with a special weather stripping.
The entire door perimeter can be made weathertight.
STYLES OF INSULATION AVAILABLE
We design our door to accept the insulation of your choice.
3" or 4" blanket with white vinyl backing.
Solid - R - board 1-1/2" thick or more.
Spray-on urethane.
PLACEMENT OF INSULATION
You can place the insulation between the doorframe and the outside sheeting.
You can place it between the doorframe members.
The thicker the doorframes, the more insulation you can apply, for a better R factor.
While your hydraulic door opener provides convenience and security, it is important to follow some basic safety practices. Your hydraulic door is probably the largest piece of moving equipment on your building and can be potentially dangerous if adequate protection is not used. We offer additional entrapment protection for your hydraulic door. You have a choice of upgrade equipment. Please feel free to talk to us at the factory about your different upgrade equipment available, and select which one is best for you or the customer and the end user. The upgrade equipment offered by Schweiss is strongly recommended to be used on every door.
1 ELECTRIC PHOTO EYE SENSOR
Stops door operation when an obstruction breaks the light beam.
Electric photo eye sensors are mounted near floor level used to prevent or stop the door from closing when an obstruction breaks the detection beam. ALL doors installed on residential garages must be equipped with an electric photo eye!
2 DOOR BASE SAFETY EDGE
Stops and reverses door travel upon contact.
Electrical sensing switch along bottom of door to stop door if it comes in contact with an obstruction, door will then reverse to a fully open position. Safety edge must be capable of protecting the entire width of the door opening.
3 WARNING LIGHTS AND HORNS
Alerts persons in the area during door operation.
This feature is designed to alert persons in the area of the door that the door is operating. When the door operator activates the door, a warning light rotates and a horn sounds. This feature is especially recommended for doors that will be equipped with radio controls or other remote features.
4 TOP OVERRIDE JIGGLE SWITCHES
For special controlled door height settings.
Upper override switch that disconnects power to door if upper limit fails or if limits are overridden.
This safety feature is designed to prevent the door from traveling beyond its recommended clear opening height. If the door passes its full clear opening height, it will activate the override and stop the door automatically.
5 ENTRANCE LIGHTS
Lights up the doorway when entering the building.
Lights up the doorway entrance when activating the door with a remote control system. (Very Nice Feature) Lights can be positioned anywhere.... example: On the inside of the doorframe, the light will provide extra lighting directly under the door when door is in the wide open position. Custom feature that gives you more lighting.
6 REMOTE CONTROL: OPERATED DOORS
Lets you open/stop/close your hydraulic door from any vehicle. Two hand-held remote controls and antennas are included with each door. Customers really enjoy this feature!
Warning:
All doors equipped with remote operators should have a warning system to alert persons in the immediate area that the door is moving.
7 EMERGENCY BACKUP
Designed to allow the operator full use of the door in the event of a power failure.
In the event of a power failure there will be no loss of security to your door or building choosing one of
the backup systems listed below.
Battery Powered Drill - Simple, Easy, Fast!!
Emergency Hydraulic Coupler Fittings - Tractor Powered.
Emergency Back Up System 12 Volt D.C.
Powered Generator.
Emergency backup 5 H.P. gas operated portable hydraulic power unit. All doors have an electrical disconnect to allow manual operation
by an emergency backup system if power is lost.
INSTALLATIOON MANUALS PROVIDED WITH EACH HYDRAULIC DOOR:
Hydraulic Install Manual
Step-by-step detailed instructions how to install each door.
Safety Information & Operations Manual is designed to help you become familiar with the safe and proper operating procedures of your
Schweiss hydraulic door.
Safety decals placement guide manual.
Includes a complete set of Safety Warning Decals to be placed on your building and door.
HYDRAULIC DOORS ARE EASY TO INSTALL:
Schweiss provides you with step-by-step picture-illustrated procedures on how to install your hydraulic door. Installing the door yourself can cut costs. Many customers choose to install their own doors. We also have phone support service to answer any questions you may have during installation. You may also have a qualified local contractor install your door. All of our "One-Piece" hydraulic doors are shipped fully assembled. We provide all necessary hardware for installation.
FACTORY INSTALLATION AVAILABLE:
We have our own crews travel to the job site. Schweiss can do a "Turn Key" Job!
When Schweiss installs, we deliver the door to the job site.
We deliver the door and completely hang it so it's fully operating when we're done.
We charge for the installation and mileage costs.
Call for rates.
ON SITE SUPERVISOR AVAILABLE:
Install representatives from Schweiss will supervise the assembly and installation of your door.
We have an on site supervisor to take you through each step of installation.
This saves money and ensures proper installation.
FINAL INSPECTION SERVICE AVAILABLE / STARTING SERVICES AVAILABLE:
If you choose to install the door yourself, or for any other reason, we can provide a Schweiss installer to completely check your installation job to make sure the door is installed and operating properly. We also can provide a qualified Schweiss representative to perform startup services and to train owners and maintenance personnel as specified below: (This is a sample of what we can do.)
# 1 Test and adjust controls and safety items.
# 2 Inspect operating hardware items, assuring "One-Piece" Hydraulic Doors are safe and in proper operating condition.
# 3 Review with the owner the information in the installation and maintenance manuals.
# 4 Train owners and maintenance personnel on procedures and schedules related to startup and shutdown, operating, troubleshooting,


servicing, and preventative maintenance.
WARRANTY - 7 YEARS ON MATERIAL & WORKMANSHIP
7 years.... In addition to the specified warranty, the door manufacturer shall warrant the original electric motor for a period of seven years against defects.
FREIGHT, DELIVERY AND LEAD TIME
We ship anywhere. Best rates in the industry!
Schweiss delivers materials and products in manufacturer's labeled protective packages.
We ship our doors on our own flatbed. We can also ship common carrier.
Overseas freight rates available. Call for freight rates.
Normal lead time is 3 to 4 weeks from the day the order is placed. Call factory for exact shipping date.
THE


SCHWEISS
ADVANTAGE
FOUR
REASONS

TO BUY A HYDRAULIC DOOR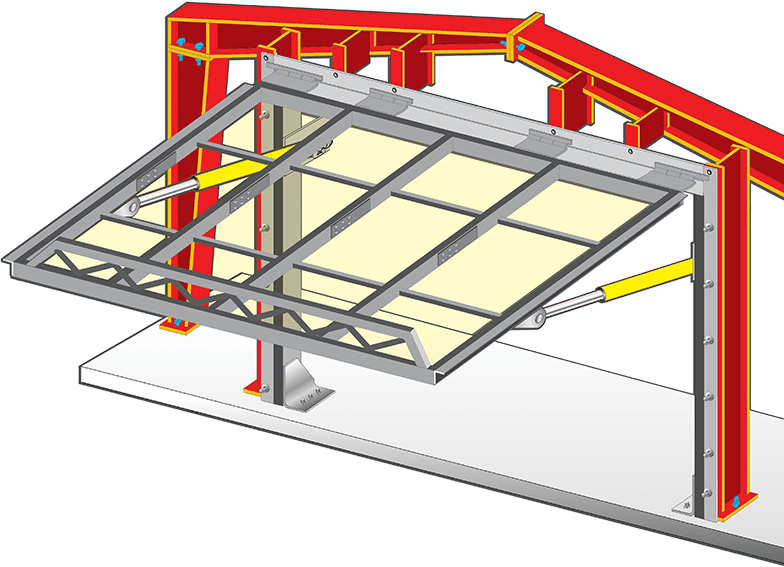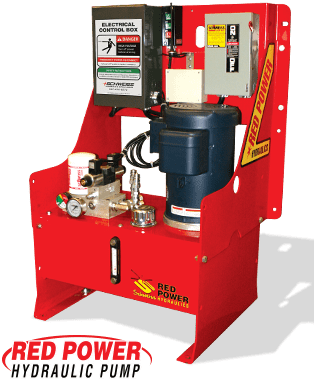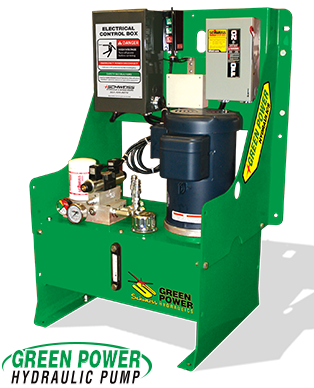 1
2
3
4
GAIN HEADROOM
LOSE NO HEADROOM...
With the purchase of a Schweiss One Piece® Hydraulic Door...
Only 5" headroom required.
LESS MOVING PARTS
Three Major Components of the Hydraulic Door
One-Piece Doorframe
Two Powerful Hydraulic Cylinders
Red / Green Power Hydraulic Pump
COSTS LESS
How to save Money...
Lowering the overall building height will save you $$$.
Building does not have to be made taller to maximize your clear opening.
With the low headroom "One-Piece" hydraulic door you are able to save on building costs.
Building Costs will be less... Why?
Lower sidewall requirement
Less insulation
Less sheeting
Less labor
EXTRA SHADE
Extended Shade Area
Keeps the area in front of your building's door entryway shaded and dry.
Keeps rain and snow out of entryway.
Allows fresh air in and extends shade at the same time.
Open door creates a canopy to extend the shaded area of your building's door entryway.
STANDARD ON ALL SCHWEISS HYDRAULIC DOORS
Schweiss Hydraulic doors are pre-assembled, pre-welded and delivered prehung within its frame for ease of installation.
Each Door comes prehung with its own subframe; more details below.
SUBFRAME INCLUDES:
Horizontal member that attaches to your building
Vertical member that supports the cylinders and attaches to your building
Heavy-Duty Hinges
One-Piece doorframe
HORIZONTAL MEMBER
Hydraulic door comes with a frame, the horizontal subframe member comes full width of the building's clear opening
Horizontal continuous tubular member - has pre-drilled bolt holes for easy installation to the building structure's
stub columns or a continuous header supplied by the building company.
Horizontal continuous tubular members are pre-welded to the vertical subframe members that the hydraulic cylinders attach to.
Heavy-duty hinges are pre-welded to the doorframe & horizontal continuous member for ease of installation.
VERTICAL MEMBERS SUPPORT THE CYLINDER PLATE AND CYLINDERS
Subframe vertical members are pre-welded to the horizontal continuous tubular member.
Vertical members... the door cylinders and cylinder-plates attach to subframe vertical members.
ADDED STRENGTH
Schweiss offers multiple sizes of horizontal and vertical subframe members where
additional strength is required on your existing building for added strength!

HEADROOM
Gaining more headroom, only 5" required.
NEAT, CLEAN DESIGN
Two Hydraulic Cylinders, "One-Piece" doorframe and an electric hydraulic pump.
FEWER MOVING PARTS
Two Hydraulic Cylinders raise and lower the "One-Piece" doorframe.
SPEED
Fast-moving doors open in as little as 30 seconds.
AUTO LATCHES
Built-in...both cylinders lock the door in tight.
WEATHERTIGHT SEAL
Your building won't lose heat.
EASY INSTALLATION
Installation Manuals with each door.
WARRANTY
7-year, unlike any other.
QUALITY
Best components money can buy.
DESIGNERS / BUILDERS / CONTRACTORS
Save on building costs with a Schweiss Hydraulic Door
Lower the height of the building requirement. Easy to install.
The Door Styles H&M
And are delivered prehung within its subframe for ease of installation.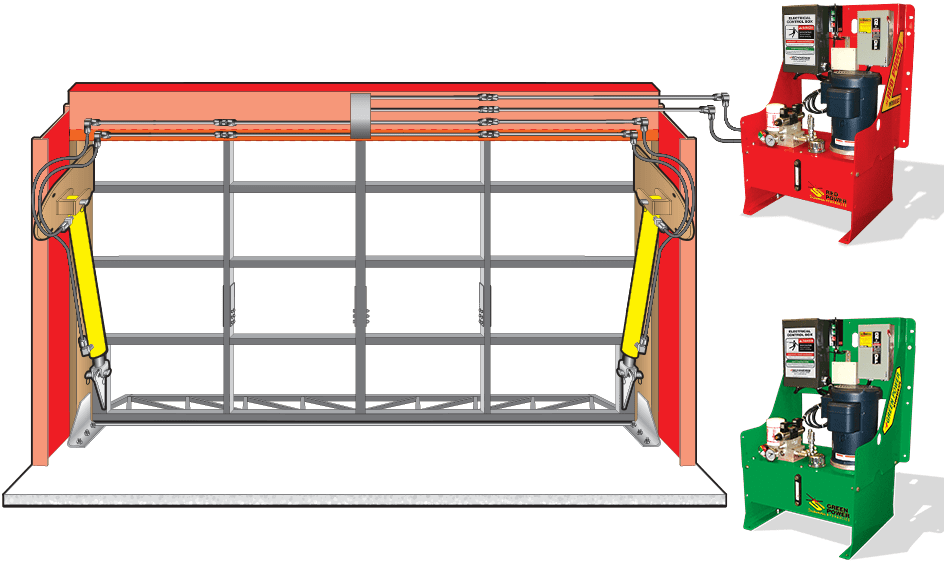 Red Power
or
Green Power
LOOK FOR QUALITY, LOOK FOR PRICE, YOU WILL BUY SCHWEISS!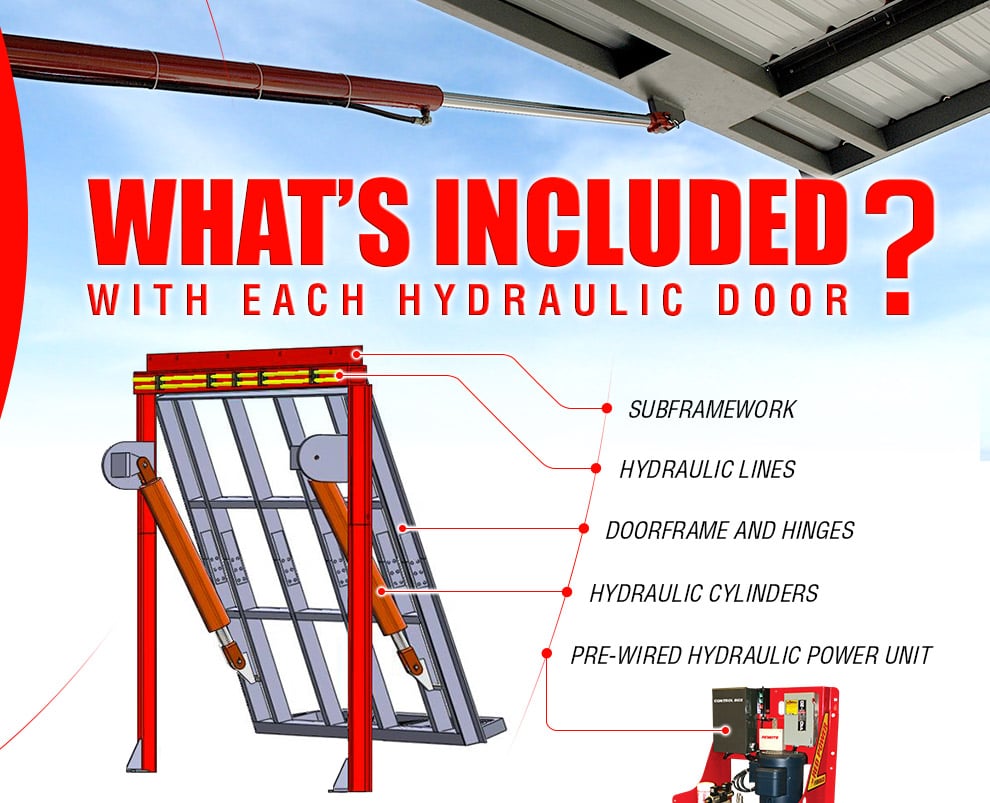 SUBFRAME: Each door comes prehung with its own frame.
DOOR: The Door is constructed out of 2" x 5" tubing and the hinges are pre-mounted to the frame.
The Subframe and Door are pre-assembled at the factory.
Subframe makes it easy to install.
Pre-mounted Hydraulic Lines - Attached to the continuous horizontal tube provide a clean look.
Subframe and Door have bolted connections foe easy assembly.
NOTE: The SCHWEISS hydraulic door comes prehung with it's own subframe, contractors and customers like this
feature because it's easy to install to the building. Just lift the door and subframe into the door opening and fasten
them to the building! Continue for more illustrations below. See the doors in different positions!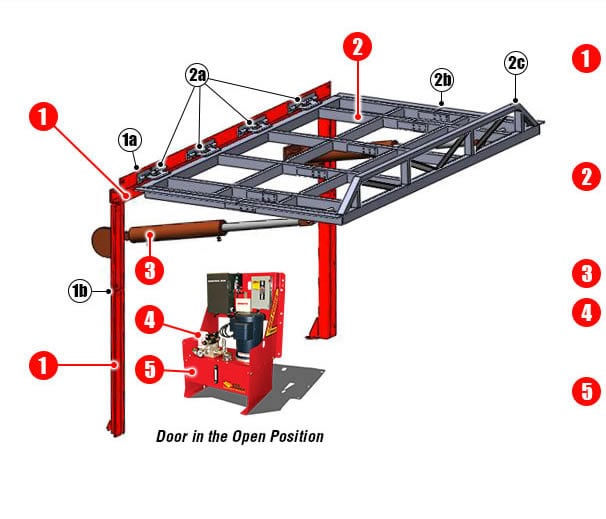 Subframe and door come prehung / with a horizontal
continuous tube and vertical cylinder legs.
1a - Pre-mounted Hydraulic Oil Lines / attached to


subframe. Provides a clean look.

1b - Bolted splice connection for easy assembly.
Doorframe - 2" x 4" tubing
2a - Single set of Heavy-duty hinges
2b - Bolted connection - for easy assembly
2c - External truss - provides strength
Powered by two Powerful Hydraulic Cylinders
Operated by an Electric Hydraulic Pump
Pre-wired... ready to use
Self Contained
Mounting Styles - For the Powerful Hydraulic Pump
Floor / Wall mount - your choice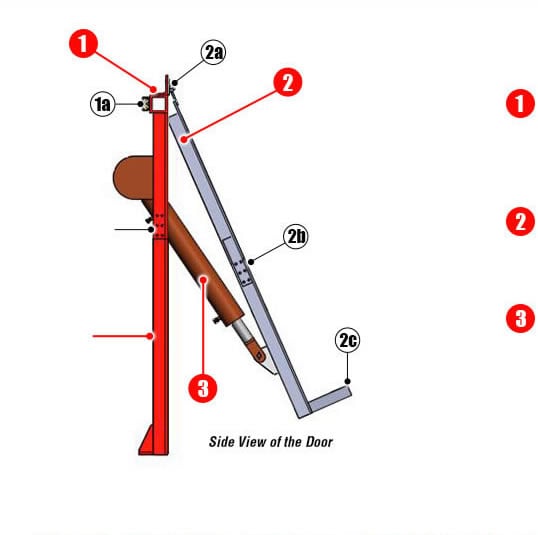 Subframe - Each Door comes prehung with frame and vertical
subframe. Cylinders mount to cylinder legs.
1a - Pre-mounted Hydraulic Oil Lines / attached to


header tube. Provides a clean look.

1b - Bolted splice connection for easy assembly.
Doorframe - 2" x 4" tubing
2a - Single set of heavy-duty hinges
2b - Bolted connection - for easy assembly
2c - External truss - provides strength
Powered by two - Extra Heavy-Duty Hydraulic Cylinders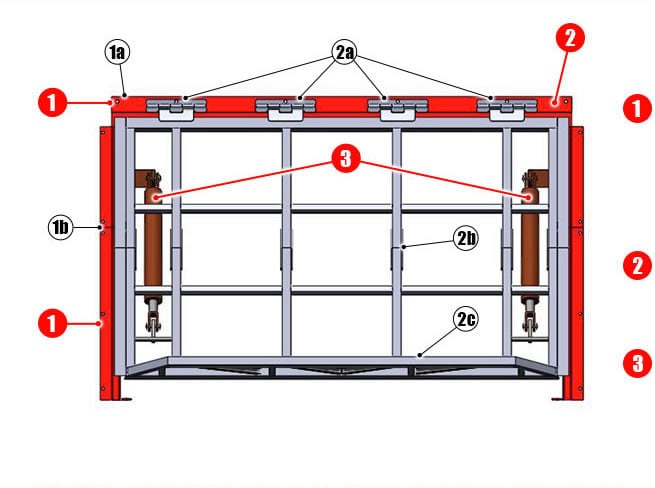 Subframe - Each door comes prehung with
frame and vertical subframe. Cylinders mount
to the cylinder legs.
1a - Pre-mounted Hydraulic Oil Lines /


attached to header tube.




Provides a clean look.

1b - Splice connection for easy assembly.
Doorframe - 2" x 4" tubing
2a - Single set of Heavy-duty hinges
2b - Bolted connections - for easy assembly
2c - External truss - provides strength
Powered by two Extra Heavy-Duty
Hydraulic Cylinders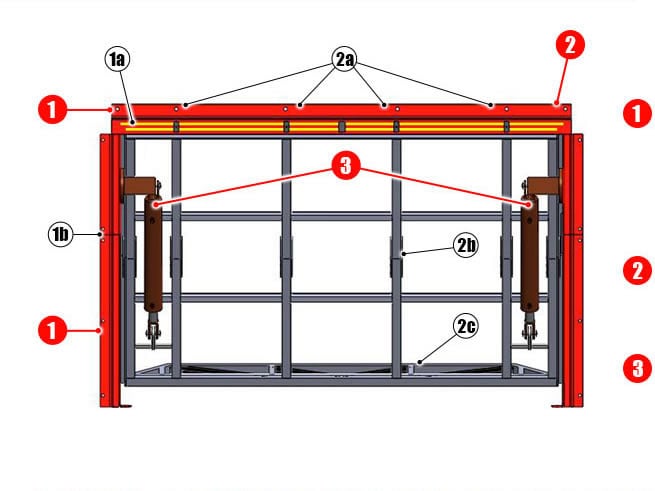 Subframe - Each Door comes prehung with
frame and vertical subframe. Cylinders mount
to and cylinder legs.
1a - Pre-mounted Hydraulic Oil Lines /


attached to header tube.




Provides a clean look.

1b - Splice connection for easy assembly.
Doorframe - 2" x 4" tubing
2a - Single set of Heavy-duty hinges
2b - Bolted connections - for easy assembly
2c - External truss - provides strength
Powered by two - Extra Heavy-Duty
Hydraulic Cylinders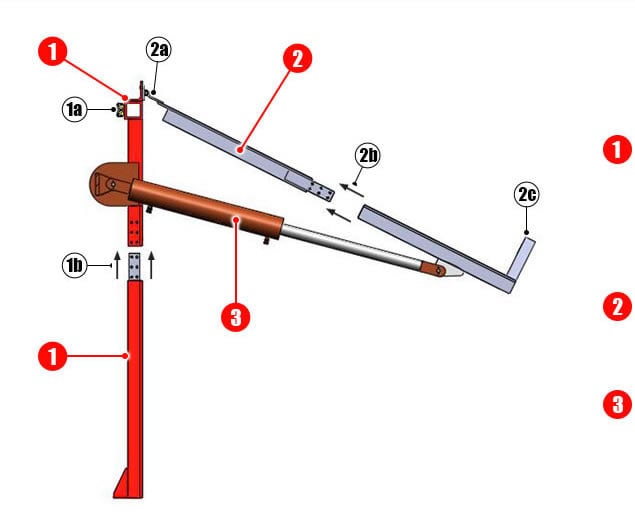 Subframe - Each Door comes prehung with
frame and vertical subframe. Cylinders mount
to cylinder legs.
1a - Pre-mounted Hydraulic Oil Lines /


attached to header tube.




Provides a clean look.

1b - Splice connection for easy assembly.
Doorframe - 2" x 4" tubing
2a - Single set of Heavy-duty hinges
2b - Bolted connections - for easy assembly
2c - External truss - provides strength
Powered by two Extra Heavy-Duty
Hydraulic Cylinders