Las Vegas Irish pub features Schweiss
designer doors on its outdoor patio bar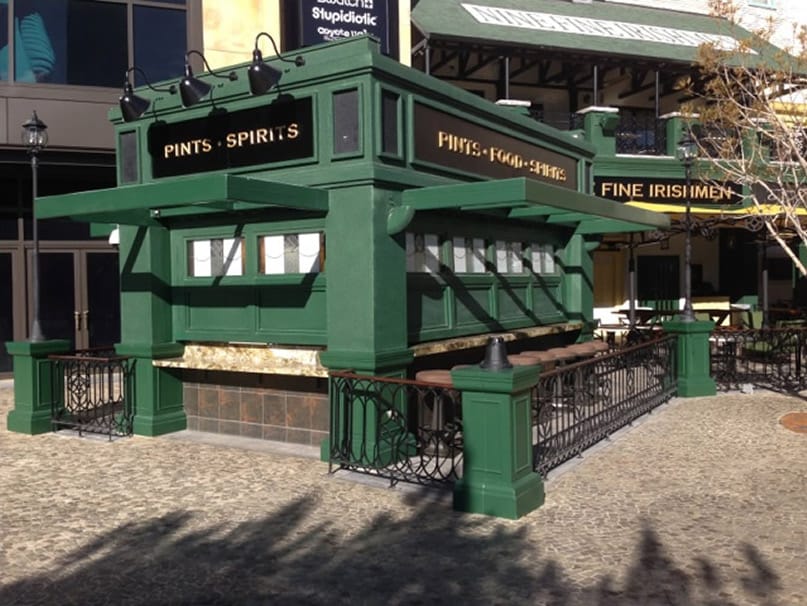 The Nine Fine Irishman pub sits right on the Vegas strip across from the MGM Grand. Here you can see the hydraulic doors are closed and covered with a custom cladding to blend in seamlessly with the design of the building. The outdoor kiosk and patio area has seating for about 100 people year round. Four Schweiss doors are operated from one pump unit opens up the bar to customers who want to eat and drink outdoors. (Photos by McKeon Door of Nevada)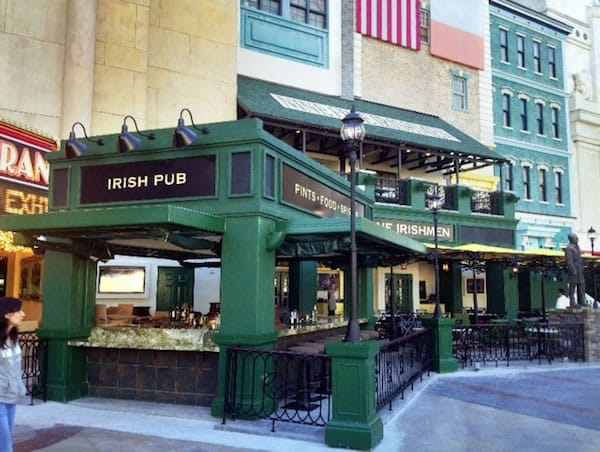 When the doors are in the open position they "disappear" into the existing overhang structure making a seamless canopy for customers. The Irish Pub outdoor kiosk seats customers around it and the surrounding patio area can accommodate many more.
Words on the Nine Fine Irishmen pub website point out: "We Didn't Just Import Irish - We Imported The Whole Damn Country."
Inspired by a group of nine famous men who fought for Irish independence, to some, they were patriotic heroes. To others, traitorous rebels. But, on to the story...
In 1848, nine fervent Irish nationalists - Thomas Francis Meagher, John Mitchel, Patrick O'- Donoghue, Terence Bellew McManus, William O'Brien, Charles Gavan Duffy, John Dillon, Thomas D'Arcy McGee, and Richard O'Gorman valiantly fought for Irish independence. They lost. Later tried, convicted and sentenced to death, the Nine Fine found themselves ripe for political martyrdom-and the British monarchy knew it. As a result, their death sentences were commuted and most were exiled to Tasmania - not a nice place to visit or live. This is where their epic tale of redemption begins.
Five of the men were forcefully sent to Satan's vacationland. The sixth, Duffy, who was tried but acquitted due to lack of evidence, voluntarily made the trip to Tasmania. The other three men; Dillon, McGee and O'Gorman-escaped to America. As to their fates, some became noted authors, others Civil War heroes. One was named a minister of agriculture and one was elected prime minister.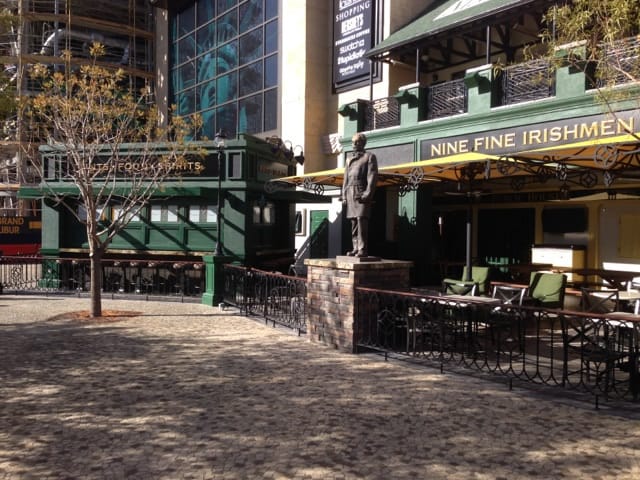 The outdoor kiosk with it's unique hydraulic doors closed sits next the the Pub's outdoor patio.
Anybody whose exploits inspired the founding of an authentic Irish pub in Las Vegas deserves a glass raised in his name.
Nine Fine Irishmen is a Las Vegas southside strip-located pub of epic proportions. It has a great location just across from the MGM Grand Casino and nearby Tropicana. The pub's interior, features a grand Victorian-style bar, ornate cottage areas and shop-style snugs. It was entirely handcrafted in Ireland by a variety of local tradesmen using authentic Irish materials.
The pub, located inside the New York New York Las Vegas Hotel, boasts two levels of outdoor patio dining. A unique kiosk with a spectacular 360 degree view of the Las Vegas Strip opens up outside to the public with four Schweiss hydraulic designer doors. The half in, half out design lets you sit inside with the marvelous woodwork and old world feel or you can sit outside the bar on the faux patio adjacent to the casino floor.
The year-round outdoor patio and bar kiosk, has ample seating for about 100 people. It features two custom made Schweiss hydraulic designer doors 15 ft. 1.5" x 4 ft. 4" which open at the sides and two 7 ft. 11.5" hydraulic doors opening at each end. A unique feature for this is the use of only one hydraulic pump for all four door, with four separate key stations to open and close the doors. The pump is situated about 50 ft. from the outside bar. Each door closes on a granite counter top and is fitted with electric photo eye sensors and manual latches. When the doors are open they provide shade to the area around the bar. When closed, they provide a tight seal and security to the contents inside.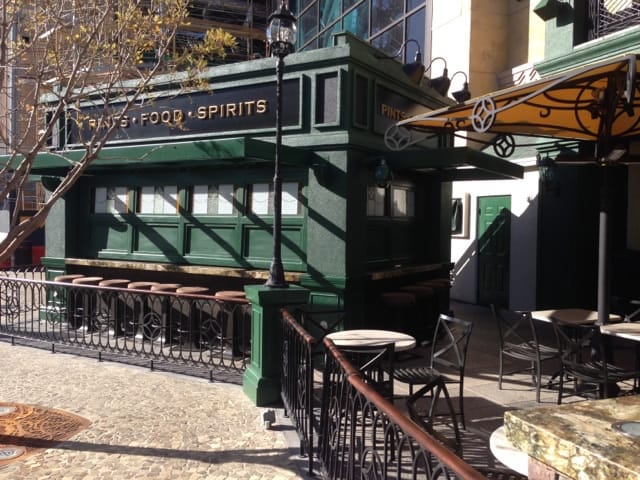 When the four hydraulic one piece doors are closed, everything inside is protected and sealed tight against weather and possible vandalism. Four separate key stations at one location open and close the doors.
McKeon Door, of Nevada's Las Vegas regional office, had input on the design and was in charge of installation of the four Schweiss hydraulic one piece doors.
"The install went very well from soup to nuts," said Kevin Sweeney, Vice President of Operations at McKeon Door. "It was kind of a unique install which was designed to have a single pump open all four doors. Just from a convenience standpoint they were looking to remotely locate the pump, electrical lines and key switches in one adjacent electrical room location."
Additional custom work was done to blend the doors into the kiosk. Custom side plates were also used to camouflage the two hydraulic cylinders on each door.
"The cylinders are hidden from the exterior when the doors are closed and the end-user provided custom fit nylon covers with Velcro closures to conceal the cylinders when the doors are open," said Sweeney.
McKeon Door Company is no stranger to Schweiss Doors. They have used both the hydraulic and bifold doors on other noteworthy specialty projects. McKeon Door Nevada services the three-state area of Nevada, Arizona and Utah.
"Schweiss doors are definitely unique and we are not exclusive only to the McKeon line of products. We're always willing to think outside the box and tackle challenging, high profile projects. Our clients and colleagues within the design community have grown to rely on us as a resource for both design assistance as well as providing turnkey specialty installations. We've known about Schweiss doors for years, mostly for aircraft hangar applications and we'd recommend them to anybody," noted Sweeney.
Nine Fine Irishmen Pub and Hotel
Food and drink are at the heart of the Nine Fine Irishmen experience. The have assembled nine of Ireland's finest chefs to create signature dishes using only natural Irish foods and fresh ingredients complimented with the finest stouts, ales, lagers and spirits. Music and entertainment are second to none with a variety of local and special guest artists filling the pub with a blend of uniquely Irish songs.
Sin É Rí-Ra is an Irish language expression for a great time, mayhem or wild party. The Nine Fine Irishmen house band plays a mix of traditional Irish music, wild electric jigs and reels and classic singalong songs. They perform a great music session with lively traditional Irish dance by championship Irish dancer Tara Reid. Sin É Rí-Ra performs at 9 pm nightly. The Celtic Rockers is a Las Vegas'rousing Irish band that plays a mix of Celtic and Irish rock every Tuesday beginning at 9 p.m. For many, the Irish experience at the Nine Fine Irishmen Pub, is something memories are made of. Here is what some have said about it: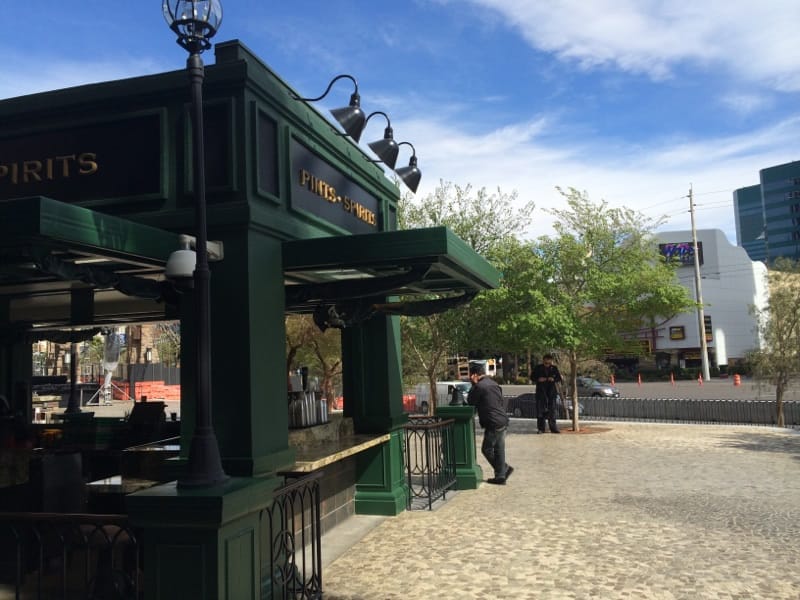 The outdoor kiosk is used year round from sidewalk business to customers coming out of the adjacent New York New York Las Vegas Hotel and Casino Nine Fine Irishman Pub.
"I visit a pub every weekend. And this was the greatest pub experience of my life. Live band was unbelievable. I swear I tipped them $100 USD. In between sets, or breaks in the music, an Irish dancer came out onto a platform up high, and danced."
"Loved it! Food was amazing. We can actually compare this to Irish food because we have been there. We enjoyed the company of our server."
"As for food and drink, our chef feverishly worked to create tempting signature dishes made of only the freshest, natural Irish ingredients. Pair these with the finest stouts, ales, lagers, spirits, music, entertainment by special guest artists, and sports watching, and you've got yourself a little piece of the Emerald Isle in the heart of Las Vegas!"
"Outdoor seating is spacious and there is a full bar there as well so you don't have to shuffle in and out for drinks. I really like that if you step outside there are speakers so you can still hear the music."
"The atmosphere in the pub was genuinely good, and we totally forgot that we were inside a hotel in Las Vegas."
For reservations at the Irish pub call 702-740-6463, it's located at 3790 S Las Vegas Blvd, Las Vegas, NV 89109.
Nine Fine Irishmen pub is open daily, 11 a.m.-11 p.m. with the bar open until 2:45 a.m. Happy hour is Monday-Thursday from 2 p.m. - 5 p.m. Nightly entertainment starts at 9 p.m. Reservations can be made at the New York New York Las Vegas Hotel by calling 866-815-4365.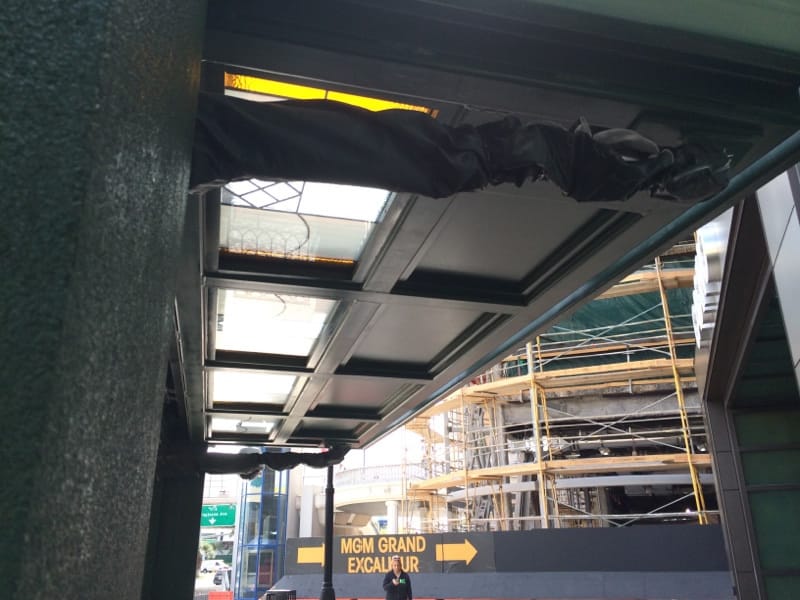 The hydraulic cylinders which open the four hydraulic kiosk bar doors were somewhat camouflaged with custom fit nylon covers with Velcro closures. Side plates were attached to hide their visibility from the outside.
McKeon Door Company
McKeon Door Company with offices in New York, Los Angeles, Salt Lake City, and Washington D.C. is a full line manufacturer of overhead and side activated coiling grilles, doors, fire door systems and custom engineered closures.
It is the only manufacturer to have successfully burn tested under UL 10b - a horizontal fire shutter designed to provide fire protection between floors. These fire and smoke rated systems include emergency egress and come in a number of variations, from vertical coiling to accordion doors.
Founded in 1946, McKeon Door is a full line manufacturer of overhead and side activated coiling grilles, doors, fire door systems and custom engineered closures. Their emphasis on special purpose fire door systems has provided architects and design professionals with options and product performance not previously available. Such product innovation includes horizontal fire shutters for protecting openings between floors as well as vertical and side acting fire door systems which provide fire and smoke protection while allowing for emergency egress.
McKeon is an international firm with over 110 developing/installing distributors who assist designing and specifying professionals in the development stages of building construction. McKeon exclusively distributes their products through these developing/installing distributors. The developing firms provide a unique support system to the architectural community in that, if a firm is working on a project outside of a specific regional area the distributor in that region can economically provide field and technical support.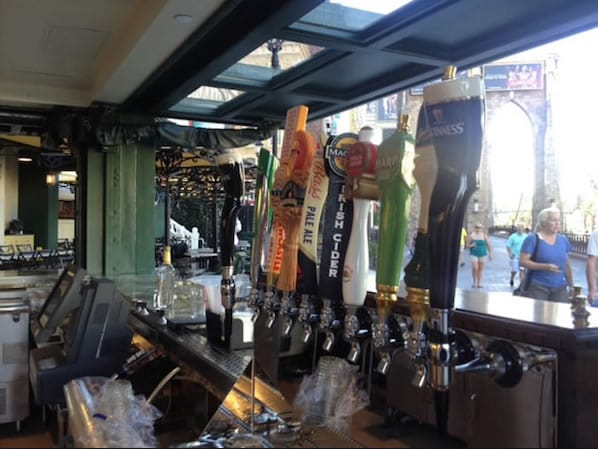 Customers can drink in the scenery on the Las Vegas Strip. The pub has fine selection of Irish libation ranging from the ever popular Guinness to Harp, Bass Ale, Irish Cider and more.
Their Special Applications Engineering Department is always available to provide valuable assistance in design, applications, restrictions and requirements of coiling door and specialty door planning. Experienced engineers will help pinpoint your needs and will prepare fully detailed product application drawings and technical specifications based on your project requirements. The McKeon Door Company corporate office is located at 44 Sawgrass Drive, Bellport, New York 11713. McKeon Door of Nevada, Inc. is located at 3174 W. Post Rd. Bldg. C Las Vegas, NV 89118, phone: 702-636-9338 or they can be reached toll free at 877-542-6038. For more information, visit their website at: www.mckeondoor.com