Born to Fly - The Rest is History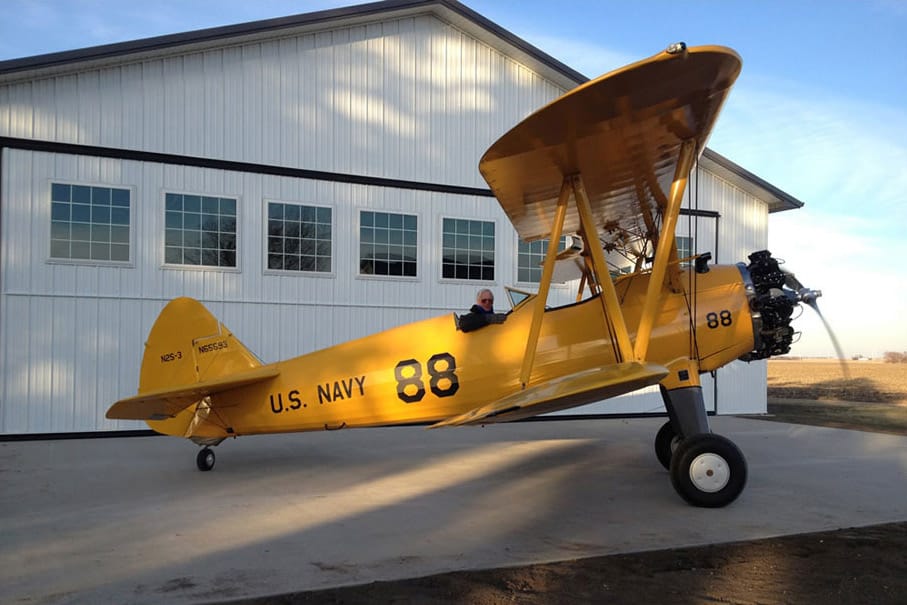 David Burroughs sits in his historically correct 1942 Boeing-Stearman Navy N2S3. Stearman's were built in the U.S. during the 1930s and 1940s, serving primarily as a military trainer throughout WWII. Thousands were later sold on the civilian market and used as crop dusters and for aerobatic and wing walking in airshows.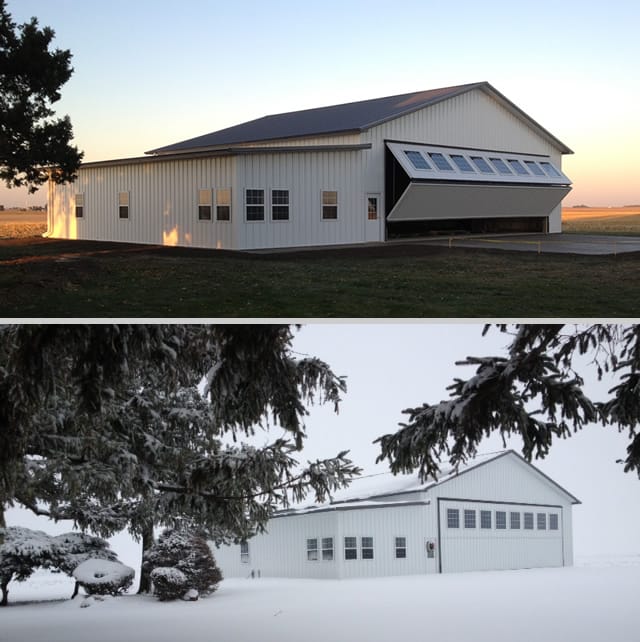 The Burroughs hangar, office and shop looks as impressive in winter as it does in summer. Anderson Statewide Buildings, LLC of Sterling, Illinois was the contractor who built the 3,880 sq. ft. hangar, shop and office building in El Paso, Illinois.
What you see at the David Burroughs fourth generation farm north of El Paso, Illinois, located halfway between Saint Louis, Missouri and Chicago, isn't your run of the mill ordinary hangar - it has class, inside and out.
David Burroughs was born to fly; his new hangar with a Schweiss bifold door was just icing on the cake.
"I grew up as a little kid being crazy about airplanes. When I was one or two years old, I knew exactly what I wanted to do. I studied airplanes and built about 100 models by age six. Instead of going to soccer practice, I went to airports and flew with local pilots. By the time I was nine years old I learned how to fly and by the time I was in third-grade I was giving flight instruction to other thirdgraders on the playground. Two turned out to be pilots much later - I think I hold the record as the United States youngest instructor," said Burroughs.
Burroughs first plane was an Aeronca 7EC, but his dream since a little kid was always to own a Stearman biplane, which he now has, along with a Cessna 150 which he uses for business. He's been flying for about 57 years.
One thing that immediately sets off the exterior of the Schweiss bifold hangar door is the window work. It was from the Golden Years of Aviation that Burroughs got the idea to copy the window configuration of hangars from that period. Eight 16-pane 4x4 windows add a touch of class to the door and allow a more than adequate amount of light into the hangar. Burroughs was quite particular about this feature to the point where he had the builder change the window design, telling him he wanted windows, and he wanted them big. He did update them by using UV treated glass, the reason being that sunlight can deteriorate fabric on aircraft and cars. On the plus side, solar energy helps heat the building.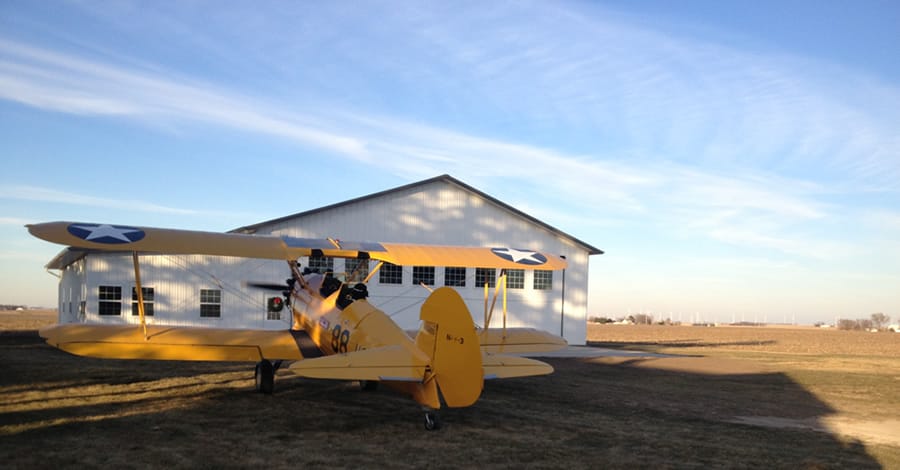 All Stearman's are technically 'Kaydets,' a term used by the Army. The Navy referred to their Stearman as 'Yellow Peril,' because they were difficult to fly and were painted yellow. The Stearman has a maximum speed of 135 mph. Pendent lighting and eight 16-pane windows provide more than adequate lighting inside the hangar.
"I wanted windows with a 'Capital W.' Everyone who sees my hangar, whether from a photo or for real, say they love those windows," noted Burroughs.
Burroughs decided on a Schweiss bifold liftstrap door over a hydraulic door for two reasons, the first being that it would allow him to taxi up closer to the hangar. The second reason was that aesthetically the bifold was closer to 1930s vintage airport look.
The Schweiss bifold liftstrap hangar door is 44 ft. x 14 ft. with an actual clear opening of 12 ft. Manual latches secure the door which has an internal truss for added support. A 240 volt single phase bottom-drive electric motor easily lifts the foam insulated door. Pendent lights are mounted on the light gray ceiling of the hangar and the inside of the hangar door is lined with white steel paneling and corrugated galvanized steel, ala the 1930s look.
"I looked at other doors casually, and then at Oshkosh about five years ago I talked to two different manufacturers' representatives. Mike Schweiss was there and I talked to him and grilled him to the floor, he held up reasonably well. I liked the straps idea and the idea that it goes up faster. The main idea was that I wanted a door that would seal properly," said Burroughs.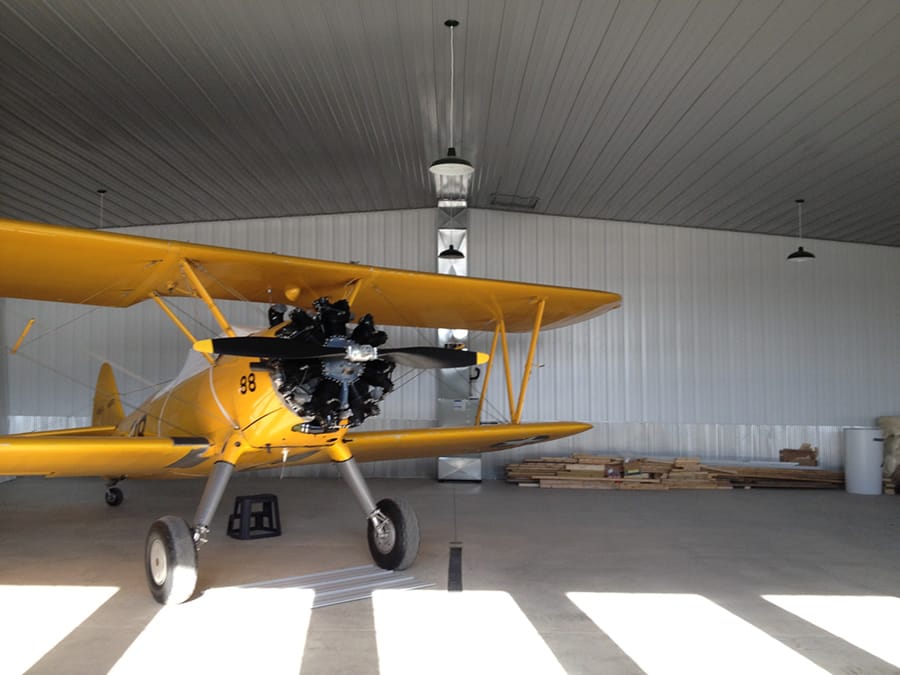 The hangar portion of the new building is big enough to hold three aircraft and the rest of the building is used for an office and shop.
He built a half mile long grass landing strip then dreamed on for another 10 years or so before designing his hangar. He can now taxi right to the landing strip from his hangar in 30 seconds. Prior to this he hangared his aircraft at the Bloomington Airport, which was about a 30 minute drive.
Burroughs has spent a 45-year career as a marketing and research executive and has no intention of retiring. Car and plane restoration is a secondary business that he has been doing for the past 35 years. His main business now is historical research, restoration and authentication consulting on aircraft and collectible automobiles.
"I've done restorations for years and years and have written books on restoration, created the national judging standards for Corvette's, and do consulting for collectors. Another business I run is called 'Prove It.' That business is all about forensic research to authenticate the claims made about controversial collector cars," noted Burroughs.
By controversial, he explained for example one owner of a car may claim he has the car that won the Indy 500 in 1965, and one or two others may make the same claim. Investigative research and forensic documentation on Burroughs part can determine who really does have what. His shop has storage of many files and records for this purpose.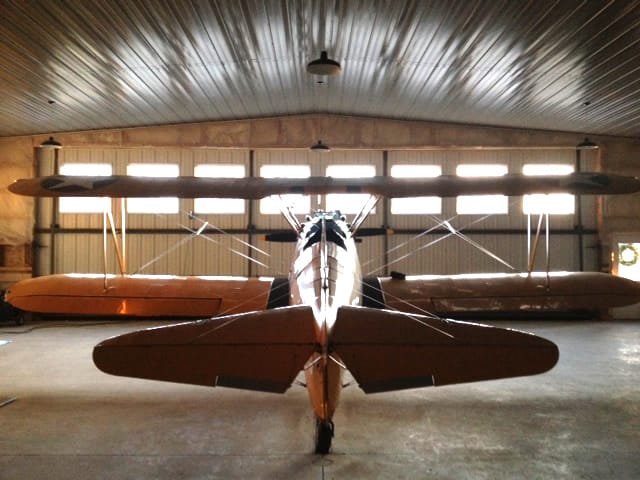 The inside of the Burroughs hangar is as classy looking inside as it is outside. Foam insulation and an inside door liner of white steel paneling and corrugrated galvanized steel were added after this photo was taken.
Burroughs decided to have Rick Andersen of Andersen Statewide Buildings, LLC of Sterling, Illinois do the construction of a new Wick building. He sketched out what he wanted and together they designed a 3,880 sq. ft. multifunctional building, 72 ft. across the front face, which along the side is 54 ft. The building also has a 21x20 ft. office space with a 32x20 ft. shop behind that. You can stay in the hangar and turn left into the office and access the shop from there or walk directly into the shop from the hangar. A 9 ft wide set of carriage doors open to the shop from the hangar; wide enough to drive a car in. The hangar itself is 52x54 ft. and capable of storing three aircraft.
"David Burroughs was a direct referral from one of my friends. I went down to talk to him. That was two years ago this month. It took a year and a half to get things to his liking so he could order it. It was really a good job, by the time he ordered the building, he knew as much about it as I did. I was confident that he would be very happy with it. Sometimes you don't get that feeling from people who don't get as much involved in it. He knew what he wanted but wasn't sure how to tell me. We had regular meetings at his and my place, we spent hours going through things. I had Wick do drawings with windows and the Schweiss door. I think that's what sold him on it," explained Andersen.
Burroughs was already sold on having a Schweiss door, but if he'd asked Andersen for recommendations on a bifold door, Andersen would have given high marks for the Schweiss Door line because he's been ordering Schweiss doors for the past 25 years.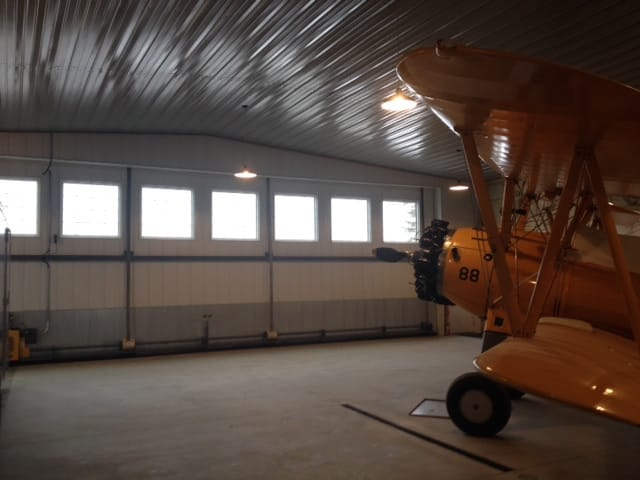 The Schweiss Doors installation crew hung the 44 ft. x 14 ft. bifold liftstrap door on the new building last fall. The door is foam insulated with a white steel paneling and corrugated galvanized steel, giving it a 1930s look. The exterior cladding is steel to match the building.
"When anybody asks for a bifold door, it's Schweiss who I call. It's an excellent dependable door,"said Andersen.
Anderson also said that he likes working with the Schweiss Door factory people. When he needs an estimate, he said he gets one fast. For planning and installation he appreciates the call backs so everything can be done in the right order and on time. Something his customers appreciate as well. All the planning that went into the new building paid off, giving Burroughs a building he can be proud of.
"It's multifunctional," added Burroughs. Because I can use the hangar area for my automotive business. It's flexible to be able to take the shop work into the hangar, but the objective is to not clutter and keep it nice and neat. The shop is for more detailed restoration work with good light and heat."
Andersen Statewide Buildings LLC
Andersen Statewide Buildings LLC of Sterling, Illinois is locally owned and operated by Rick Andersen who has over 39 years experience in all phases of the contracting business in the North Central, Illinois area. His wide array of diversified experience goes back to 1974 when he worked on crews for general contractors and then got into sales later. In 2005 he went into business for himself and has kept busy.
They specialize in commercial and light industrial buildings, agricultural buildings and country suburban and livestock buildings. North Central Illinois is basically agriculture but has all of the above. "When I started in 1974, we were 90 percent on the farm. During the 90s a lot of that moved over to commercial and light industrial. In 2007-08 a lot of that went out of the window, and now it is back to a strong ag market," said Andersen.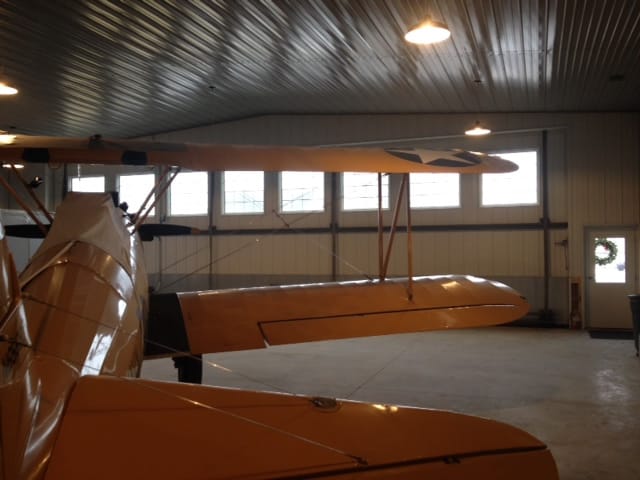 Burroughs chose the Schweiss bifold door because he liked the liftstraps, wanted a fast opening door that sealed well and that was aesthetically pleasing. He also liked the fact that he could taxi his planes close to the door.
Andersen Statewide Buildings is a certified Wick builder and Andersen has been familiar with them since 1993. He said he liked the direction the company was going in and that it is a family run business now in its 60th year.
Andersen offers complete construction and remodeling service from conception to completion on all types of buildings and structures. They guarantee all of their buildings and workmanship and were named 2005 Suburban Builder of the Year and 2006 Building of the Year Nominee.
For more information, contact Rick Andersen of Andersen Statewide Buildings LLC, 3219 Mineral Springs Road, Sterling, IL 61081 at 815-343-8826 or 815-626-7378.
Their website is: www.andersenbuildings.com.
Email: andersenstatewidebuildings@comcast.net