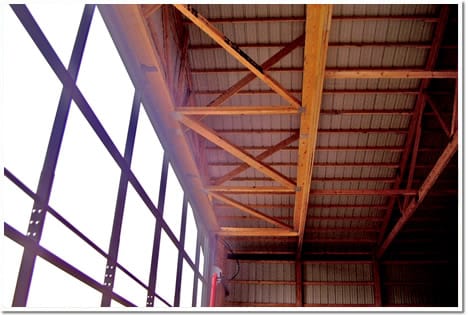 Marvin Finfrock of Clinton, Illinois found out the hard way that you get what you pay for - in essence you could say, "He had two of the rest, now he's got the best!"
Finfrock originally ordered a large hydraulic farm door for his 90 ft. x 200 ft. cold storage building from another company (we won't name) that is still in business today. That decision turned out to be a complete nightmare from start to finish.
"It was a piece of junk!" said Finfrock. "It was a 70 ft. hydraulic door, very lightly built, it came in two sections that didn't meet together when they put it together. It showed up bent, and when raised it would bend, very poor weld quality, with welds missing in places. It was a piece of crap, I've never seen something so poor, there was no engineering done on it. There was no quality control."The other door was supposed to be wind rated, but Finfrock explained that you could shake it by hand and it would move six inches back and forth in the middle.
Finfrock said when the other company delivered the door they showed up a day late because they got stopped by the DMV. They didn't have equipment either to handle the doors right, and it was hauled out on a house trailer with a truck axle underneath it. He had the door for two or three weeks. When he called the company, he was told the installer was on vacation and couldn't come look at it for a couple of weeks or more.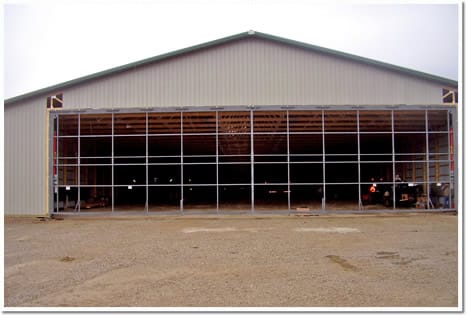 "I know another farmer that's got four of them and he's sick of them too. They turned out the same way, came the wrong size. The Schweiss hydraulic door I have now is solid," said Finfrock.
"I talked to Schweiss at the Louisville Farm Show and told him what kind of problem I had. He told me they should be able to show you engineering on your door with 70 mph windload. They couldn't come up with any engineering at all. They said they had engineers, but couldn't come up with any specs. I called the company and finally got something done. They came out, cut it up in pieces and took it out of there. I was lucky, I didn't put any money down on it."
To Finfrock's delight, the Schweiss guys, coming back from the Louisville Farm Show, came through on their way back and measured up Finfrock's building to have the door fit right. Clinton is about 320 miles from Louisville, right in the center of Illinois.
"Within two or three weeks from the time I ordered the door, two Schweiss guys came down and put it in, they cared about their work and knew what they were doing," added Finfrock.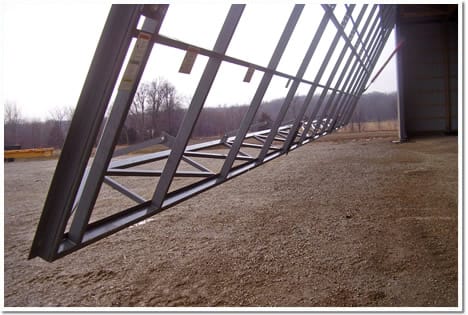 Finfrock said he chose a hydraulic door because he had hydraulic doors in the past. When he tried to contact them he found out that company went broke and out of business. He likes the Red Power pump unit on his Schweiss door and said it has a whole lot better quality. The other one he had, he said "had a little plastic tank," and cylinders not near the quality of those on his Schweiss hydraulic door.
"Schweiss was very good to me, it was a little more costly, but I can see why now," noted Finfrock. This door opens fine, no complaints with it. The welds look good, it opens smoothly and it gets used a lot with five semi's that come in and out of there every day. It's got a better quality pump, bigger cylinders, the frame is a whole lot different. It weighs more than the other door."Finfrock has been spreading the good news about his Schweiss door and he's not afraid to tell anyone about the problems he had with the other manufacturer.
"If there are any other farmers down at the Louisville Farm Show coming up that have any problems, send them over to me, I'll be glad to talk to them. I appreciate the good job Schweiss Doors did for us," said Finfrock.