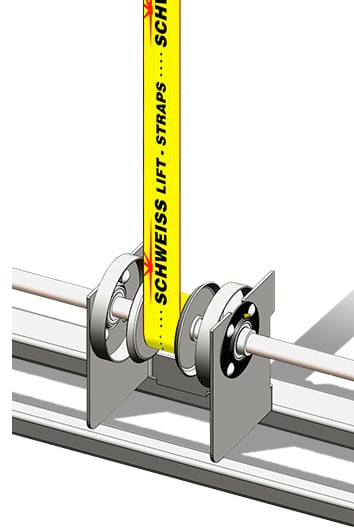 LIFT STRAP BIFOLD DOORS...
Straps are rated for 29,000 lbs
STRAPS ARE BETTER THAN OUTDATED CABLES
Some manufacturers still continue to try and sell outdated cable
lift bifold doors - cable doors that not only require frequent maintenance
due to fraying, overwrapping or strands breaking , but also open much
slower, are hard to adjust, are not as reliable as straps, and are
noisier than liftstrap doors. Straps are a better design !
STRAPS


IN USE FOR 20 YEARS
TRIED, TESTED, PROVEN

Patent #6,866,080 and 6,199,617
Schweiss Revolutionized Bifold Doors
Customers Welcome Greasable Hinges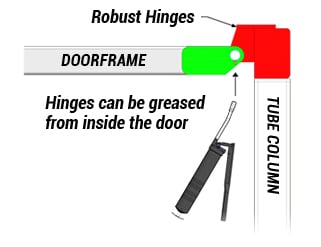 HINGE SURFACE AREA
Hinge surface area is critical on large moving doors. Over the years, we all have heard of hinge failures on others doors. Large hydraulic cylinders are putting extreme forces on each of the outer hinges of the doorframe. Schweiss has designed and patented a robust hinge with more surface area to evenly distribute the loads of a moving one-piece doorframe. Look at the hinge surface area. The stresses on the very outer hinges are immense. With that being said, take one look at the patented Schweiss hinges and you'll clearly see the workmanship, strength and functionality of each hinge.
GREASABLE HINGES
It's very important to be able to grease the door hinges with a heavy viscosity grease. When grease is used on the hinges of a large moving door it avoids unnecessary wear and adds longer life to the hinge and the doors operation. It's a common manufacturing practice to use grease on the critical wear points and load points to avoid unnecessary wear just like in the industrial equipment world with implements such as payloaders, skidloaders and other industrial equipment that are being operated around the clock.
The new hinge design with grease points on every hinge segment enables owners - whether they be private individuals or commercial customers - to periodically grease their hinges from inside the doorframe without having to go through the cumbersome process of first removing the top rubber weather seal.
Advantages of Grease
Using grease on the hinges is a better method of lubrication.
Using grease on the hinges is the industry standard.
Using grease on the hinges makes for a quiet door.
Using grease on the hinges makes for a smoother operating door.
Using grease on the hinges extends hinge life
Greasable hinges last forever.
Look at the Schweiss hinge, it has more lubricated surface area to give you longer life
Others rely on bushing FOR LUBRICATION
Doors move and flex as they open and close. The forces on each hinge vary during operation.
Not all bushings wear evenly.
Bushing wear thin over time.
Worn bushings offer less lubrication.
Less hinge surface area to distribute the door loads across the door header tube.
No way to inspect the bushings when the hinge pins are welded in - not removeable for inspection.
Almost impossible to replace the bushings when the hinges pins are welded in solid.
Greasable hinges LAST FOREVER!

. . . only manufacturer to offer greasable hinges
CABLES vs. LIFT STRAPS
OTHER CABLE DOOR MANUFACTURERS ARE FIGHTING BACK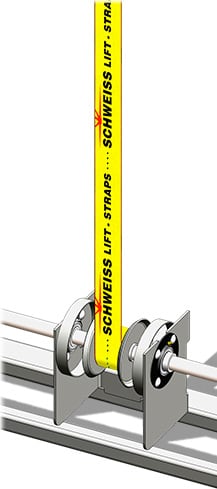 Offsetting the cables as they wrap up on the lift drum.
Offsetting the cables during lifting of a bifold is a great concept, until your cables don't have the proper tension. Then you end up with messed up cables, unlike straps that wrap on top of each other. Tension is not an issue with lift straps nor do they get messed up. Straps are a perfect design... trouble free.
Adding numerous lift points
The only reason a cable door manufacturer would add more cable lifts to a door is because cables are not as strong as lift straps. More cable lifts means more maintenance and more expense - why fight the outdated cable concept and costs involved! Using more cables
may translate to less load per cable. But who wants more cables on a door if cables
are already known to cause issues when not maintained properly?
Offering a 10 year warranty on cables
A cable is a cable no matter what sales pitch they throw at you. It's not about the cost of the cables... Maintaing proper tension or replacing cables is the issue. It takes time and labor to maintain or replace the cables and it's no easy task!
Cables are harder to work with!
CABLES END UP COSTING MORE IN MAINTENANCE
What bifold door customers are saying about cables:
Keeping proper tensioning of the cables is critical on any bifold door but the cable clamps make that very difficult. Cable doors are also slower, wear out sooner and are harder to replace. They require more maintenace and are not as reliable or quiet as lift straps. Schweiss Lifts straps are proven to be a far superior method of lifting any bifold door. Lift straps wrap on top of themselves by design, eliminating any overlapping issues and wear!
Lift Straps are the cure for your cable problems
YES, SCHWEISS WILL CONVERT ANY BRAND BIFOLD DOOR TO "LIFT STRAPS"
Schweiss has received thousands of calls from cable bifold door owners wanting to retrofit their outdated cable door system to the "Schweiss Liftstraps".
"STRAP CONVERSION KITS" ARE AVAILABLE.
P.S. I can see why those other cable door
manufactures are fighting back but the truth is no one
has ever converted a strap door back to cables, because . . .
Schweiss Doors of Fairfax, Minnesota, USA have been on the market for over 38 years. We manufacture two great styles of doors, the New Red Power Hydraulic doors and the famous "Lift-Strap" Bifold doors - successfully for 20 years. What some people don't know is that they've evolved with the times and many improvements have gone into them, creating a product that everyone is wanting!
Market Shaking Invention
The most obvious 'market shaking' improvements for the Bifold Door is the addition of the patented lift-straps and the strap autolatch systems - two features not offered by any other door manufacturer. Schweiss Lift Straps have revolutionized the door world by opening and closing much more quickly, quietly and effortlessly. Not only are they safe, but they're also easy to install, and they're much longer lasting. It's a win-win for the customer and straps doors are leading in the door world. Word is spreading fast.
"Lift Straps" Tested and Proven
For years, bifold doors have been lifted and lowered by the conventional means of steel cables. Schweiss Bifold Doors have been using the popular, long-lasting lift straps for over 20 years- now 99 percent of our customers are demanding polyester lift straps for this function. Why? Because lift straps offer more lifting ability, won't fray or overwrap! The strength-to-weight ratio on straps is extremely high. The 3-inch straps are rated at 29,000 lbs, where 1/4" cables are rated at only 7,200 lbs. In addition, the safety factor on straps has well over a 5:1 ratio.
BIFOLD DOORS HAVE BEEN AROUND FOR YEARS . . .

SCHWEISS
KEEPS MAKING BIFOLDS BETTER
Everyone's Fed Up With Cable Doors
Cables are the old way. Everyone knows cables can over time have a tendency to fray. Frayed cables can break and doors can come crashing down on aircraft, machinery or even people. Cables require more servicing, are hard to work with and difficult to replace. Replacing cables with cables is a timely and costly expense, and can be a real safety issue if the cables are not kept in good condition.
Once You Try "Lift Straps" You'll Never Go Back to Cables
Schweiss's excellent success with the New Lift Straps has revolutionized the door industry. It's a no-brainer, why bother with cables, it becomes obvious. You'll understand why the New patented Lift Straps are the smarter way to raise and lower your bifold door, smoother, safer, faster, quieter. Like a customer once said:
Huge Advantage - 10 Year Warranty
The strap advantage is huge, straps are longer lasting, never rust, never tangle, are flexible, open a door faster and are 100 percent quieter than steel-on-steel cables. With lift straps, door owners get a "soft start" and "soft stop," adding to the life of the bifold door. Schweiss stands behind the "New Lift Straps" by carrying a 10-year warranty and straps outlast cables well over three times.
"How Can You Say that "Lift Straps are the Best?"
Schweiss has been receiving calls from door customers all over the country asking if they can modify or retrofit the "Schweiss Lift Straps" on their doors that currently are operating with a cable system.
"I know it's not your bifold door, but can we buy just the 'Lift Straps' and change my door over?"
"We have seen our neighbor's doors with your lift straps, would it be possible to convert/switch over my door to the 'Schweiss Lift Straps?'"
"I just purchased a new Schweiss Door six months ago with lift straps and we have two of your Schweiss doors with cables. Do you have a kit to put 'Lift Straps' on my older cable doors? We are really happy with the New Strap design!"
"I have an older model Schweiss Bifold Door, can we change over to
the 'Lift Straps', what's the cost, and is it possible?"
Schweiss has designed and figured out a way to modify any bifold that's ever been manufactured. Retrofitting an existing cable door over to the Patented Schweiss design "Lift Straps" has brought relief to the customer with the old vintage cable bifold doors. Finally the customers with cables can be at ease, they're able to do away with the antiquated cable lift design and retrofit any style door over to the latest and greatest Schweiss Patented "Lift Straps."
Comments from customers who did the conversion:
"The Strap conversion made my door better than new!"
"What a nice Improvement to an older door!"
"The straps and auto latches -- what a great improvement!"
"You guys are good, thanks for the neat invention!"
"Should have done the strap conversion years ago!"
"If anyone asks, send'em my way and I'll be your salesman. I love my door now!"
SCHWEISS RESPONDS:


"We are more than willing to take a look at your current door and help modernize it with the "New Lift Straps"

We have introduced a new way to lift our bifold doors. Now available is our new, patented, "lift straps" that take the place of aircraft cables to raise and lower your door. The lift straps make our door Faster, Safer, Simpler, Easier, and Quieter than any other bi-fold door available to you on the market today. Schweiss Bi-fold Doors is constantly on the move, trying new and better ways. Our business Goal: Give the best money can buy at very affordable prices.
Schweiss designed and patented a custom made polyester Lift Strap that provides a new alternative to steel cables unlike any on the market to open bi-fold doors. The Schweiss Lift Strap is durable and lasts longer than steel cables. It requires less maintenance and it is very easy to replace. 99 percent of our customers are demanding the popular "New Lift Straps" on their Schweiss Bi-Fold doors.
How Does the new "Lift Strap" work? The strap
wraps around the lift drum as the door opens,
increasing the size of the drum. The larger the drum's
circumference the faster the door opens. It's ideal: the door
opens slowly at first and quickly picks up speed, a nice safety
feature. It's a clean, strong design. It's quiet, it's simple, and the door opens faster.
With the new "Lift Strap," Schweiss also offers a new strap tightener system which takes up
slack in the belting. This is a real nice feature for keeping the proper tension on the "Lift Straps"

Long Lasting •
All straps are polyester, they never rusts, making it more durable and longer-lasting than steel cables.
Flexible •
Straps are flexible, which means longer life span than cable.
Quieter •
Straps are 100% quieter and smoother running on the door.
Speed •
Straps will increase the opening/closing speed of the door due to the size of the drum circumference. The door is opened
slowly at first then speeds up, a good safety feature. You get a Soft Start and a Soft Stop. It doesn't get any better.
Alignment •
Straps never get tangled or criss-crossed.
Load •
Straps evenly distribute the load on the door.
Life •
Straps have three times the life of cables.
Tension •
When it comes time to tighten the straps, it's easier to use a ratchet tightener.
Cost •
Cost of straps are competitive to the cost of cables.
Warranty •
NOW offer a 10-Year Warranty on original lift straps.
Converting •
Schweiss has "Cable-Lift"-to-"Lift-Strap" conversion kits that adapt to most presents doors with factory.
Safety Strength •
Safety factor on the straps is well over 5:1.
Strength-to-weight ratio on our straps is extremely high.
3" straps are rated at 29,000 lbs / 1/4" cables are rated at 7,200 lbs.
That is why the Schweiss Lift-Strap System has a NEW 7-YEAR WARRANTY!!

COMMON QUESTIONS ASKED
A Note From Schweiss
When our patented lift-strap system became such a popular choice with door customers, it was
only logical that the competition would come out swinging, especially if a cable system is the only
system they offer. New Technology is wonderful, even in the door business.
What Is The Competition Saying?
• Cable systems are more durable, more reliable, and safer than straps.
What Do We Say?
• NOT SO! In fact, our "Lift-Strap" system beats the competition on all three of those
factors. However, Schweiss continues to offer cable doors should the customer want a
cable system. We believe in offering the option. You see that in many other features
available to our customers.
The Bottom Line:
• Why bother with cables? Lift Straps are faster, safer, simpler, and quieter. End of debate.
• Our Lift-Strap system outlifts, outlasts outsells any cable system.
• Today, 99% of Schweiss Bi-Folds are ordered with Lift Straps.
• Since we introduced our Lift-Strap package, cable systems have become hard to sell.

Why are Schweiss Lift Straps the best way to Lift Bifold Doors?
• Faster - Gear Ratio changes as the door opens.
• Safer - 29,000 lb. Tensile strength, compared to 7,900 lbs. Cable.
• Easier - Install a strap, or install a cable. What a difference.
• Simpler - Never will lift straps tangle. How can they lift?
They wrap onto themselves.
Specific Facts on Straps:
• Straps outlast cable.
• Straps are very low maintenance.
• Straps are clean, neat looking. No abrasive strands.
• Straps will stretch with use, so we designed a simple strap tightener.
Give it one or two clicks and your strap is tight again. How simple does it get?
How Do You Know The Straps Are So Reliable?
All our straps are made of polyester material that has an indefinite working life. We did vigorous in-house
testing of the New Lift Strap system, the equivalent of 20 plus years of conventional usage, without a single malfunction.
The polyester material we are using has remarkable strength. That is why we confidently provide a 7-year warranty on our
Lift Strap system. Like the 'Energizer Battery' our customers are finding Lift Strap systems keep working and working and
working.
Can I Still Get Cables?
The cable lift system is still the standard but that is rapidly changing. Already 80% of our doors get ordered with the new Lift
Strap System so it is obvious customers are catching on fast and for all the right reasons...faster, safer, simpler, easier, and
quieter.
Can I Put Straps On My Existing Schweiss Bifold Door?
Yes, our older Bifold doors can be retrofitted with the Lift-Strap System. Yes, the Lift Strap System can work on Schweiss doors, depending upon the construction and mechanics of each particular door. However, I would not advise that it would work properly on EVERY bifold door, regardless of manufacturer. And there is no logical, or legal thought that we would endorse the use of our patented lift-Strap System on another manufacturer's door.
We Took The Work Out & Put Safety In By Keeping The Proper Tension
On Our Lift Straps - It's Win-Win For The Customer.
We have yet to sell a REPLACEMENT LIFT STRAP! They simply last, and last and last. And that is time, labor and $$$'s saved for the door owner. The 29,000-Lb. Tensile strength is a tremendous safety factor. That is why the Schweiss Lift-Strap System has a 10-YEAR WARRANTY!
Soft Start / Soft Stop
The 'mechanics' of our lift-strap system are uniquely simple: As the strap wraps on the lift drum the door quietly opens quicker until it reaches the automatic stop position. Should you stop the door at any position, the door GENTLY comes to a stop. You get a Soft Start and a Soft Stop. It doesn't get any better.
SCHWEISSS GOES TO 10-YEAR WARRANTY ON LIFT STRAPS

6-18-2010
Unheard of in the commercial door world is a 10-year warranty. But not for Schweiss Bifolds! Customer satisfaction has been so
universally supportive that Schweiss Doors, world leader in the manufacture and marketing of the famous Schweiss Doors, is now providing a 10-year warranty on our popular Lift-Strap mechanism
Since our patented Lift Strap was introduced over 25 years ago, we have yet to replace a system due to mechanical failure.
Remarkable, considering that Schweiss Doors have now been marketed across America and into other countries. With its 29,000-lb.
tensile strength, this nylon strap is virtually fail safe.
Initially marketed with a 3-year warranty, Mike Schweiss said, "Engineering competence and rugged durability are trademarks
of our products. Extending to a 10-year warranty on our Lift Strap units is simply showing our customers that they can expect
total performance on a Schweiss door system."
Schweiss continues to be the door leading manufacturer always on the cutting edge, offering both Hydraulic and Bifold choices.