Flexibility
We're proud to offer three styles of custom-made doors that we manufacture in sizes ranging from 6' width to 140'. They are the newly designed Liftstrap Bifold door, the "One-Piece" Hydraulic door, and our architectural Designer Door lines. Schweiss Doors has been known through the years for its flexibility by establishing new trends in the door world.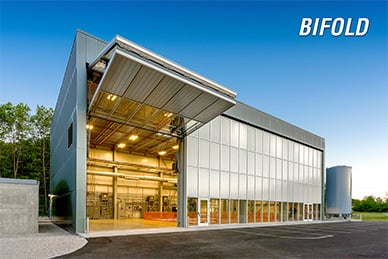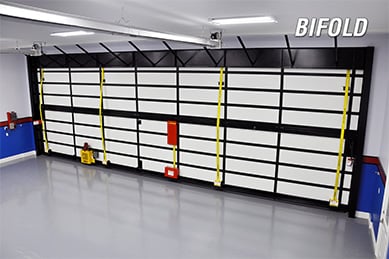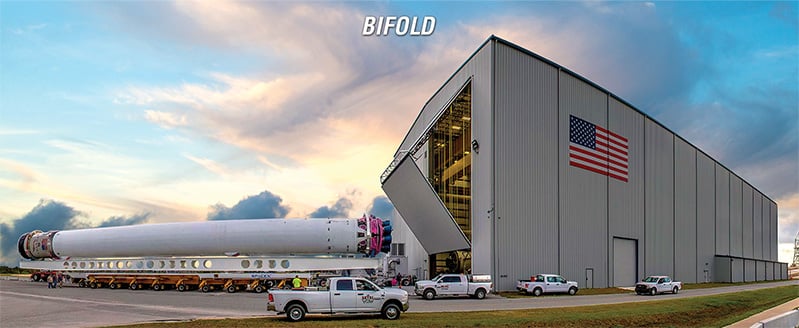 Bifold Liftstrap Doors
The Schweiss Patented Lift-Strap design has virtually revolutionalized the bifold door industry and made us a leader in the bifold door market. It utilizes nylon web material rated for 29,000 lbs. that quietly and smoothly lifts and lowers the door. Straps are quiet, clean, faster, rust-free, durable and longer lasting than steel cables. Schweiss doors are custom-made to precisely fit your opening without loss of headroom. We can also do custom cuts to follow your roofline to gain more headroom.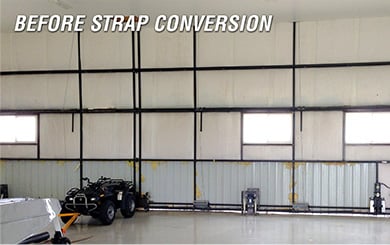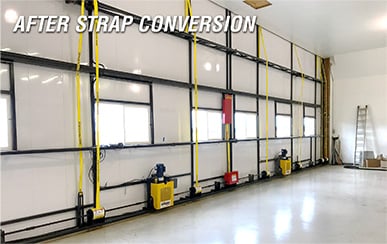 Retrofit Existing Cable Doors
For years, bifold doors all around the country have been lifted and lowered by the conventional means of steel cables. Schweiss Doors has figured out a way to convert and modernize those existing cable bifold doors manufactured by other companies with its innovative liftstraps conversion kit that has easy to follow do-it-yourself install instructions. Schweiss Doors has been happy to accommodate all these requests.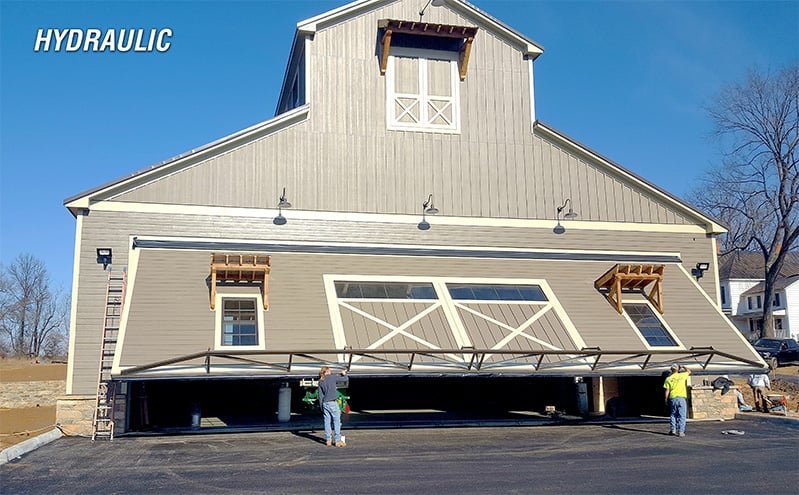 Hydraulic One-Piece Doors
Schweiss Doors leads the construction industry with its one-piece Hydraulic doors. Builders like the clean, yet rugged design of these sturdy, yet smooth and quiet-operating doors. What sets us apart and makes us stand out in the market is our patented robust wrap-around hinge design with grease zerks; double push tubes, spherical bearings, hydraulic windpins and heavy-duty cylinders that provide super stability. These big doors are in demand for agricultural buildings, aircraft hangars, residential designer door use and more. As one builder commented, "Hydraulic doors with the Schweiss name, it doesn't get any better!"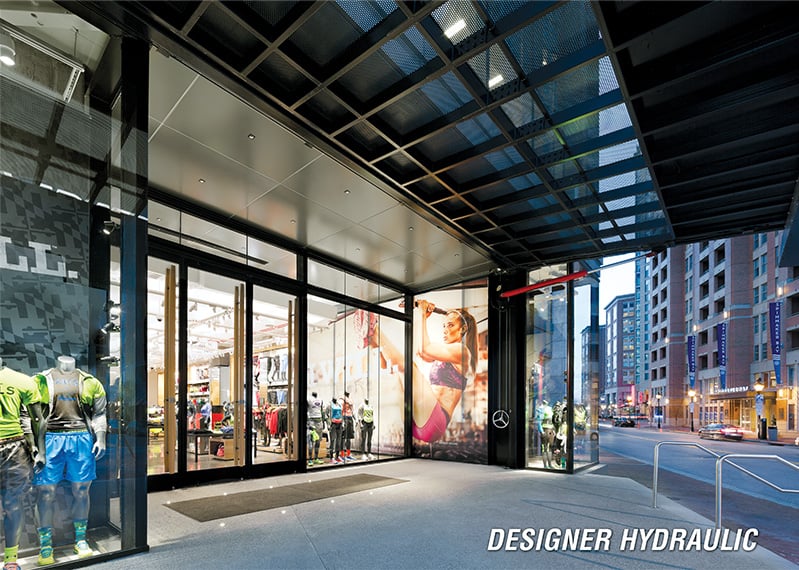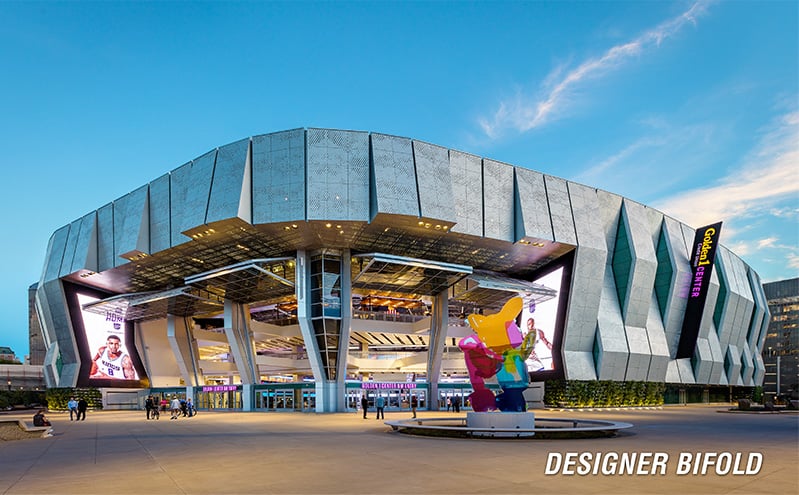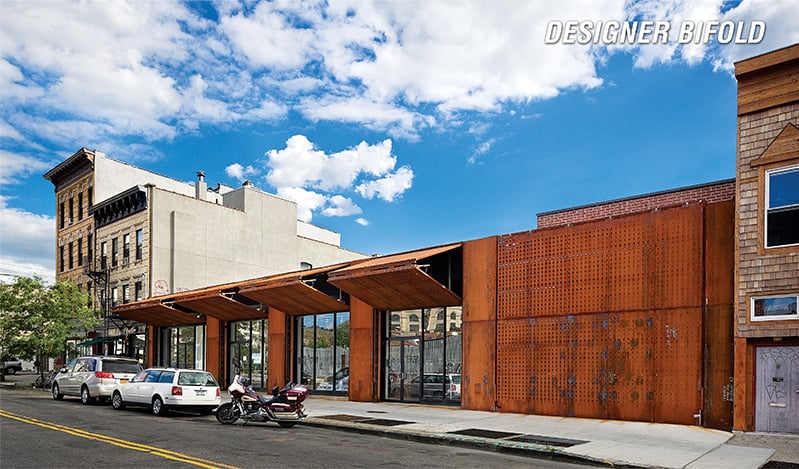 The Leader In The "Designer Door" World
Schweiss created a new world of interest from architects and builders throughout the country.
Our philosophy is: "You Think It, We'll Build."
Ask any Schweiss Designer Door owner: Chances are very good that they'll say purchasing a Schweiss bifold or hydraulic door of any style was one of the best investments and smartest decisions they ever made. Schweiss door aesthetics are one factor, but what really matters is quality of construction and door longevity with reliable, efficient performance for years to come.
Schweiss glass designer doors enhance the interiors and exteriors of homes and offices; blending in so well that sometimes you have to look twice to see it's actually a door, roomd ivider or moving glass wall. There are many choices of decorative door coverings that can be clad with siding to blend in with adjacent walls. You may also want to choose from glass, metal or vinyl siding, decorative wood, translucent panels, decorative and custom windows and trim, stucco, rock face material and more to make your door one of a kind with its own unique style.
Whether it be a hydraulic or bifold style door, our outstanding long line of Designer Doors are used on homes, restaurants, stadiums, museums, RV garages and more.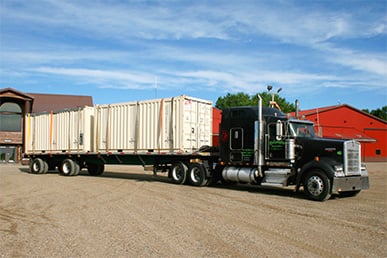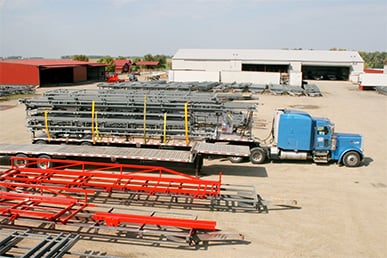 Schweiss Ships Globally
Doors manufactured at our facility are shipped throughout the country on semi-loads, shipping containers for overseas, or they can also be picked up directly from our factory. Our doors are easy-to-install by the owner or by our skilled installation crews. Wherever you may want doors delivered to, we can arrange for local, national and international shipments.