Billy Bishop Airport gets its first Schweiss Doors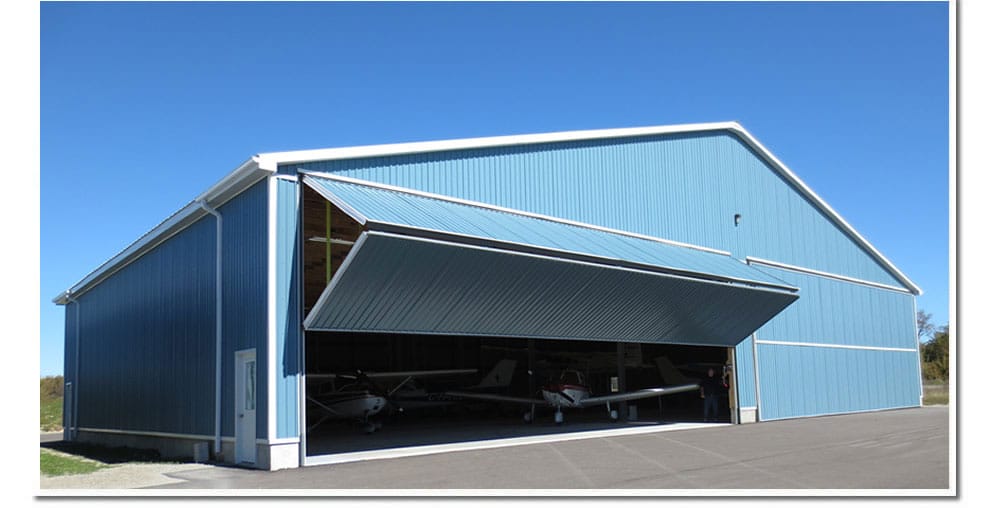 Four 46'x15' 3" Schweiss liftstrap bifold doors went onto both ends of this new 100'x64' hangar built by Prestige Contracting.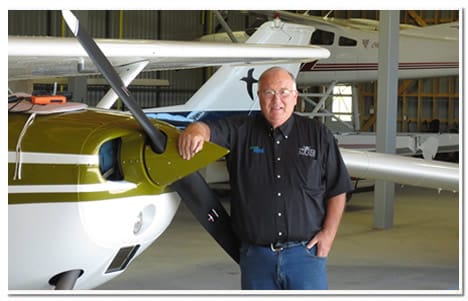 Steve Meades is fulltime manager at the Owen Sound Billy Bishop Regional Airport. The Ontario, Canada airport has shown outstanding growth over the years.
Fame is where you find it and in many cases others try to feed off it. Such is the case with The Owen Sound, Ontario, Canada Regional Airport, named after revered World War I flying ace William Avery "Billy" Bishop. Their hometown hero was the most highly decorated Canadian pilot of that war with 72 air victories to his credit. (See related story).
Much to the dismay of those from Owen Sound, the Billy Bishop Toronto City Airport in Toronto also splashed his name on their airport before anyone from Owen Sound even knew it was happening.
Never-the-less, the Owen Sound Billy Bishop Regional Airport remains a vital air link just two hours slightly northwest of Toronto nestled at the edge of scenic Georgian Bay, a large bay of Lake Huron. The Transport Canada registered bustling airport is open 365 days a year. Occupying 263 acres, it serves as a base for air charter service, corporate aircraft, sightseeing flights, air maintenance facility and dozens of privately-owned aircraft.
Steve Meades has been the full-time manager of the city-owned airport since 1991 and is president and spokesman for 17 member/directors who meet quarterly. The airport has been operated by CYOS Aviation Management, a not-for-profit corporation since 2011. CYOS Aviation Group consists of local hangar owners and pilots who are directly involved with a handson approach in its operations.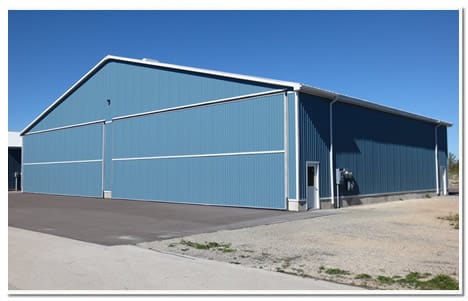 Schweiss bifold doors give the hangar a nice clean look when in the closed position.
"It was an groundbreaking thing we did at the time. We've demonstrated we can do a better job. We are $34,000 under budget this year, which is practically unheard of," said Meades.
Growth has been very good, actually outstanding. He said when he started the airport was seeing 6,600 flights annually, that number is now up around 14,000.
"Since we took over, fuel sales have doubled and have increased by one third this year. Movements (landings and takeoffs) have risen tremendously. We are a registered airport with commercial traffic, 150 Medivacs a year and we run a flight school. Forty percent of this is fixed wing," said Meades.
Military aircraft, such as C-130s and Griffin helicopters arrive there twice a year to conduct armed forces training exercises for Camp Meaford reserve units. The airport has a 4,000 x 75 ft. lighted runway, a newly paved taxiway extension and hangar finger access road. It has a hangar capacity of 48 aircraft and can park more than 20 outside. AV and Jet A fuel is available.
Meades said they finished construction in February 2013 of a 100x64 ft. hangar built by Prestige Contracting of Cargill, Ontario. Prestige deals in Schweiss Doors and placed four 46x15' 3" Schweiss liftstrap bifold doors on it, two front and back to allow for easy in and out access. He ordered it with manual latches and says they are easy to use and snug the door tight to the wall.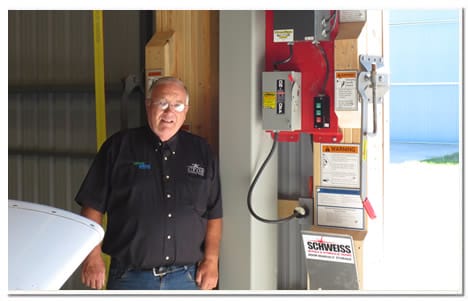 Steve Meades stands beside the control box and manual latch for the bifold doors. He likes the liftstraps because they are quiet and open and close the doors quickly.
"Steve (Stuempfle) is the most reputable guy in our area. My last hangar was state-of-the-art back in 1995 before straps were available - it was pretty much homemade. These Schweiss doors are far better engineered and they lift quieter and faster. For wider doors up to 60 feet they all work the same and when tightened up uniformly, the doors works magnificently. If I had to build another hangar, I wouldn't even bother anyone else but Steve for a price, and I absolutely recommend Schweiss doors," said Meades.
He also credits Steve Stuempfle at Prestige Contracting as giving 100 percent after-sales service and said nothing is too much trouble for him. Meades said he prefers the bifold liftstrap door to a hydraulic door because it is the best for the area climate that sees an annual accumulated snowfall of 11 to 14 feet.
"Mine is the first Schweiss door on this airport. I haven't had much chance to show it off, I've been too busy. I know that if a tornado blows through here my hangar will still be standing,"said Meades.
Stuempfle said it's built with 2x6s on the endwalls and 2x8s on the sidewalls. Six feet of poured-in-place concrete walls with two feet exposed give extra strength and steel beams running from the footing to the underside of the truss eliminate the need for sidewall bracing.
"If I build a hangar it comes with a Schweiss door, or you can get somebody else to build it," said Stuempfle.
He said since he first put in a Schweiss door five years ago the interest in these doors is unbelievable.
"Steve is the most reputable guy in our area. My last hangar was state-of-the-art back in 1995 before straps were available - it was pretty much homemade. These Schweiss doors are far better engineered and they lift quieter and faster. If I had to build another hangar, I wouldn't even bother anyone else but Steve for a price, and I absolutely recommend Schweiss doors."


- Steve Meades, Mgr.
Owen Sound Billy Bishop Regional Airport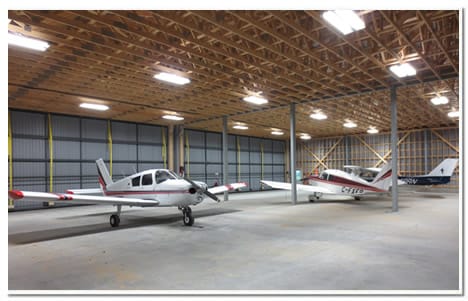 An interior view of the large hangar shows the position of the Schweiss bifold door patented lift straps. The well lit hangar is big enough to hold seven aircraft which can enter from one side and exit the other. Steel beams running from the footing to the underside of the truss eliminated the need for sidewall bracing.
"I've got orders for six to eight doors this week alone and I'm looking for a sales person and I need another installation crew on the road, which I know I can consistently keep going. I had a guy recently who was set on going to another door dealer here, but when he saw his friend Steve Meades doors he immediately noticed the better quality and went with a Schweiss door instead," said Stuempfle.
Meades 100 ft. hangar currently hold five planes, his own 1976 Cessna 172M, and he leases out space to other pilots. The hangar is capable of holding seven aircraft. He's contemplating putting up another rental hangar that will have a 50 ft. door, tall enough to hold larger aircraft like a Piper Navajo that has a 18 ft. tail height.
"This year our annual COPA (Canadian Owners and Pilots Association) Wings & Wheels event attracted 68 aircraft ranging from Niagara, New York to far north Elliot Lake and east to Ottawa," noted Meades. The fifth-annual event was held June 9 and features vintage aircraft, classic cars food and entertainment. Proceeds from the event this year went to the Owen Sound Rotary Club to fund its "Send A Kid to Camp" project.
Owen Sound Billy Bishop Regional Airport
The Owen Sound Billy Bishop Regional Airport is located five miles east of Owen Sound, Ontario. It has ARCAL lighting, is open seven days a week and has an operational staff on site nine hours per day. Normal hours of operation are 8 a.m. to 5 p.m. The terminal building is open during normal operational hours and a public telephone is available which has 24 hour access. It is capable of supporting VFR and IFR operations down to non-precision approach limits and IFR departures in visibility as low as one half statute mile. It has Aerodrome Traffic Frequency (ATF) on 123.00 MHz. A UNICOM service is available during operational hours for known weather and traffic information.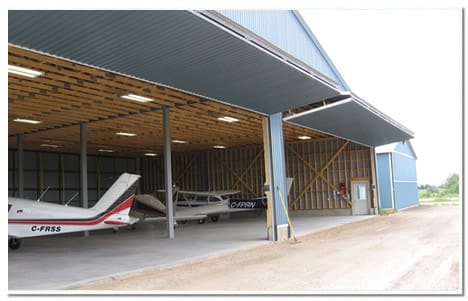 Prestige Contracting of Cargill, Ontario built the hangar strong enough to withstand a tornado. It has 2x6s on the endwalls and 2x8s on the sidewalls. Six feet of poured-in-place concrete walls go four feet underground. Prestige Contracting won't build a hangar with anything but a Schweiss bifold or hydraulic door.
The terminal building provides washrooms, meeting rooms, a lounge, flight planning area, public computer access with Internet and self-serve drinks, snacks and sandwiches. During the winter season, airport management provides condition reports to the flight information center in London, Ontario to pass on to pilots coming to Owen Sound. Asphalt and grass parking areas are available to pilots for daily use or on a monthly basis.
For more information call 519-371-6936 or visit their website at https://flyos.ca. For information on Wings & Wheels visit www.os-wingsandwheels.com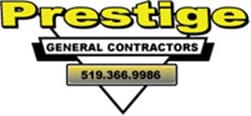 Prestige Contracting
Prestige Contracting is a bonded general contractor since 1996. He is a Canadian authorized dealer and installer of Schweiss Hydraulic and patented Liftstrap Bifold doors. Hangar and agricultural buildings and doors comprise a large part of his business, but he also constructs other projects including commercial, industrial and residential. His work takes him throughout Ontario and elsewhere. Maintenance and Service agreements for Schweiss doors and other brand doors are also a provided resource. Prestige Contracting is a member of the Canadian Farm Builder's Association and a Tarion Warrant Corporation Registered Builder. They can be contacted by calling 519-366-9986, by email at: info@prestigecontracting.ca or by visiting their website at: www.prestigecontracting.ca
Toronto names city airport after WWI Owen Sound ace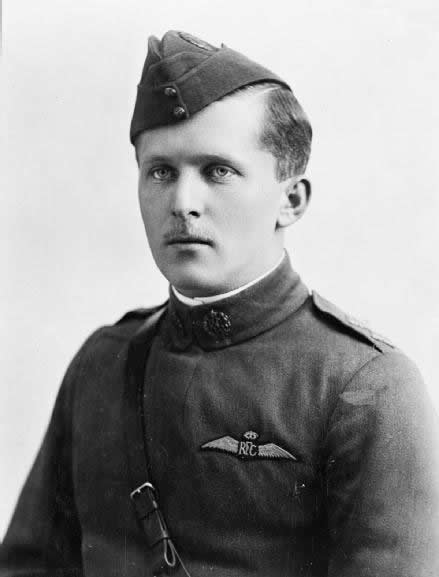 William Avery "Billy" Bishop
The Billy Bishop Toronto City Airport honored the most revered military ace, Air Marshal William Avery "Billy" Bishop, by naming their airport in his memory. That didn't go over to well with the folks at Owen Sound who didn't know about it until it was done. Owen Sound is located about two hours north of there.
Billy Bishop was a Owen Sound hometown hero and Canada's first World War flying ace, officially with 72 victories, making him the top Canadian ace of World War I. During WWII, Bishop was also instrumental in setting up and promoting the British Commonwealth Air Training Plan.
At 15, Bishop had his first experience with aviation; he built an aircraft out of cardboard, wood crates and string, and "flew" unharmed off the roof of his three-story house.
In 1911 at age 17 he entered the Royal Military College in Kingston, Canada. He failed his first year there after having been caught cheating. When WWI broke out later in 1914, Bishop left RMC and joined the Mississauga Horse Calvary Regiment. He was commissioned as an officer but was ill with pneumonia when the regiment was sent overseas and later transferred to the 8th Mounted Rifles infantry unit in London, Ontario. His seemingly "super-human" eyesight allowed him to put bullets in a target placed so far away others saw only a dot.
His unit left Canada on June 6 1915 and on June 21, off the coast of Ireland, the ship's convoy came under attack by U-boats. Two ships were sunk, but Bishop was unharmed. He quickly became frustrated with the mud of the trenches and lack of action. On day less than a month later he watched RFC aircraft return from a mission and said, "... it's clean up there. I'll bet you don't get any mud or horse shit on you up there.If you die,at least it would be a clean death."
While in France that same year he transferred tot he Royal Flying Corps and began elementary air instruction in the Avro 504. He was adept at taking aerial photos and was soon in charge of training other observers with the camera. His squadron went to France in 1916 where he flew a R.E.7 reconnaissance aircraft. Bishop's first combat mission was as an aerial spotter for British artillery. In the following months he also flew bombing missions but never fired his machine gun on an enemy aircraft.
After earning his wings in 1916 he flew the BE.2c, but disliked flying at night over London and transferred to France where he flew the Nieuport 17 fighter. At that time, the average life expectancy of a new pilot in that sector was 11 days and German aces were shooting down British aircraft 5 to 1. On his first patrol he was nearly shot down by anti-aircraft fire and became separated from his group. He claimed his first victory on March 25, shooting down a German 12-kill ace, but his engine failed forcing him to set down in "No Man's Land" 300 yards from the German front line. He raced to the allied trenches spending a night in the rain. Five days later he was named a flight commander and the next scored his second victory. In addition to regular patrols he flew many unofficial "lone-wolf" missions deep into enemy territory resulting in many more enemy aircraft being shot down. After one patrol, a mechanic counted 210 bullet holes in his aircraft.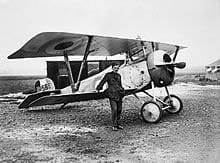 Bishop and a Nieuport
17 fighter
His new method of surprise attacks was successful; he claimed 12 aircraft in April alone, winning the Military Cross and a promotion to Captain for his participation at the Battle of Vimy Ridge. He once survived an encounter with the "Red Baron," Manfred von Richthofen.
It was while flying the new S.E.5 that he earned the Victoria Cross for his attack on a German Aerodrome. In the fall of 1917 he was sent home on leave to Canada where he married his longtime fiancee, Margaret Eaton Burden, sister of WWI ace pilot Henry John Burden. After the wedding he was assigned to the British War Mission in Washington DC to help the Americans build an air force.
Upon his return to England in April 1918 he was promoted to Major and given command of the "Flying Foxes." By June his score of downed aircraft was 59. By the end of the war he was promoted to Lt. Col and had 72 air victories, including two balloons.
After the war he toured principal cities in the U.S. and lectured on aerial warfare. In 1936 he was promoted to the rank of Air Marshal of the Royal Canadian Air Force and placed in charge of recruitment. His son, Arthur, would go on to become a Spitfire pilot in 1944.
He even tried a stint in acting, appearing in the 1950 movie "The Killer That Stalked New York." At the age of 62, the highly decorated ace died in Palm Beach, Florida.