Bob Dalley's Hangar with New 40' x 13' Hydraulic Door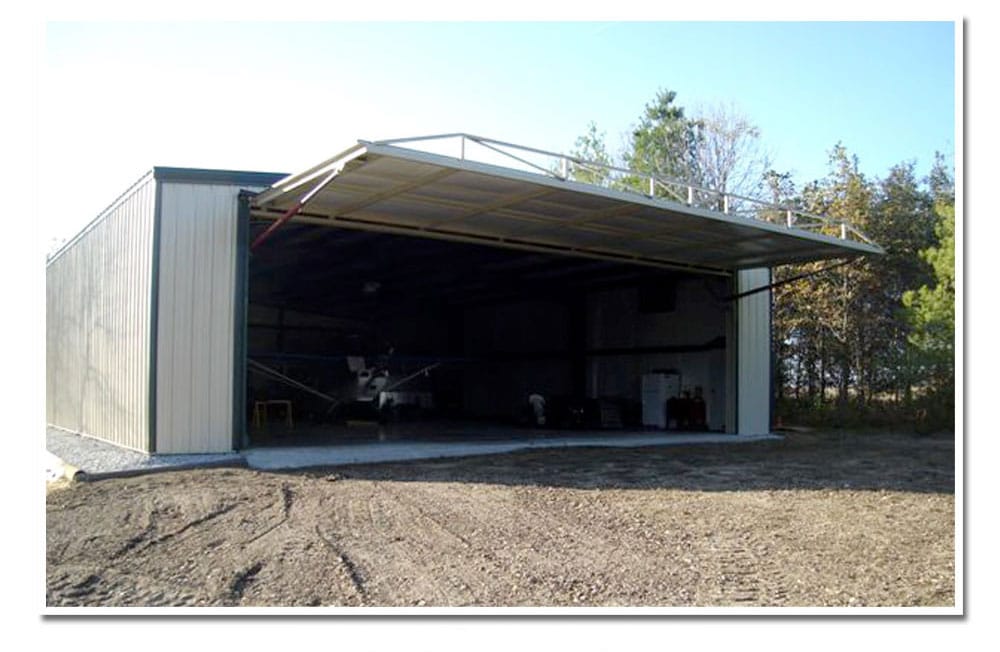 25 November 2011, Schweiss in Ohio
"I researched over a year what I wanted to do. I met Dave Schweiss at the Florida 'Fun in the Sun'air show and both Dave and Mike at the big Oshkosh, WI show. After meeting the guys and looking more closely at their product the choice was obvious. It simply was the best fit, the best design, the best door and in terms of value, the best deal."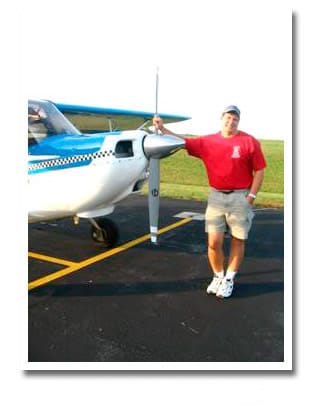 Bob Dalley with his Citabria
Talking is Bob Dalley, Waldron, IN aviator who works as an engineer with the Rolls Royce Corporation at their Indianapolis facility. A Purdue University electrical engineering graduate, 49-year old Dalley has an eye for engineering excellence and quality. That's why a 40' x 13' Schweiss hydraulic now hangs on his 50' x 70' Heritage hangar on his country airfield about 30 miles south of Indianapolis.
Stoutness Makes a Difference
He related, "Talking with Dave I told him about my hangar project and various doors I had studied. I said I was impressed with the engineering design and the workmanship. The 'stoutness' of the door was significant to my engineering eye."
Because of his engineering background, Dalley has some metal working experience. He noted the steel used in the Schweiss doors, the quality of the welding and the overall structural strength. As a pilot, he's fully cognizant of building strong enough to withstand winds, driving rain storms and other assorted challenges of nature.
Empty weight of his Schweiss door was about 1900 lbs. That bumped up to about 2600 lbs. with sheeting and insulation. His insulated hangar is sort of an 'all purpose' building with lounge area, wash bay, plus floor space for vehicles and other stuff. Primary occupant however is his 1973 Citabra 7ECA powered with a 115 hp engine.
Hydraulic door clad with steel sheeting
Top and bottom seal make the door weathertight...
Clean Looking Door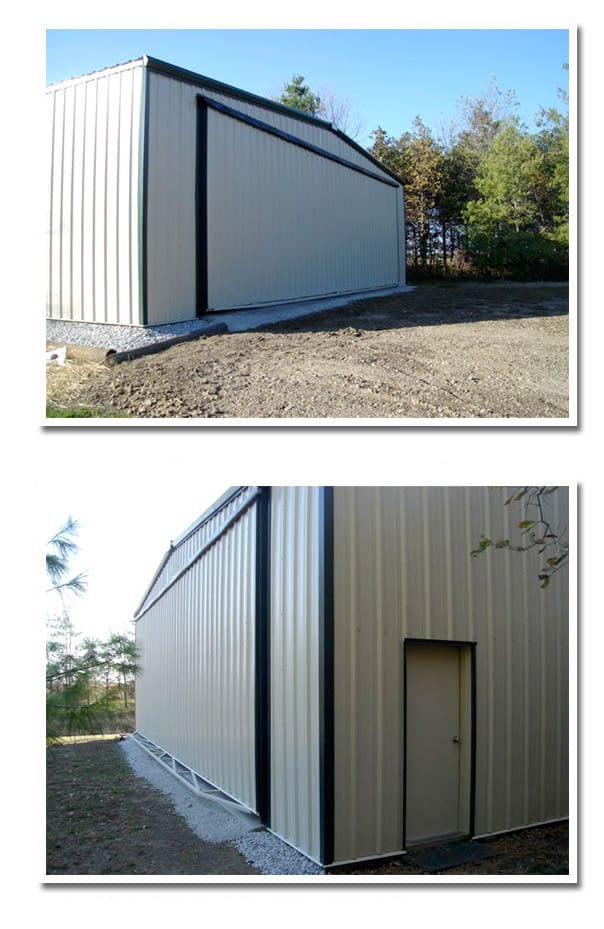 Dalley appreciates value. He noted that when others come to his 'air park' they check his door. They see the two little red cylinders and ask 'what's this'? "I push the button and they see this huge door quietly open. This door is pretty much the showpiece of the building."
He acknowledged other options such as sliders and bifolds. But for Dalley a hydraulic powered door was a step up in overall engineering capability. He didn't go the auto-latch route because as an engineer he thinks he can devise his own latching feature. He's designing as he puts it "...a couple of simple little cam locks on either side. Totally sealed against all weather elements is my goal."
Dalley installed his own door, with a forklift and help from his Dad who used to be a construction guy before retiring. "We got it lifted and plumbed, then strapped in place, drilled hinge holes into the special header. It was a bit of a challenge but once in place, wow, there it is."
Schweiss worked with the building architect ahead of time to make certain all structural components were in place, including the correct steel for the load. Heritage, a Little Rock, AR firm provided the building. Bob, his dad, father in law, brother-in-laws and a few close neighbors (crew) helped with the erection.
Dalley's air strip is on the sectional charts so his field is cleared with FAA. As he puts it, "Anyone who wants to can just plop on in." You sense the pride he has in his country air field. He rolls it every year. When contructed he used a grader to make it perfectly flat. "I'd put it up there as one of the flattest grass strips in Indiana," he quietly commented. It's well drained with adequate field tile. It can rain one day and the strip is totally functional the next day.
Large Hydraulic Door opening up!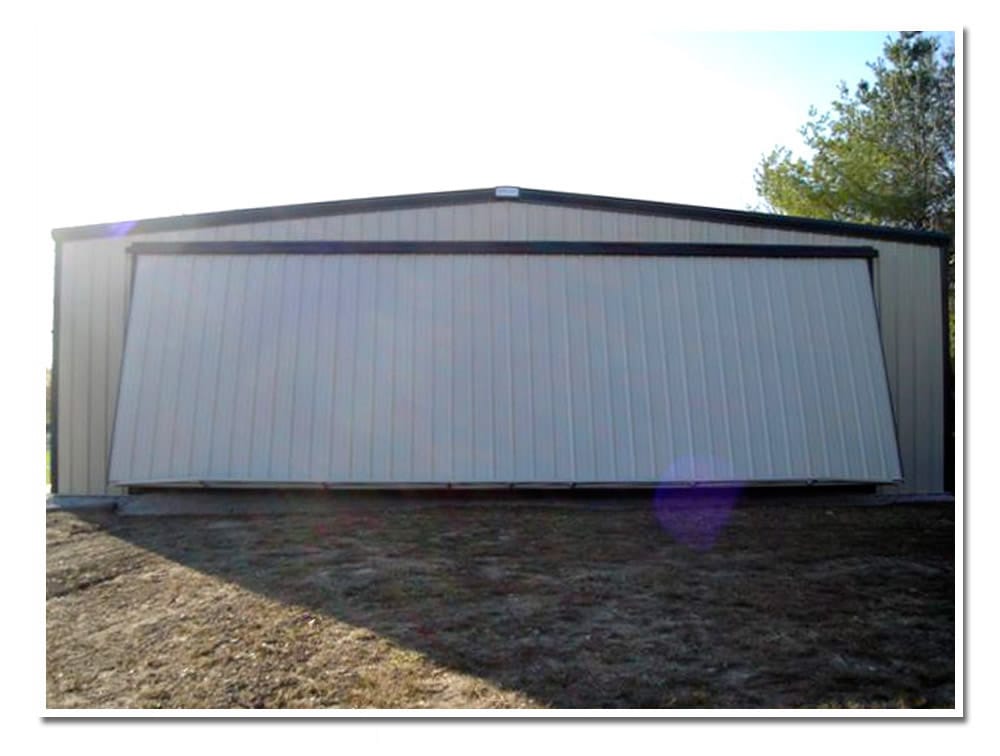 Powerful Hydraulic Cylinders at work.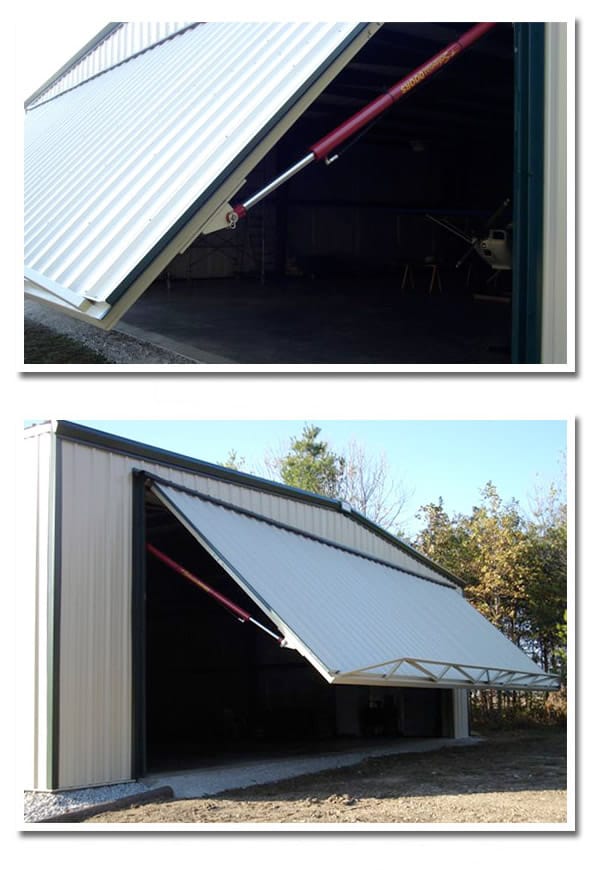 And he's rightfully proud of that Schweiss door. He simply says, "There's nothing else quite like it. Since we got the Schweiss door on my hangar last November (2010), two of my flying buddies also now have Schweiss hydraulics. And we're all in agreement that this is the best door on the market."
Door quality is one thing. But equally important, maybe even more important when making 'door deals'are the people you're dealing with. Bob Dalley had this to say, "Everyone at Schweiss is first class, from the technical folks to the shipping crew to Julie, Dave and Mike in marketing. It's a family affair that really does a professional job all the way around."

Yes indeed, Bob Dalley would highly recommend that any pilot, anyone else looking for a special door should contact the Schweiss door people. "It's sort of in a class by itself," concluded Dalley
Bigger Cylinders, Bigger and Better Pump, Better Quality...