One of a kind Texas hangar has its own control tower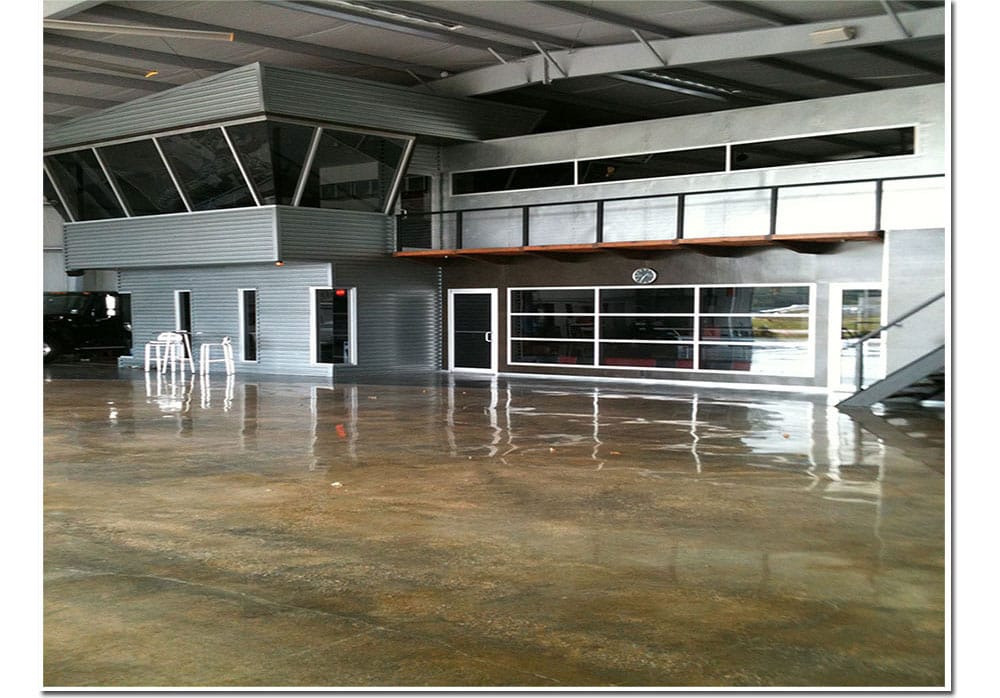 Patrick Aucoin says he spends nearly every day in his personalized Spring, Texas hangar. It features a control tower, classic artwork, and the 78'x 18' Schweiss hydraulic door has a large Plexiglas window spanning across it.
"I come here every morning at 6 a.m. I spend all day here and I enjoy every minute of it." Those words from Patrick Aucoin, Aucoin and Associates, Inc., Spring, TX. And where he comes each day is to an 84' x 84' steel hangar at the Spring, TX airfield. But what a hangar! For 14 years this spot was only a concrete slab, the only remnant from a Texas tornado that wiped out the hangar which used to set on this hunk of concrete. But not so today.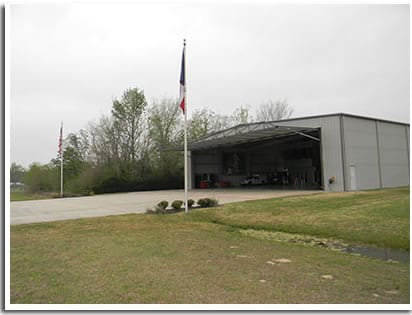 A Texas state flag flies proudly in front of the Aucoin hangar.
You immediately note the big 18' x 78' hydraulic door out front. Schweiss is the brand name! A special Plexiglas window spans full width across the top of the door. Why? So Aucoin can view the entire airfield from his upstairs 'flight control' tower built into this incredible and very unique hangar facility. His specially designed control tower is the business center of his south-Texas water operations network.
Aucoin's business deals with water and waste water operations throughout the greater Houston area. When he's not driving on business connections, he's flying. Currently the bird that rests in his special hangar is a Piper G1000 Meridian powered by a 500-hp Lycoming turboprop engine.
Aucoin says his Schweiss hydro powered door is exactly what he wanted. "And what's really cool when I'm 500 yards out on the taxi strip I push the remote control button in my airplane. When I get to the hangar, the door is up and I taxi my Meridian right inside. That's really neat, especially if it's raining," says Aucoin. Only about 40 seconds to open this big unit according to Aucoin.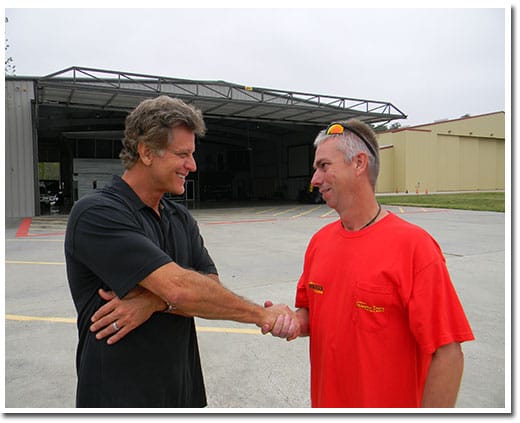 Patrick Aucoin, left, shakes hands with the Schweiss Door installer, Roy Weisinger. Weisinger has installed nearly 250 Schweiss hydraulic and bifold liftstrap doors all across the sunbelt states.
Contractor for this special project was Roy Weisinger Jr. owner of the Construction Division of Hangar Rental Inc., Brookshire,TX. His firm designed and built the big hangar for Aucoin. That included providing exact measurements to Schweiss Doors for the big hydraulic door, and then supervising the installation of the door which was trucked from Schweiss headquarters, Fairfax, MN to the airfield at Spring, TX.
Weisinger has been doing airport and commercial installations of Schweiss doors throughout Texas and the southwest. And his reputation apparently speaks quality. "If you call Schweiss Doors and ask for someone in Texas to contact about a Schweiss Door, the Schweiss people will give you my name. We're doing quotes all the time; but your service only grows if you have really satisfied customers," noted Weisinger.
He related, "My Dad first came over and talked to Pat about the Schweiss door. Patrick was a bit nervous because this was a wider door than the original hangar design. I told Patrick installing this door was going to be a piece of cake. We knew extra ceiling trusses would be needed to support this heavy door. Also we had to put in new side columns because the building wasn't designed for this hydraulic door. My crew did what had to be done and the door fits perfectly. It's working like a charm."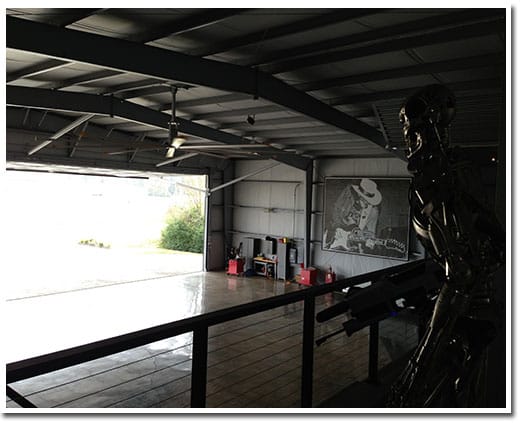 Patrick Aucoin's modernized Spring, Texas hangar is used as a social center for dances, parties and receptions.
Weisinger said Aucoin was on a business trip when the door arrived and when he got back and saw everything installed. "He was just blown away by how good it looked."Because of the extra reinforcing work plus painting, insulation and installation of the Plexiglas window across the top of the door.
Besides Texas, he also bids and installs Schweiss doors in Oklahoma, Florida, New Mexico and other states across the sunbelt. Within the ranks, his firm is one of the preferred installers of Schweiss doors. "They even sent me to Canada to help supervise the installation of a Schweiss door. But this outfit is well connected. They've got quality installers of their systems across the country," said Weisinger.
Roy Weisinger dad has been erecting metal buildings since 1959 so their name is well established across the states. Roy estimated they have now installed about 240 Schweiss doors, both bifold and hydraulic. And it's much more than just hangar doors. A Houston firm for example has seven Schweiss doors installed so far. "They keep expanding their warehouses. Each expansion means another Schweiss door," explained Weisinger. He says the Schweiss doors are generally easy to install. Always built to the exact specs of the opening and always strong and sturdy. "We're not concerned about any twisting or bending with these Schweiss units. If you can read an instruction book, you can install a Schweiss door," jokes Weisinger.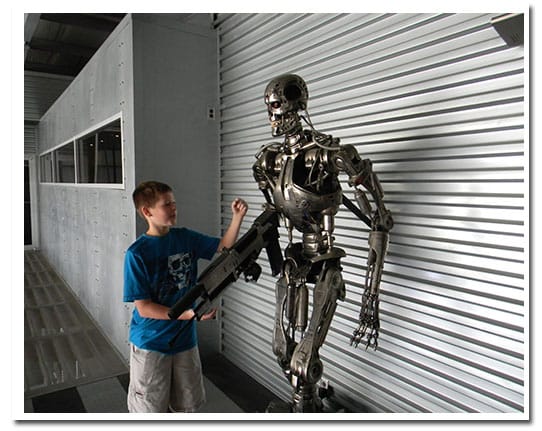 A robotically controlled Terminator robot, which was a movie studio prop, is a real hit with the kids and great conversation piece.
For Aucoin and his family and friends, this hangar has become a bit of a social center. Graduation parties, wedding receptions, special catered dinners and dancing plus simply some good 'hang out' time are additional 'functions' of this specially decorated facility which even includes the 'Terminator,' a three-dimensional robotically controlled device that formerly was a studio prop in some special movie productions. And get this: Displayed on the inside hangar wall is a 30,000 piece Stevie Ray Vaughan mosaic built by an Austin, TX designer. Built originally for a Austin bar, it was all computer generated. Aucoin had never seen it assembled. In fact all 30,000 pieces of this 'artwork' were still in various buckets when he heard about the item.
"I called the guy asking if he could lay it out on a 12" x 12" display. He said he could. I told him I'd crank up my airplane and be there in 30 minutes. He met me at the airport with his pickup. He lowered the tailgate of his pickup; I saw the colors of that mosaic guitar player. I said 'sold'. He drove it down here, stayed 10-days making certain it was all properly assembled and framed on my hangar wall. I installed a laser light in my hangar ceiling which spotlights on this mosaic with changing colors. At night it's stunning." This incredible mosaic occupies about an 8' x 12' space. Yes, this 'country hangar' sports a special beverage counter. Designed with a commercial look, even each bathroom is decorated with mosaic tile "because that's what I had growing up." Also included are a dishwasher and oven conveniently enclosed until needed.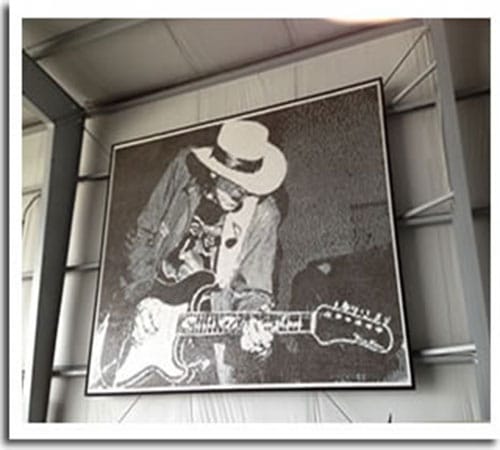 Texans love blues guitarist legend, Stevie Ray Vaughan. Aucoin bought this 30,000 piece mosaic which is displayed in his hangar.
Getting back to that Schweiss door, Aucoin concluded, "It's a perfect door from my perspective. Totally dependable; not a single malfunction; it's sturdy and strong. We get some stout winds in this part of Texas. Believe me, this Schweiss door can handle any wind. "Yes, I would recommend the Schweiss hydraulic to anyone, absolutely. And great people to deal with. They're courteous; they listen; they get things done." He related a phone visit with Mike Schweiss whom he refers to as 'the Chief Banana' of Schweiss Doors. "I told Mr. Schweiss I was very pleased with everything, except I didn't think I should be charged for the extra remote openers I wanted. I explained that when I'm spending this much for his door, he could include an extra remote. He said, 'You're right. How many do you want?' I said send me five. He sent me five and they were free! That's smart business and that's why I have such high regard for this outfit."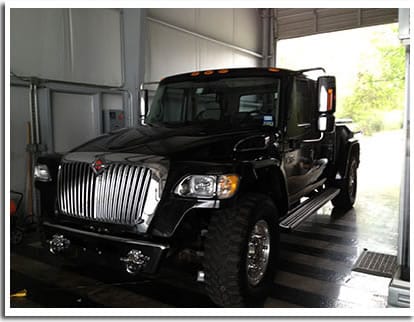 A rare International MXT, originally built for military use, has a special spot in Aucoin's hangar.
Also parked inside this remarkable hangar is a rather remarkable truck. Actually it's an International MXT; only 200 built for civilian use but specifically designed as a safer vehicle for military personnel where terrorists can be a problem. "I bought one of the 200 that got into civilian hands; Shaq O'Neal has one, so too Ashton Kutcher and a few others wanting a special rig. I gutted mine putting in cobra seats, limousine lighting, music and a special bar. It's our weekend toy for my wife and me. When we go out for dinner and park it out front, it sure does attract an audience," chuckled Aucoin..