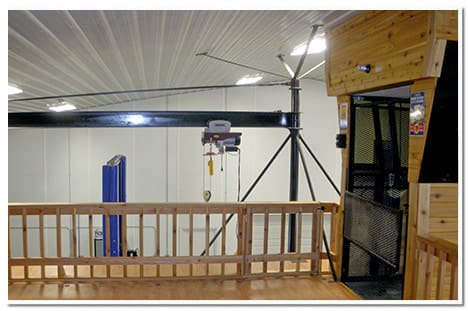 Kansas farmers' dream building is gathering place for farming, family and friends
The term "mancave" has in recent times entered the American vernacular. It refers to a place where the guys can get together, lay back and talk about whatever is on their minds and solve the world problems and such over a cold one or two. Mancaves seem to be quite popular amongst football fans.
A farmer by the name of Gene Gallentine who resides near the small town of Norcatur, Kansas, about 12 miles south of the Nebraska border, has designed his own mancave to express his lifelong interest in cars and drag racing. I suppose you could call it a "Racecave."
Actually, Gallentine's primary interest is farming his 3,800 dry land acres of wheat and corn on the Century Farm where he grew up. The new 64 ft. x 28 ft. x 16 ft. sidewall building he designed also houses his combine and is a place where he can pursue his hobby with two of his dragstrip cars. He took it a step further by designing a real nice upper level living area with a race theme.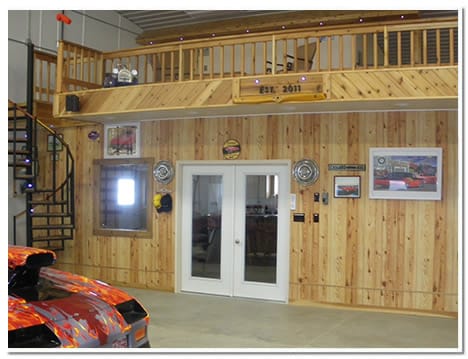 "It's a EPS building with a nice heated shop, well lit with storage for cars and things like that and a living type area for when the kids come home and guests come by to hang out there. When people first come in there it's funny, they kinda rubberneck around, it's fun, we really enjoy it. It's still not finished in my view. It has a lift (elevator) in there, it's very functional. I think the hydraulic door would work well for a nice big projection TV screen," explained Gallentine.
Gallentine said the plans started out on a yellow sheet of scratch paper and the final plans ended up with the building being longer and wider. He decided to go with Schweiss Hydraulic doors.
He heard of Schweiss doors years ago. He first saw a picture of a bifold door and designed and built his own bifold door for his hangar from the photo. He later saw a hydraulic door in a shop somewhere and told himself that if he ever needed a door he would go to a hydraulic style.
"Schweiss doors are not any trouble at all. They're substantial and solid, the wind doesn't seem to bother them. I went with a Schweiss hydraulic door instead of a bifold in order not to lose any height or clearance for big equipment. The door on the sidewall of the building has a two-foot eve, overhang on it. I just thought the hydraulic door would be better," said Gallentine.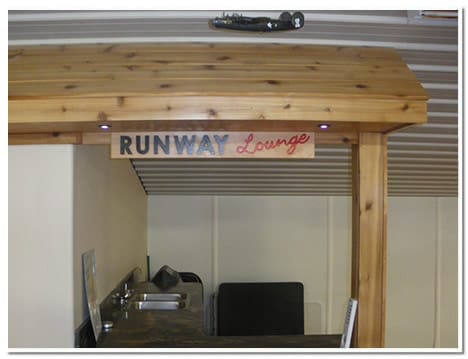 "At one time I wished I would have made the doors bigger. Twenty-four feet is adequate - I can get my equipment and my 8-row cornhead in, but if I go to a 12-row, it would have to go on a trailer to get it in the building," said Gallentine.
He said the Schweiss hydraulic doors seal up tight. He tries to keep the doors closed in the winter, but in the summer he'll go out in the mornings when it's cool and leave the doors open. He said it keeps the temperature very suitable for quite a while. The doors are insulated with 48"x30" tinted windows set 82 inches to the top of the rough opening.
The building contractor and installer of two Schweiss Hydraulic doors on the Gallentine farmstead was Kevin Brown owner of Sappa Valley Construction LLC. of Oberlin, Kansas. Kevin does a lot of work with Wick Buildings and has installed several Schweiss Hydraulic and Bifold doors over the years. He and Gallentine first met Mike Schweiss at the Oshkosh airshow in Wisconsin. He has nothing but good to say about Schweiss doors.
"They are easy to install, especially if you have the right size equipment like a heavy forklift and scissorlifts they are real easy to put in. You can stick them right in there as long as you have your hole the right size. I started out with a couple hydraulic doors and a couple of strap (bifold) doors in other hangars we built," said Brown.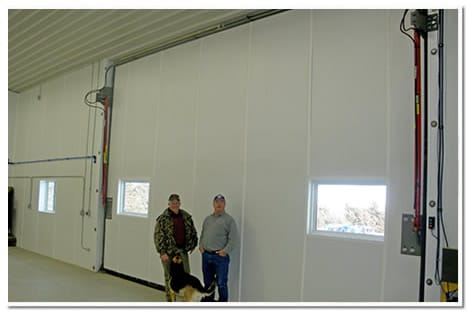 "Farm doors are getting bigger and bigger and these (Schweiss) doors work nicer than sliding doors for the wider openings," said Brown.
He said there really isn't a preference of Hydraulic doors over Bifold doors among his clients, one style sells as good as another. Most of his business is agricultural-based because of the area he lives and works in.
"Schweiss doors seem to be a very well-built product and they don't cut corners. Some companies will sell you a door without fasteners and that sort of thing. The companies we work with are EPS (Energy Panel Systems of Graettinger, Iowa) and Wick Buildings who apparently communicate well with Schweiss because we get all the trim and the sizes and dimensions making the turnaround great, that's really important," noted Brown. "We get around putting up many buildings. As far as I'm concerned the Schweiss straps have also revolutionized the bifold door market."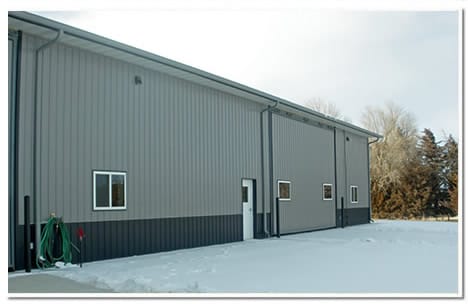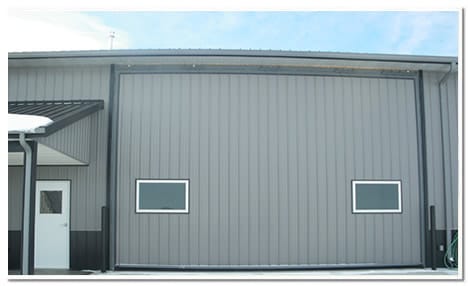 Gallentine had two hydraulic doors, both the same size 24 ft. x 15 ft. installed on his building. The R33 walls were insulated with EPS high density foam inside. He put FRP Marlite Commercial Wall System white panels which are laminated onto the OSB board over it on the inside. It's a bright high impact panel often used in hog facilities - a very slick, bright fiberglass panel that reflects a lot of light and gives clean lines and a great look. It's also laminated to plywood and that was what they applied to the inside of Gallentine's Schweiss Hydraulic doors.
Gallentine said it very durable, can be washed easily and keeps the echo down. An acoustical ceiling with small holes in it also holds the sound down. When you run an impact gun, your ears don't ring.
"When a Schweiss door is closed, its insulated as most buildings are. You don't have the heat loss through the door as you would with others, noted Brown. The hydraulic doors have no splices in them for heat loss and the (opening-closing) cycle time is good."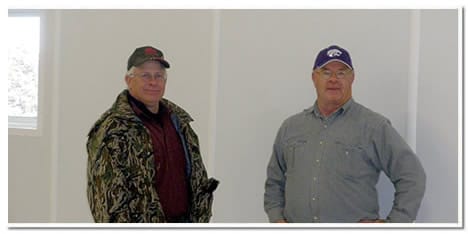 Brown said he is going to submit Gallentine's building for the Structural Insulation Panel Association (SIPA) building excellence awards this year. The association recognizes the most energy efficient and unique buildings constructed with structural insulated panels (SIPS) during its Building Excellence Annual Awards ceremony.
He's as proud of the building as Gallentine is to use it and show it off to his friends.
"I really would recommend Schweiss doors to others. They are really a solid door, said Gallentine. I think what Kevin liked about the doors is they are built in their own frame and don't affect the structure or integrity of the building. The doors also look nice on the building."
Sappa Valley Construction company is located at 1833, Highway 83 in Oberlin, Kansas 67749. They can be reached by calling (785) 475-3130. Or by email at: kevin@sappavalley.net
Spending time at the dragstrip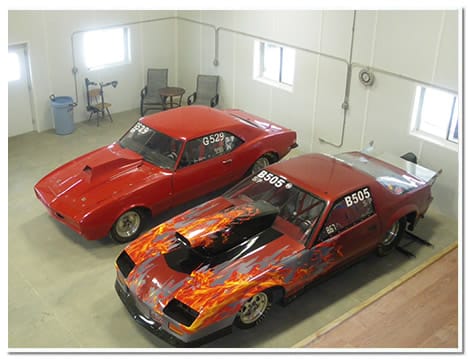 Gallentine said he has always had a love for cars, but didn't get into the racing game until six to eight years ago. He said he had a ride in one and figured it was something old guys could do.
One of his dragsters runs in the 8 second range, about 160 mph on a quarter mile track. The other, which he calls his slow car, which he drives, will clock in about 10 seconds at 135 mph. They both pull a few G's.
"It's like having an elephant sit on your chest when you take off from the starting line," chuckled Gallentine. "I try to race about three weekends a month. We go to Kearney, Nebraska and Great Bend, Kansas. We rebuild the engines ourselves, the building is really nice for that."