"Introverted, like a jewel box."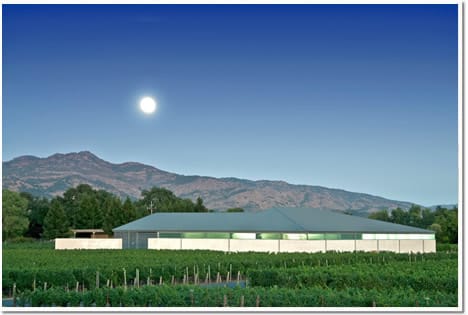 That's how Opus One building's architect, Scott Johnson, described this California Napa Valley winery located between St. Helena and Napa, almost straight north of San Francisco, California. Johnson was part of the design team behind the whole footprint of the Opus One building expansion. The suggestion and actual design of the unique Schweiss bifold and hydraulic doors was recommended by Wayne Leong, of Leong Architectural firm in St Helena, Calif.
The quiet profile of Opus One blends with the natural surroundings - the vineyards and rolling hills of the Napa Valley. The recorded ancestry of this winery exudes a distinction of quality and acclaim making it one of America's first ultra-premium wineries and a worldwide icon.
Opus One was a joint venture of notables the likes of Robert Mondavi and Baron Philippe de Rothschild. Of the great European wine families, the Rothschilds are perhaps the best known of this great family. Baron Philippe de Rothschild's vision changed the world of wine, and in partnership with Robert Mondavi in 1979, created Opus One.
Mondavi brought a passion of excellence to everything he did and in the 1980s, after her father's death, baroness Philippine de Rothschild left a stage career, to bring her own exquisite style and creativity to the design, construction, and operation of Opus One Winery.
So how does Schweiss Doors fit into the picture of buildings that literally rise out of the earth through a mix of classical European and contemporary Californian elements?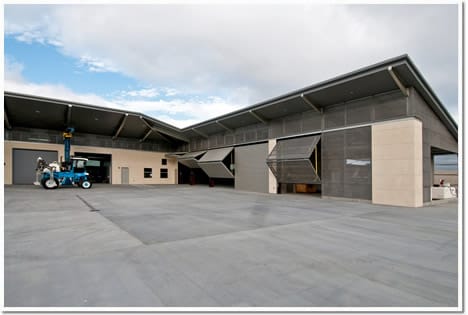 The answer to that would be the award-winning California firm of StriplinWalker Construction, Inc. who worked closely with Leong Architectural. This particular project had quite a few unique finishes.
StriplinWalker was given the "Award of Excellence Building" accolades for its work on Opus One by Metal Construction News, which also recognized it for the award-winning "Building of the Year" for its construction project at Oxbow Public Market in Napa.
StriplinWalker Construction became a reality in 2001 after two dedicated friends working for the same contractor for 10 years decided to step away and start their own company. Randy Striplin took on the duties of project manager and his partner and Superintendent, Brian Walker, have based their company on a foundation of integrity, honesty and open book contracting.
"This job was a little time consuming. Our guys are efficient with what they do, we made it happen. We had a lot of thought going into this project," said Randy Striplin. "Our business plan has always been to stay within our capabilities and not take on more than we can handle."
A combination of eight Schweiss hydraulic and bifold doors went into this project. Over the years StriplinWalker has installed many Schweiss doors for various projects in the California area including Auburn Airport, Westover Field and glass doors at the Redding School of Arts to name a few. One of their most notable projects was the ZD Winery barn job. It has three hydraulic doors, two at the bottom of the building and one upper door at the mezzanine level that looks out over the winery.
"It was kind of neat at the Opus One opening ceremonies. They had a five second opening delay and counted down very slowly. It was quite dramatic, with eight doors opening one after another at five second intervals. It was cool seeing them all pyramiding up."
- Randy Striplin
"The biggest challenge at Opus One Winery was to develop a design concept that would complement the architecture of the iconic winery, meet all functional requirements to maintain the very sophisticated equipment and conceal the complex operation from public view," said Wayne Leong, of Leong Architects "It was important that a structure of this size not detract from the winery."
It was decided early on at Opus One Winery to do a massive expansion. A vineyard shop was just one part of this expansion and was built by StriplinWalker Construction to house and maintain all the farm equipment needed to produce the best wine grapes possible.
Four over-the-row tractors, built by the French company Bobard, are key to the vineyard's operation. The vineyard shop, a converted stable built back in the 18th century, is a modern version of the courtyard stable. All of the equipment maintenance takes place within the courtyard area. Opus One owns and farms more than 200 acres of vineyards and utilizes the most sophisticated equipment developed for grape growing.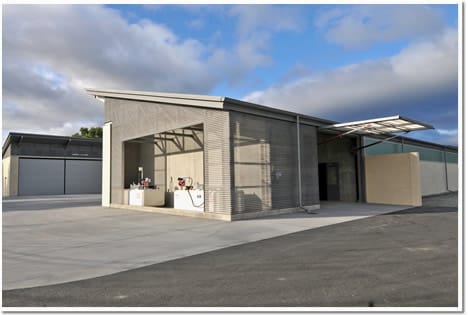 Schweiss Doors of Fairfax, Minnesota, supplied bifold and hydraulic doors made of perforated stainless steel used for the rain screens around the washing/fueling area, clerestory windows and exhaust fans. The clerestory window system above the inner courtyard walls allows the shop to utilize natural light during working hours. The extended eaves and rainscreen function as an effective shading system to minimize heat gain and provide a comfortable work environment while maintaining a minimum temperature of 60 degrees. Kingspan Insulated corrugated foam metal panels were used on the doors. A mock-up of the door was put together by StriplinWalker to show the architects and winery people. They liked it.
"We took the '400 V-Wave' Kingspan panels and turned them so the corrugations were horizontal, not vertical. I took the tongue and groove and cut one of the grooves off and put a splice right at the bending point of the bifold doors so when the door closed you couldn't even see where the splice came perfectly together. When it came together it created a panel joint. I helped design that," explained Striplin.
The benchmark architectural design makes it look like a solid sheeted wall, which doesn't appear to look like a door system.
"All-in-all, we have no problems with the Schweiss Doors," said Striplin. "We think it's a good product and they back up their products. Costwise, I don't shop them around. If I'm going to sell a door, it's going to be a Schweiss door."
He said on one other project prior to this they had some engineering and code problems, but Schweiss Doors consulting team stepped up to the plate nicely to help correct the design error from some of the drawings sent to them.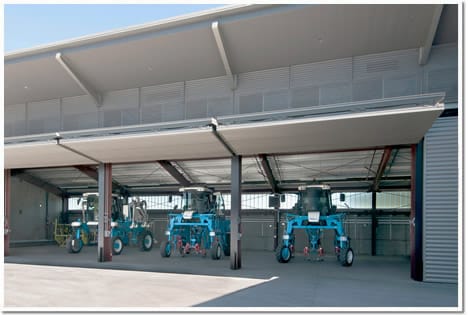 Opus One winemaker, Michael Silacci, reaffirmed that a lot of teamwork and thought went into the development at the winery.
"These doors are really cool, the way they open they add a lot of character to the building and they're very functional and add some shade as well. The whole building project was designed by us, our production team and people who actually work in the buildings. The door design came from Leong Architects, we went with it. We thought the pierced stainless steel corrugated design would really be a nice addition to the building."
Since the vineyard shop has an elaborate mechanical system, requiring numerous large exhaust fans and intake vents, it was important to keep all the vents off the roof and concealed from public view. The mechanical ducting was routed to the inner courtyard and concealed by the stainless-steel Schweiss Bifold door/rainscreen.
Polycarbonate clear panel lightweight panes were applied to the interior of the doors. On the exterior of that, clips were attached six inches on center at the bottom and top to affix the vertical members of 2" wide x 6" red cedar kiln-dried material to give a vertical louver effect that made it look like a wood barn. Foam insulated panels were attached to the lower doors with horizontal cedar siding.
So although the Schweiss Bifold door doesn't actually blend in with the formal upper-crust eighteenth- century Italian opera chairs, chenille sofas or the Opus One tasting room, it does however provide a vital function at the winery, and yet blends in with the design concept of not standing out to detract from the winery itself.
The winery gave the Schweiss doors a special dramatic treatment at the dusk opening ceremonies.
"It was kind of neat at the Opus One opening ceremonies. They had a five second opening delay and counted down very slowly. It was quite dramatic, with eight doors opening one after another at five second intervals. It was cool seeing them all pyramiding up," explained Striplin.
"I go out there occasionally and look at the doors. It's really is an amazing set up," noted Opus One Vice President of Public Relations Roger Asleson. To tell you the truth I do mention the doors to some of our visitors when we do lunches or presentations out there or include it as part of our VIP tours."
Visiting the Estate
"Our harvest is 100 percent in, and it looks like a very beautiful one, it may be the best one in the last 10 years," said Asleson. "We make one wine, a Bordeaux blend."
The wine, labeled as "Opus One" is distributed in a small quantity throughout the United States, and Asleson says it sells out very quickly.
In accordance with the Opus One Winery intent to provide a serene and unhurried ambiance in which to enjoy the layered complexity of their wine, they see guests only by appointment. Guests with appointments either for a tour or a tasting in the Partners' Room are welcome to visit the Terrace or other public areas within the winery.
They are open every day between 10 a.m. and 4 p.m. with the exception of New Year's Day, Easter Sunday, Thanksgiving Day, Christmas Eve and Christmas Day.
Guests, 21 years of age or older can purchase a taste of the current vintage for $40. To make a reservation call (707) 944-9442.
For an overview of Opus One's history, aesthetics, vineyards and winemaking, guests may join the Estate Tour daily at 1:30 p.m. or 2:30 p.m. The visit progresses through both the public and production spaces of the winery and ends with a taste of the current vintage. This tour is $60 per person. A Double tour is also available which gives a guided tasting of the vintages at Opus One. For more information, see www.opusonewinery.com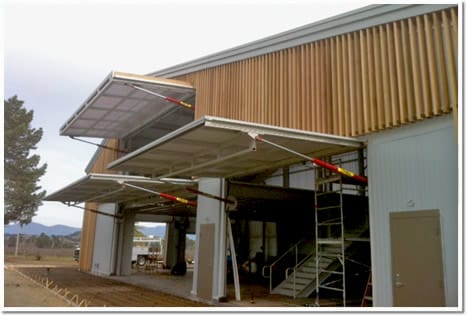 StriplinWalker Construction
StriplinWalker Construction is located in El Dorado Hills, CA. They can be contacted by calling (916) 941-4988 or by visiting their website at: www.striplinwalker.com.
StriplinWalker also had the honor of working on Pioneer Commerce Center; Truckee Boat Storage, Aerometals in El Dorado Hills; Lincoln Super Storage and the Auburn Airport hangars at Somerston Estate Vineyard & Winery. They are a full-service contractor covering needs large and small, insurance and repair work and planning and permitting.
Leong Architects
Leong Architects is located in the heart of the Napa Valley at St. Helena, Calif. Their architectural firm has over 30 years experience in the Napa Valley. Part of their credo is: "We seek to develop projects that bring together regional styles, local craftsmen and native materials." They can be contacted by calling (707) 963-5461 or by visiting www.leongarch.com where you can see some of their beautiful work in this scenic region.