Continental Design Build puts five Schweiss bifold doors on California Executive hangars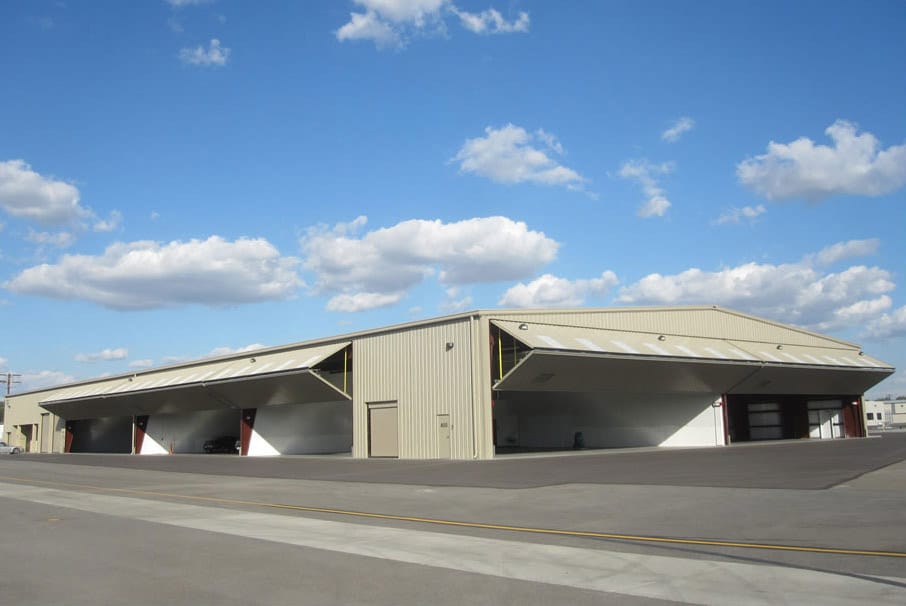 The hangar shows a look of only having two doors when they are partially opened at exact heights. The five doors shown here have an actual height of 21 ft. 6" and actual clear opening of 18 ft.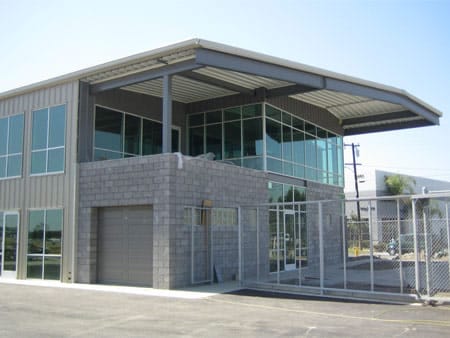 Continental Design Build of Anaheim, established in 1975, was in charge of building the Fullerton Executive Hangars. This portion of their work shows the main office space for one of the tenants, South Coast Helicopters. They work in the film industry as stunt helicopter and for general use in films and TV.
They're long and sleek - over 60 foot long and stand 21.6 feet tall - big enough to open up for most any corporate prop or jet aircraft. Five Schweiss straplift bifold doors completed a summer order from Continental Design Build (CDBI) in Anaheim, California for new executive steel hangars they were building in Fullerton, California.
These aren't your average run of the mill hangars. They were designed to hold up to numerous aircraft.
"We have built two 40,000 sq. ft. executive hangars on the Fullerton Airport. Our idea is to offer a higher end hangar space than what is available for lease currently at the airport. We installed Schwiess Bifold doors on both facilities to maximize clear-span space to allow for the largest possible aircraft landing at this airport," said Aaron McCoy of Continental Design Build.
Continental Design Build is a general contractor and private developer. Its general field of construction is commercial construction, but they have found a niche in building on municipal airports.
Fullerton is a fairly busy airport with about 300 take-offs per day. The hangars that Continental Design Build built are generally for private use, but they do have public and corporate entities as tenants. They are called executive hangars to convey what they are; a larger Class A hangar space. The overall hangar is 40,000 sq. ft. on two acres of land. There are individual hangars ranging in size from 4,000 sq. ft. to 5,300 sq. ft.
"This project was set into motion when we sold our first hangar facility. It was built to house our existing tenants and create more space for prospective tenants," noted McCoy. "Each individual hangar can fit up to a 64 ft. clear wingspan. Generally there are two-three aircraft in each hangar and are of varying sizes. There are both single and dual prop aircraft. We create big open spaces to accommodate a wide variety of possibilities."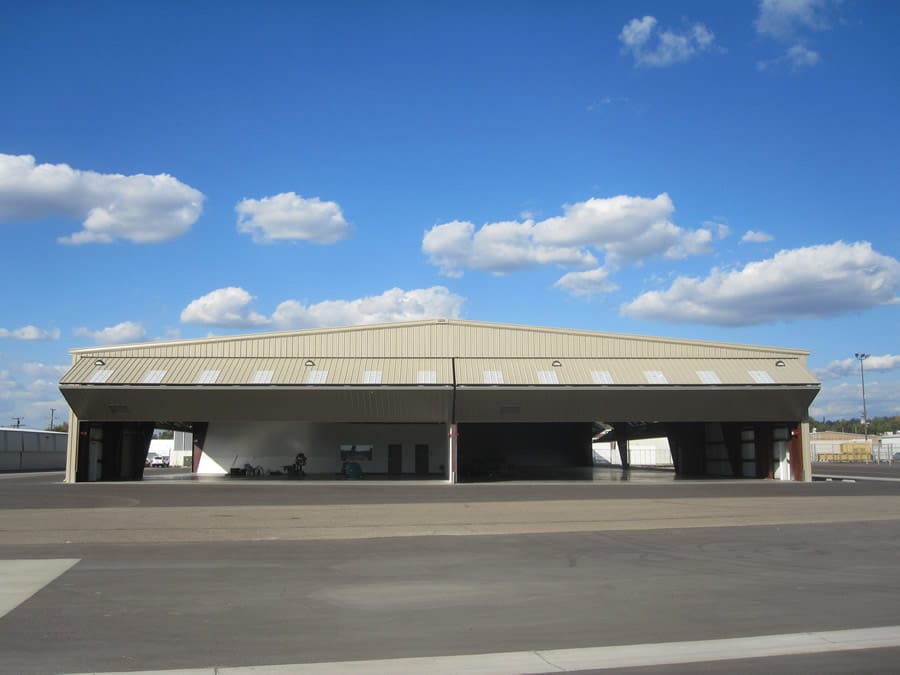 These two 63 ft. Schweiss bifold doors give ample width for storage of large executive aircraft. Each door is equipped with Schweiss patented autolatches. the smaller 43 ft. 10" bifold door is in a sidewall of an end-hangar. The tenant has two large aircraft and Continental Design Build installed a 66 ft. and this door so he can get each in and out without having to jockey either plane around.
They preferred the overall look of the Bifold door and the clean space efficient design that the liftstrap offers. Thus far they have installed seven Schweiss doors on the first Fullerton Airport facility and eight on the new facility.
"Our metal building erector told us about Schweiss doors and we have seen them installed at other airports. The installation was relatively simple and the instructions are comprehensive and easy to follow. I would recommend them to others" noted McCoy.
All five 21.6 foot bifold doors were custom made to a different width and have a 42" wedge. The largest is a 64 ft. 4", with the others at 63 ft. 1", 63 ft., 60 ft. 4" and 43 ft. 10." All the doors are equipped with patented liftstraps and autolatches.
Five to seven vertical windows consisting of translucent fiberglass panels were placed on each door to admit a lot of natural outside light into the hangar when the door is closed. Man doors were placed on the 63 ft. doors. Three of the larger doors were fitted with remote openers and all had powerful bottom drive motors. Standard Simple Saver insulation; the same put on the rest of the building, was applied to the inside of the doors.
"The Schweiss liftstrap autolatch doors are great because when in the open position they provide a nice overhang, and when in the closed position it is a very clean and space-efficient door. The autolatch on closing and limit switch on opening are great features," noted McCoy. "We installed remote openers as a value-added option for some of our tenants. Those are great because the pilot does not need to exit the aircraft to open the hangar; just a push of the button from the cockpit."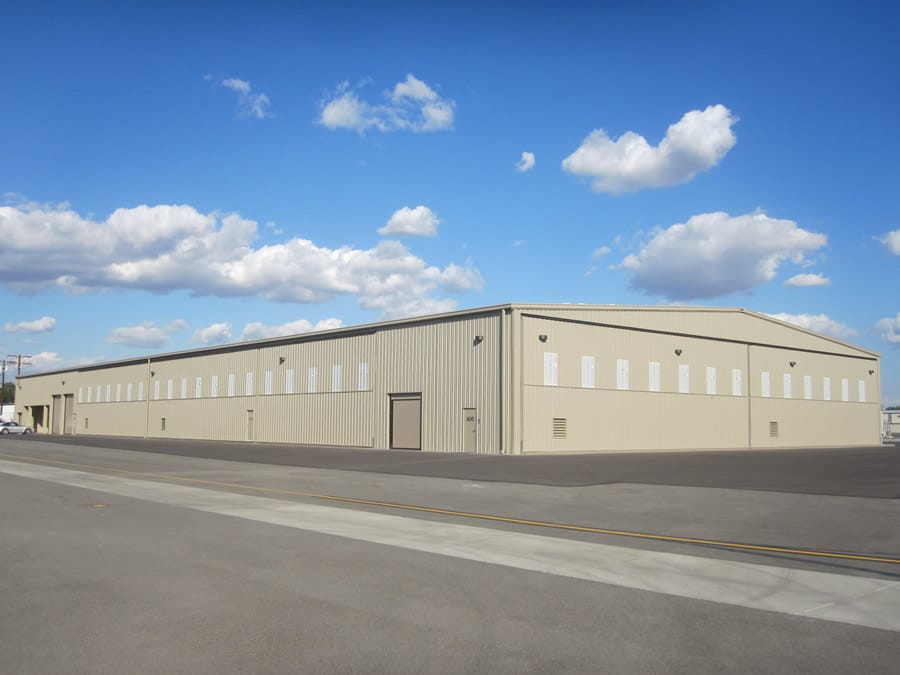 The five Schweiss Bifold liftstrap/autolatch doors ranging from 43 ft. to 64 ft wide give the new executive hangar a sleek look. Each door has up to seven vertical windows providing for extra outside lighting. The hangars were built and the bifold doors were installed on the new hangar at Fullerton, California airport by Continental Design Build of Anaheim, California.
The hangars are also equipped with exterior LED down lights. They provide for a lighted exterior after sundown and are controlled by a photocell.
Fullerton Airport has very unique history
Fullerton Municipal Airport is the only general aviation airport in Orange County. It is centrally located in the Los Angeles basin, and is adjacent to Interstate 5 and Highway 91. The airport is three miles from Knott's Berry Farm and six miles from Disneyland. Revenues from the airport now fund the cost of operations and maintenance, with the surplus going into the enterprise Airport Fund.
Fullerton Municipal Airport can trace its origins back as early as 1913 when barnstormers and crop dusters used the former pig farm as a makeshift landing strip. The site later became home to a sewer farm. The airport's "official" birthday is 1927. At its dedication a year later 3,000 people attended the ceremony and 5,000 more for an airshow a couple of days later. Owned and operated by the City of
Fullerton, it is the last strictly general aviation airfield still operating in Orange County, California. Fullerton Municipal Airport has played its part in writing aviation history over the years. In 1949 Dick Riedel and Bill Barris piloted the "Sunkist Lady" to an endurance flight record, staying aloft 42 days. In 1949 Dick Riedel and Bill Barris of Fullerton Air Service piloted the Sunkist Lady, a red and white converted Aeronca, into the endurance flight record books by staying aloft 1,008 hours and 2 minutes - a total of 42 days.
The plan was for the Lady to travel from Fullerton to Miami and back. The Lady would then stay aloft over Southern California until the record had been broken. At airports along the route, the ground crew would land, board Willys Jeepsters, and race along the runway while the Sunkist Lady passed low overhead. Three-gallon cans of gasoline and food would then be passed up to the pilots.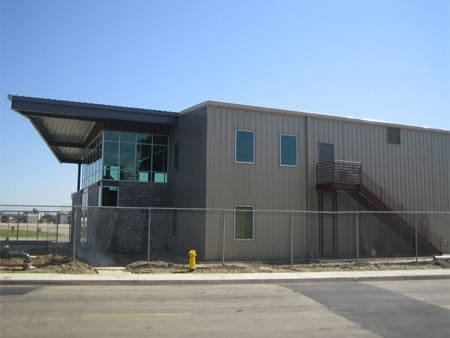 Fullerton Municipal Airport can trace its origins back as early as 1913 when barnstormers and crop dusters used the former pig farm as a makeshift landing strip. A portion of the Howard Hughes feature Hell's Angels was filmed at Fullerton in 1929. In 1949 Dick Riedel and Bill Barris of Fullerton Air Service piloted the Sunkist Lady, a red and white converted Aeronca, into the endurance flight record books by staying aloft 1,008 hours and 2 minutes - a total of 42 days.
At 11:45 a.m. April 26, Riedel piloted the Lady to a smooth landing at Fullerton Airport before a crowd of more than 10,000. The Lady had logged more than 75,600 land miles, and consumed 6,552 gallons of gas. Flying in bad weather, (It had to circle over Miami for 14 days) its average speed had been 75 mph, and her maximum altitude was 10,000 feet.
A portion of the Howard Hughes feature "Hell's Angels" was filmed at Fullerton in 1929. Hughes would appear later in Fullerton's history by buying a tract of land for Hughes Aircraft. The campus eventually became home to Hughes Aircraft Ground Systems Group, closing in 2000.
The millionaire recluse Howard Hughes also paid a typically mysterious visit, arriving at the field shortly before midnight one night to sign the agreement to purchase the land for his Hughes Aircraft Ground Systems Group facility in Fullerton. Hughes reportedly left without ever bothering to tour the property he had just purchased in a multi-million dollar deal.
The Airport has also played host to many celebrities, including President Gerald Ford. An early celebrity was daredevil test pilot Johnny Angel, who created a sensation when he flew a fleet of surplus B-18 bombers from Downey to Fullerton after World War II for repairs. He then led the fleet to Venezuela where he ran a transport operation. With an 86-foot wing span, the bombers are the largest planes ever to land at the Airport.
Continental Design Build, Inc.
Continental Builders (CDBI) has in various capacities since 1975, developed, refurbished, purchased and sold property and buildings. True entrepreneurs with a solid work ethic, they are owners and property managers, therefore each building is constructed with efficiency, quality, and durability in mind and continues to develop many industrial and office projects in the western United States.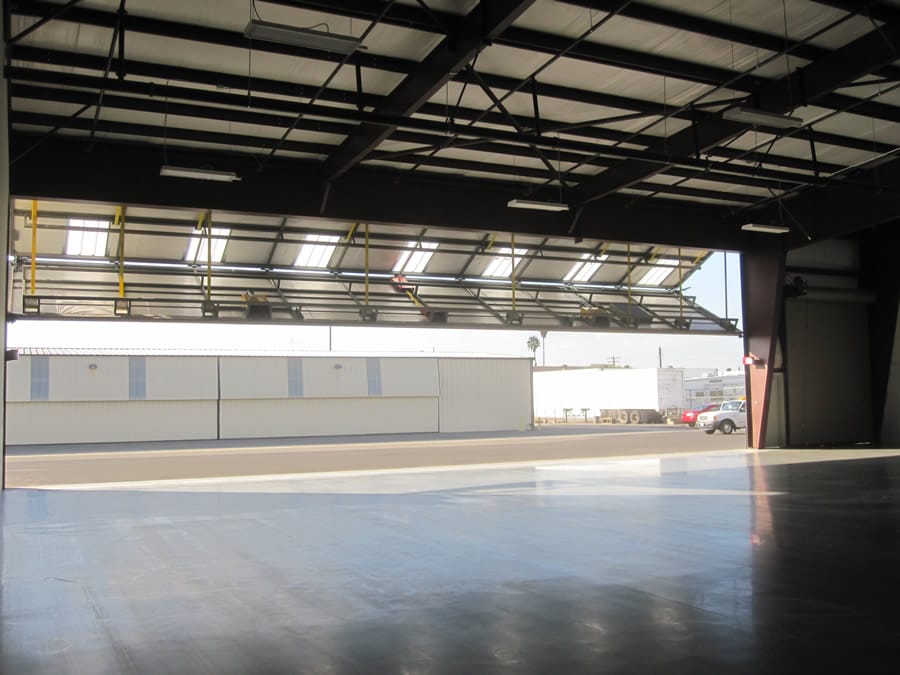 The interior of the Schweiss Doors reveals the liftstraps which evenly and quietly open the doors at a push of a button. The autolatch mechanism can be seen at the center of this door. Powerful bottom drive 3-phase electric motors lift each door.
Continental Builders has CA licensed, in-house architecture, experienced project managers and superintendents that increase project efficiency by using one source for management, entitlement, preconstruction, and construction. The following are descriptions of proposed scopes of services for this design-build project.
Project Management
From preliminary planning through occupancy, project management is a key factor in any project's success. The PM scope includes owner contract preparation, project scheduling, information gathering (soils report etc.), Owner liason for requests for information, and administration of applications for payment.
Agency Entitlement
Knowledge of local zoning and building codes only goes so far. Where the consultant coordinating drawings is the same consultant approving the drawings, efficiency exists. Scope includes; schematic design, planning approval, architectural and various other disciplines'(structural, mechanical etc.) drawing coordination, and building department approval.
Pre-Construction
Preliminary and on-going budgeting helps for cost control. Preconstruction activities include coordinating project materials specifications, identifying and selecting sub-contractors, and forward thinking to minimize change orders or delays.
Construction
Continental will pull the building permit, contract directly with all subcontractors to construct the project, schedule all inspections, and procure all building and safety approvals. Continental Design Build, Inc. has offices at the following locations in California and Las Vegas:
• 3150 E. La Palma Ave., Suite A Anaheim, CA 92806 (714) 630-6467 (phone)
• 75-400 Gerald Ford Drive, Suite 125 Palm Desert, CA 92211 (760) 776-6564 (phone)
• 6355 Dean Martin Drive Las Vegas, NV 89118 (702) 367-0500 (phone)
For additional information and to view photos of their projects visit their website at: www.continentalDBI.com