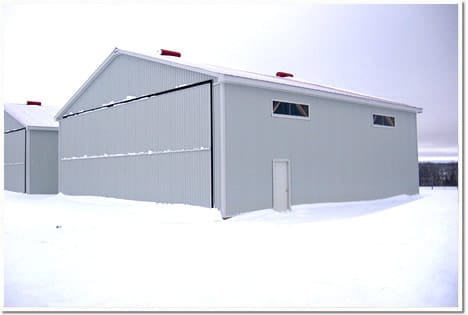 Most every contractor at heart wants to do the best job for their customer. Sometimes that means going above and beyond the call and at other times being able to offer the best product for them.
Steve Stuempfle, owner of Prestige General Contractors has been working as a bonded general contractor out of Cargill, Ontario since 1996. With over 17 years of experience owning Prestige General Contractors, he has served his customers well. He worked for another contractor for 10 years prior to starting his business as a licensed carpenter and salesman.
Prestige General Contractors recently became a Canadian authorized dealer and installer of Schweiss Hydraulic and Bifold Doors. Steve was on the lookout for a better bifold or hydraulic door he could offer his customers. Being in an agricultural area and with many pilots dotting the landscape he has quite a few calls to put these type of doors on their structures.
"I found out about Schweiss Doors about four years ago at a large U.S. farm show. The guy I talked to at the Schweiss display was very knowledgeable and great to talk to," said Stuempfle.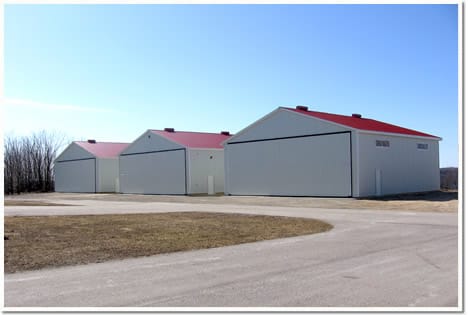 It was an easy choice for him. Over the years his company has dealt with two other door manufacturers in Canada, and he wasn't at all pleased with what he called an inferior product line.
"They don't offer lift straps, they are all cables. The quality of their product isn't what Schweiss is. They put a leg on their doors for extra height. Schweiss doors don't need that," explained Stuempfle.
Schweiss Doors lives up to its reputation, or they wouldn't be on my buildings, and I'm very happy with the patented Schweiss liftstraps and the new powerful "Red Power" hydraulic pumps with spherical bearings, nobody else has them on their doors. We can sell the whole package, building and doors," stressed Stuempfle.
"I was at the Schweiss factory last July. What impressed me with Mike Schweiss was that he dressed like anyone else, he's a down-to-earth person. I was also impressed with his manufacturing; everything at his factory is tidy, neat and very organized. That's the way I work! When we put our orders in, Julie, Brook, Brent and Jeremy are awesome. They know what questions to ask and they can answer everything I ask; the doors are always delivered on time."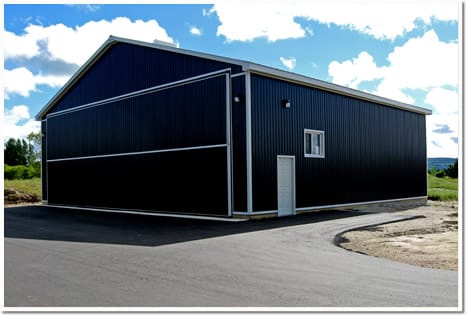 Safety was another factor for Stuempfle choosing Schweiss Doors.
"The other guys have no safety shields on their doors, explained Stuempfle. That's another thing that really impressed me about Schweiss doors. Everything you can get caught in is shielded. I've been in business for 17 years and have not lost a day yet because somebody got hurt."
Prestige General Contractors has grown tremendously over the years, they now employ 15 full-time workers all year round. Their employees include licensed carpenters, apprentices and labourers and they strongly support apprenticeships. Steve says he will have to expand and add more employees now that he has picked up the Schweiss Door line. They are also getting added business to replace competitor doors with Schweiss doors.
"All our workers are fully trained and knowledgeable in the products we use in construction," added Stuempfle.
Steve's brother, Kent, has been an asset to the company. He has been a supervisor/foreman since the beginning. Sherry Cameron is the office manager and looks after all the office duties. When you call Prestige General Contractors, she will be the first person you talk to, and she is knowledgeable on Schweiss doors.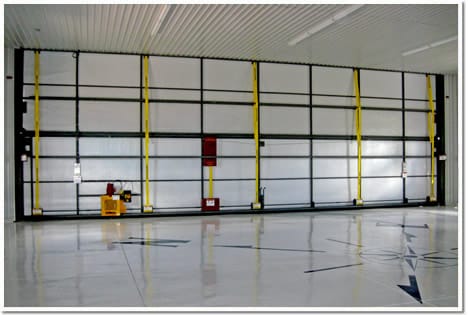 Stuempfle and Prestige General Contractors, being part of the agricultural industry, can see a huge demand for these doors. They have used Schweiss doors in the aviation industry, but can see a great potential for them in the agricultural industry as well.
Stuempfle said he is ready to cover Ontario from one end to the other if a customer needs help or installation. In addition to selling and installing Schweiss Hydraulic and Bifold doors, he has now set up maintenance/service agreements with many other Schweiss door owners who are finding out he has a connection with Schweiss Doors. He visits them once a year to see if there is anything they need.
"We can sell a lot of doors around here in Ontario, because we are really well known. But I expect that to expand tremendously once the word gets out even more that I now handle Schweiss doors," said Stuempfle.
His work varies. He has constructed many buildings for different purposes; agricultural, commercial sheds, airplane hangars, houses and cottages. In addition to that he does renovations, additions to existing buildings, excavating and landscaping. Canadian winters also have him doing snow removal, he's a busy guy.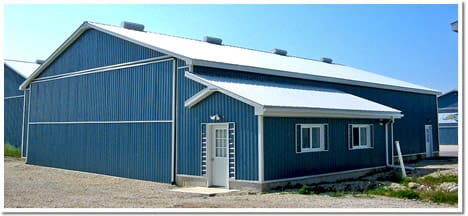 Stuempfle is pleased that the Schweiss door line has also helped sell his buildings, it's been working out hand-in-hand. He said they are set up to offer a complete package on all Schweiss doors being sold in Canada. He takes all the pain out of ordering a door and will make it easy for the customer. Everything is figured in, including taxes, tariffs and exchange rates; and Prestige General Contractors deals with the Canadian Border Customs. This saves the customer time, money and paperwork.
Prestige General Contractors is proud to offer the Schweiss Advantage to customers, covering Ontario from end-to-end, selling and installing Schweiss doors! They are a member of the Canadian Farm Builder's Association and a Tarion Warranty Corporation Registered Builder.
Call Steve, Kent or Sherry at 519-366-9986, by email at info@prestigecontracting.ca for more information, or for a quote. Their website is: www.prestigecontracting.ca, which has a link to Schweiss Doors.