Everyone's Fed Up With Cable Doors
Cables are the old way. Everyone knows cables have a tendency to fray over time. Frayed cables can break if not properly maintained. Cables require more servicing, are hard to work with and difficult to replace. Replacing cables with more cables is a timely and costly expense and can be a real safety issue if the cables are not kept in good condition.
Questions cable bifold door owners are asking:
"It's not your bifold door. Can I buy just the 'Lift Straps' and convert my door over to the straps?"
"Can you convert my cable door over to straps?"
"My door frame is good but I'm tired of changing out cables every couple of months!"
"Will your straps work on my door, its another Brand?"
"I was at the neighbor's hangar and saw how smooth and fast a Schweiss Door operates. Can you help me?"
"My door is not that old but I hate my outdated cables. Can you convert my door to straps and autolatches?"
"I see your strap doors are much faster than my outdated cable door. What's it gonna cost me?"
"I was trying to save money by going with cables. Boy, what a mistake!"
What satisfied strap conversion customers are saying:
"Why would anyone even consider outdated, slow cable doors today. I wish straps were available when I purchased mine!"
"I still like bifold doors. Now with the straps and
auto-latches they're even better!"
"Nobody will sell me another cable door!"
"The Strap conversion made my door better than new!"
"What a nice Improvement to an older door!"
"Straps and auto latches, what a great improvement!"
"You guys are good, thanks for the neat invention!"
"Should have done the strap conversion years ago!"
"If anyone asks. send'em my way and I'll be your salesman. I love my door now!"
Once You Try "Lift Straps" You'll Never Go Back to Cables
Schweiss's excellent success with the New Lift Straps has revolutionized the door industry. It's a no-brainer. Why bother with cables? It becomes obvious when you understand why the new patented Lift Straps are the smarter way to raise and lower your bifold door. Smoother, safer, faster and quieter. Like a customer once said, "My strap bifold door is the envy of my fly-in community. I'm happy I bought the Schweiss Door!"
"Lift Straps" Tested and Proven
For years, bifold doors have been lifted and lowered by the conventional means of steel cables. Schweiss Doors have been using the popular, long-lasting lift straps for over 20 years. Now 99 percent of our customers are demanding polyester lift straps for this function. Why? Because lift straps offer more lifting ability, won't fray or overwrap! The strength-to-weight ratio on straps is extremely high. The 3-inch straps are rated at 29,000 lbs, where 1/4" cables are rated at only 7,200 lbs. In addition, the safety factor on straps has well over the standard 5:1 ratio.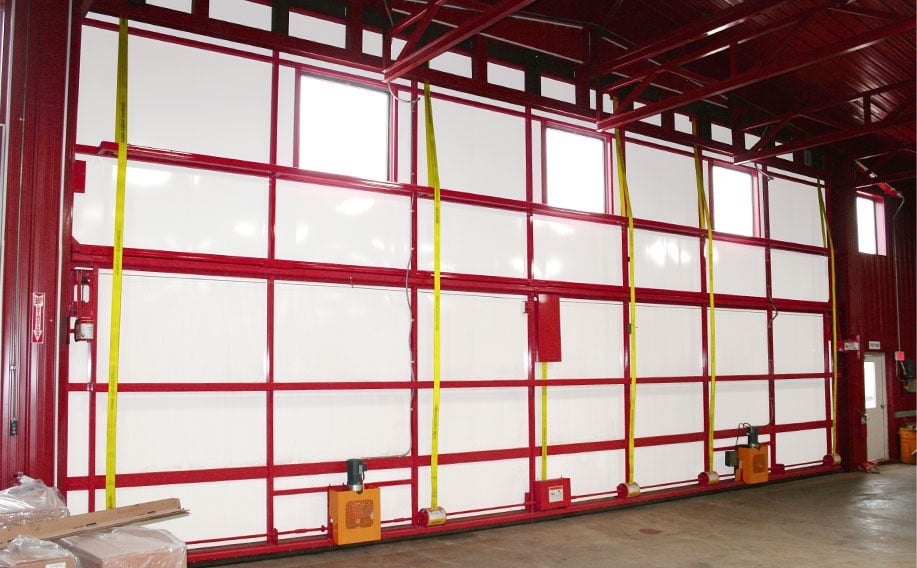 P.S. Has anyone ever converted a strap door
back to cables . . . I don't think so!
Below are testimonials / comments from customers who had outdated, older style cable lift doors that have been converted to the "New Liftstraps". . . And happy customers who have purchased the number one selling lift strap doors.