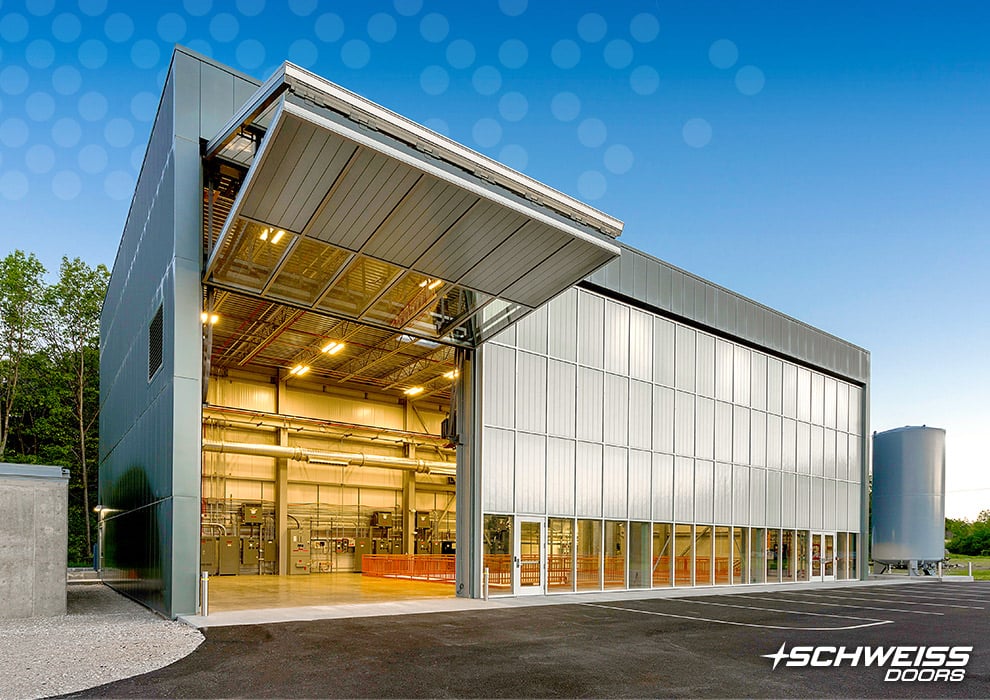 Fermilab National Particle Physics Lab, IL
Fermi National Accelerator Laboratory (Fermilab), located in Batavia, Illinois, 40 miles west of Chicago, is a U.S. Department of Energy national laboratory specializing in high-energy particle physics.
As part of the Short Baseline Neutrino (SBN) program at Fermilab a 20.10' x 23.9' bifold liftstrap door was installed in the new 4,500 sq. ft. SBN Near Detector Building.
The door features gray liftstraps, electric photo eye sensors, warning lights and horns, a top-drive motor, automatic latching system and an emergency back-up system. The door is clad with glass on the bottom quarter and high performance light transmitting Kalwall ® panels covering the top three-quarters of the door, both to identically match the adjacent east wall of the building.
To read more about Fermilab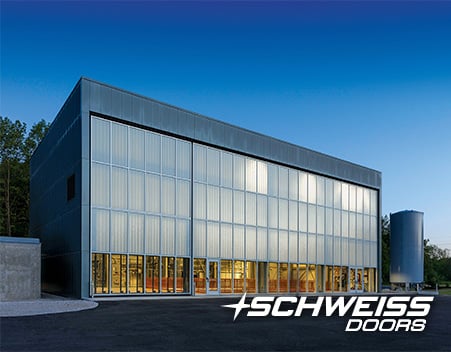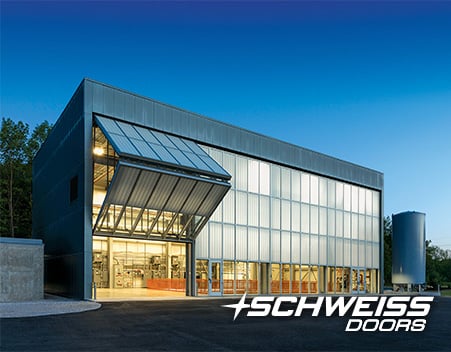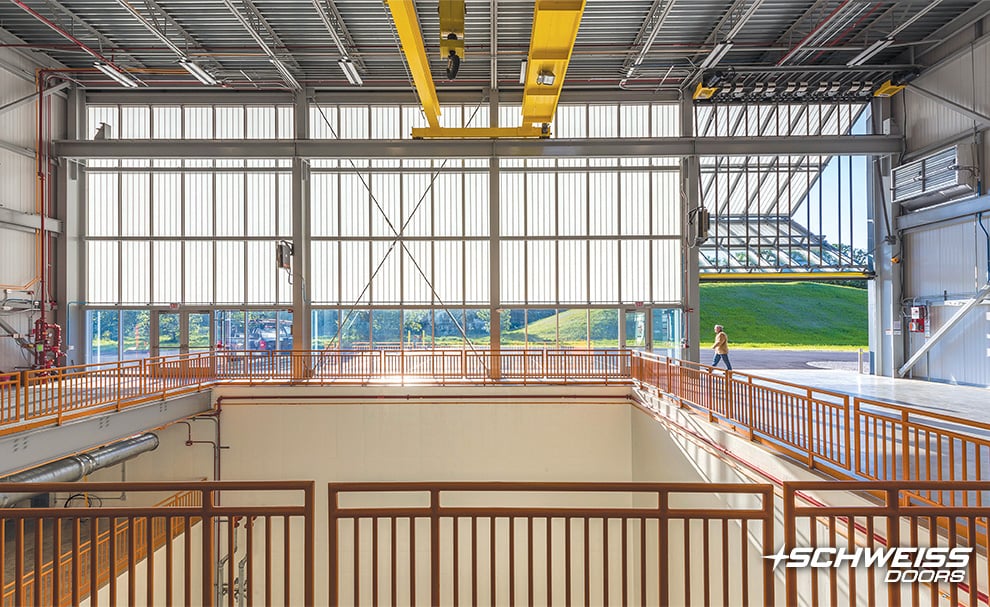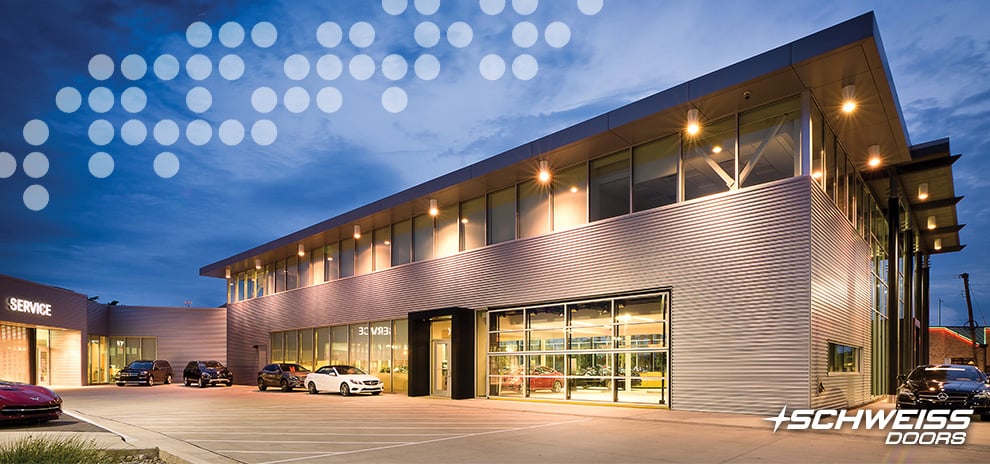 Mercedes-Benz Dealership, MO
When you think of top quality car lines, Mercedes-Benz is one of the first to come to mind. When you think of top quality in bifold and hydraulic doors, it's a big ditto for Schweiss.
When Mercedez-Benz of St. Louis built a new building and parking garage on Hampton Avenue it was a Schweiss bifold glass designer door that was incorporated at the new dealership. The Schweiss bifold liftstrap door measures 23.11' x 9.4' and equipped with electric photo eye sensors, manual latch system, a door base safety edge, black liftstraps and a top drive motor.
The Schweiss bifold system is just like an aluminum frame system like the rest of the building, only with a steel frame. It really gave them the same, consistent look and still be operable for the owner to get their cars in and out.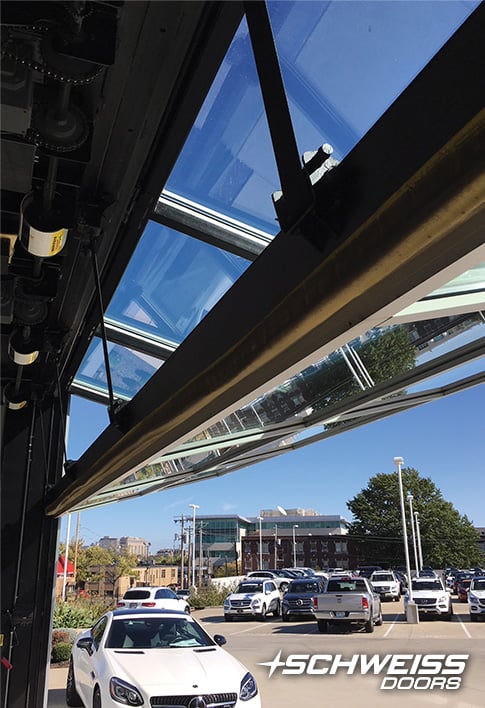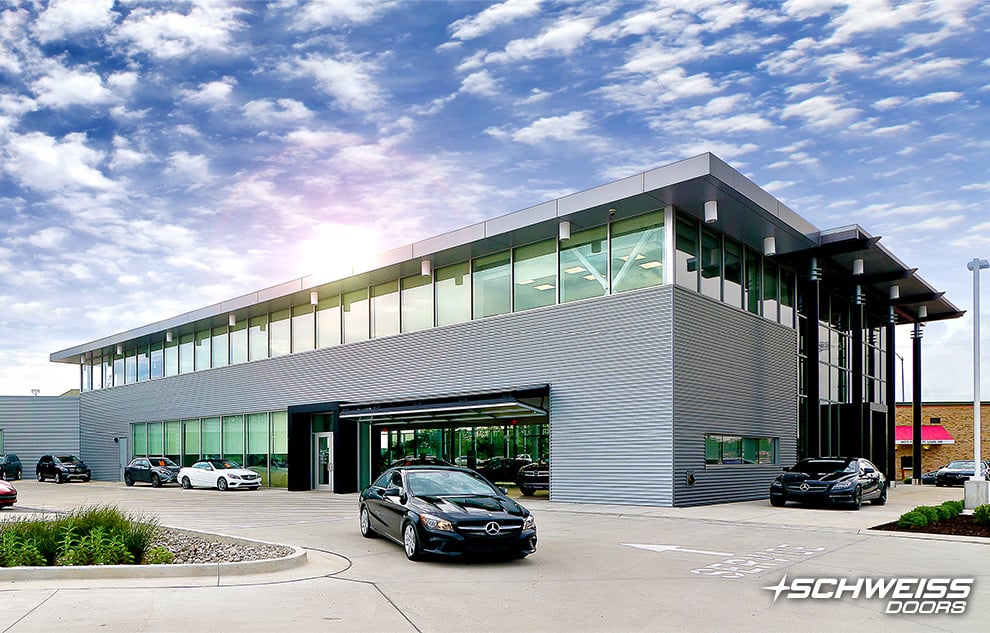 Armed Forces School, Borden, Ontario, CA
Supplying doors for military bases is nothing new for Schweiss Doors, they've been doing it for years. Although Canadian Forces Base, Borden didn't have a need for specialty blast-proof doors like other military establishments, a recent building expansion project for its Ontario training school called for the use of Schweiss hydraulic and bifold liftstrap doors.
The seven-door order of Schweiss hydraulic and bifold doors was for a new 16,000 sq. ft. Mechanical Engineering and Training Building at the base, which has a tank display school for training mechanical and electrical engineers.
They chose four identical 18' 10" x 14' 5" bifold liftstrap doors and three hydraulic doors; one of which was 18' 3" wide by 8 ' tall and two that were 17' 11" wide by 8' 3" tall. The bifold doors are clad with glass and equipped with automatic latches, emergency back-up hand crank, remote openers, weatherproof electrical and door base safety edges.
To read more about Base Borden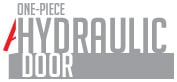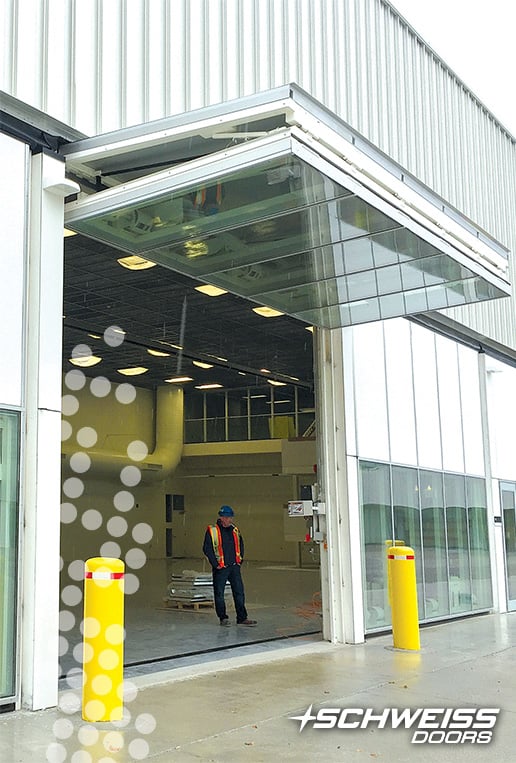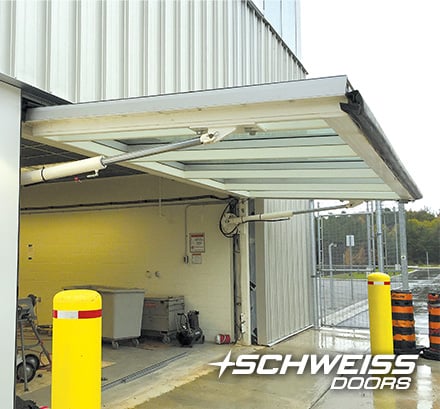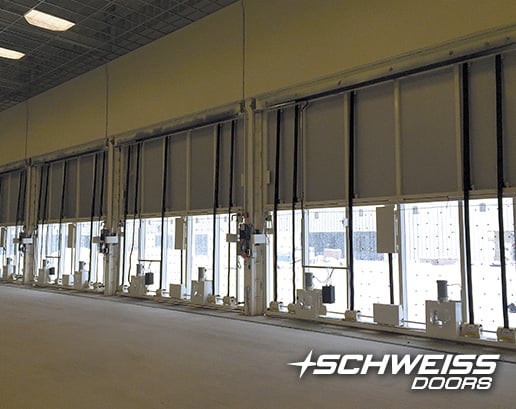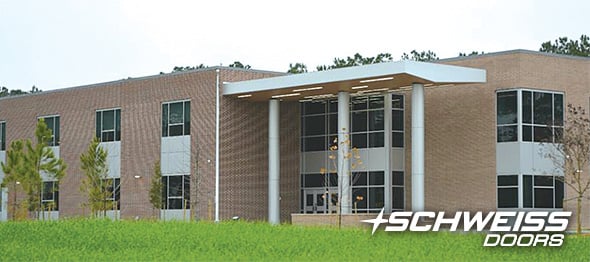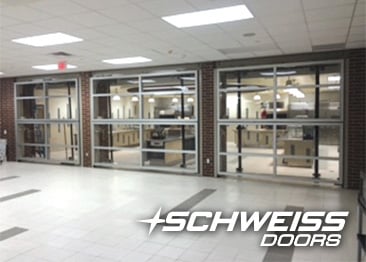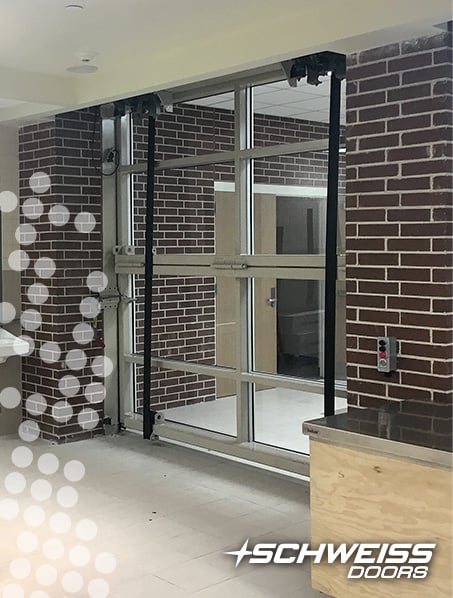 Infinity Early College High School
New Caney, Texas
An approximate $11 million 47,000-square-foot, facility will steer high school students onto the road of success. Bordering the north side of the Lone Star College-Kingwood campus in Porter, Infinity Early College High School (IECHS) in New Caney, Texas, is an innovative high school that allows students least likely to attend college an opportunity to earn a high school diploma and either an associate degree or at least 60 college credit hours toward a baccalaureate degree in the time it takes to graduate from high school.
Included in the building project are three Schweiss bifold designer doors with polycarbonate cladding. They range in size from 11.6' wide to 9.3' and all have clear opening heights of 7.75.' The liftstrap doors, powered by top-drive motors are equipped with electric photo eye sensors, door base safety edges and manual side latches.
Purpose of these doors was to separate the main area of the school from the kitchen. The doors are located completely inside the building.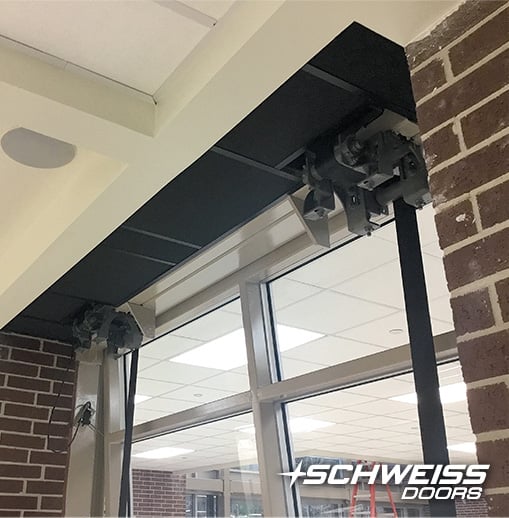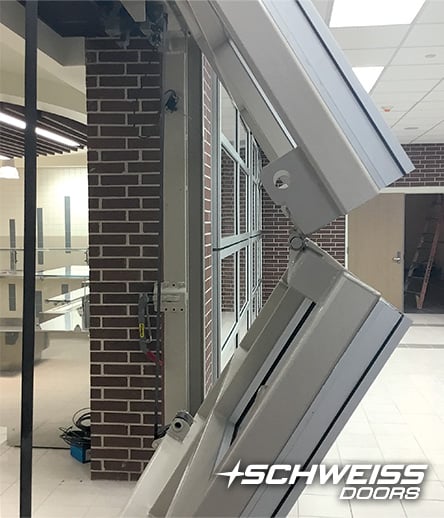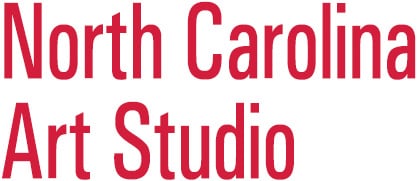 North Carolina Art Studio, NY
Every architect commissioned to design a mountain location retreat, in this case, GLUCK+, based out of New York, faces a challenge of how to come to terms with the elevation, rock formations, climate, slope, trees and especially the vista.
This also held true for door installers who were faced with the task of providing two Schweiss bifold straplift glass designer doors at the residence of an art studio in the Blue Ridge Mountains of North Carolina.
Forming a glass corner in an open two-story space are two 23' x 15'2" straplift bifold glass-clad doors that have electric photo eye sensors, door base safety edges and black liftstraps and quiet, fast opening top-drive motors. The up/down door control is located 60' away from the doors.
To read more about NC Art Studio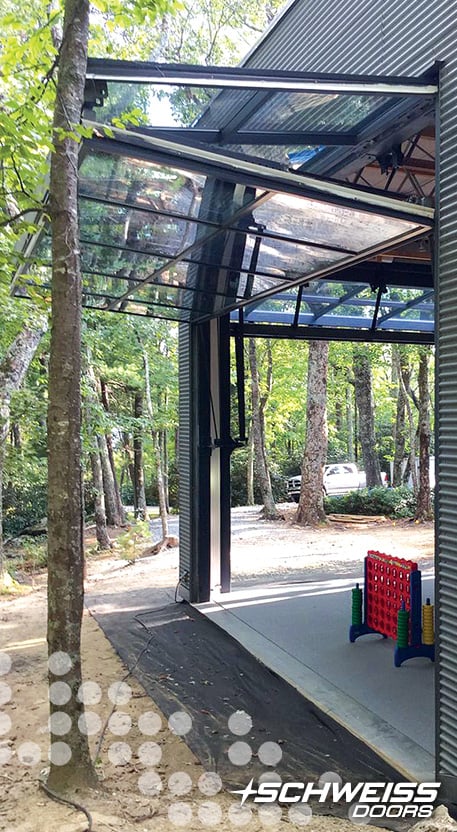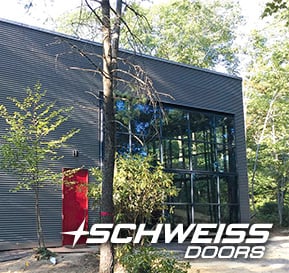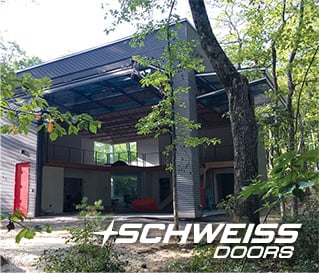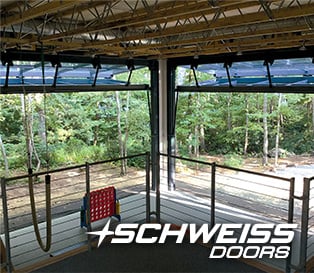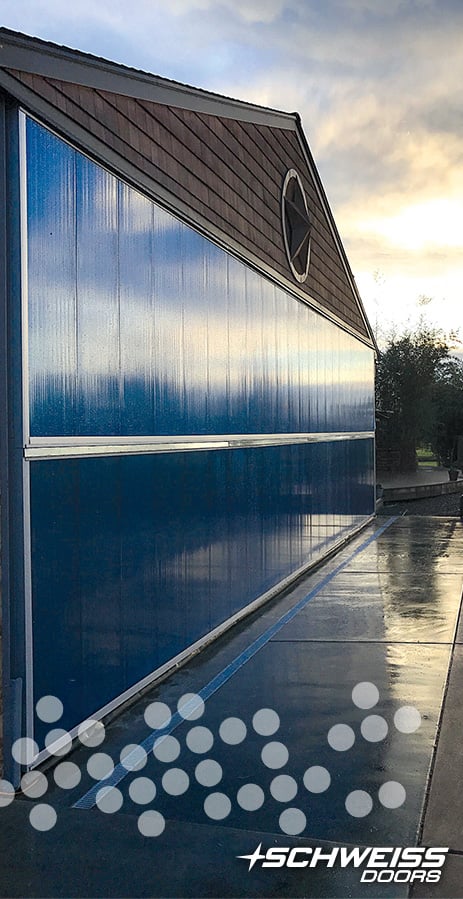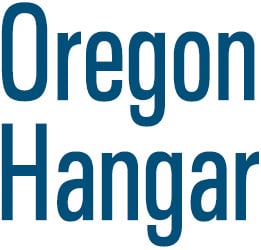 Polycarbonate-clad hangar door
North Plains, OR
With the decorative star and patriotic blue front it has all the looks of a hangar home that you might think was owned by Captain America. Jim Weitman, of Sherwood, Oregon, and his wife, Star, live on a private grass airstrip just outside of North Plains, Oregon. The hangar portion of the home measures 40' x 40'.
The Schweiss bifold liftstrap door on the hangar has a clear opening width of 38' and 9' 8.75" in height. It is also equipped with automatic latches, electric photo eye sensors and a remote opener. The blue polycarbonate cladding really brightens up the exterior of the door.
"With the exterior enhancements, including a new roof, cedar siding and a colored concrete apron, they really wanted to replace the old style twin 20' metal garage hangar doors with something that really stood out and complemented their lifestyle.
To read more about Polycarbonate Hangar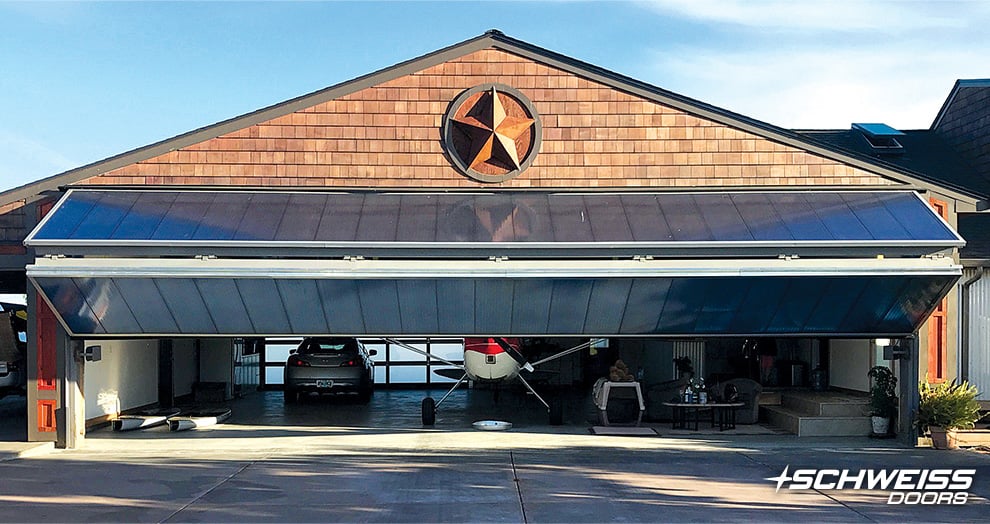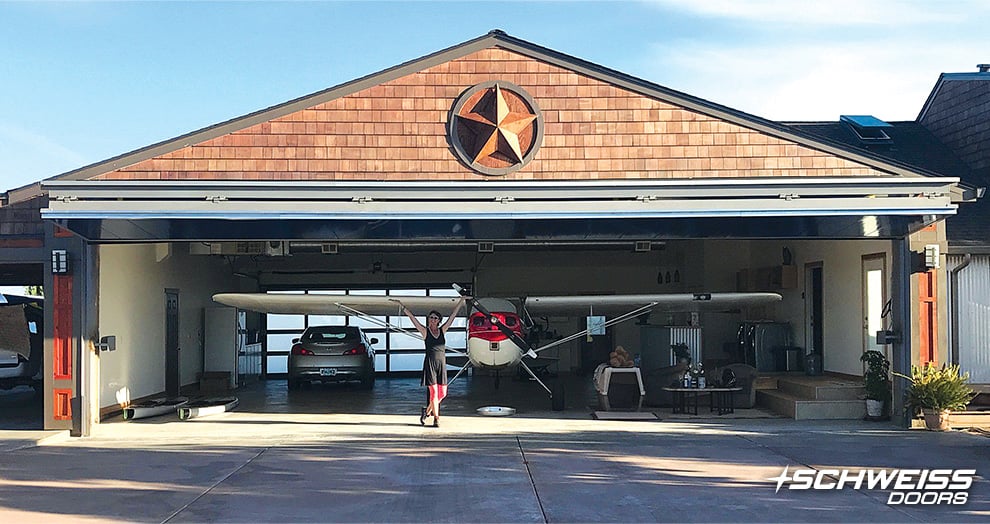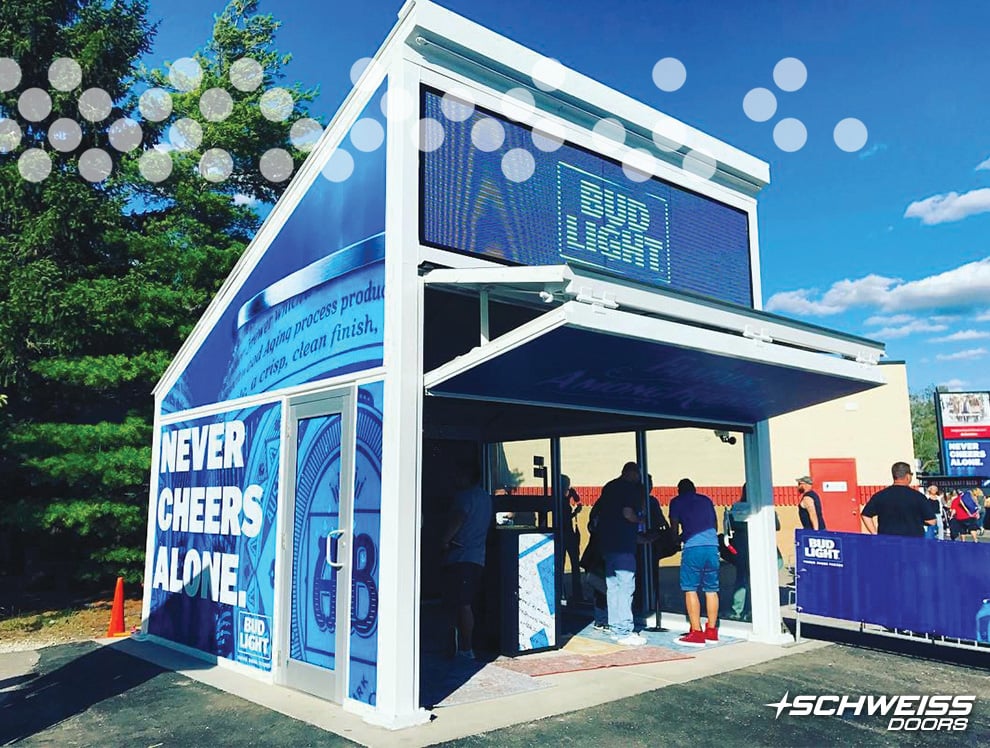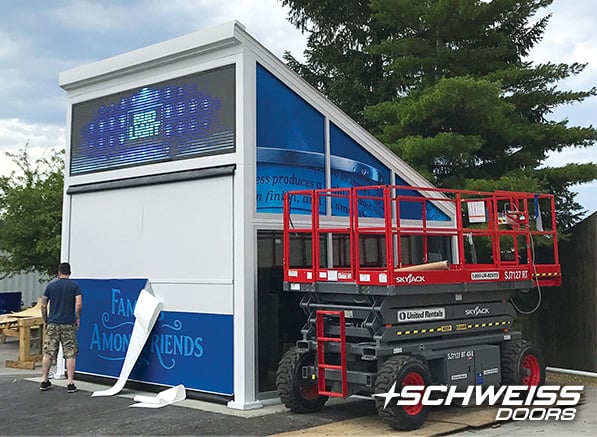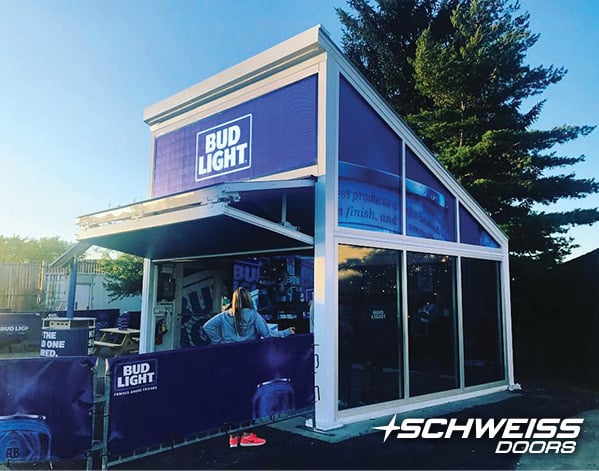 Raven Show Containers, LA
Raven Production Management Co. of New Orleans constantly challenges itself to bring revolutionary production solutions to its clients from the smallest nightclub events to entire festival sites. Raven can enhance the experience with state of the art sound equipment, avant-garde lighting systems, and cutting edge video solutions.
Adding to their repertoire of skills was the construction of arena and concert container units that will be in use at several events in the Los Angeles area and across the country. Raven ordered 13 Schweiss bifold liftstrap doors for these container-building units. The custom-made doors are 13'3" x 7'2".
Describing them as containers is an understatement; these 15' x 15' x 15' permanent units are very versatile and are being used for much more than storage or as event food concession or product sales buildings. The unit designed for Bud Light has an interactive photo booth and alongside it is an area where people can enjoy a cold one.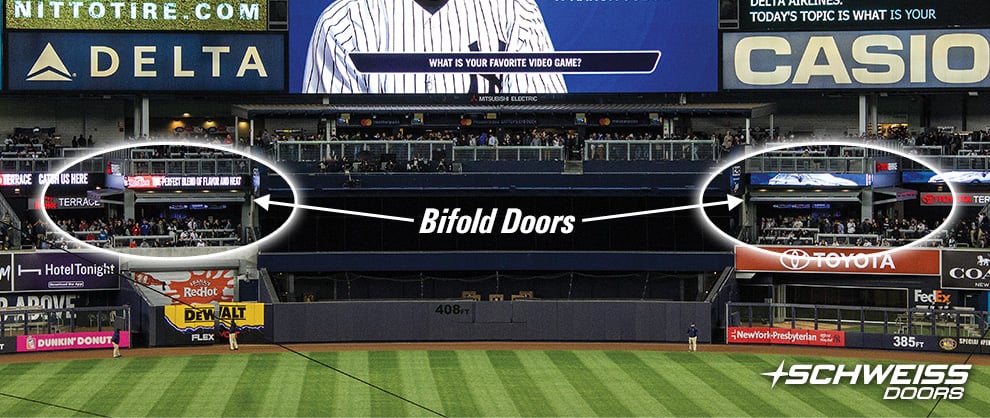 Yankee Stadium, New York City, NY
The simplicity of design, along with the liftstrap design was a primary reason why Schweiss Bifold Doors were chosen for Yankee Stadium's winter off-season family-friendly enhancements.
The largest of the custom-made bifold doors is 27'5" x 11'4," followed by two 23'4" x 9'2" doors and two 21'10" x 9'2" doors. All the doors are fitted with electric photo eye sensors, black liftstraps, manual latches and alike-keyed opening and closing switches. Four of the doors are clad in a high tech brushed aluminum. They finished the facade and the door to basically match itself so when the doors are down they blend in with the facade and don't reveal what's inside.
One of the stadium doors performs functions at the AT&T Sports Lounge located at the mezzanine level on the left field line. The AT&T door is clad in wood and tile on the outside and when it is closed you cannot tell it is an operational door. Two additional concession/bar areas, with two doors each set at right angles, are located in the right centerfield and left centerfield areas on the Triple Zero level.
To read more about Yankee Stadium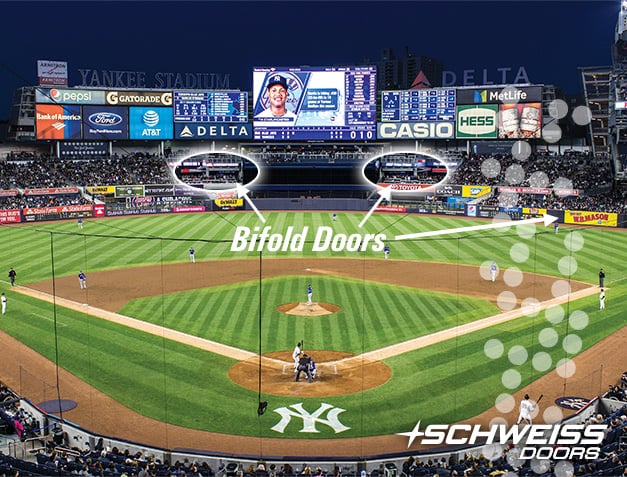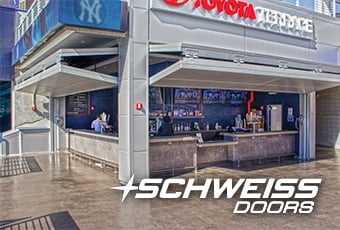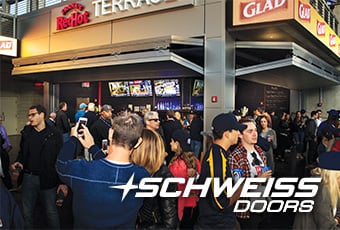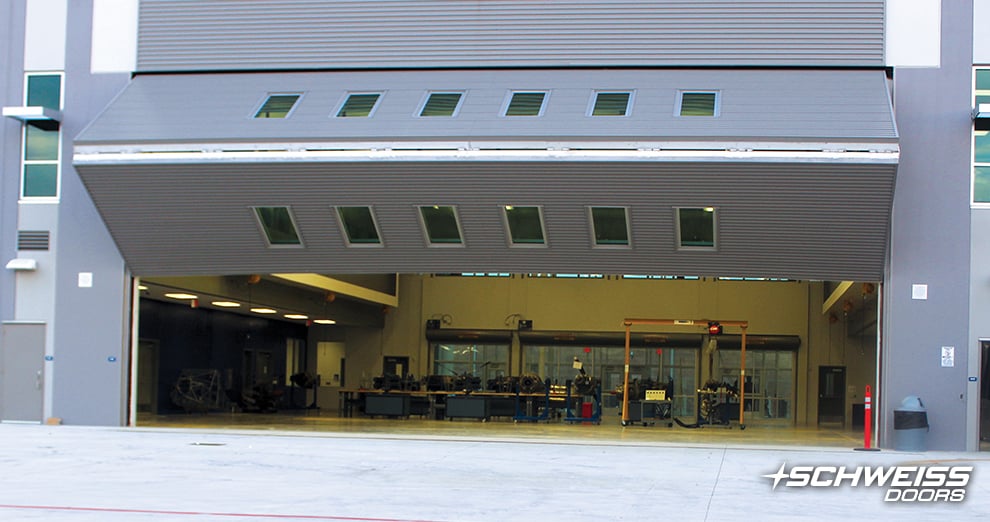 Sterling Aviation High School
Houston, TX
When it came down to ordering a door for their new hangar at Ross Shaw Sterling Aviation High School in Houston, Texas, Schweiss Doors was chosen to provide a bifold liftstrap door for their new school.
There aren't many high schools in the U.S. that offer this type of education, to the extent that they do to continue on to give students a chance to get flight certified.
Their new hangar is set up to hold the two aircraft. The bifold liftstrap, aluminum frame door is 49'6" x 20'2". The door has galvanized windrails and siderails, a keyed switch entry system, electric photo eye sensors and is windrated for 120 mph. Two rows of windows - 12 total, on each half of the door let in an ample amount of available daylight into the hangar.
To read more about Sterling Aviation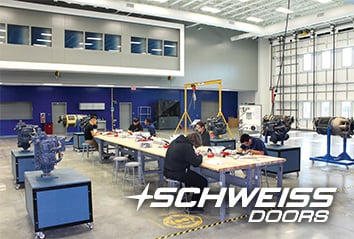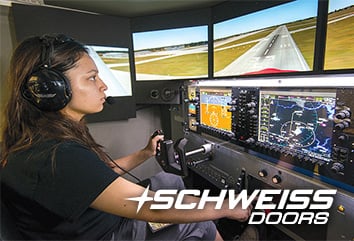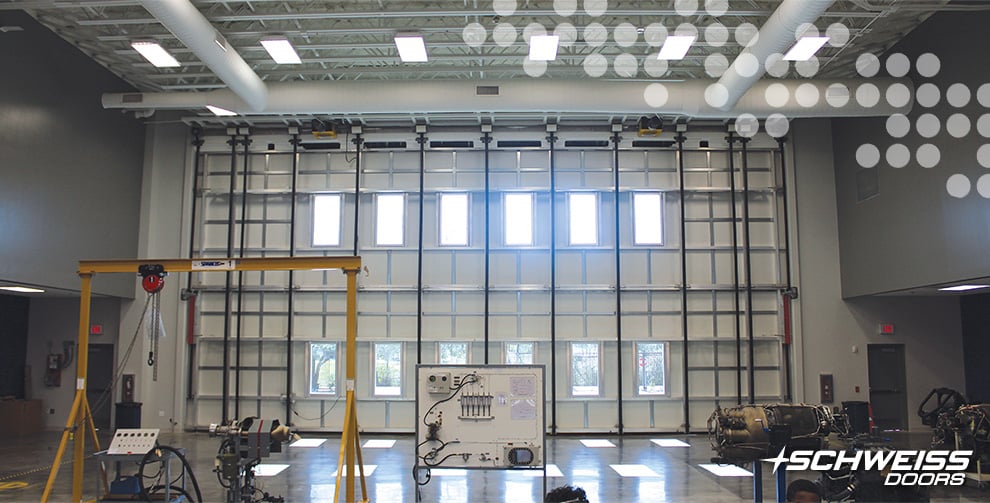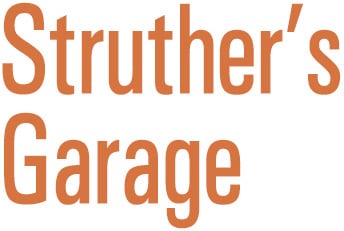 Struther's Winnipeg Garage, Canada
A lot of planning goes into new home construction. Tom Struthers of Winnipeg, Canada extended his attention to detail right down to his garages. The Schweiss Bifold liftstrap garage doors have an enhanced appearance utilizing a vertical pine wood exterior to highlight each of his three doors.
His three garages all have Schweiss bifold liftstrap doors on them with photo eye sensors, multi-channel remotes and automatic latching systems. The largest of the bifold garage doors is 10' x 10' and the other two are each 8' x 8'. Attractive exterior vertical pine tongue and groove cladding on all the doors really gives them an appealing appearance.
Struthers is an old British car aficionado. Among his collection are four Triumphs dating from 1960 to 1981; a 1953 Jaguar XK120 and a 1953 Austin Healey BNI and an Austin Healey BN1 Cornet.
To read more about Struther's Garage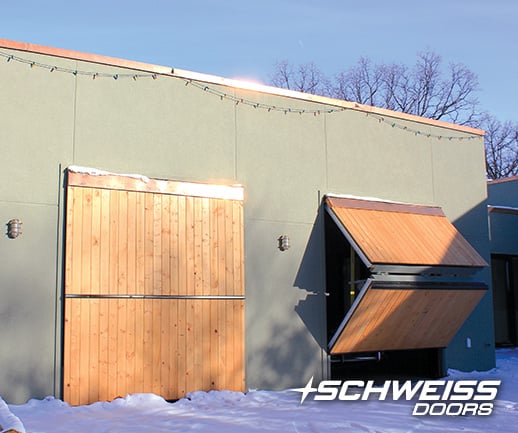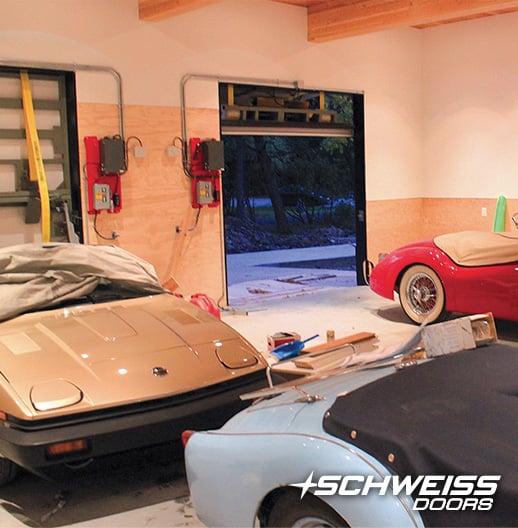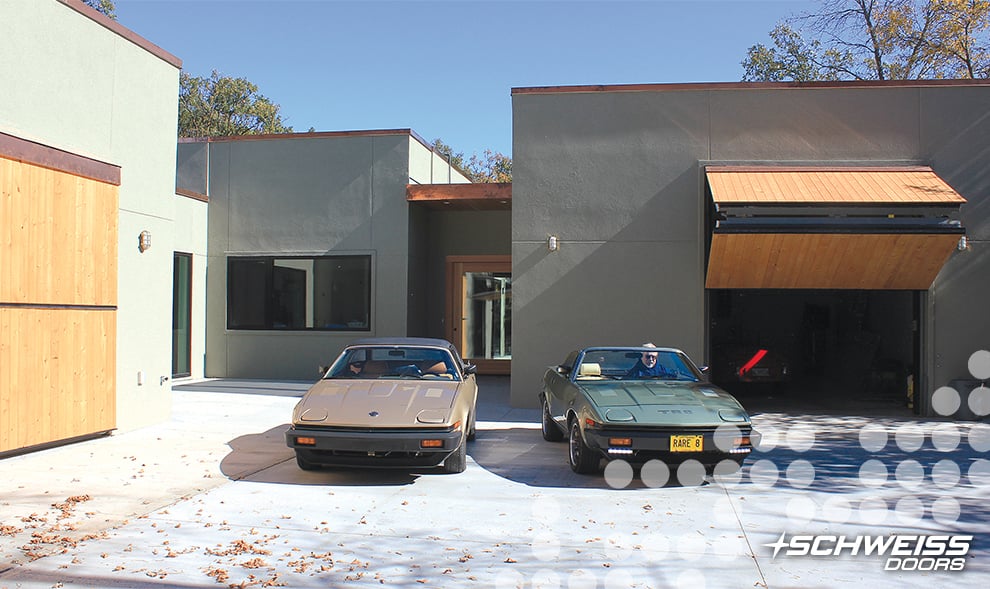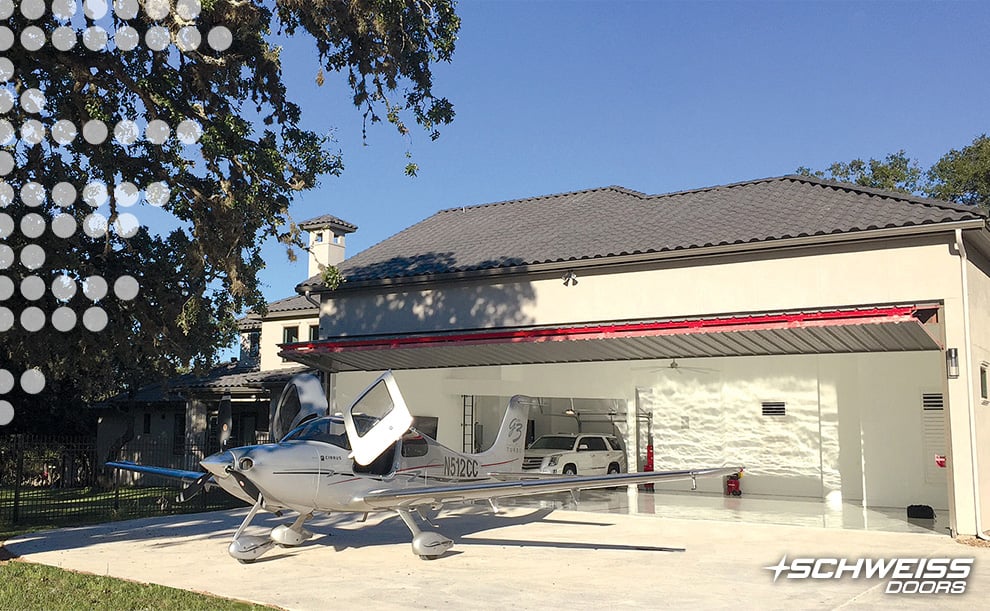 Boerne, Texas Hangar Home
'Jesse from Texas,' as he prefers to be known, is the elated owner of a Schweiss bifold liftstrap door. He and his family live in a stunning 5,000 sq. ft. hangar-home just a taxiway from the landing strip at Threshold Ranch in Boerne, Texas at the outskirts of San Antonio.
His 2,000 sq. ft. attached hangar houses his 2008 Cirrus SR22 G3 Turbo "Perspective." Jesse became familiar with Schweiss Doors during visits to the Oshkosh airshow and had seen Schweiss doors at various airports.
His hangar has a 48.7' x 12.1' custom made bifold liftstrap door complete with a remote opener, a red painted frame for a great protective look, and an autolatch and windpin setup that will keep it tight to his hangar even in the stiffest West Texas winds strong enough to make a cowboy cry.
To read more about Hangar Homes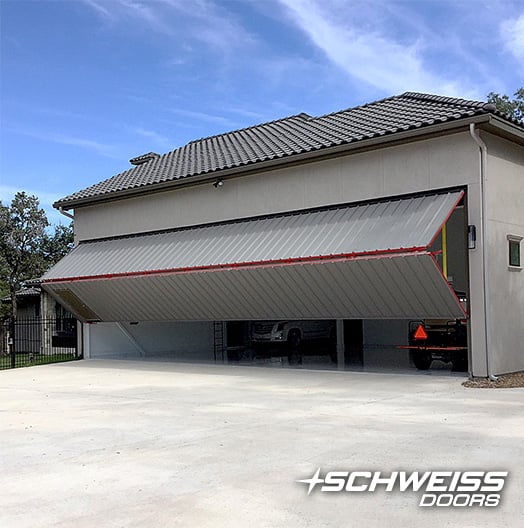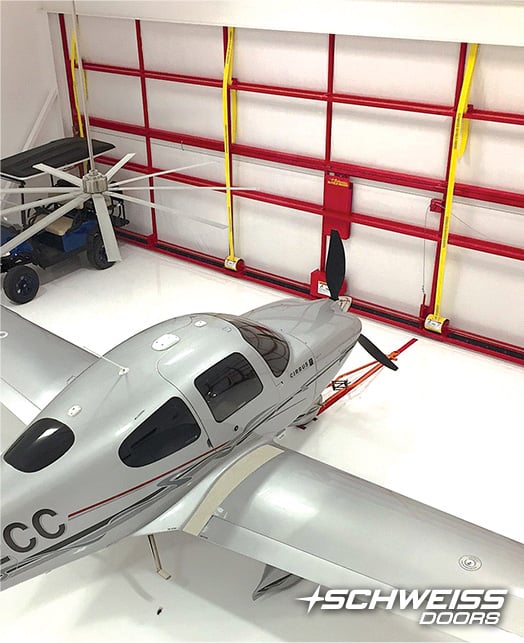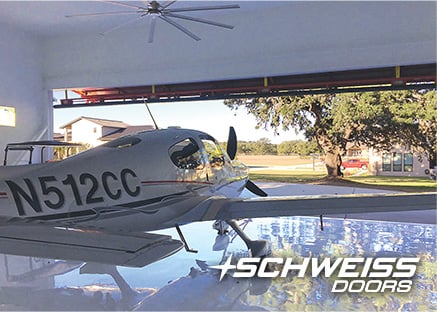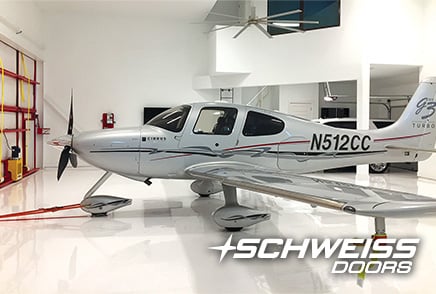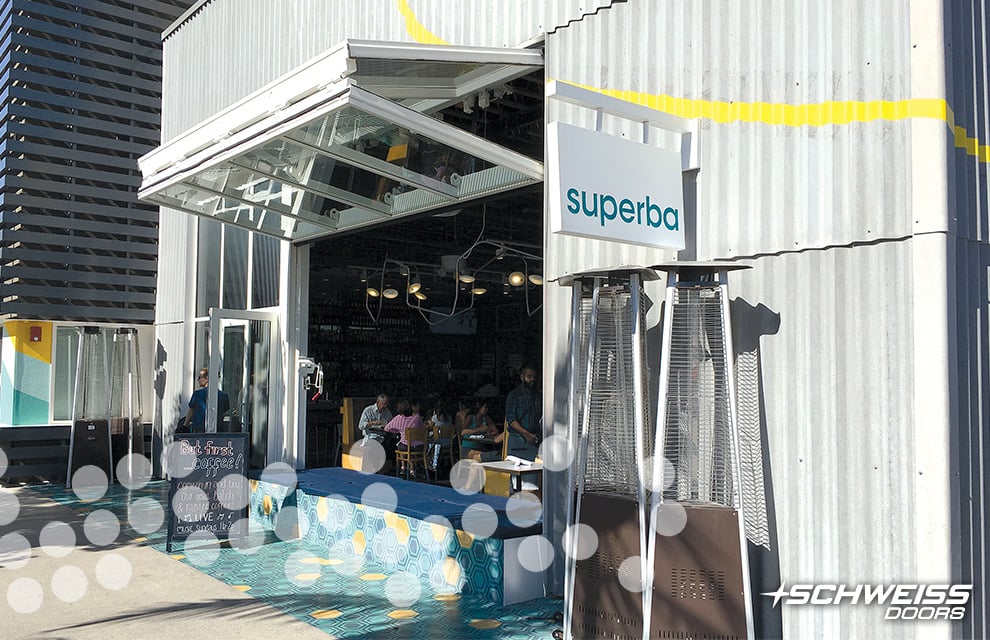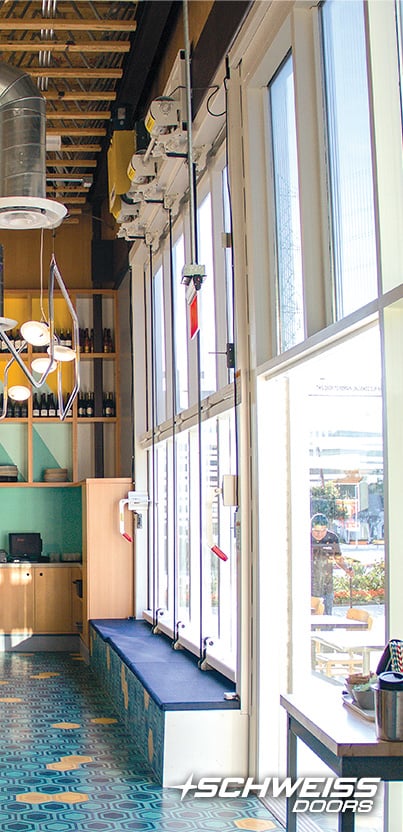 Superba Restaurant, CA
Superba Food + Bread, which bills itself as an industrial-chic café and bakery offering Californian fare, rotisserie dishes and keg cocktails, likes to try new things and break some rules.
Part of trying new things included placement of a Schweiss bifold glass door at the front of the restaurant. They wanted the space to open up entirely to the exterior and maintain the open structure of the ceiling. The bifold door allowed them to do this better than a typical garage door that would have conflicted with lighting hung from the ceiling.
Superba decided on a custom-made 14' 3.5" x 9' 8.5" glass-clad bifold liftstrap door with black straps, electric photo eye sensors and manual latches. When they open for business at 7 a.m. they also open their Schweiss glass bifold door to welcome diners in from the sidewalk.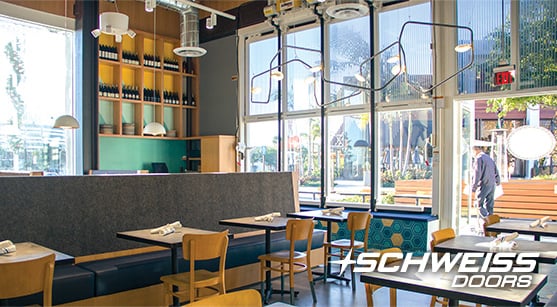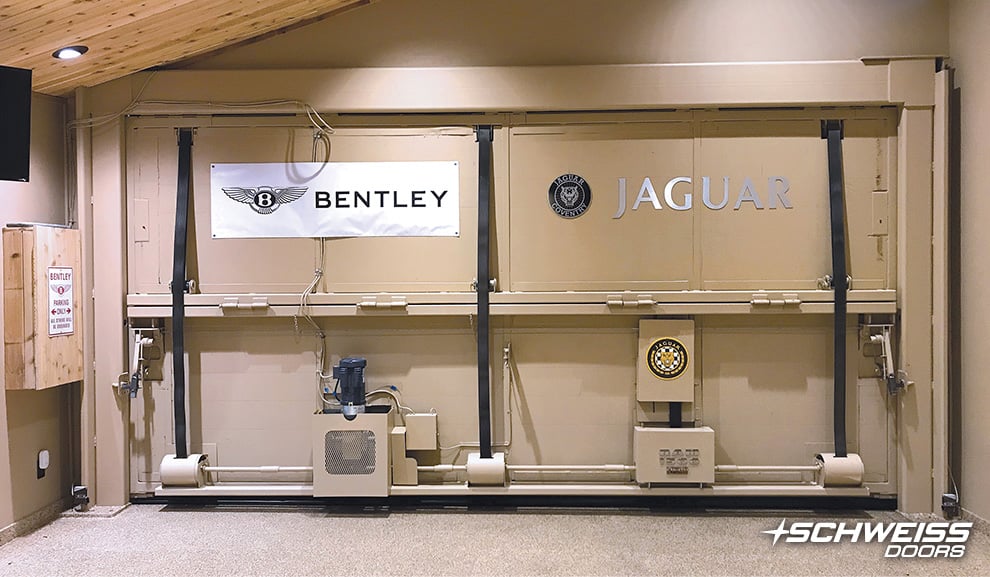 The Woodlands, TX Garage Door
As a 30-year career pilot working in the Captains seat for Continental and United Airlines Kirk Simonds has walked away from many successful landings. Now retired, he decided to do a complete remodel from the slab up of his garage that included a Schweiss 18' x 7' bifold liftstrap door. The door is equipped with an automatic latch system, remote opener and Simonds can use his backup generator to open or close the door in case of a power outage.
The door was installed in the nick of time before Category 4 Hurricane Harvey started on its $200 billion wave of destruction when the eye of the hurricane passed over nearby Rockport and Houston. It rode out the high winds and water that had cars floating and streets flooded up to people's necks.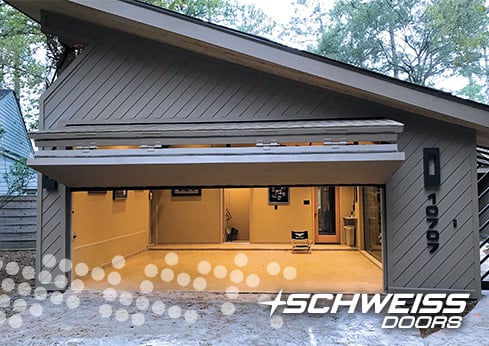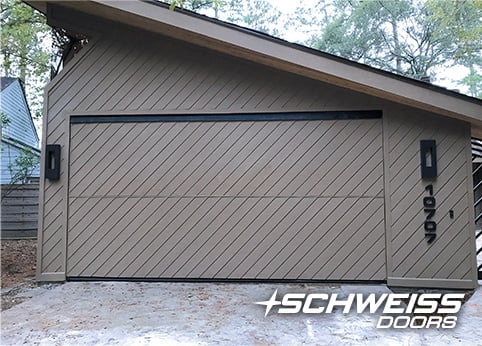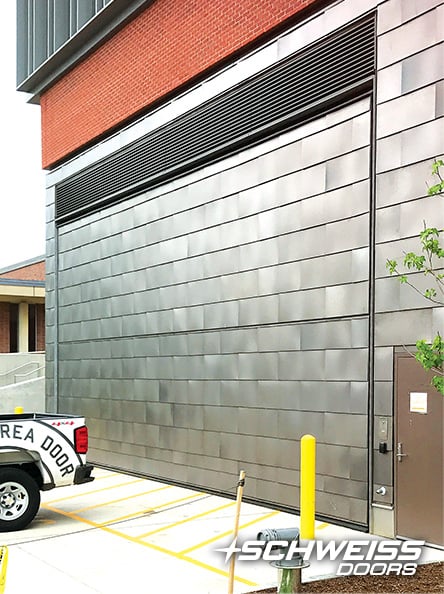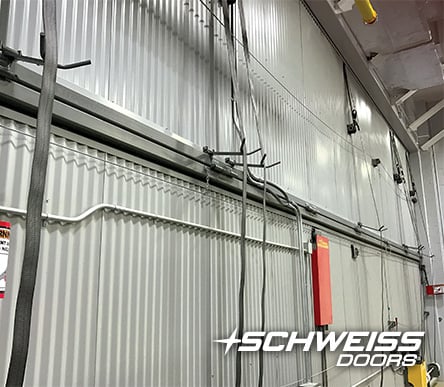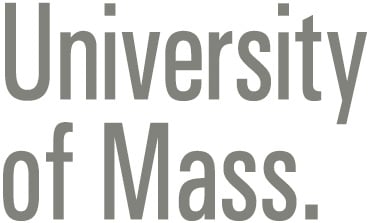 University of Mass. Aluminum-Clad door
Schweiss bifold and hydraulic doors have been known to have exterior cladding utilizing many materials from decorative wood, glass, stucco, brick and much more. One that really stands out is the aluminum plank cladding that was put on a 38' 1" x 15' bifold liftstrap door in use at the South College Academic Facility at the University of Massachusetts in Amhearst.
The aluminum plank-clad 38' x 15' Schweiss bifold liftstrap door is being used on a new steel building. This very attractive designer door has electric photo eyes, black liftstraps, automatic latching system and a door base safety edge. The interior of the door is clad with corrugated aluminum siding.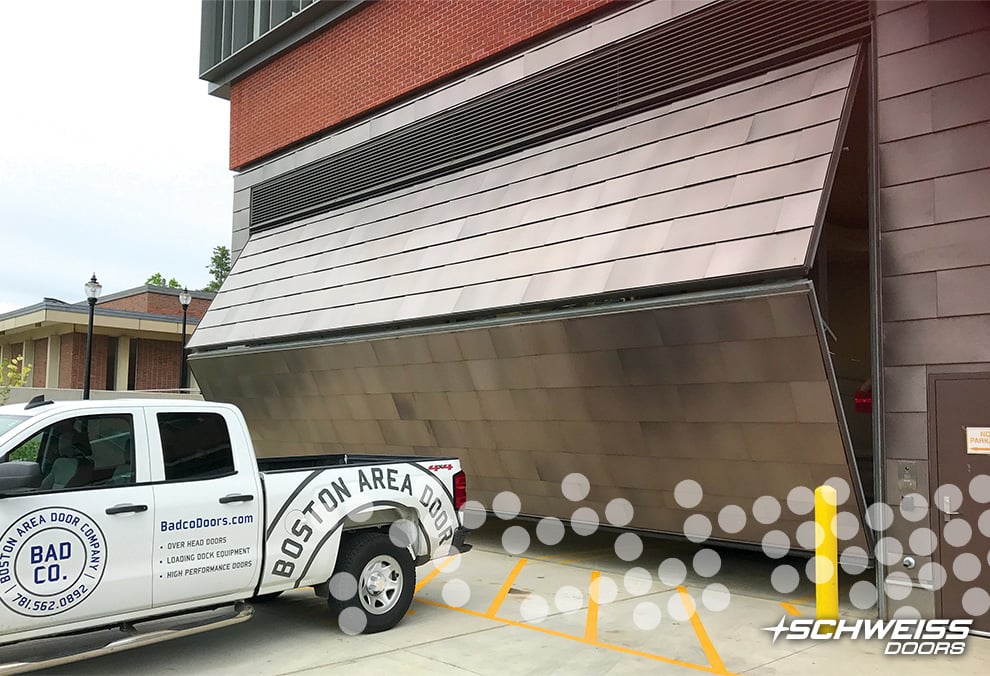 Purcellville, VA Helicopter Hangar
This privately-owned helicopter hangar in rural Purcellville, VA recent received irst place 2017 Building of the Year award in the category of "Commercial Buildings under 5,000 sq. ft." The owner, Chuck Kuhn an Fuog/InterBuild designed the post-frame barn-style hangar the really stand outs with a Schweiss hydraulic one-piece 55' x 16' designer door. A stronger lift system was incorporated for the additional 7,100 pounds of wood cladding on the door. The vaulted ceiling has 1x6 tongue and groove woodwork. A high loft with four windows brings maximum amount of daylight into the hangar. The hangar has offices for the pilot and in-flight manager.
Garland LaRue, Project Managar for Fuog/InterBuild, Inc. said he discovered Schweiss Doors for the first time through a Schweiss Door Internet Search and said the hangar owner loved the hydraulic door. "I think the quality of constructin of the hydraulic door is wonderful. We definitely would use it again and recommend it to others. It was also easy to install, the shipping of it and customer service was great on all points, Brent and Jeremy at Schweiss were very helpful," said LaRue.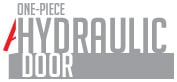 Music Factory, Irving, TX
The Toyota Music Factory, formerly known as Irving Music Factory, is a new $200 million 410,000 sq. ft. American Entertainment complex located in the Las Colinas neighborhood of Irving, Texas. It has 20 restaurants and bars and retail space that includes a movie theater and bowling alley.
The Pavilion at The Music Factory, is the centerpiece to the Music Factory. Located on the exterior of the pavilion at the outside amphitheater are a series of seven side-by-side Schweiss bifold liftstrap doors ranging in size from 36.9' to 35.1' in width and all with a clear opening height of 25.6'.
Seven separate doors were used, instead of two or three large doors, because they partially wrap around the pavilion building that has about a 10.5-degree curve to it. These seven doors can be opened during sold out concerts approximately a half hour prior to the time an indoor performance is being held.
To read more about Music Factory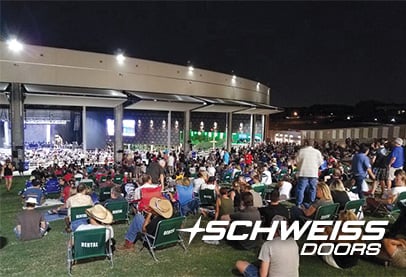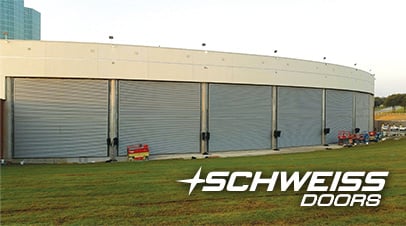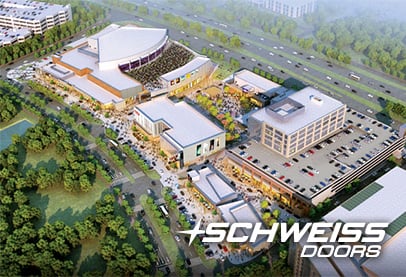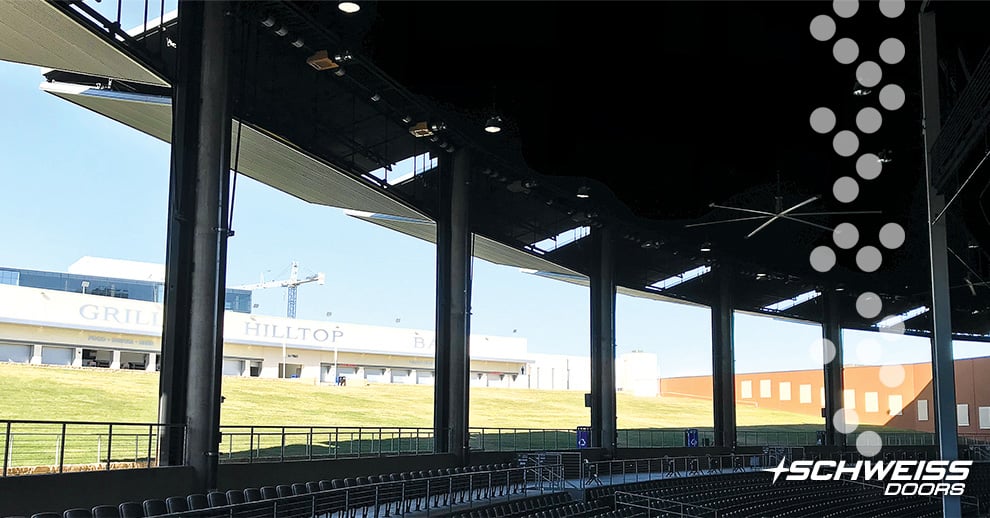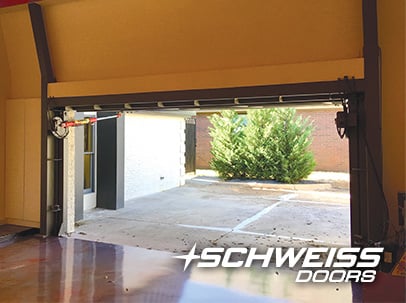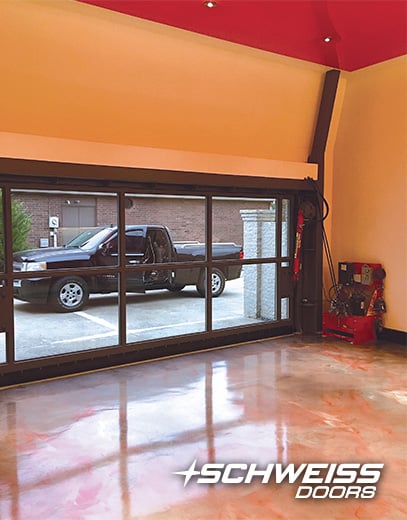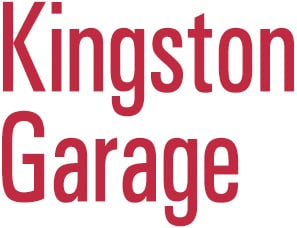 Kingston Garage, OK
The garage on Leo Kingston's Oklahoma City 4,200 sq. ft. single level home is something to behold. The glistening epoxy floor is something you might expect to see inside the home's entrance and the contemporary look of the walls and ceiling surround a very nice looking Schweiss hydraulic glass designer door.
The Schweiss hydraulic door has a clear opening of 15.3' x 7.1' and is equipped with electric photo eye sensors and a remote opener.
In order to give extra stability, to compensate for the extra weight of the glass-clad door, Kingston ordered it with a freestanding header that attaches to I-beams at the side and header of the door. He also lifted the ceiling in his garage from 9 ft. to 13 ft. in order to put a stackable car lift inside.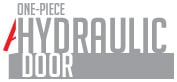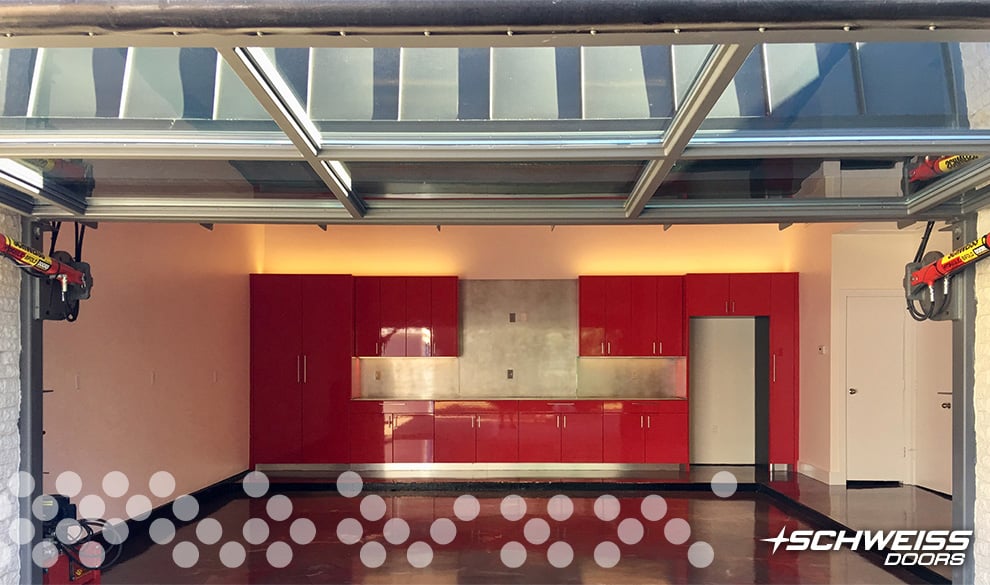 Federales Mexican Restaurant, Chicago
Nothing says summer like tacos and tequila. Chicago's newest sprawling Federales Tequila & Tacos restaurant and bar in the West Loop of Chicago is a great neighborhood bar with incredible food.
Federales vacation atmosphere featurs a fully retractable roof and two Schweiss bifold liftstrap 14' 3" x 14' 8" designer doors that open to their beer garden.
They like the look and feel of the doors, as well as how open the space feels when they are in use, not to mention the 154 additional seats in the Tequila Garden. They open them when it's warm enough to have outdoor dining and drinking.
To read more about Federales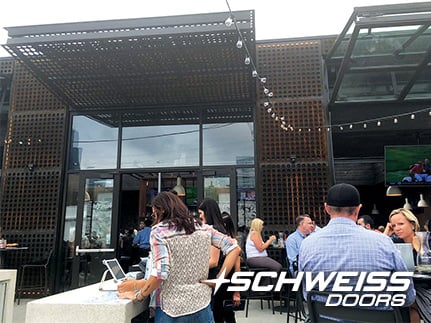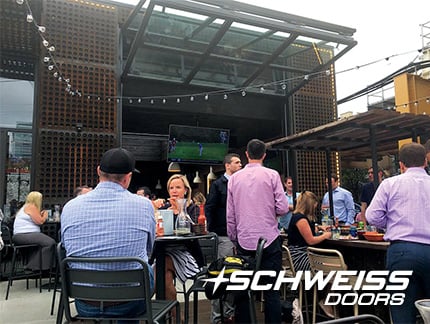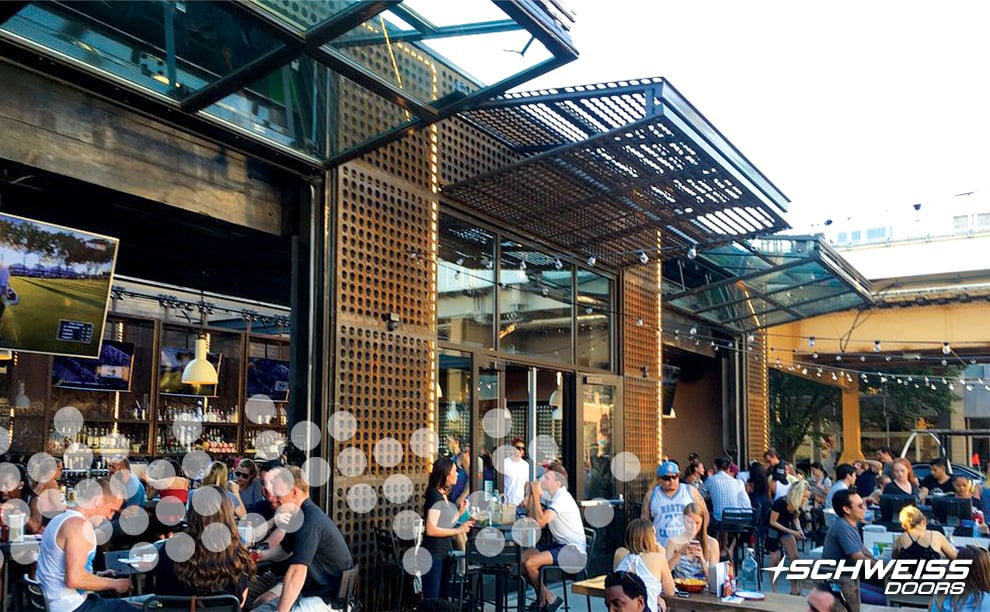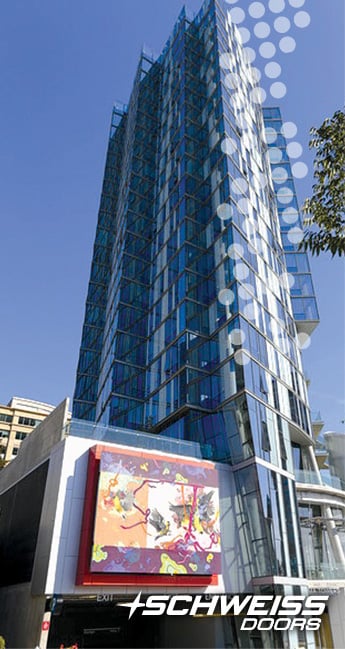 Soma Towers apartments, Bellevue, WA
Residents in the new 273-unit 23-story Soma Towers highrise apartment in Belleview, Washington now have access to an outdoor piazza via Schweiss bifold designer glass doors.
The largest bifold liftstrap door is 16.5' x 7.9'. A second door has a clear opening of 14.10' x 7.25'. Both bifold l doors have automatic latches, electric photo eye sensors, door base safety edges and an emergency backup system in case of loss of power.
This new highrise is one of more than 50 projects constructed by Su Development of Bellevue, Washington in the greater Seattle area.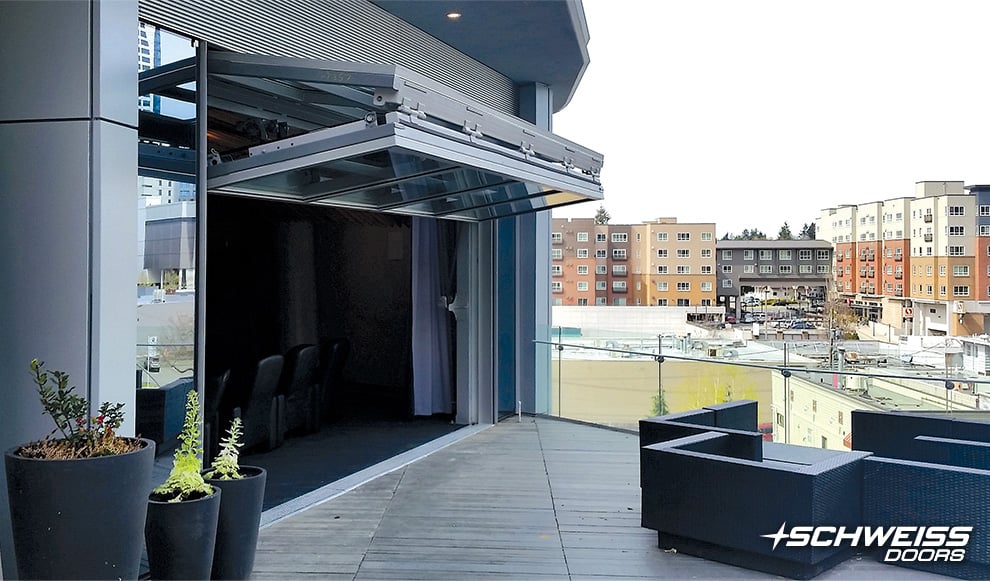 Lift-Strap

Bifold
Truckee, CA bifold garage door
What makes this garage stand out is what's in it and it's size. The 2,000 sq. ft. garage with a 17' ceiling is attached to a 2,000 sq. ft. one-bedroom custom guesthouse.
Two bifold/liftstrap doors are located at opposite ends of the garage. They are 18' wide by 10' with automatic latches, photoeye sensors and a door base safety edge. They chose a bifold door over a hydraulic door because Truckee gets about four feet of snow in the winter.
"We were concerned about the straps so we ran the door up and down a thousand times, it works great and the locking system (automatic latches) tightens it up real nice. "