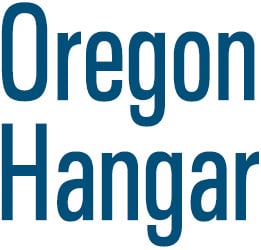 Polycarbonate-clad hangar door
North Plains, OR
With the decorative star and patriotic blue front it has all the looks of a hangar home that you might think was owned by Captain America. Jim Weitman, of Sherwood, Oregon, and his wife, Star, live on a private grass airstrip just outside of North Plains, Oregon. The hangar portion of the home measures 40' x 40'.
The Schweiss bifold liftstrap door on the hangar has a clear opening width of 38' and 9' 8.75" in height. It is also equipped with automatic latches, electric photo eye sensors and a remote opener. The blue polycarbonate cladding really brightens up the exterior of the door.
"With the exterior enhancements, including a new roof, cedar siding and a colored concrete apron, they really wanted to replace the old style twin 20' metal garage hangar doors with something that really stood out and complemented their lifestyle.
To read more about Polycarbonate Hangar