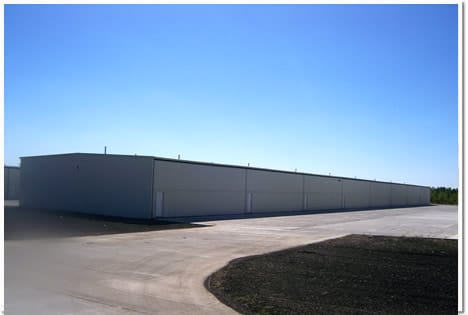 Only about 30 miles due south of downtown Chicago and surrounded by fields of corn, soybeans, wildlife habitat and even a few tree farms sits one of the newer and more intriguing airfields in America. Called Bult Field Airport and identified as C56, this country airport however dates back to 1942 when Paul Sanger, a Monee, Illinois aviation enthusiast started his 'grass strip' air field three nautical miles southeast of town. Sanger Airport provided flight instruction, aircraft mechanics, and a few wooden T hangars to local aviators. One of his student pilots was Jim Bult, 22 years old in 1984 and now age 45 with about 8,000 hours flight time logged in a variety of machines.
Today, Jim Bult is the owner of this 130-acre airfield. Bult Field has already undergone a $40 million renovation and there's more coming...like a $5 million terminal facility, which will also include a new home for the Bult family.
Rural Airport Sticks to Country Roots
However, this airfield will stay a country airport simply because Bult wants to keep it country. And so do his neighbors, especially the Monee community which expressed complete pleasure when Jim Bult purchased the property. That's because another potential owner of this site was the State of Illinois, which hoped to make this a regional airport to lessen the heavy traffic at both O'Hare Field and Midway Field.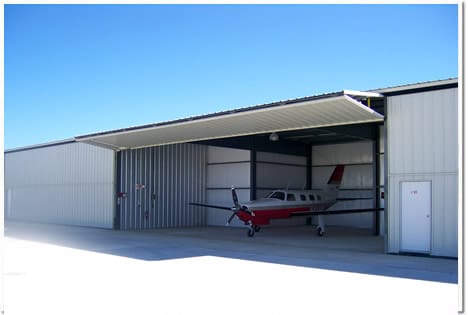 "A better person couldn't have bought this property," says Brian Cann, a Will township supervisor and Monee businessman. "Our comprehensive economic development plan for our community is to maintain a rural, open-country environment. Jim Bult's regard for country living is appreciated. Yet both he and our community know that this new airfield will be a key economic engine in the development of peripheral businesses."
So country it is. A blacktop township road is still the only access to Bult Field. The Sanger family eventually replaced the grass strips with asphalt. However Jim Bult's first major move after the acquisition of the airfield from the Sanger family was the pouring of a new 5,001-foot concrete runway (75 ft. wide), plus an adjoining concrete taxi strip, already serves aviators from throughout the Midwest. Also eight new Chief Industry buildings, each 24,000 square feet, replaced all the older structures at the field and now provide 15 to 17 hangars per building.
Until the new terminal, a 70' x 200' structure is completed, the only 'welcome' to this new airfield currently is a Port-A-Potty and 10,000 gallon aviation fuel tank.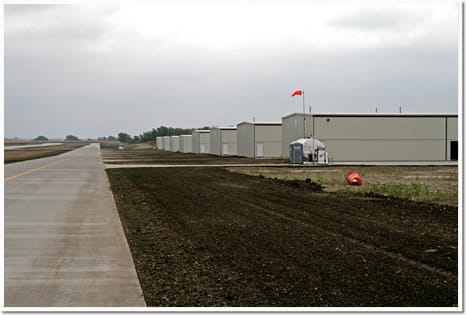 "We've got a few jobs still ahead, the terminal being the major item," says Jeff Graefen, Graefen Development Inc., Frankfort, IL, the general contractor for this entire renovation project. When all the work is done, this will indeed be one of the 'classier' privately owned airfields in America. Such as heated T hangars!
"I know how much I appreciate having my aircraft in an insulated, heated hangar and thought pilots renting hangar space would enjoy the same comfort," explains Bult. "Providing this comfort is a calling card for future business so doing this during the construction phase was the logical time frame."
Each hangar got fitted with 6 inches ceiling insulation, 3-inches wall insulation, and a 4-inch blanket lining each of the 132 Schweiss bifold doors. Net result was an R13 insulation factor in the walls, R19 in the ceiling. Plus for a quick warm-up, a Reznor space heater hangs from the ceiling of each hangar.
"We can and occasionally do get sub-zero weather; even a nasty blizzard when Mother Nature is feeling rambunctious," notes Graefen.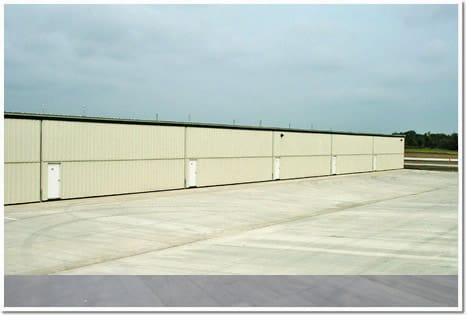 Schweiss Bifold Doors Are Perfect for Aircaft Hangars
Schweiss Bifold Doors, a Minnesota manufacturer acknowledged as the major builder of the bifold door design, was the door of choice for all 132 hangars. The bifolds included 68 doors each 12 ft. x 41 ft. wide; 32 doors each 14 ft. x 44 ft. wide; and 30 doors, each 14 ft. by 47 ft. wide. Delivery of the doors was scheduled to coincide with Graefen's construction time frame, June-December 2006.
"Each of these doors was built with a walk-through door so this was indeed a special project for our crew. But designer doors custom built for each project is what we're all about," relates Julie Schaefer, Schweiss marketing. Recently Schweiss shipped 24 bifolds to Poland for installation at a new Polish Air Force base.
Why Chief buildings? Bult says, "I visited a few other airfields checking out various buildings. The Chief structures appear to be more rugged with better structural design. You make better judgments if you see actual buildings that already have a few years usage."
Added Graefen, "I've erected Chief buildings at many construction projects and recommended Chief to Jim. Chief truly is a quality product. These buildings are designed for 90mph windloads which dictates the structural strength needed to meet IBC 2000 building code. And that includes the doors."'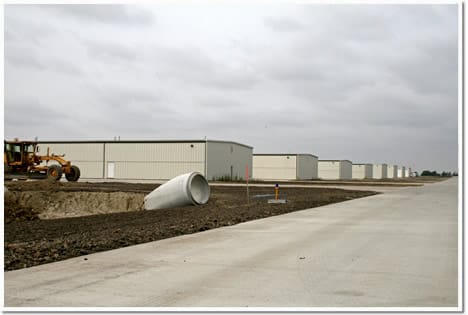 Why the Schweiss Bifold? "Same process," explains Bult. "I looked at lots of hangar doors. That bifold design with their unique lift-strap mechanism just seemed to be the most trouble free, smoothest operating, and certainly strong enough to handle heavy winds, even blizzard conditions." The lift-strap has a 29,000-lb. tensile strength and 10-year factory warranty.
He also purchased the Auto-Latch mechanism for the bifolds. This lock-down system snugs the bifold tightly against the doorframe, provided total security plus complete insulation against weather elements.
Aircraft Hangars Fill Up Quickly at New Airport
Apparently Bult Field is rapidly becoming known within the aviation industry, especially in the greater Chicago area. Though operational less than a year nearly half the hangars are occupied. A complete ground-service shop is also on the construction agenda which will provide majors as well an other mechanical services both to local pilots as well as fly-in service.
"Weekends are already quite busy. Quite a few business jets have used the airport.. So without even an arrival building and indoor bathroom, the field has a lot of traffic," denotes Bult. His air fleet includes a Cherokee Six, a Piper Malibu and two Robinson Helicopters, an R22 and an R44.
Bult calls his helicopters his "time machines" because they are the quickest and by far the most convenient craft for touching down at his many operations within the greater Chicago metro area. "We've got operations in southern Wisconsin, Rockford, Pontiac...this entire area. So my helicopters are my business transport providers. They are tremendous time savers."
Making this new airport project financially feasible is MBI (Mr. Bult's Inc.), a nationwide transfer company owned by Jim Bult. He simply says, "We 're in the trucking business." Indeed! MBI hauls trash from transfer stations to landfills coast to coast, in essence from San Diego to Chesapeake Bay. "We're the largest transfer operation in the world," sums up Bult.
And thanks to aviation, his business imprint is likely to keep getting bigger. Having your own country airfield virtually minutes from the Chicago loop smacks of being a World Series champion. It just doesn't get any better! Three sons, Josh, 24, Jacob, 22, and Joe, 18 are the family of Jim and Pearl Bult.