Environmental design of Ontario Operations Centre has 20 Schweiss 'green' doors
Newmarket, Ontario, Canada is a 80,000 population town projected to grow to approximately 98,000 by 2026. Located north of the city of Toronto, it is part of the York Region and Golden Horseshoe of Southern Ontario.
Due to these growing pains Newmarket was overdue for a new municipal operations building. For many years, the town of Newmarket's Public Works Services, including operations (water, roads, snow removal) and parks and property maintenance, had been operating out of three buildings at two existing facilities for years.
The old facilities no longer had the capacity to meet the service needs of the growing community. By merging two facilities into one and housing staff under one roof it eliminated duplication and maximized staff resources. All town vehicles and equipment are now housed and maintained at the new Operations Centre, eliminating the need for transportation between facilities. It is also a location where Central York Fires Services fire trucks are serviced. Central York fire Services is responsible for providing fire services to both the Town's of Newmarket and Aurora.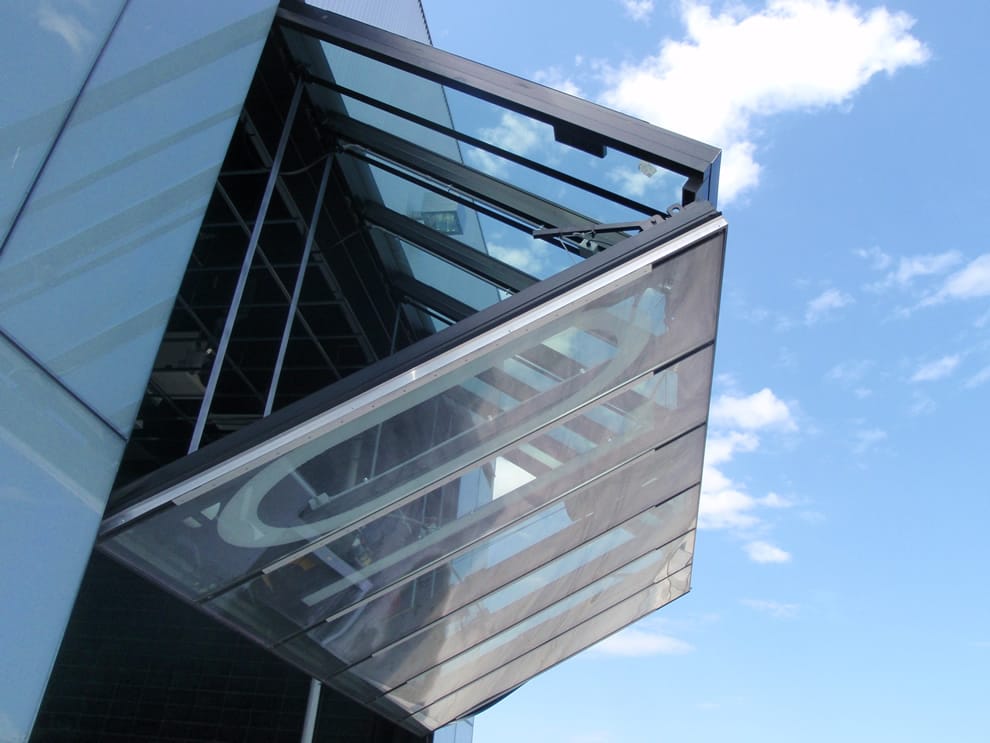 A closeup of Schweiss Bifold door #1 as it appears halfway open gives a view of the gray liftstraps and autolatch system. The doorframes were also powder coated.
Newmarket provides a wide range of municipal services
The new Operations Centre has a crucial role in the majority of community services, including: Parks and property, pedestrian trails, playing field and recreation facility maintenance, natural heritage areas protection, winter road, sidewalk and trail maintenance, traffic management programs, water distribution system, solid waste management and snow storage.
The facility, which also acts as the emergency operations center, is located in a non-residential industrial area. It has adequate space and resources to service Newmarket for a minimum of 25 years and is now better equipped to respond to community needs in the case of flooding or other types of emergencies.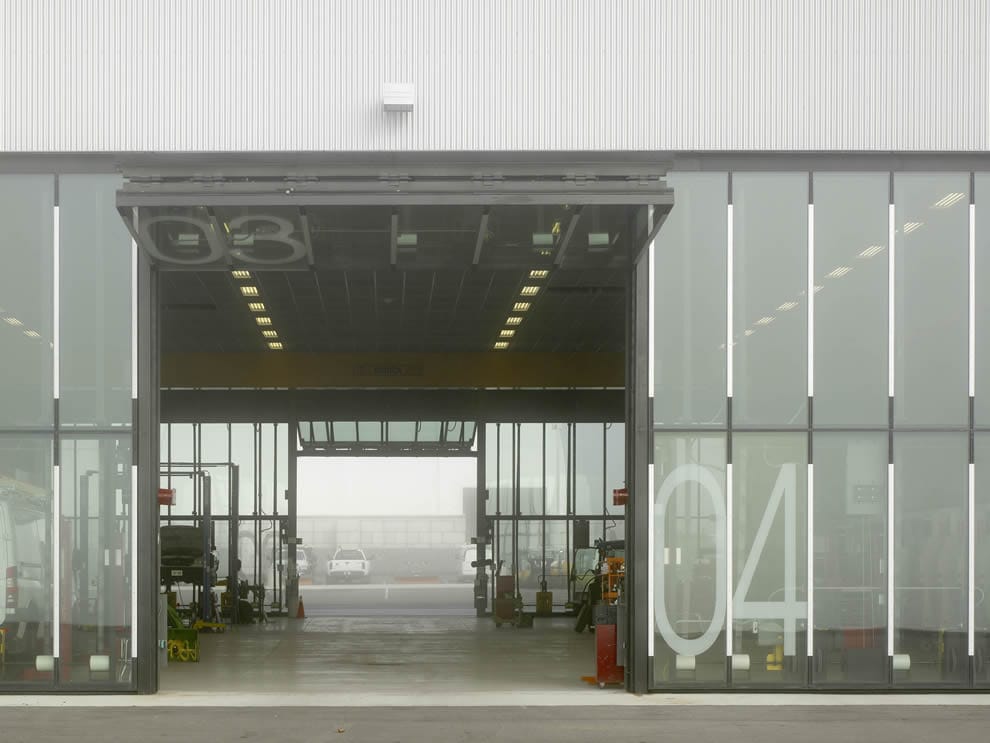 Time-saving doors open on both sides of the Operations Centre to allow vehicle drivers to enter on one side and exit on the other side.
Harry Vanwensem who has worked for the town for 21 years and who now is Manager of Facility Services noted that the planning process spanned a period of three years prior to construction. Included in that process was the planning for doors for the large facility. They chose to go with 20 Schweiss Bifold liftstrap / autolatch glass doors.
"I learned about Schweiss Doors from RDH Architects, we were looking for a type of door that was big enough, that gave us a lot of natural light and able to bring large equipment in and out. When I first saw them I went 'Wow! These are big doors. They certainly do the job from a standpoint of giving us enough room to get large trucks in and out,'" noted Vanwensem.
The $20.2 million Operations Centre is a 65,000 sq. ft. facility. And what a beautiful new local landmark and functional building it is. It also doubles as a much needed training and archival storage for Newmarket and provides a works yard, greenhouse, salt and sand shed.
"As taxpayers go, they don't always like to see big things come up, but we were able to amalgamate the three departments into one operation. It gives us a better team environment to have all the departments under one umbrella," said Vanwensem.
What does this mean for the environment?
The building has many environmental features which include a green "living" roof, geothermal heating and cooling, solar hot water heating, a reflective membrane roof, recharge stations for electric vehicles, storm water collection of rainwater to irrigate the green roof and the allowance for a future wind turbine. The introduction of native grasses, plants and trees improve biodiversity at the site perimeter.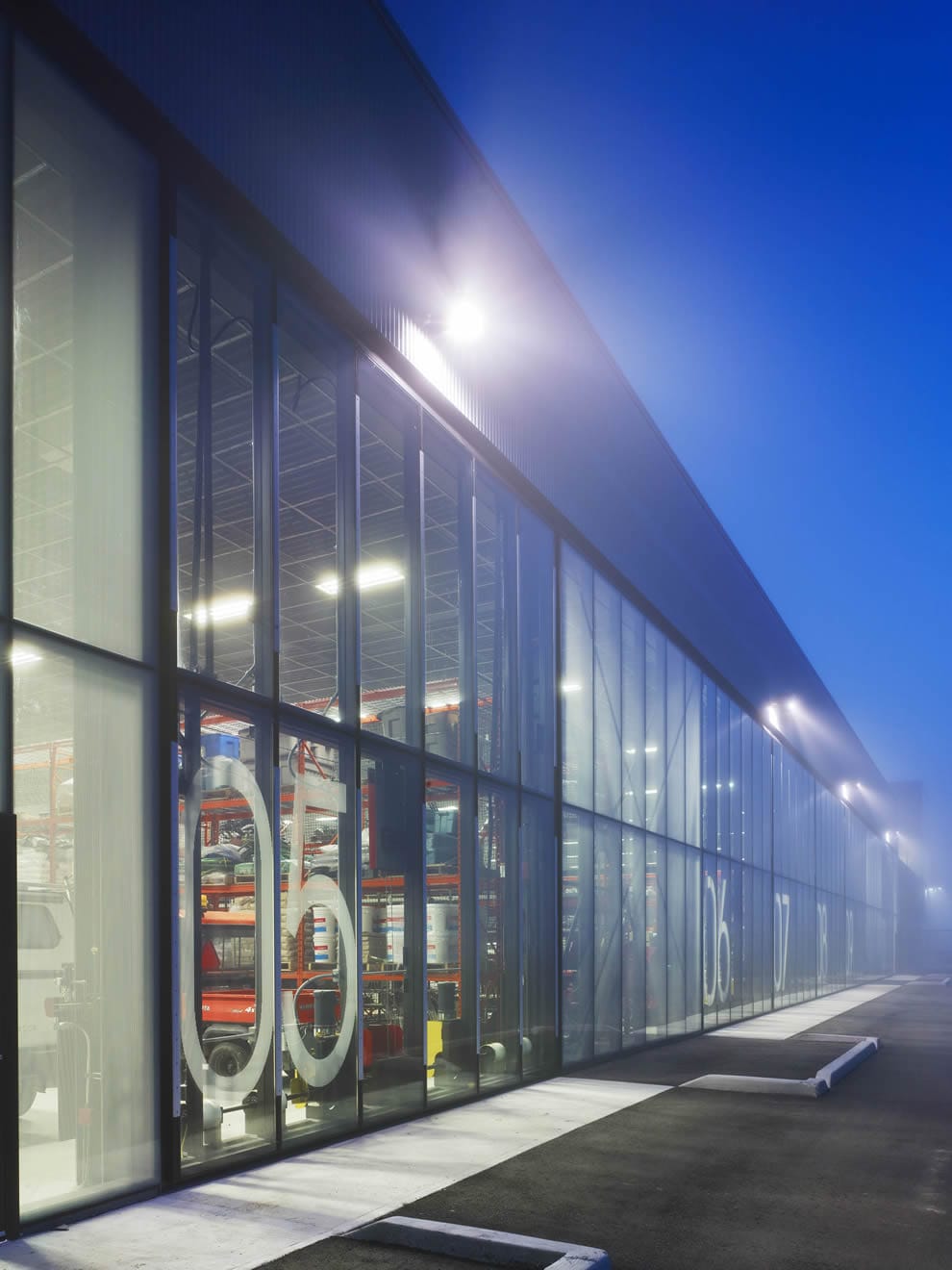 The Newmarket, Ontario Municipal Operations Centre shines at night when the vehicle bays are lit up. The town wanted it to be a landmark featuring the bifold doors facing a major street on a hill very visible for people driving by.
Meeting the Canada Green Building Council's energy efficient targets as one of the first of its kind in Canada, the environmentally-friendly design demonstrates an energy use reduction of 44 percent compared with a similar facility under the model National Energy Code for Buildings. The design incorporates a 40 percent reduction in domestic water usage through the installation of efficient fixtures and other water saving measures. This represents a savings of 1.5 million litres of water annually.
Ninety-two percent of occupied spaces have daylight and exterior views which greatly reduce energy costs and lessen the environmental impact of the facility. It will save 411 tons of Co2 from entering the environment. This is the equivalent of removing 79 cars from Newmarket's roads each year. The atrium is surrounded by offices, green exterior space, meeting and training rooms and a cafeteria, while serving as the arrival and social space for all visitors and staff. The grand stair doubles as an informal amphitheater for morning muster.
The project embodies a pragmatic rethinking of the municipal operations center and sets a new national standard for the design of this under-appreciated building type. A 4.2 m high gabion basket retaining wall defines the public parking area and a landscaped extension of the building's green roof, creating the illusion, when viewed from the north, of two distinct structures.
Architectural designs in municipal buildings not all that common
The Municipal Operations Centre at Newmarket isn't one of your standard looking run-of-the-mill municipal buildings. About a year of work went into the design of it. Rounthwaite, Dick & Hadley Architects (RDH) team were assigned to that task.
Geoff Miller, who was lead architect worked closely with Project Manager Tony Lopes, Bob Goyeche and Scott Wilson on drawing up the building design and completing feasibility studies. He said the town of Newmarket was committed to constructing an environmentally friendly building, something that RDH was in tune with because their firm encourages going green as well. RDH has worked with a lot of municipal clients and have done a number of operations centres and public buildings of various kinds that are in sync with the green movement.
Miller said a lot of searching online convinced them quickly that Schweiss Doors would fit the bill. They were looking for something "beyond the norm."
The Schweiss bifold liftstrap doors were ordered with bottom drive motors, autolatches, door base safety edges, warning lights and horns and an emergency backup system in case of a power outage.
"It was our idea to put decorative numbered glass doors on the building. The intent there covered two reasons. We found Schweiss Doors when we were looking for a product that would have a number of functional aspects and also be architecturally attractive. One of our concerns was that this was a very prominent building. The town wanted it to be a kind of landmark featuring the doors facing a major street entering town on a hill very visible for people driving by. Also from a functional viewpoint we wanted a door system that wouldn't take up any ceiling space inside the building, particularly in the repair garages and with a crane they use. The bifold door system seemed ideal and the added advantage was the doors provide an exterior canopy when open, so it somewhat adds an outdoor workspace in the summer when the doors are opened up," explained Miller.
He also mentioned that using glass and aluminum curtain wall on the doors was something that they wanted for maximum performance and to look great. RDH worked closely with Schweiss Doors personnel initially on various details and noted they were very helpful during this process.
"It's been a really important building for our firm. We've done others, but this was our first all-new construction operations centre. It has caught a lot of attention. It is very rare for buildings like this to have real architectural quality and it has become a major component of our practice now. I think the building turned out very well and the Schweiss doors were a big part of that. They are visually impressive and tie into our architectural vision seamlessly. They have an industrial functional quality. It was a difficult but rewarding balance to strike our objective," said Miller.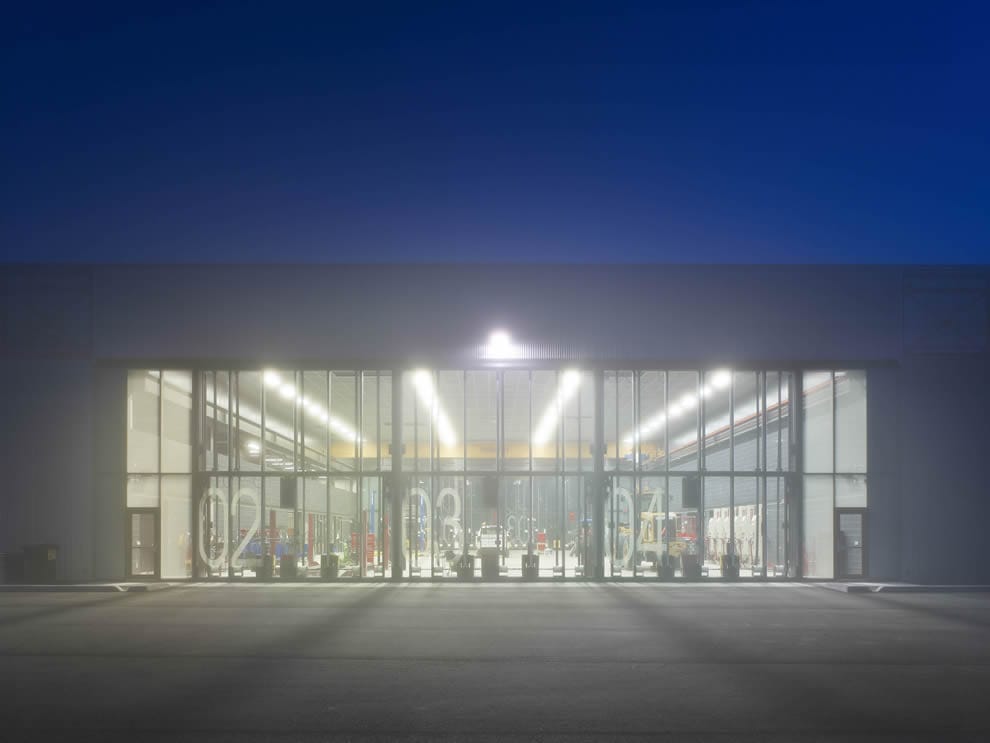 Any or all of the 20 bifold doors on each side of the building can be opened at any time. When open they also provide air circulation throughout the vehicle bays.
"In think the client is happy with the bifold doors and they are working very well with no problems," added Miller.
Schweiss glass bifold doors add to the green environment
The building's architecture is heightened through the careful detailing of corrugated metal siding and 20 very impressive glazed glass Schweiss Bifold Liftstrap "Green" Doors. Ten doors on each side of the building are designed for easy access and drive-through capabilities. They also provide passive ventilation and reduction of the energy load.
The 20 Bifold doors are 19 ft width x 21.3 ft. tall and sized for easy access to the storage, repair and wash areas by trucks, snowplows and other large equipment. The doors are clad entirely in doubleglazed curtain wall and installed flush with the primary building envelope. This allows for transparent and fully daylit workspaces in the vehicle bays while maintaining thermal continuity.
In the summer months these doors can be left open throughout the day to create a seamless indoor/ outdoor work space. The suspended galvanized wire mesh ceiling prevents birds from nesting within the roof structure.
Vanwensem said he appreciated the bifold door design this winter when they had a lot of snow and noted that the doors seal well in all weather. They were also powdercoated as an extra rust preventative and to give them a better aesthetic appeal.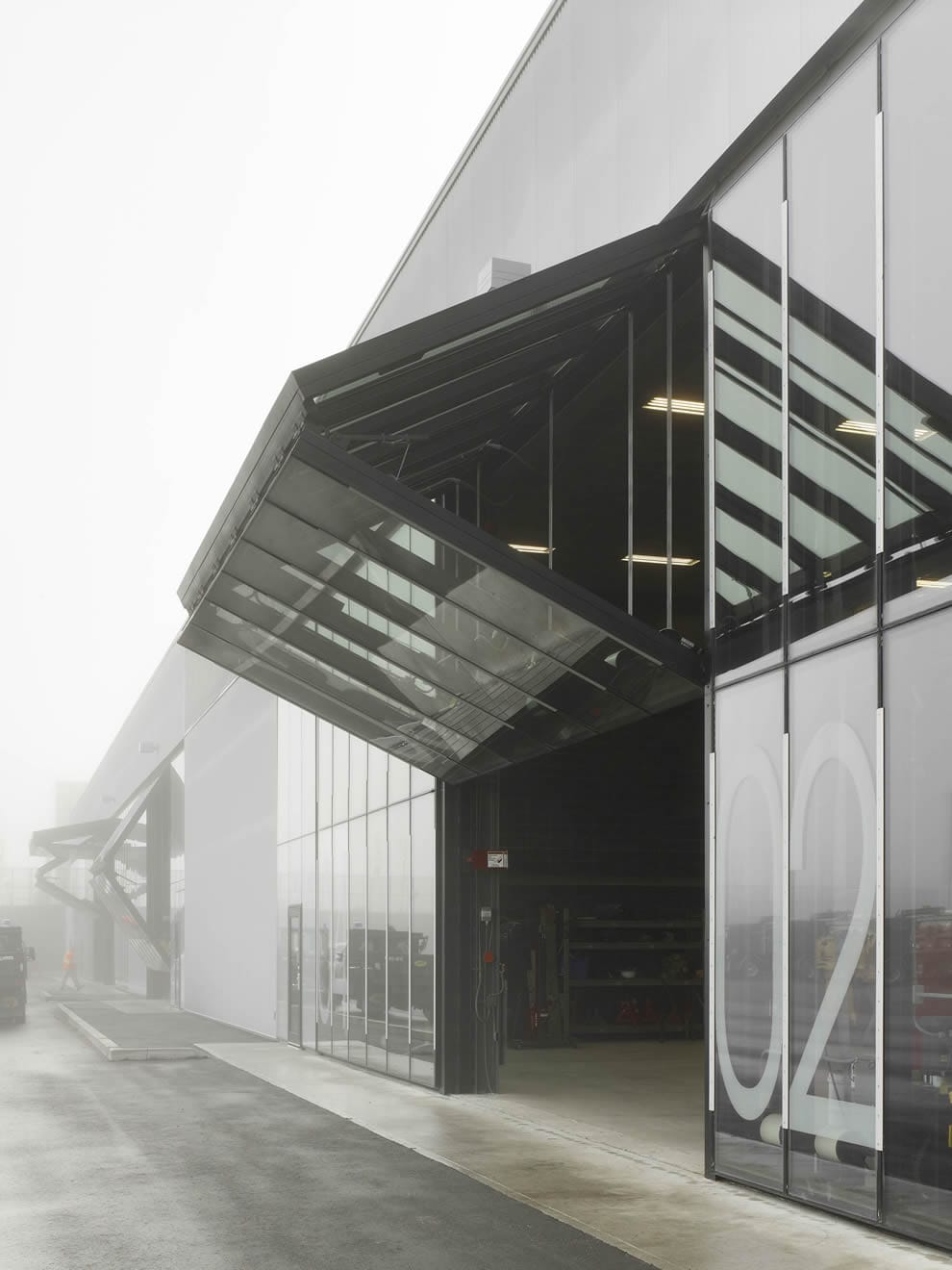 Even in the morning fog, the new Operations Centre is quite impressive. The building, designed by RHD architects, gained numerous awards for innovation and cutting-edge environmental features.
"We use the doors a lot each day. They are opened every morning for vehicles to get out. Now that it's nicer weather, they mostly stay open. Each door is probably opened three or four times a day. The doors were delivered on time and they also have wonderful safety features. I'd certainly recommend Schweiss doors to others," said Vanwensem.
The safety features he mentioned include warning lights and horns, door base safety edges and an emergency backup system. Each door is equipped with the Schweiss Autolatch system and the doorframes have a powdercoat finish.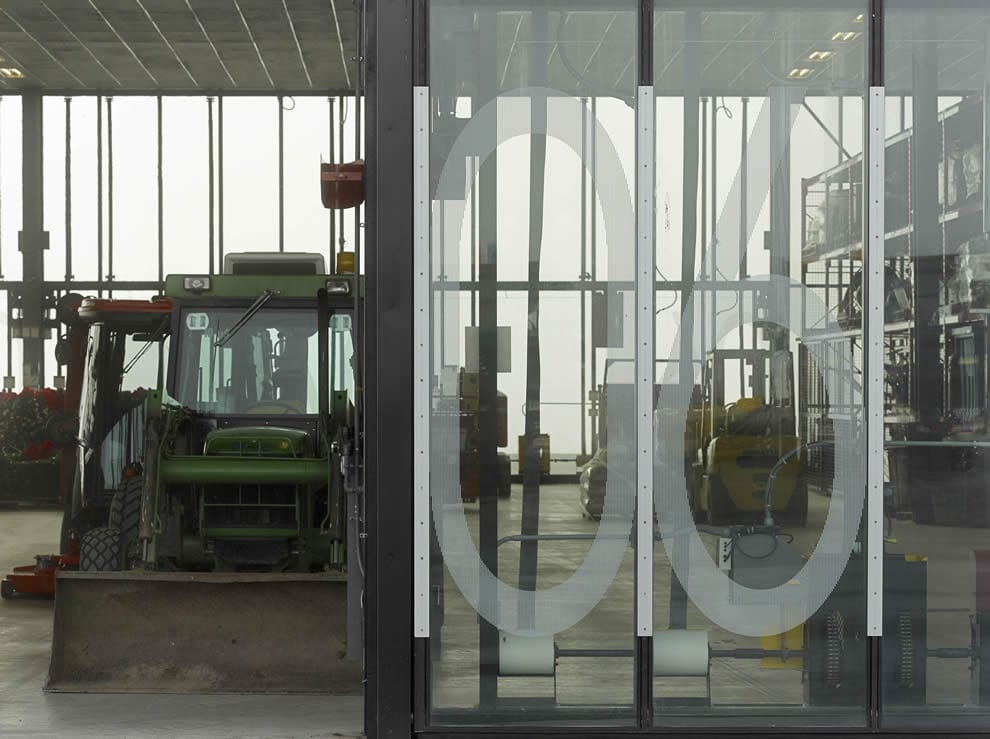 Each of the 20 Schweiss glass bifold doors have numbers etched in the glass for quick identification and to give the doors a nice aesthetic look.
Installation of the doors was done by Superior Door & Gate Systems (SD&GS) of Mississauga, Ontario, which is located about 50 miles from Newmarket. General Manger Joe De Gasperis said they were awarded the bid for the 20 glass doors. Adding to the attractiveness of these doors are large etched numbers on the glass of each door. This gives the doors a great look, but is also designed for the drivers and others coming to the building to see immediately which bay or door to go to. "Anytime you are called for a service call, the problem is you never know which door to go to. We always encourage people to put numbers on their doors," said De Gasperis.
"The etched glass numbers add a good feature to the doors," added Vanwensem. "They are helpful for users to the facilities. If we have deliveries they know they have to go to a specific door number and they are big enough to identify them."
This was SD&GS first introduction to Schweiss Doors and De Gasperis said the job went quite well with a couple crews assigned to do the installation.
"These doors worked nice, It was a learning experience, but no big deal to install them. Like anything else that you do the first time, you follow the drawings. Our experience with Schweiss Doors was great, they've always been helpful. There were no problems of any kind. We wouldn't hesitate to do more of these doors, in fact we'd welcome it," noted De Gasperis.
SD&GS is called on to do a lot of big projects in Canada. "This was a big job, but not our biggest. We're doing a job this year for a transit commission. It has 17 folding doors, some gates, rolling steel doors, and an explosion proof door, plus others," added De Gasperis.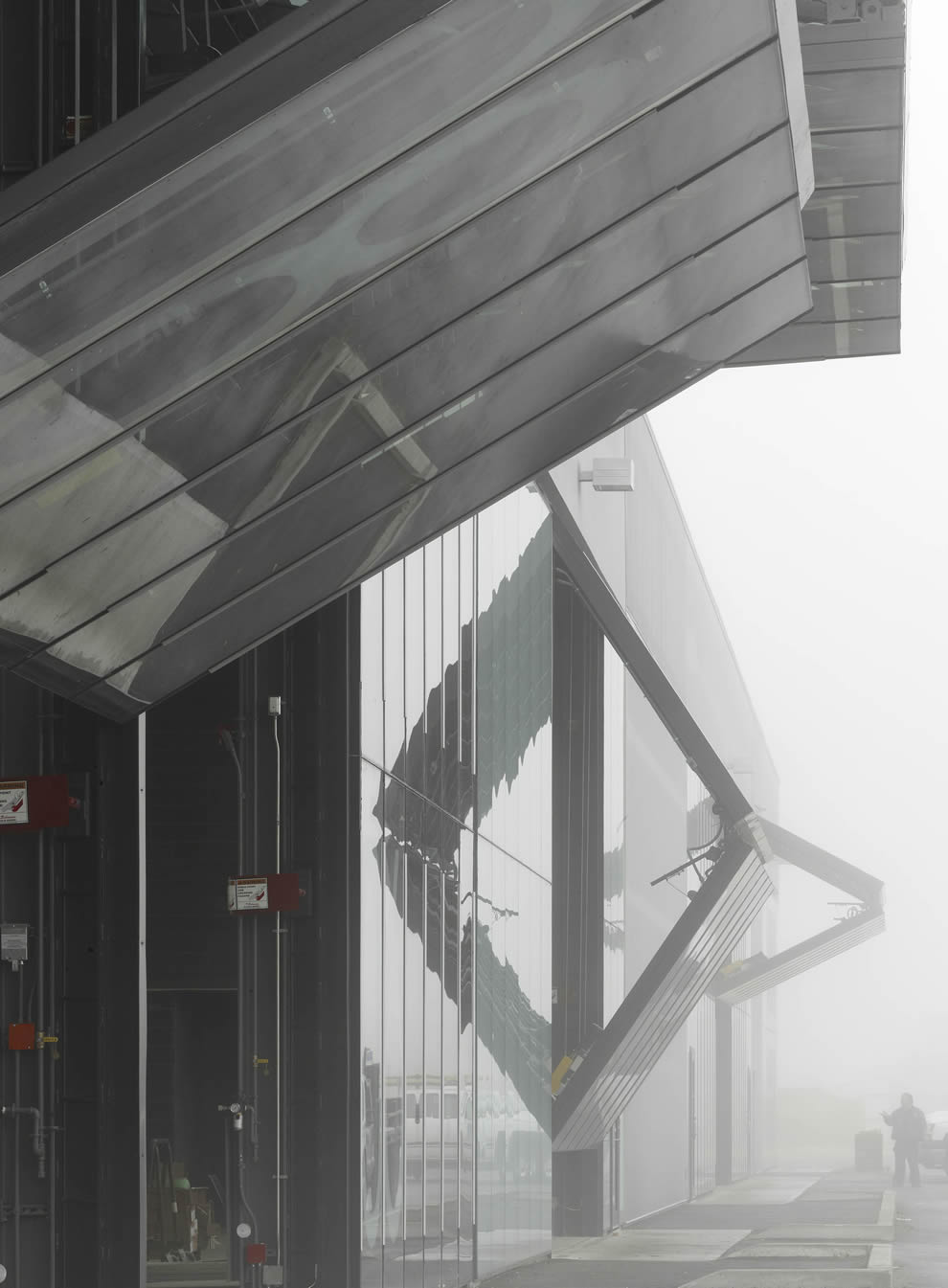 Any or all of the 20 bifold doors on each side of the building can be opened at any time. When open they also provide air circulation throughout the vehicle bays.
Newmarket's award-winning Operations Centre
Municipal operations centers rarely attract attention from architects or the public, but this one captured the eyes of many. Even before its completion, the facility received the 2009 Award of Excellence from Canadian Architect Magazine for innovation and cutting-edge environmental features. The building, which was designed by RHD Architects, also received the 2012 Governor General's Medal in Architecture. In 2013, MoneySense magazine ranked Newmarket 10th out of 200 cities in Canada, and 4th out of the "Top 10 Small Cities" in Canada in its "Canada's Best Places to Live in 2013."
With contributions from the federation of Canadian municipalities and Investing in Ontario, this is one of the first municipal operation Centres in Canada to be built to Leadership in energy and environmental Design (LeeD) Silver standards
RDH Architects
Rounthwaite, Dick & Hadley Architects (RDH) has approximately 20 employees. They brought a unique combination of expertise to the Newmarket Operations Centre project.
RDH was founded in 1919. In its early days the practice designed a wide range of private residences in Ontario and Quebec as well as independent schools and colleges. After World War II, the partnership of F.H. Marani and R.S. Morris was expanded to include M.F. Allan and later R.A. Dick. In 1958, Morris was awarded the Royal Gold Medal for Architecture, bringing international recognition to the firm. He was only the second Canadian to be so honored. In 1964, the partnership merged with C.F.T. Rounthwaite. Following Marani's death, and upon G.R. Hadley joining the partnership, the firm's name was changed to what it is now.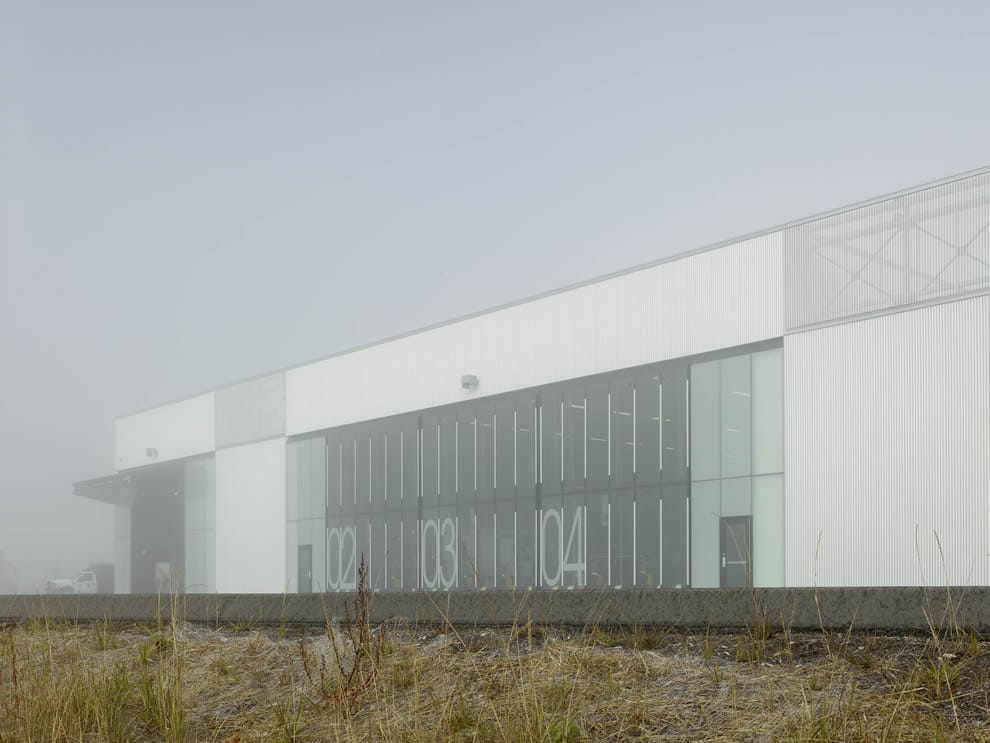 Newmarket city officials insisted on a "green" building and door design. The Schweiss glass and curtain wall doors allow sufficient daylight into the bays and cut down on electrical lighting bills. Other environmental features include a green "living" roof, recharge stations for electric vehicles, allowance for a wind turbine and more.
In the past two decades the firm has entered the field of transportation architecture and was responsible for Union Station, the hub of Toronto's highly successful GO Transit Commuter Rail System and Pearson International Airport's new Central Utilities Building.
In addition to many other notable award-winning projects including the Newmarket Operations Centre, RDH gained much praise (and some criticism) for its design of the Port Lands Sports Centre. The design was billed as the first of its kind in the world featuring four hockey rinks stacked atop one another and sheathed in an all-glass facade. After nearly a century of staying quietly in the background, RDH Architects seems poised to stir up architectural waters.
RDH has offices in Toronto, Ontario. For more information on RDH visit their website at www.rdh.com or call 416-204-1399.
Superior Door & Gate Systems, Inc.
Superior Door & Gate Systems of Mississauga, Ontario has been a leading supplier and provider of sales and service for overhead doors, dock levelers and automatic gates and accessories since 1977. As one of only eight accredited dealers in all of Canada, they are proud to be among this group. SD&G is a complete source for design, fabrication, installation, service and maintenance. With a fleet of over 35 equipped vehicles, and up to 65 employees, their highly trained professionals are available 24 hours a day, seven days a week all year round. Customer support is an ongoing concern, not only from the beginning of the project, but includes providing maintenance and emergency service whenever required.
Their total systems approach to perimeter and facility access control is based on the integration of quality components, including bifold and hydraulic doors, specialty doors, pedestrian doors, fencing, gates, electric gate operators, anti-terrorist crash barriers, telephone access systems, card readers and more. Their sectional door line can be made to fit any size, width or height opening. Aluminum and glass doors and multi-blade, telescopic, vertical stacking and side stacking doors are just some of their specialties.
The mission at SD&G is not just to satisfy its customers, but to astonish them! Superior Door & Gate Systems is located at 3210 American Drive, Mississauga, Ontario. For more information visit their website at www.superiordoorandgatesystems.ca or call them at 905-828-7000.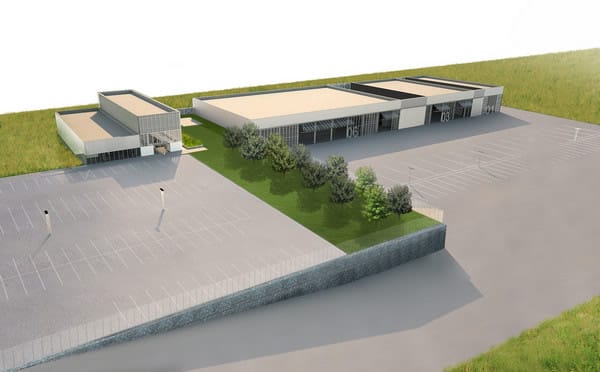 A northeast architectural view of the Newmarket Operations Centre shows the building layout. It is very rare for municipal buildings like this to have real architectural quality.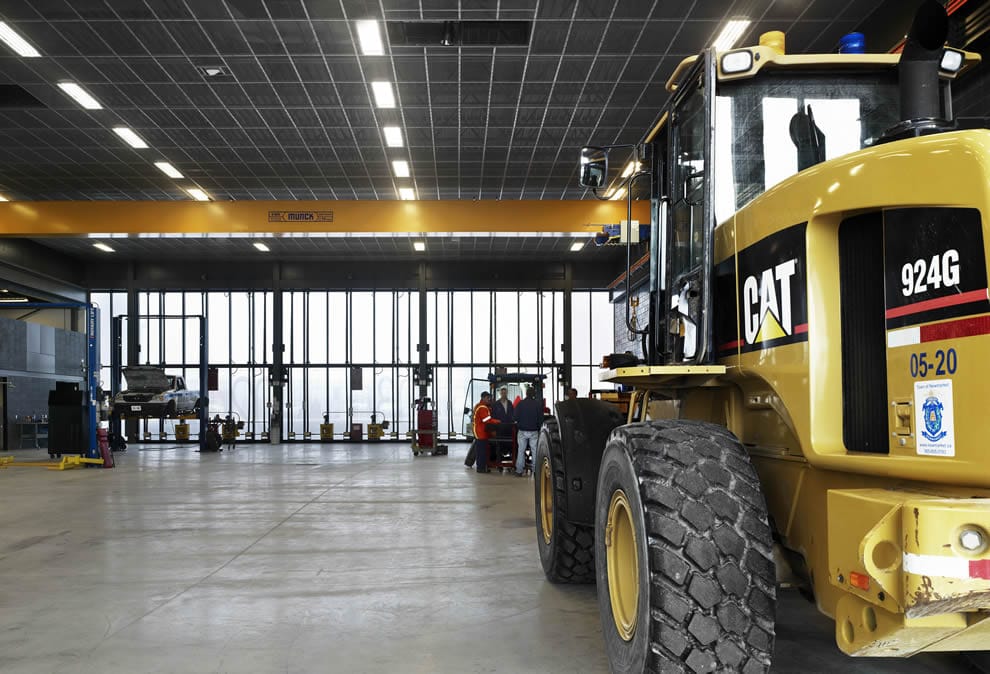 The city of Newmarket uses the new building to store all of its vehicles and maintenance equipment. Other portions of the building house offices and an emergency operations center.
Newmarket, Ontario, Canada is a 80,000 population town projected to grow to approximately 98,000 by 2026. Located north of the city of Toronto, it is part of the York Region and Golden Horseshoe of Southern Ontario. Due to these growing pains Newmarket was overdue for a new municipal operations building. For many years, the town of Newmarket's Public Works Services, including operations (water, roads, snow removal) and parks and property maintenance, had been operating out of three buildings at two existing facilities for years.
Read More And See A Lot More

Such is the case at SilverWing at Sandpoint. This unique fly-in airpark community, set between Schweitzer Ski Mountain and Lake Pend Oreille, one of the West's largest lakes in northern Idaho, spans over 18 acres adjacent to the Sandpoint, Idaho public airport. This airpark has been in development since land was purchased in 2007. Now, several years later, the airpark is ready for people to move in.
Read More And See A Lot More

Active organizations have a way of getting things done - done on time, done on budget and done with the help of individuals and the community they live in. The worldwide Experimental Aircraft Association (EAA) has EAA Chapter 1210 of Biddeford, Maine in its ranks. Although relatively small they are non-the-less definitely an active "get it done" organization.
Read More And See A Lot More

Dryden, Ontario, Canada, is where the rugged beauty of Ontario meets the bright lights of city life. It is a vibrant urban community surrounded by the unsurpassed beauty of the boreal forest, freshwater lakes and spectacular vistas. The settlement was founded as an agricultural community by John Dryden, Ontario's Minister of Agriculture in 1895.
Read More And See A Lot More

Aviation Experts SARL is an established 15-year-old French aviation maintenance business and aerial photo survey and mapping business that services not only France and Europe but is called out to far reaching overseas locations. Its hangar and base of operations is located in Nangis, a 7,500 population commune in the Seine-et-Marne department in the Île-de-France north-central region of France, approximately an hours drive south of Paris.
Read More And See A Lot More

The headline is a bit ambiguous, but it sure sounds good. In all actuality, there really are Schweiss Hydraulic one piece doors on the Louisiana Sports Hall of Fame - they were installed there, not formally inducted, and are for functional applications, not for sporting accolades. Just the same it's still an honor for them to be in this new and long awaited sports complex where visitors from all over the world come to pay homage to their Louisiana...
Read More And See A Lot More

Schweiss designer doors have gone on numerous exclusive hotels stretching from China to Europe. The latest to join this elite group is the Club Quarters Grand Central Hotel on Lexington Avenue, downtown New York City.
Read More And See A Lot More

Words on the Nine Fine Irishmen pub website point out: "We Didn't Just Import Irish - We Imported The Whole Damn Country." Inspired by a group of nine famous men who fought for Irish independence, to some, they were patriotic heroes. To others, traitorous rebels. But, on to the story...
Read More And See A Lot More

A 60 ft. bifold door isn't the biggest door by far ever built by Schweiss Doors, but just the same it's one heck of a big door. Shane Kellogg of Forest, Ohio needed a big door like this on his farm plus three other 40 ft. doors to store his farm equipment and his award winning pulling truck and semi that he uses to haul it to shows.
Read More And See A Lot More

Bifold doors keep getting better thanks to Schweiss Doors. With proven Lift Straps and Auto Latches the door travels up faster and smoother. Say no to cables! Schweiss Patented Lifts Straps are the latest and greatest improvements to bifold doors that have been around for years... Bifold Doors just keep getting Better!
Read More And See A Lot More

Schweiss boathouse doors have a reputation of showing up at some of the most beautiful lakes in America, but perhaps the most beautiful of them all is the 989 ft. deep Lake Tahoe which borders Nevada and California.
Read More And See A Lot More

What you see at the David Burroughs fourth generation farm north of El Paso, Illinois, located halfway between Cedar Rapids, Iowa and Chicago, isn't your run of the mill ordinary hangar - it has class, inside and out.
Read More And See A Lot More

They're long and sleek - over 60 foot long and stand 21.6 feet tall - big enough to open up for most any corporate prop or jet aircraft. Five Schweiss straplift bifold doors completed a summer order from Continental Design Build (CDBI) in Anaheim, California for new executive steel hangars they were building in Fullerton, California.
Read More And See A Lot More

The fun part of Skydive Midwest's operation mostly takes place the minute you go airborne to the time you step out of the jump plane and then safely land on terra firma. That's mainly what the jumpers look forward to, however there are many behind the scenes tasks that begin and end at the all-important hangar. The hangar, a place to pack parachutes, check weather and park planes; most airports can't get along without one, and wouldn't want to.
Read More And See A Lot More

If your heart is into aviation, and you have money, there is no end as to what you can accomplish, including building a first-class aviation museum, and filling it with some of the finest examples of World War II aircraft. That's what ethanol entrepreneur, Ron Fagen, did in his hometown of Granite Falls, Minnesota. The museum is located at Granite Falls Municipal Airport/Lenzen-Roe Memorial Field (KGDB).
Read More And See A Lot More

Mills Fleet Farm, founded in 1955 by the Mills family, is a growing company with a retail chain of 34 stores in Minnesota, North Dakota, Wisconsin and Iowa. It's newest store recently celebrated its grand opening July 29, at Ankeny, Iowa - a midstate location of approximately 45,000 residents located along Interstate 35 and U.S. Route 69 approximately 10 miles north of downtown Des Moines bordering on an agricultural and suburban-based economy.
Read More And See A Lot More

For over 36 years, over 100,000 fans each year have flocked to the rolling hills of eastern Ohio to take part in the longest running and most popular country music festival in America. This "Country Music Capital" has hosted most of the big names coming out of Nashville and other parts of the USA. Close to 25 Country legends each year such as Merle Haggard, Reba McEntire, George Jones, Tammy Wynette, Loretta Lynn, Conway Twitty, Lynyrd Skynyrd, Boxcar Willie, and even The Beach Boys and ZZ Top, you name it, have taken to the stage there.
Read More And See A Lot More

The school doors are open at Edison Language Academy in Santa Monica, California. What's different at this school is not all the doors are the same, and that goes for its unique curriculum as well. Edison Language Academy is a bilingual magnet school that is one of only 10 dual-immersion K-12 programs in the United States.
Read More And See A Lot More

Since Greystone Construction Company of Shakopee, Minnesota was formed in 1987, earning and receiving awards has been nothing new for them - their list of national and state awards for excellence, performance and merit are enough to decorate a large office or trophy room.
Read More And See A Lot More

When daylight hit after the evening of Oct. 4, people living and working at the Triple U Ranch in Washta, Iowa, got an eyeful of destruction. It was on that Friday that Mother Nature decided to reorganize the countryside. Brad Utesch, who farms 2,500 acres and produces 6,000 head of cattle a year, with his brothers Craig and Kirk were faced with a massive cleanup after what more than likely was a tornado set down...
Read More And See A Lot More

At certain times of the day the glass on Bruce Hamon's garage door reflects the beautiful Denver surroundings he lives in. While it allows others to see within, the big advantage is it allows him to see out as if looking through a picture window inside his home. And it adds a real touch of class to his residential property.
Read More And See A Lot More

Who you gonna call when you need three top of the line glass bifold straplift doors for a bike transit station in California? You have two choices. You can go directly to Schweiss Doors in Minnesota or call a company that sells and installs Schweiss Doors. That would be McKendry Door Sales & Service of Santa Fe Springs.
Read More And See A Lot More

Traditional Thai food has a reputation of being very spicy and hot enough to satisfy anyones taste for heat. A newly opened restaurant in Austin, Texas does that and more. Austin is a city of big flavors, but interestingly enough there are few that specialize in Thai food. That's where the long-awaited Thai Restaurant called "Sway," (meaning elevated, delicious) tops the bill.
Read More And See A Lot More

Fame is where you find it and in many cases others try to feed off it. Such is the case with The Owen Sound, Ontario, Canada Regional Airport, named after revered World War I flying ace William Avery "Billy" Bishop. Their hometown hero was the most highly decorated Canadian pilot of that war with 72 air victories to his credit.
Read More And See A Lot More

The administration at Scripps Ranch High School in San Diego, California, with the assistance of Casco Equipment Corporation and its assigned architects, knew exactly what they wanted in the four designer doors they ordered for their school. They wanted something that conformed to "green" standards and that would serve a useful classroom function as well.
Read More And See A Lot More

Ciudad Obregon is the second largest city in the northern Mexican state of Sonora. It is a historic and beautiful city of 405,000 population located near the Gulf of California about 395 miles north of Mazatlan and 400 miles straight south of Tucson, Arizona
Read More And See A Lot More

Gene Fuchs, 81, has been taking to the air since the age of 15 and bought his first airplane four years later. He has two Schweiss Bifold hangars doors and one large 45 ft. bifold machine shed door at his farmsite east of Morgan, Minnesota. He bought his first bifold door in the 1980s and hasn't had a lick of trouble with any of them.
Read More And See A Lot More

Washington resident Herb Korthuis needed a tall garage door to fit his large motorhome into. A city zoning ordinance said he couldn't do it at first, but thanks to Schweiss Doors he now has a 16x12 ft. bifold door that blends into the rest of his house and neighborhood and which was OK'd by the building inspector despite its size.
Read More And See A Lot More

Back in 1980, Marty Kiehm, age 23 at the time, built his first structure, a 70' x 100' hangar with a 48' bifold hangar door at the Delavan, MN airport. Though not yet a licensed pilot, aviation blood was already trickling through his veins. His dad was an aerial applicator so 'flight talk' was a fairly routine part of family conversations. However following in his Dad's footprint wasn't his ambition.
Read More And See A Lot More

Schweiss Designer Doors don't get much better than this. Under Armour Corporation in Baltimore, Maryland ordered this very attractive and unique metal perforated hydraulic one-piece canopy door as a showpiece for their store and office building in Baltimore, Maryland . The 28' 10" wide x 12' - 140 mph windrated door features two distinctly lighted Under Armour billboard-style logos which can be seen for miles around.
Read More And See A Lot More

"I come here every morning at 6 a.m. I spend all day here and I enjoy every minute of it." Those words from Patrick Aucoin, Aucoin and Associates, Inc., Spring, TX. And where he comes each day is to an 84' x 84' steel hangar at the Spring, TX airfield. But what a hangar! For 14 years this spot was only a concrete slab, the only remnant from a Texas tornado that wiped out the hangar which used to set on this hunk of concrete. But not so today.
Read More And See A Lot More

There aren't many airports in the U.S. or abroad that have as many Schweiss Bifold Liftstrap/Autolatch hangar doors as the Oshawa, Ontario, Canada airport. In a three-phase project a total of 80 Schweiss liftstrap and autolatch bifold doors have been put onto hangars there. In just the last order alone, 34 Schweiss bifold doors ranging in size from 41.5 ft wide to 47 ft. wide gives some solid proof of their popularity among hangar owners there.
Read More And See A Lot More

Contemplate this description of a popular Mankato, Minnesota facility: Daycare, rehabilitation, grooming spa, spacious suites with in-floor heat, raised beds, exercise program, pool, reservations required, therapeutic laser class treatments, post operative care, hydrotherapy, kindergarten, parties and social activities.
Read More And See A Lot More

Extreme sports enthusiasts are a key demographic for energy drink makers, and Red Bull's new North American headquarters in Santa Monica, CA was created with that audience in mind. Among the 105,000 sq. ft. buildings many impressive design features are 40' wide by 250' long, non-functioning skateboard platform and 28' tall by 40' wide, Schweiss glass-paneled bifold door.
Read More And See A Lot More

Aircraft enthusiasts from more than 70 nations go to the world famous Oshkosh Air Show with their eyes to the sky. It brings in more than 10,000 aircraft and displays nearly 2,500 aircraft of all makes and sizes. Dave Sirota, President of Bassuk Brothers Property Management firm in Oro Valley, Arizona, a bedroom community adjacent to Tucson, didn't go there to look at aircraft, he had another mission in mind.
Read More And See A Lot More

Schweiss Doors can't take all the credit for the envy. Ryan also goes first class with the 1955 Chris Craft Continental boat that cruises in and out of his boathouse. And for those not living on this lake, known worldwide as Lake Vermilion, that's also envious.
Read More And See A Lot More

"New North Dallas, Teaxs Aero Country East airpark goes exclusively with Schweiss "Red Power" hydraulic one-piece hangar doors. Many Country Club amenities and 39 custom townhomes and pool on privately-owned airport add first class appeal for pilots and families
Read More And See A Lot More

When you think of wallabies and kangaroos the first thing that comes to mind is Australia, "The Land Down Under." You don't have to travel that far, however, to see these marsupials, The Fall City Wallaby Ranch has 19.
Read More And See A Lot More

The term "mancave" has in recent times entered the American vernacular. It refers to a place where the guys can get together, lay back and talk about whatever is on their minds and solve the world problems and such over a cold one or two. Mancaves seem to be quite popular amongst football fans.
Read More And See A Lot More

Only about 30 miles due south of downtown Chicago and surrounded by fields of corn, soybeans, wildlife habitat and even a few tree farms sits one of the newer and more intriguing airfields in America. Called Bult Field Airport and identified as C56, this country airport however dates back to 1942 when Paul Sanger, a Monee, Illinois aviation enthusiast started his 'grass strip' air field three nautical miles southeast of town.
Read More And See A Lot More

That's how Opus One building's architect, Scott Johnson, described this California Napa Valley winery located between St. Helena and Napa, almost straight north of San Francisco, California. Johnson was part of the design team behind the whole footprint of the Opus One building expansion. The suggestion and actual design of the unique Schweiss bifold and hydraulic doors was recommended by Wayne Leong, of Leong Architectural firm in St Helena, CA.
Read More And See A Lot More

Most every contractor at heart wants to do the best job for their customer. Sometimes that means going above and beyond the call and at other times being able to offer the best product for them.
Read More And See A Lot More

There's nothing cheap about building anymore but this project turned out wonderfully. The Schweiss door fits perfectly. We dressed up the shop and office area with some window shutter trim. Structural Building out of Becker, MN was the contractor and they did a great job
Read More And See A Lot More

It was a 70 ft. hydraulic door, very lightly built, it came in two sections that didn't meet together when they put it together. It showed up bent, and when raised it would bend, very poor weld quality, with welds missing in places. It was a piece of crap, I've never seen something so poor, there was no engineering done on it. There was no quality control.
Read More And See A Lot More

Jumping over the best
Read More And See A Lot More

RiverEdge Park and Music Garden is a venue that not many people in the United States have heard of yet, but they will. It is becoming the centerpiece in a 10-year master plan for the city of Aurora, Illinois, that state's second largest city with a population of close to 200,000 people, making it the 112th largest city in the United States. Aurora is located about 45 miles west of Chicago and is accessible by commuter train from there.
Read More And See A Lot More

Since Introducing "Red Power" Hydraulic Doors to the market this Spring, sales of Schweiss Hydraulic Doors have escalated, and as a result truckload-after-truckload of ready to assemble doors have been moving out to destinations within all corners of the United States and other locations around the globe.
Read More And See A Lot More

This eye catching farm shop is indeed a beautiful facility. All four exterior steel walls are white, however red is the accent color around the edges of this big hydraulic door, all windows in the door, plus other access doors into this incredible building.
Read More And See A Lot More

Twenty-seven years as an aerial applicator provides an historical perspective each spring for Rich Sigurdson, Olivia, MN. For cantankerous 2011 he simply responded,"This spring brought in a little more work than normal. This is the latest for putting crops in the ground since I've been in the business.
Read More And See A Lot More

Getting 146 doors installed at one location speaks rather strongly about the quality and reliability of your door provider. But that's the current scorecard of Schweiss BiFold doors at Fort Carson, Colorado (Colorado Springs) where Mortenson Construction (Denver branch) has an ongoing contract with the U.S. Army for the construction of special heated maintenance shops called TEMFs (Tactical Equipment Maintenance Facilities). This means structures big enough for Army tanks and other special military tactical vehicles.
Read More And See A Lot More

I researched over a year what I wanted to do. I met Dave Schweiss at the Florida 'Fun in the Sun' air show and both Dave and Mike at the big Oshgosh, WS show. After meeting the guys and looking more closely at their product the choice was obvious. It simply was the best fit, the best design, the best door and in terms of value, the best deal.
Read More And See A Lot More

Here are some shots of Fagen's warbirds. All mighty nice, mint condition airplanes! Just one of many unique planes that will be on display in the New Fagen Museum. It'll be the hot spot in Granite Falls, Minnesota to see some of the most beautiful Flying machines imaginable.
Read More And See A Lot More

Obviously a guy doesn't spend several thousand dollars for a big hydraulic door because it opens and closes in 37 seconds. But surprisingly 'door speed' is a bit of a factor, at least for Terry Albright, Renville County farmer who also runs a fleet of 'over the road' semi rigs.
Read More And See A Lot More

A slick, new 75' x 80' farm shop with special lighting, in-floor heating, a huge 40' door and a burgundy and beige color scheme is getting all sorts of attention on the farm of John Dulin, Kenton, Ohio. "The contractor that sold me the building has people coming here every week it seems to check out the building and especially that big hydraulic door. So it's a real treat for me and my farming partner son Dana, to show them the works," explained Dulin, who is also maintenance manager for six school buses in their local special education district.
Read More And See A Lot More

Two bifold doors were on his Wayzata, Minn. home when he and his wife, Nancy, purchased it from a previous owner several years ago. He referred to the doors as "a bonus and attractive feature" and believed the architect chose the bifold style of doors for aesthetic reasons.
Read More And See A Lot More

The Carriage House on the lakeshore property of Sid Morris, Cornelius, NC is very likely the most unique in America! It doesn't house horses and horse buggies. It doesn't house antique autos. Instead it houses his R44 helicopter. And that chopper gets to the Carriage House by first landing on a helio pad on the end of his 200' dock. A small electrically driven dolly then gently lifts the chopper with operator then guiding the chopper to its proper stall inside this remarkable 4-star carriage house.
Read More And See A Lot More

At 27 years of age, film maker/artist/author Travis Wood appears to be adding architectural design to his intriguing resume. Evidence of this new dimension is a most unique structure, a combination studio/guest house that he and his father are constructing on their vacation property on Martha's Vineyard, hugging the south shore of Massachusetts.
Read More And See A Lot More

Hugging the southwest corner of Long Island, New York, Brooklyn's earlier identity was mostly hitched to Coney Island beach and the Brooklyn Dodgers of baseball immortality. Today the city is enjoying a renaissance of rediscovery by artists, retailers, ambitious contractors and creative landscapers including the Andre Kikoski Architect firm which just wrapped up the complete renovation of two empty, abandoned warehouse buildings on 22-28 Wyckoff Ave.
Read More And See A Lot More

Consolidation is that aggressive word which has been enveloping agricultural business for several years now. In simple terms, it results in fewer but bigger. And that certainly is the recent history of the farm implement business, which used to pride itself on having eight, 10, even 12 or more dealerships per county. Today three or four farm equipment dealers per county is more the usual. But ownership of farm implement stores today often includes multiple locations throughout an entire state.
Read More And See A Lot More

Flying since he got the bug when working the fishing canaries in Alaska, Eric Hutchins, Grand Rapids, MN, has a rather diversified agenda these days. For example he runs a year-round Dairy Queen in this bustling tourist center town. He also does some part-time law enforcement work and occasionally flies fire detection with the MN DNR. When time permits, high on his agenda is getting together with his snowmobile buddies for a few miles through the beautiful lake and woodland country of Itasca County.
Read More And See A Lot More

In September of 2009, we started the rehabilitation of Hanger 155 at Chippewa County International Airport in Kincheloe, MI. Our first step was to remove 60 years worth of lead paint from the existing steel substructure and miles of asbestos-containing material. When the building was safe to work in, our demolition subcontractor started on the roof system.
Read More And See A Lot More

It's big, 43,500 square feet. It has a special floral display unit out front courtesy of the employees and the general contractor. You walk into an 'eye catching' 100' x 160' 'Consumer Display' section complete with a 10' high shelf showcasing various John Deere 'consumer goods'. And greeting you at the retail counter is a colorful prairie scene with an old country barn, woodlots, fields of corn and wheat plus a depiction of the original 1-bottom plow that launched the John Deere machinery company. A show place of sorts? Yes, indeed.
Read More And See A Lot More

Well, it's all of the above for 62-year-old Daniel Shaw, a plumbing contractor at Geneva, Fla. Who has given new meaning to the term "hangar home." The structure is 50' wide x 60' deep x 30' tall, all metal/ However, a 45' x 15' Schweiss hydraulic door sporting a wrap-around porch with decorator railing, table and chairs, a "walk through" door with stylish window, and veranda "roof" gets your attention.
Read More And See A Lot More

Schweiss Hydraulic and Bifold Doors recently installed four new hydraulic doors at the Renville County Fairgrounds located in Bird Island, MN. The Renville County Board approached Schweiss looking for a way to open up the event building located at the county's fairgrounds. The event building is used to host live bands, beer gardens and public auctions by Henslin Auction Services. Hydraulic doors seemed like the perfect solution to open up the building and allow easy access to the building for large groups of people.
Read More And See A Lot More

We're no longer just selling iron. Today we're selling precision farming products and that requires special training of both our personnel and our farm customers," says Paal Haug, general manager of Haug Implement with stores at Willmar and Litchfield
Read More And See A Lot More

The creativity of customers continues to be a driving force for many manufacturers. Take for example North Star Imaging, Inc., a Rogers, Minnesota manufacturer of industrial x-ray systems which are enclosed by a radiation shielding cabinet and access door and used by manufacturing firms in the aerospace, military, automotive, medical device, electronics, even the genetic seed industry and many more.
Read More And See A Lot More

How do you make the loading dock area for your store secure, yet still easily accessible and stylish? This Target store in North Carolina found the answer with two 39' x 17' bifold gates for their loading area. Give us your idea and we will get you the door.
Read More And See A Lot More

What looked like a near impossible situation without some totally new engineering design instead turned out to be a remarkable solution to an extreme challenge. The challenge? How to fit a "roof door" over a 20' by 30' sandblasting chamber used by SMS Millcraft, Oil City, PA. This firm specializes in refurbishing component parts for various Pennsylvania steel mills.
Read More And See A Lot More

It is rare that an Air Tractor dealership changes hands. It cant be done without an approval from Air Tractor, Inc. This requirement became all too apparent to Bill Taylor of Farm Air in Fairfield Illinois. Bill was starting to think about retiring from the business he formed in 1976. Shortly after forming Farm Air, Bill saw a need for Air Tractors in the Midwest, and approached Air Tractor about becoming a dealer. Over thirty successful years later, Bill decided it was time to sell Farm Air with its Air Tractor dealership intact.
Read More And See A Lot More

This custom set of Schweiss Bifold Doors was the perfect solution to provide a unique dining experience for this restaurant's patio bar customers.
Read More And See A Lot More