Flexibility
We're proud to offer three styles of custom-made doors that we manufacture in sizes ranging from 6' width to 140'. They are the newly designed Liftstrap Bifold door, the "One-Piece" Hydraulic door, and our architectural Designer Door lines. Schweiss Doors has been known through the years for its flexibility by establishing new trends in the door world.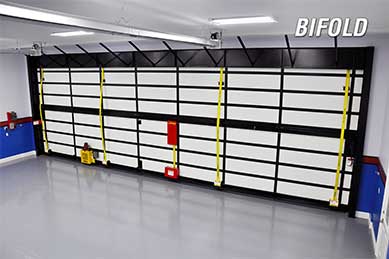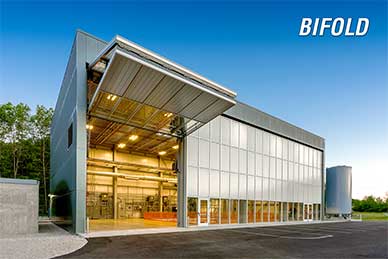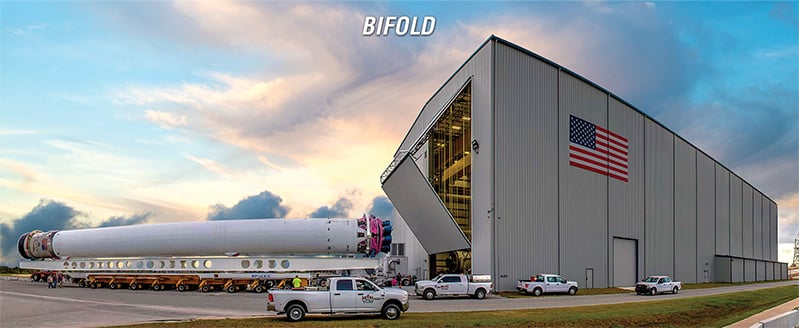 Bifold Liftstrap Doors
The Schweiss Patented Lift-Strap design has virtually revolutionized the bifold door industry and made us a leader in the bifold door market. It utilizes nylon web material rated for 29,000 lbs. that quietly and smoothly lifts and lowers the door. Straps are quiet, clean, faster, rust-free, durable and longer lasting than steel cables. Schweiss doors are custom-made to precisely fit your opening without loss of headroom. We can also do custom cuts to follow your roofline to gain more headroom.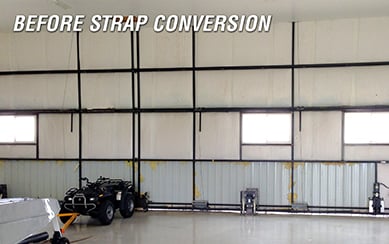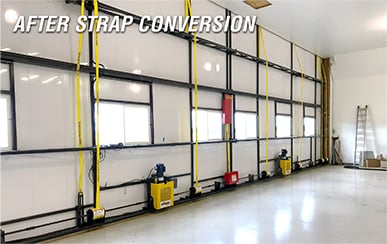 Retrofit Existing Cable Doors
For years, bifold doors all around the country have been lifted and lowered by the conventional means of steel cables. Schweiss Doors has figured out a way to convert and modernize those existing cable bifold doors manufactured by other companies with its innovative liftstraps conversion kit that has easy to follow do-it-yourself install instructions. Schweiss Doors has been happy to accommodate all these requests.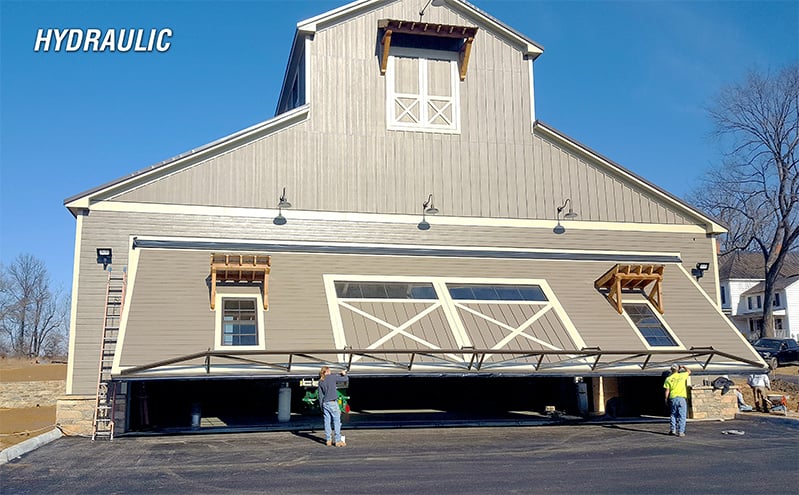 Hydraulic One-Piece Doors
Schweiss Doors leads the construction industry with its one-piece Hydraulic doors. Builders like the clean, yet rugged design of these sturdy, yet smooth and quiet-operating doors. What sets us apart and makes us stand out in the market is our patented robust wrap-around hinge design with grease zerks; double push tubes, spherical bearings, hydraulic windpins and heavy-duty cylinders that provide super stability. These big doors are in demand for agricultural buildings, aircraft hangars, residential designer door use and more. As one builder commented, "Hydraulic doors with the Schweiss name, it doesn't get any better!"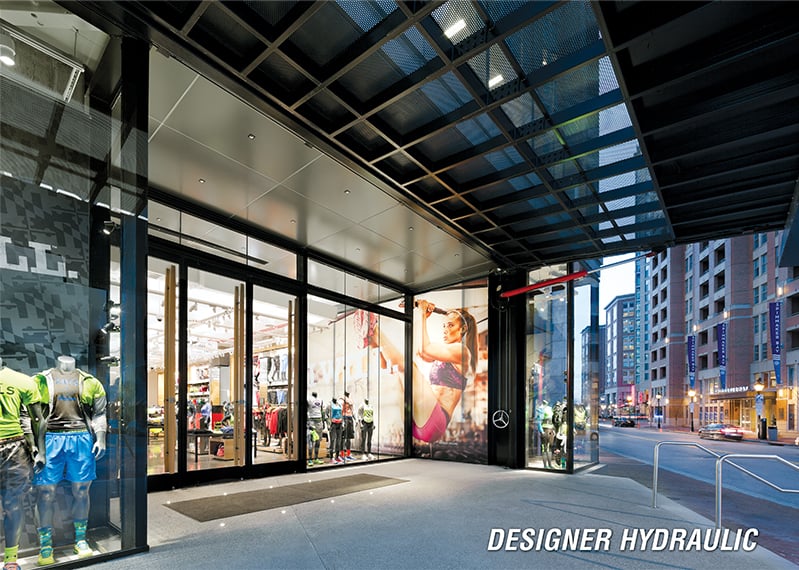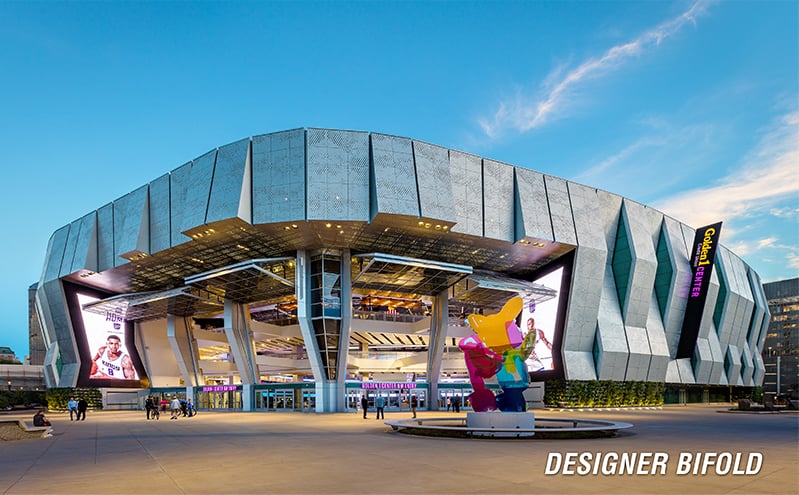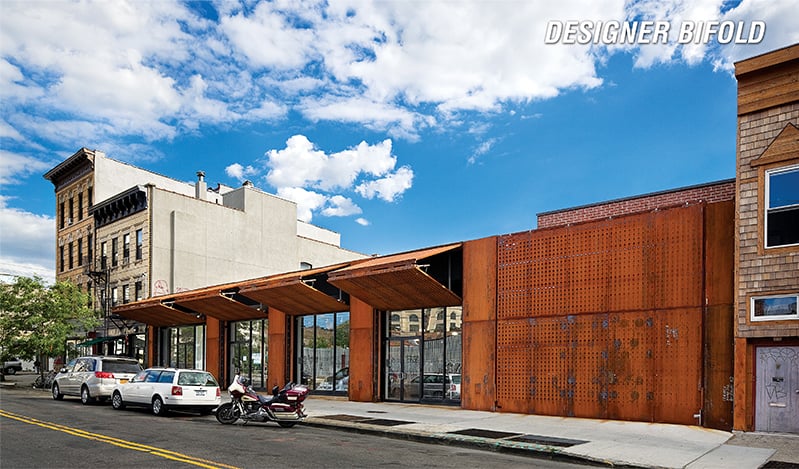 The Leader in the "Designer Door" World
Schweiss created a new world of interest from architects and builders throughout the country.
Our philosophy is: "You Think It, We'll Build It."
Ask any Schweiss Designer Door owner: Chances are very good that they'll say purchasing a Schweiss bifold or hydraulic door of any style was one of the best investments and smartest decisions they ever made. Schweiss door aesthetics are one factor, but what really matters is quality of construction and door longevity with reliable, efficient performance for years to come.
Schweiss glass designer doors enhance the interiors and exteriors of homes and offices; blending in so well that sometimes you have to look twice to see it's actually a door, room divider or moving glass wall. There are many choices of decorative door coverings that can be clad with siding to blend in with adjacent walls. You may also want to choose from glass, metal or vinyl siding, decorative wood, translucent panels, decorative and custom windows and trim, stucco, rock face material and more to make your door one of a kind with its own unique style.
Whether it be a hydraulic or bifold style door our outstanding long line of Designer Doors are used on homes, restaurants, stadiums, museums, RV garages and more.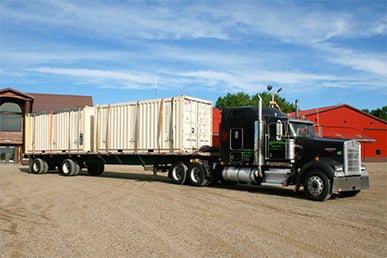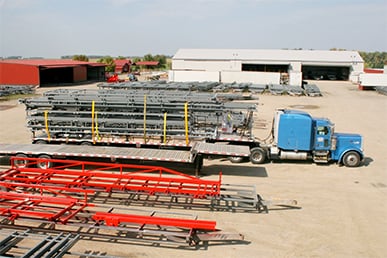 Schweiss Ships Globally
Doors manufactured at our facility are shipped throughout the country on semi-loads, shipping containers for overseas, or they can also be picked up directly from our factory. Our doors are easy-to-install by the owner or by our skilled installation crews. Wherever you may want doors delivered to, we can arrange for local, national and international shipments.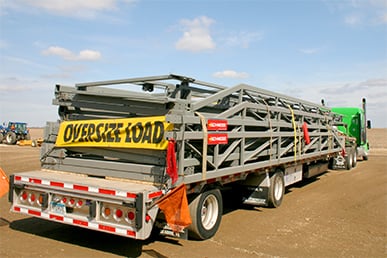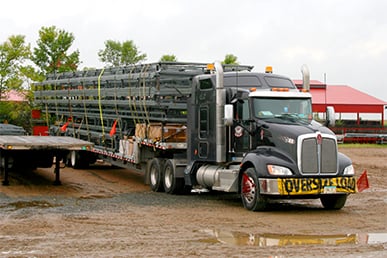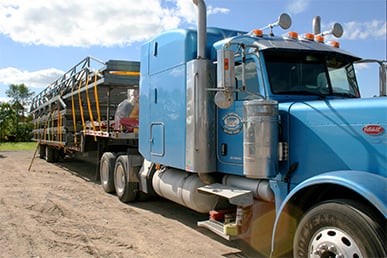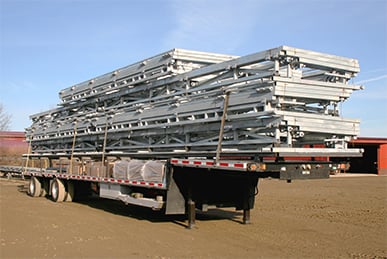 Important Things to Consider Before you Buy an Existing Hangar!
Picture this scenario; you are in the market for an existing hangar or hangar home. The neighbor on the left has a nice place with a hangar door from one manufacturer; the neighbor to the right has an equally nice hangar or hangar home. Which of these properties do you think has more value or resale value?
Before you make your decision on which one to buy, take the time to do your homework on the reputation and quality of the door brand on the hangar, the door can play a large role on which home has more value. The door can be the deal breaker!
- What kind of door is on the hangar structure?
- Is it a bifold door with liftstraps or cables?
- Is it a one-piece hydraulic door?
- How old is the door, are there still parts available?
- Is there a door company willing to service the existing door?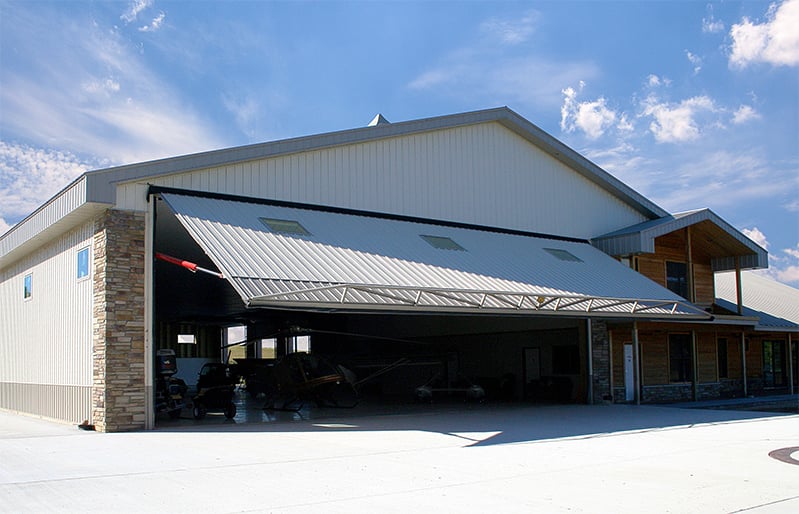 Is the Hangar Door Sized for you Aircraft?
Verify the door width and height when the door is fully open. Will it be large enough for your aircraft or for larger aircraft you may consider buying in the future? If you trade up - can you get the door to open up further? It's important to measure the door opening when the door is fully opened.

Parking Issues in Front to the Hangar Door
Bifold doors allow you to park close to the door and allow more room in front of the door.
Hydraulic doors, when opening, swing out away from the hangar and take up more space in front of the door opening!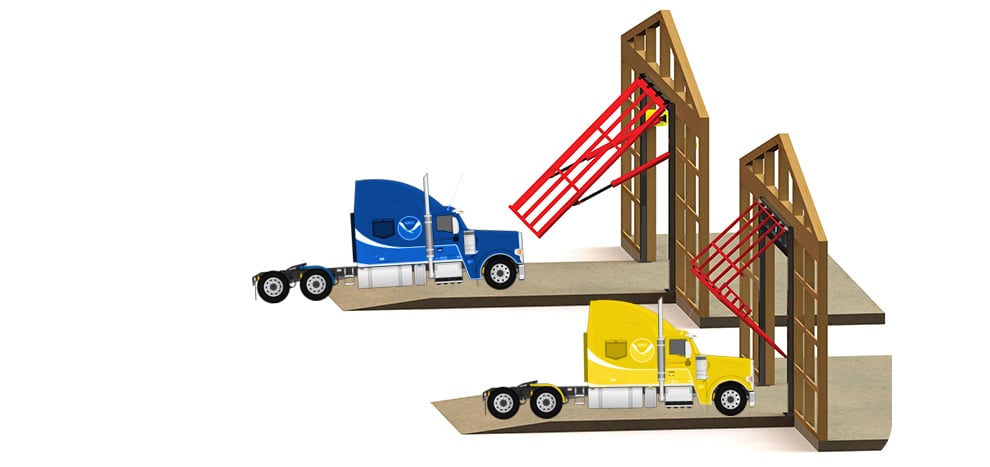 With Hydraulic


Don't park too close...
With Bifold


Parking not a problem...

Door Travel Comparison

Hydraulic doors swing out when opening
Requires a stay back area for parking
More swing
Bifold doors lift up when opening
Parking not an issue
Less swing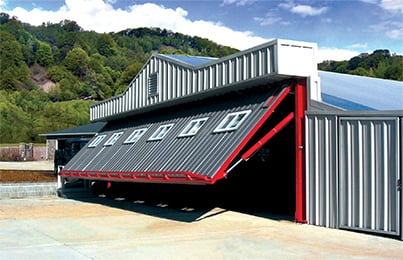 Hydraulic Door . . . Observations
- Does the door seal tight?
- Does the door creep open overnight?
- Listen for high squealing noises coming
from the pump.
- Do the cylinders use spherical bearings?
- Does the door have velocity fuses and
counter-balance valves?
- Research... If the Door is only using restrictors...
the door is coming down if a hydraulic line breaks.
- Are there any hydraulic leaks coming from the cylinders or the pump?
- Is there oil leakage on the floor?
- Do the door hinges have grease zerks?
- Does the hydraulic system have an oil filter and important easy to read gauges?
- Does the hydraulic door have a window near the control station to check if
the area outside is clear before opening?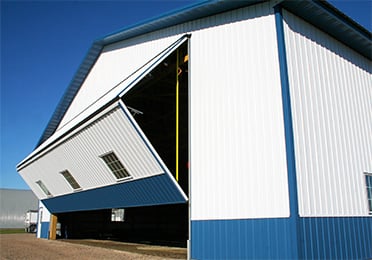 Bifold Door . . . Observations
- Does the door seal tight?
- When operating the door verify that the door stops when you hit stop.
- Are there safety shields on the lift drum and chain drive components?
- Do cables need replacing because they are frayed or overwrapped?
- Does it have a working automatic or manual latching system?
- Is there a remote opening system on the door?
Add-ons like these add value to the door and won't cost you more if you decide you want them in the future.

Door Company is no longer in Business
There is a particular brand of hydraulic door that is no longer in business, and getting service is almost impossible. Schweiss has had calls from customers reporting they were in need of replacement parts. Others reported their hydraulic door had failures, and no one was returning their phone calls when they needed repair or help with their broken door! Identify the door you are about to purchase; it gets costly to replace a door, so find out who manufactured the door!

After the Purchase, Only to find out I own A "Lemon" Door
You thought you found the perfect hangar, only to find out after you made the purchase that the door that came with the hangar is a lemon. The company who manufactured the door is no longer in business. No Technical Support . . . No Service . . . No Parts . . . No One To Go To ! ! !

Research The Company who Manufactured the Door
- Are they still in business?
- How long have they been in business?
- Call the door company and see if they can find the door you are about to purchase to verify they have a record on file of the door for any future parts or service!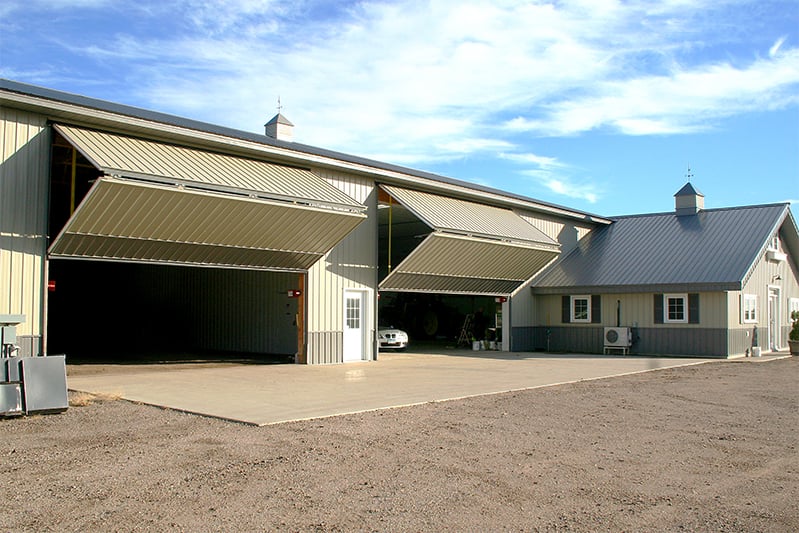 Brand-X Company has gone Bankrupt or its Original Name has been Sold or Acquired
In some cases when a "Brand-X" company has gone bankrupt its name has been sold or acquired through a new ownership process. But still they may not be able or willing to provide parts or service of any kind on their brand doors that are out in the field and still in use today! Service can be a real issue for the party considering purchasing a hangar with a door that nobody is willing to service!

HAVE A QUALIFIED TECHNICIAN INSPECT THE HANGAR DOOR
When homes are sold most states require a certified home inspection. The same quality inspection should be performed on the door; it may save you dollars down the road.

Test Operate The Door:
Does it open and close smoothly; does it lock in tight to the building? Does it have a weathertight seal to eliminate water from running into the hangar? How fast does it lift and close? Is the motor big enough for the weight of the door? What condition are the hinges in? Does it creak and groan and show frailty under strain? Does the door open all way to the top and close all the way to the bottom? From inside the hangar, can you see streaks of daylight peeking through the top, bottom and sides of the door?
Backup System:
If you experience a loss of power to the hangar, does the door have one or more backup systems in place to open or close it? Is this even an option on the door that's in place, check into it !

For Your Next Door
We look forward to the opportunity to design and manufacture a custom-made bifold, hydraulic, or designer door system that is best suited for your needs. We are committed to serving our customers long after the sale.