Mike Beranek retires after 21
years on the job at Schweiss Doors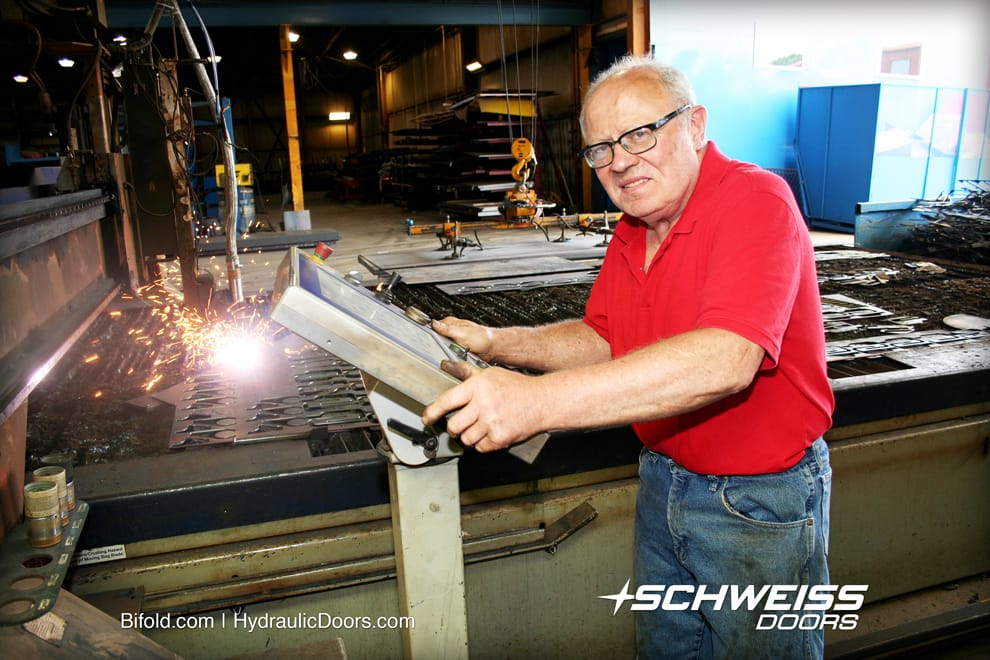 Mike Beranek stands by the new CNC plasma cutter that has made his job easier and that is capable of putting out much more parts accurately and in less time. When he first started working at Schweiss Doors many of the same type parts were manually cut with a chop saw and then later with a band saw before the first plasma cutter was installed.
One of Schweiss Doors hardest-working employees, Mike Beranek, decided last week to ease into his retirement after 21 years on the job. Beranek started working at Schweiss Doors, mostly in the small parts department on May 5, 1998 following a hardworking career as a St. George farmer working day and into the night taking care of his herd of 140 dairy cows.
In some respects, he moved from one farm to another, as Schweiss Doors was originally set up on the Schweiss farm north of Fairfax over 40 years ago where dairy cows also made their home before it became one of the nations largest manufacturing plants for bifold and hydraulic doors.
During his time at Schweiss Doors he saw the staff there grow from about 25 full-time employees and a few buildings to a peak of 85 employees. In his parts department there were only two other workers where there are now eight.
"I was 47 years old when I started here, I'm almost 69 now," said Beranek. "It was way, way different here then than it is now. We went from buying all various widths and thicknesses of steel flats and cutting them up and punching holes in them with an iron worker. There were no band saws; we even cut one-inch rods with a chop saw. That of course changed rapidly the next January when we got an automatic band saw. You could put a stack of metal in the automatic band saw, set the length and it would keep on cutting until it was done versus taking one piece at a time and shearing them off. It was a real timesaver.
"The next big change was in 2001 when we got a plasma table; that proved to be a big, big timesaver. I've seen lots of changes over the years from cutting up little pieces of metal and welding them together to cutting up pieces of metal on a plasma machine, bending them, saving hours and hours of labor. And yet by the same token we are turning out much more product with the same amount of labor, so if anybody says that automation is putting people out of work, the reverse has not happened here. Automation has put more people to work and were putting out many more doors."
When Beranek first started, Schweiss Doors was only producing bifold cable lift doors. It wasn't until later on that Schweiss introduced bifold doors with liftstraps and hydraulic doors to the mix. He said up until seven years ago he went around making sure guys were busy welding and whatever. At that time Mike (Schweiss) started looking for someone who had an overall view of everything and streamlined the production and manufacturing.
Beranek said in his world, parts were parts and adding the hydraulic door line just meant there were more different parts to make and those parts during Beranek's time went into thousands of doors that were being shipped worldwide.
"I asked the purchasing department how many sheets of steel I'd gone through in a year and they came up with about 2,000 sheets in the past year. Most of the sheets are 4' x 10' and 4' x 8' and vary in thickness from 1/16" to 1 3/4" thick. I've cut sheets that were as large as 8' x 20' for a special project I was working on," noted Beranek.
Now that Schweiss door production is higher tech, Beranek said it wasn't that hard keeping up with the times.
"It's kind of funny; first of all I'm good with math and measuring and that did a bunch of what I had to do. Now the machines do all the measuring for you, you just have to know how to tell it how to do it. Once you do that a couple of times it's basically, that's it. I've never had a problem with high tech if the person who put the machine in showed me the rudiments of how to do it; the rest of it you kind of learn. The most challenging part of the job was just staying flexible and when something was needed being able to change to get that done and then going back to what you were doing. What I liked most about the job was the challenge of it and that there was always something different to do and that the days went by quickly because you were always busy."
He said there was also a learning process and quality control standards in all of the tasks before him.
From the very early days of production, Schweiss Doors realized that in order to put out a superior door they would not hold back on quality — "underbuilt" is not in the Schweiss Doors vocabulary.
Schweiss learned that to beef up all of its doors with more steel and incorporate only the best materials; electrical components and workmanship would put their doors ahead of any others on the market.
So how was Schweiss Doors to work for?
"It was easy to work there as long as you did a good job, were totally honest with everyone and worked hard and smart, then you'd have no problem at Schweiss Doors," said Beranek.
Retirement for Beranek will mean spending more time with his wife Barbara and the grandkids, some travel, doing some volunteer work, probably helping some farmers out and doing a little part-time work to keep from getting bored.
"I was happy to see Mike be able to take advantage of his retirement. He was a dedicated hardworking individual that will be missed by Schweiss Doors and his co-workers. It will be hard for anyone to keep up in his footsteps. He left a good mark on our company," said Mike Schweiss, President of Schweiss Doors.