Joe Volz was one of a few who boarded the
Schweiss Doors ship during the early years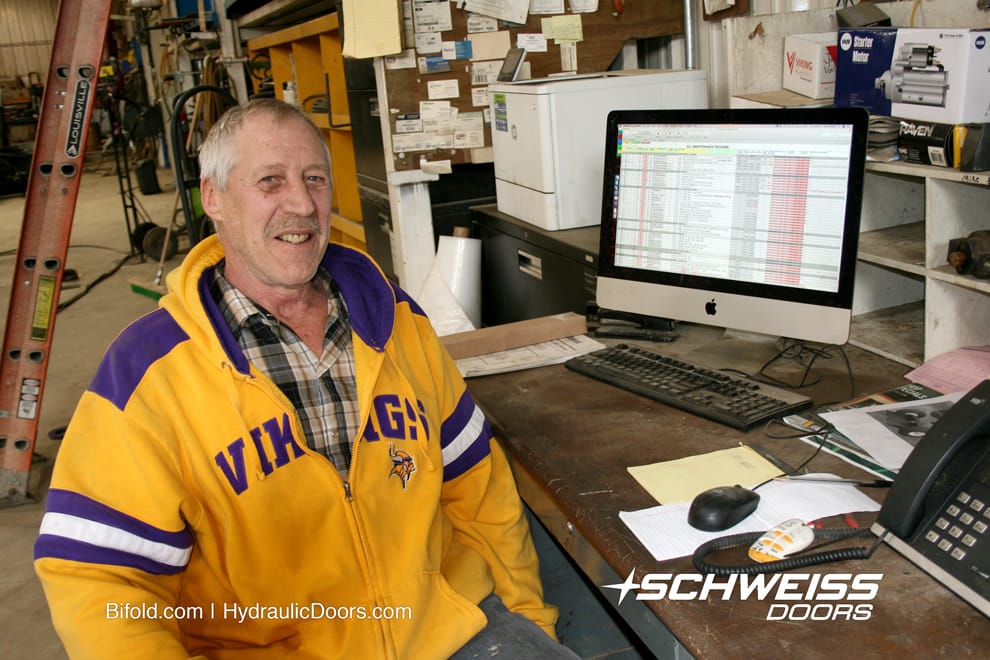 Joe Volz joined the ranks of individuals that stuck it out through thick and thin during the very early Schweiss Door years, eventually putting in 36 years as a loyal employee before announcing his retirement.
"I actually started working with Mike Schweiss's brother, Leo at his welding shop in Fairfax where I was doing some welding and making kids playground backhoes for two or three months before coming to work for Mike. At Schweiss Doors I started out welding hinges, then building doors. I even built some Chicken Pluckers in the early years," said Joe. "I've seen thousands of doors get built over the years, and they kept getting bigger and bigger. It was interesting to watch the company grow and prosper."
"Whenever I had pet projects, I leaned on Joe to get them done. He definitely helped the company grow," said Mike Schweiss.
His decision to retire was mainly due to health reasons and requiring sciatic nerve back surgery. At one point in his life at a different job he fell 23 ft. off a building onto frozen ground resulting in ankle, heal and wrist injuries.
Joe said Mike was good to work with. "There never was a dull moment; there was always something going on."
Joe said he's now waiting for the fishing season to open. And he'll be able to spend more time with his wife, Terri, and five kids, who are now grown-up empty nesters.