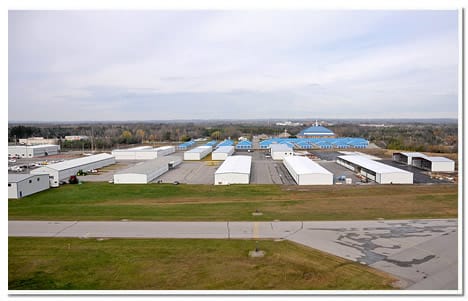 Project was completed in early 2013
There aren't many airports in the U.S. or abroad that have as many Schweiss Bifold Liftstrap/Autolatch hangar doors as the Oshawa, Ontario, Canada airport. In a three-phase project a total of 80 Schweiss liftstrap and autolatch bifold doors have been put onto hangars there. In just the last order alone, 34 Schweiss bifold doors ranging in size from 41.5 ft wide to 47 ft. wide gives some solid proof of their popularity among hangar owners there. The other bifold doors range in size all the way from 41 ft. up to 57 ft. wide.
Hannu Halminen is one of those satisfied Schweiss Door customers and pilots. His work as an Ontario residential home builder and President of Halminen Homes in Courtice, Ontario takes him far and wide. Halminen is in the business of building residential high-end subdivisions with homes ranging from $300,000 and up. For 40 years, Halminen has built over 5,000 innovative designed superior single family homes, townhomes and semi-town homes within the Durham and Clarington Regions and surrounding communities. His communities all bear the exclusive Halminen touch of style at very competitive prices. Halminen Homes prides itself in that every detail in a Halminen Home, no matter how small or seemingly insignificant, has a purpose and function that touches lives and provides a very real and tangible benefit for the person buying it.
Born in Finland, Halminen mentioned that he first arrived in Canada at the age of 7. His parents immigrated there from Finland and his father made a living as a carpenter, perhaps that's where he obtained his interest in home building.
It's somewhat ironic that Halminen is actually doing what he is doing. Originally he attended college at Andrews University in Michigan as a pre-med student intending to become a doctor. While there he needed an elective course and took up flight instruction, that's where he first pursued his love for the air and aircraft earning his wings in 1970.
He's now associated with Enterprise Air charter operators at the Oshawa Airport. He owns several planes hangared there and elsewhere which he uses for business and pleasure including a fully restored DH 82C Tiger Moth.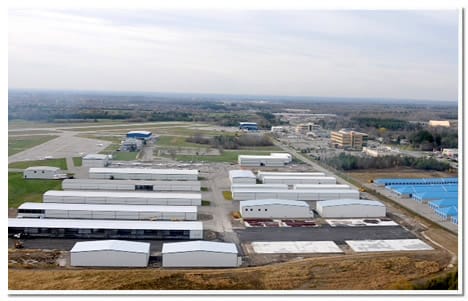 Halminen did a considerable amount of homework before deciding on Schweiss Doors. "The first time I saw Schweiss Doors was at a booth at Oshkosh. I'd been going there since 1982, that's where I met Mike. I'd already made the commitment before I met Mike. Schweiss doors are a very cost effective door, about half the price of what guys are charging up here," said Halminen. "That was a good find and Schweiss Doors has a good reputation because they've been around a long time, not just a startup."
Out of all the doors he said they have really had no problems, overall the doors themselves have been trouble free. Installation was arranged with Canadian labor. Halminen said that on the installation of the first door, Schweiss Doors assisted via their telephone help line and throughout the entire process of ordering the doors he said Schweiss Doors personnel were very helpful.
"The (bifold door) straps are amazing compared to the cables," said Halminen. "We previously built 28 hangars and they weren't Schweiss doors, they were all done with cables. I did do one box hangar with another door, and they were a pain. Another was an old aluminum bifold where the cables actually snapped on us. With the purchase of straps we didn't hesitate. The others were forever a hassle requiring adjustment and everything else. We are happy with the performance of the Schweiss doors."
The whole package with the assistance of R&M Steel was 80 doors, all with Schweiss Bifold doors. Some of the older doors were sold off in a complicated trade with the city to obtain the land and make room for Schweiss doors. We used autolatches on all the 20 bigger hangar doors, with the largest door being a 57 ft. x 16 ft. The rest are all manual latch doors. The T-Hangars are 42 ft. x 12 ft. bifold liftstrap doors.
The hangars they built at Oshawa were mainly at first to provide a storage requirement. Halminen said it took him nearly 20 years to get permission from the city to acquire the municipal land. "We condominiumized the project where you can actually own the hangar and the land opposed to a lease which most airports go by. Oshawa was able to see themselves clear to sell the land which made the project feasible because most of the lending institutions wouldn't lend on leased land. A lot of guys needed financing to buy a hangar and couldn't get it without land ownership," explained Halminen.
With Oshawa airport located about four miles north of Lake Ontario Halminen said they have experienced no problems with doors operating in foul weather, snow, ice or wind. Each door is windrated in accordance with Ontario building codes.
"Everybody here likes the Schweiss Bifold Doors"
"Everybody here likes the Schweiss bifold doors. The guys with the autolatch and remotes really love their doors and the guys with the manual latches wish they had the autolatches," added Halminen. "The airplane owners here are very happy to have functioning hangars, as opposed to parking in a snowbank. Toronto will be losing one of their airports in the next couple of years. That may be an opportune time for what we did at Oshawa."
Oshawa Municipal Airport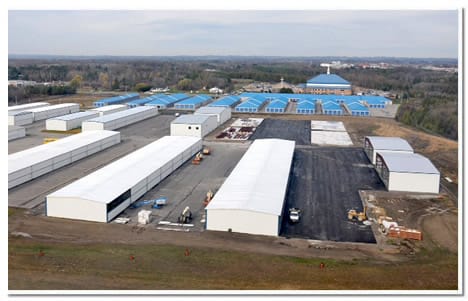 The Oshawa Municipal Airport is located adjacent to the north end of the city of Oshawa, Ontario and is one of the major general aviation airports in the Greater Toronto area. It includes two paved runways and instrument approaches. From 2002 to 2008, Oshawa hosted the annual Canadian Aviation Expo, Canada's largest annual aviation event.
The airport is classified as an airport of entry by NAV CANADA and is staffed by the Canada Border Services Agency. Officers at this airport currently handle aircraft with no more than 50 passengers. There is a 16,000 sq. foot passenger terminal located on the north field.
In July of 2011 an Air Medivac service announced it would open a 24-hour base to help cut the airlift response time to Toronto hospitals located about a 30 minute drive away. Because of this there has been some talk amongst local politicians and airport management to expand the main runway from 4,000 ft. to 5,000 ft. to entice additional and larger corporate air traffic. As an executive-level regional airport, Oshawa can accommodate a variety of aircraft ranging from small recreational aircraft to 20 passenger business jets and 70 passenger turbo-prop commuter aircraft. More than 20 businesses are based at the airport.
The Oshawa Municipal Airport bills itself as "The 2010 World's Most-Female-Pilot-Friendly Airport."That stems from the establishment of the award winning Eastern Ontario Chapter of the Canadian 99s consisting of female pilots. Halminen recalled they won a contest a while ago during which they put close to 400 pilots in the air in one day. The history of the Ninety-Nines dates back 60 years and intertwines with the history of many nations. Such names as Amelia Earhart and Jacqueline Cochrane dot their past while new heroines such as Roberta Bonday in the space program help shape the future. It is now a 6,500 member non-profit worldwide organization with members in Canada, the U.S. and 30 other countries.
Halminen Homes
For more information on Halminen Homes, they can be reached at 905-449-1857 or 905-436-2600 and by visiting their website at: www.halminenhomes.com/home
RCAF trained WWII pilots in the Tiger Moth at Oshawa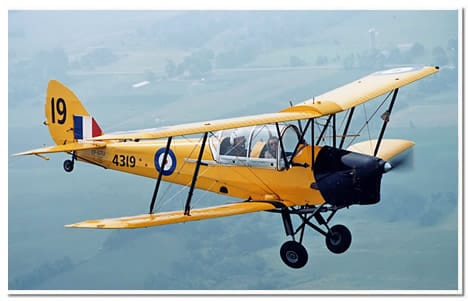 RCAF trained WWII pilots in the Tiger Moth at Oshawa The Oshawa Airport has a gallant World War II era past. It originally opened in June 1941 under the British Commonwealth Air Training Plan as No 20 Elementary Flying Training School Royal Canadian Air Force (RCAF) Station Oshawa. Student flyers used Tiger Moth aircraft and were trained by civilian instructors from the Oshawa, Kingston, and Brant-Norfolk flying clubs. By the start of the war the Royal Air Force (RAF) had 500 of the aircraft in service and large numbers of civilian Tiger Moths were brought in as trainers also. A relief landing field was located at Whitby. The school closed in December 1944.
The de Havilland DH 82 Tiger Moth is a 1930s biplane. The trainer prototype was derived from the DH 60 de Havilland Gipsy Moth. It remained in service with the RAF until it was replaced by the de Havilland Chipmunk in 1952, when many of the surplus aircraft entered civil operation. During a British production run of over 7,000 Tiger Moths, a total of 4,005 Tiger Moth IIs were built during the war specifically for the RCAF and RAF but also put into service for the Royal Australian and Royal New Zealand Air Force. In all 8,868 DH 82A Tiger Moths were built from 1931 to 1944.
Many other nations used the Tiger Moth in both military and civil applications and it remains in widespread use as a recreational aircraft in many countries. It is still used as a primary training aircraft, particularly for pilots wanting to gain experience before moving on to other tailwheel aircraft, although most Tiger Moths have a skid.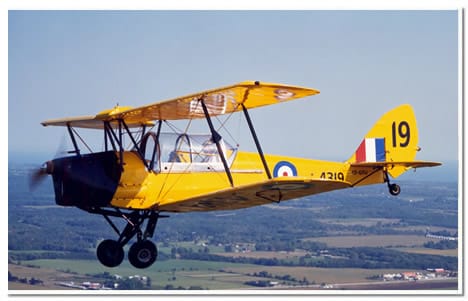 The Tiger Moth's handling was ideal for training future fighter pilots. When used for aerobatic and formation training the Tiger Moth required definite skill and concentration to perform well - a botched maneuver could easily cause the aircraft to stall or spin. Its big "parachute" wings are very forgiving, and it stalls at a speed as slow as 25 knots with power. The first Moths were powered by a DH Gipsy III 120 h.p. engine. A later production beefed 50 more aircraft with a Gipsy Major I 130 h.p engine. Because it had no electrical system, it had to be started by hand with care to prevent being struck by the propeller.
In the aftermath of Britain's disastrous campaign in France, in August 1940, three proposals for beach defense systems were put forward. Tiger Moths, 350 of them, were fitted with bomb racks to serve as light bombers. A more radical conversion involved the "paraslasher," a scythe-like blade fitted to a Tiger Moth intended to cut parachutists' canopies as they descended to earth. Flight tests proved the idea, but it was not officially adopted. The Tiger Moth was also tested as a dispenser of Paris Green rat poison for use against ground troops, with powder dispensers located under the wings.
The de Havilland Moth club founded in 1975 is now a highly organized owners' association offering technical support and focus for Moth enthusiasts.