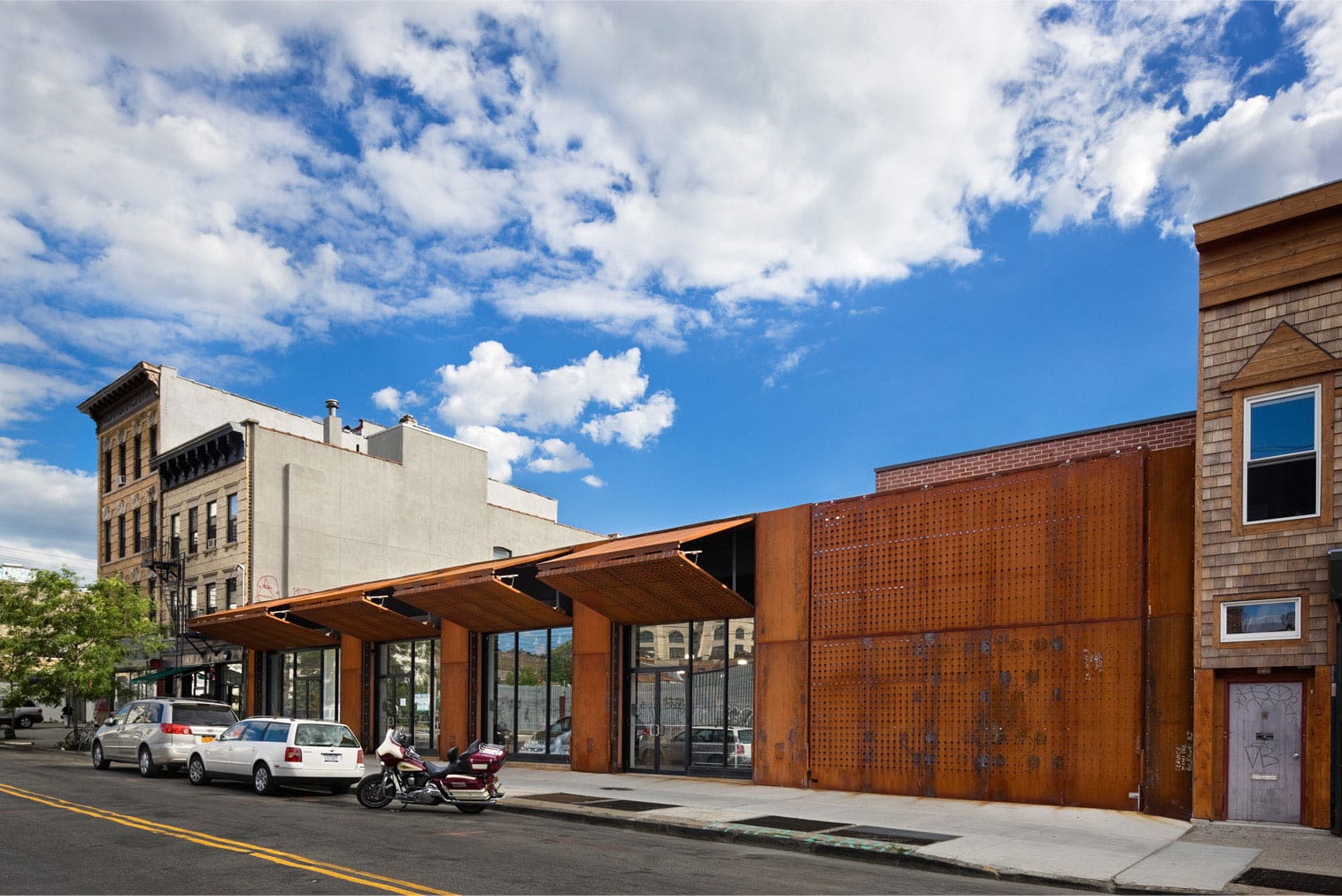 The shimmering, perforated steel security bifold doors, which are motorized and fold up to form awnings, will serve as the shopping center's signature. When they are closed, the doors, which are laser-cut into a grid pattern, emit light through hundreds of holes in the steel clading on the Schweiss Bifold Door.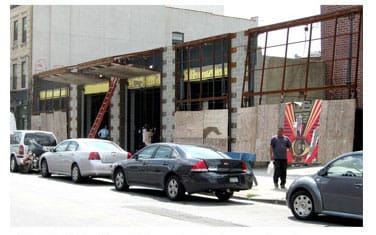 Project just getting started....early stages


Funky Storefront Doors for Shops
Hugging the southwest corner of Long Island, New York, Brooklyn's earlier identity was mostly hitched to Coney Island beach and the Brooklyn Dodgers of baseball immortality. Today the city is enjoying a renaissance of rediscovery by artists, retailers, ambitious contractors and creative landscapers including the Andre Kikoski Architect firm which just wrapped up the complete renovation of two empty, abandoned warehouse buildings on 22-28 Wyckoff Ave.
Today three new retail tenants as well as an organic market and a boutique wine shop are doing business in this newest, 'mixed use' development project in Brooklyn's emerging Bushwick neighborhood. Somewhat unique is that all five stores feature horizontally opening 'bifold' doors manufactured by a Minnesota firm, Schweiss Doors.
Why Schweiss bifold storefronts in Brooklyn, New York? Simplicity would be the single, functional word. Open your bifold each morning and your entire store front is indeed 'open for business' to shoppers rediscovering this unique slice of old Brooklyn!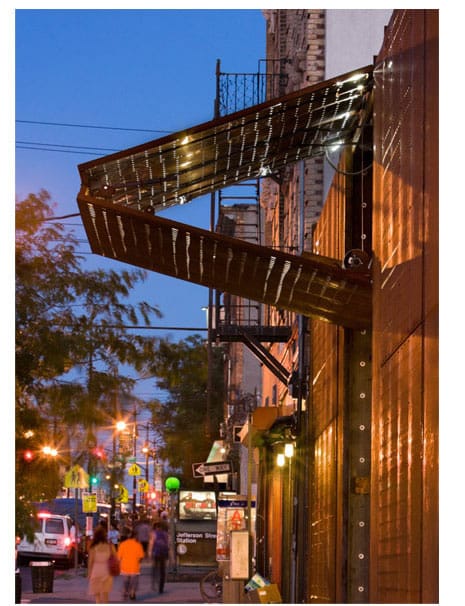 Classy looking doors serving dual purpose
In the lexicon of the architect firm, the design solution is highly inventive-relying upon motorized scissor door technology adapted from airplane hangars and factory buildings. The five pairs of moving facade panels create an ever-changing expression of tectonics and purpose. By day, the panels fold up to create awnings for the stores and to shelter pedestrians, By night they secure the shops behind them and create an artful facade, which is defined by a flowing abstract gradient pattern of internally illuminated laser cut corten and stainless steel.
Explained architect Adam Darter, "In the process of designing new frontage, we wanted structural integrity that also provided strong security for each store front. So a cohesive door system that complimented all five storefronts was important.
"We knew about bifold doors but had never worked with them. Our access to Schweiss Doors was through the Internet and it proved to be quite an eye-opener for us.
"Our firm focuses very strongly on the aesthetics so the idea of a bifold door totally encompassing the entire frontage of each store was a bit of a challenge."
Schweiss has specific structural requirements relating to the positioning of its doors, particularly header requirements and trusses. "Coordinating our architectural details to match with their requirements so that everything blended as uniformly as possible was a great collaboration starting with initial design right on through shop drawings and the final build-out," noted Darter.
Since the Schweiss bifold door system was new to the Kikoski Architecture firm (180 Varick Street, New York), incorporating bifold doors into this total renovation was indeed a significant 'learning process.' "Important to us was how we could push this new concept and create even more aesthetic value. A reliable security gate was needed but we didn't want to do the standard 'roll down' storefront which you see everywhere in this area."
The Schweiss bifolds have 2-inch tubular steel frameworks with cladding applied on both front and back sides. For the front side, the architects applied laser-cut corten steel panels which strengthens the steel as it rusts. The entire building frontage is also clad in corten providing a 'natural rust' look to the entire facade. Inside skin of the bifold doors is non-directional brushed stainless steel panels. Adding to the special looks is internal LED lighting between the panels.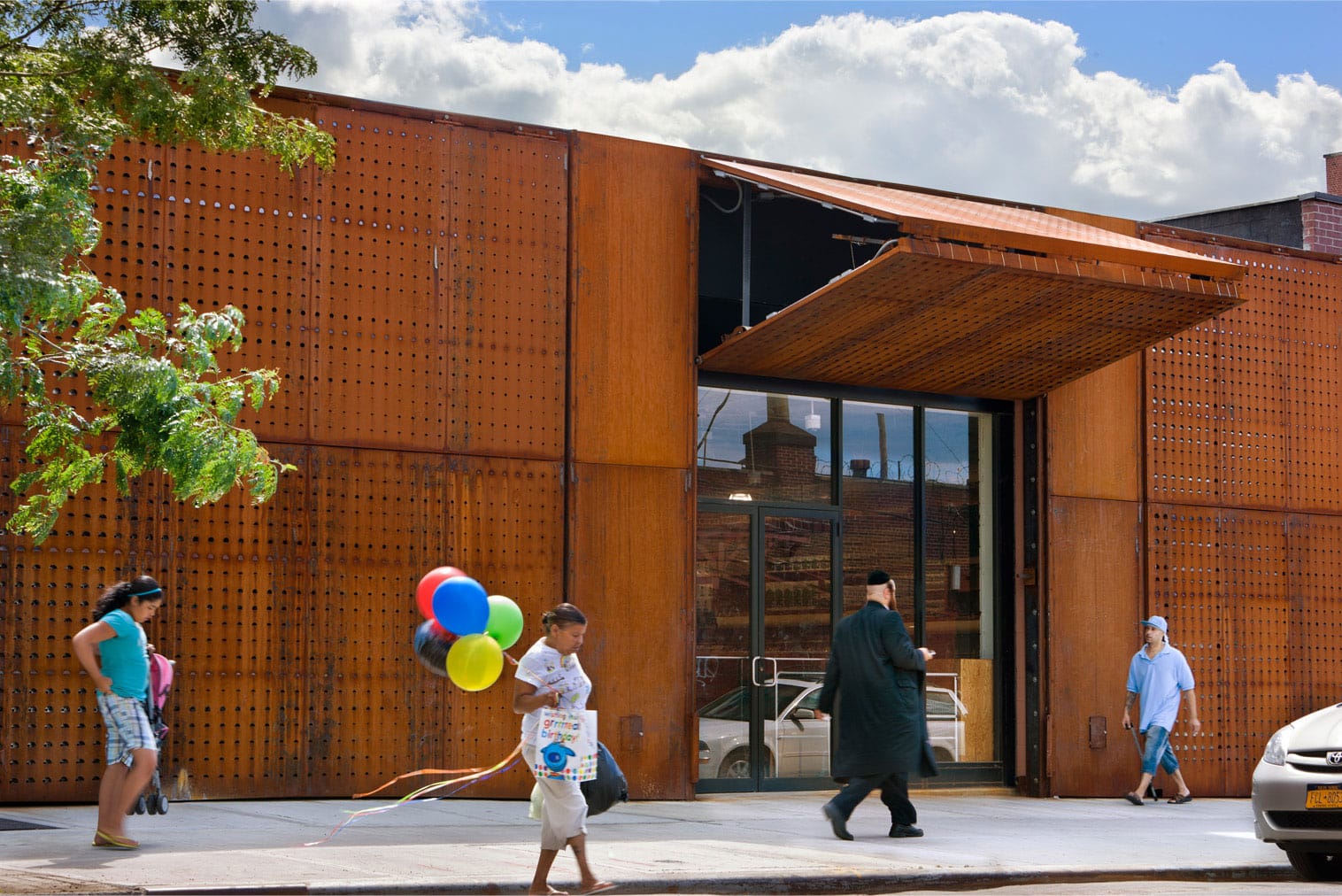 Bifold doors bring the modern look to an existing structure.
When doors are closed, who would ever know there's a store behind the scenes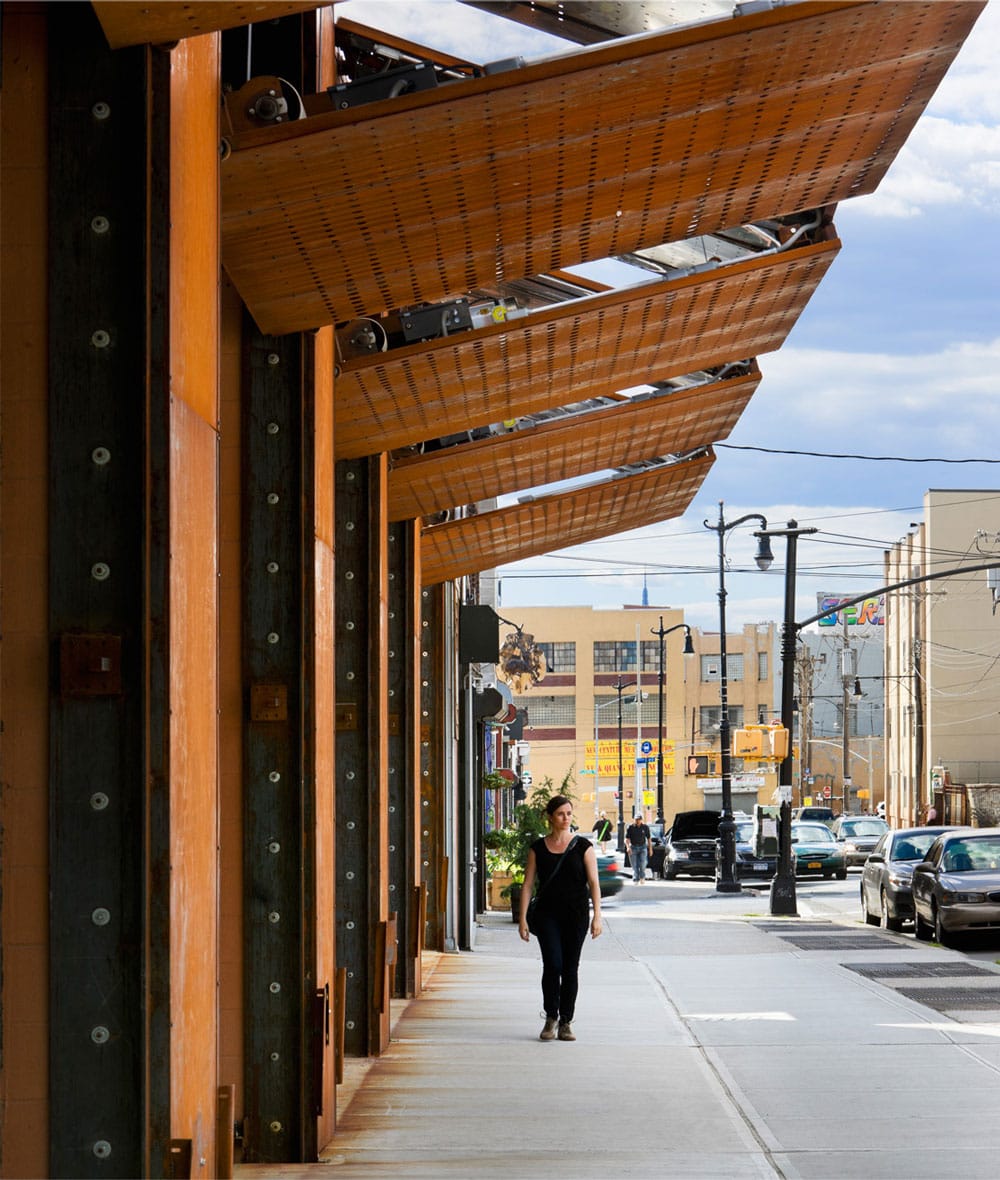 Bifold doors create an awning for the storefronts when open.
Creativity at its best... Rust Doors that offer the New Look
"The lighting reflects off the stainless steel which gives that cavity area a special glow," related Darter. Lumen Architecture was the lighting designer on this particular job. Once again a series of shop drawings and actual mockups were part of the process.
Each of these bifolds is 18' tall giving 9' vertical clearance in the open position plus some shade and weather protection. Both 20' and 14' widths make up the five storefronts. Even with a very aggressive building schedule Darter said the Schweiss team back in Minnesota worked diligently to meet the construction deadline.
"They pushed to facilitate us as best they could. We'd certainly recommend other architectural firms take a look at Schweiss. We took their commercial airplane hangar door and brought it to a whole different vernacular and language.
"That was the fun of this particular project. For any architectural firm the challenge is exploring different products and then working hand-in-hand with the manufacturer to get the best out of that product. That was certainly our experience with Schweiss," indicated Darter.
Concluded Andre Kikoski, "We wanted to create an iconic building to speak to the neighborhood's emerging future as a center of art and creative energy so we designed a unique facade that is dramatic, inventive and inspired by the industrial qualities of the neighborhood's past.
"With cutting-edge technologies and construction techniques, we transformed this 100 foot long, 18 foot tall and 2-inch facade into a contemporary mural of light and texture. As an expression of our trademark inventiveness and poetry and as an innovative approach to recycling buildings and creating a destination environment with an economy of means, the Wyckoff Exchange is truly a welcome development in this quickly evolving and dynamic neighborhood." www.akarch.com or go info@akarch.com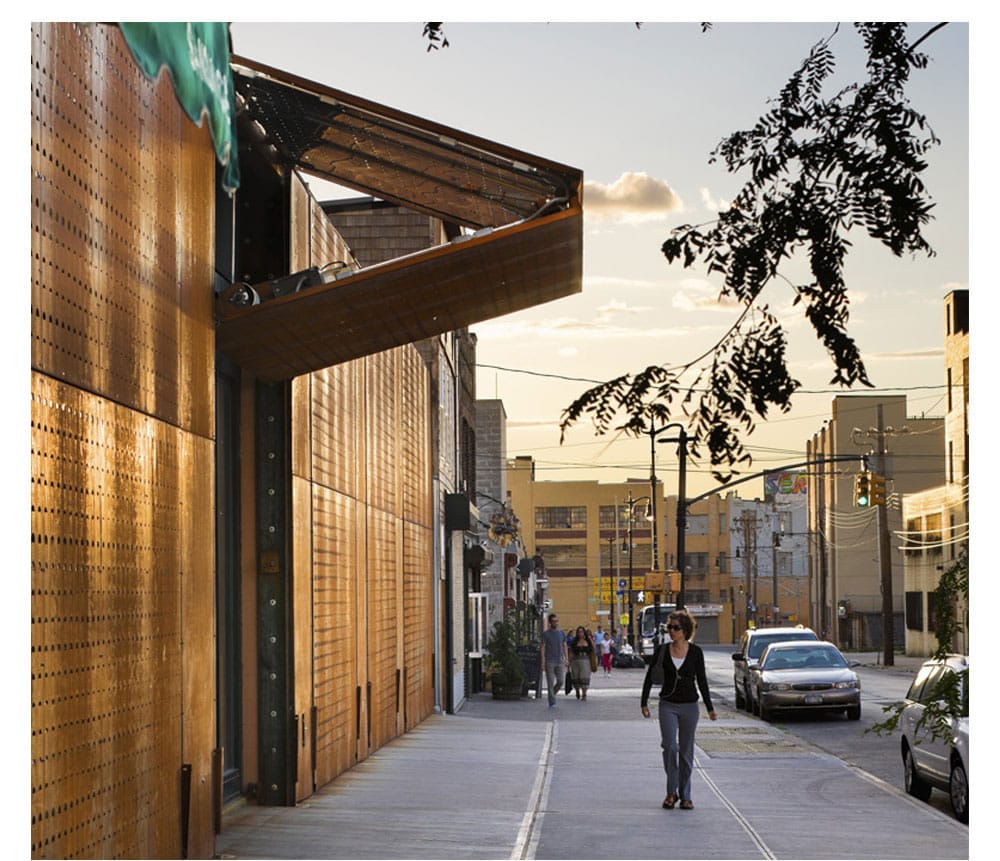 Modern look and the large storefront doors provide excellent security for the businesses after-business hours