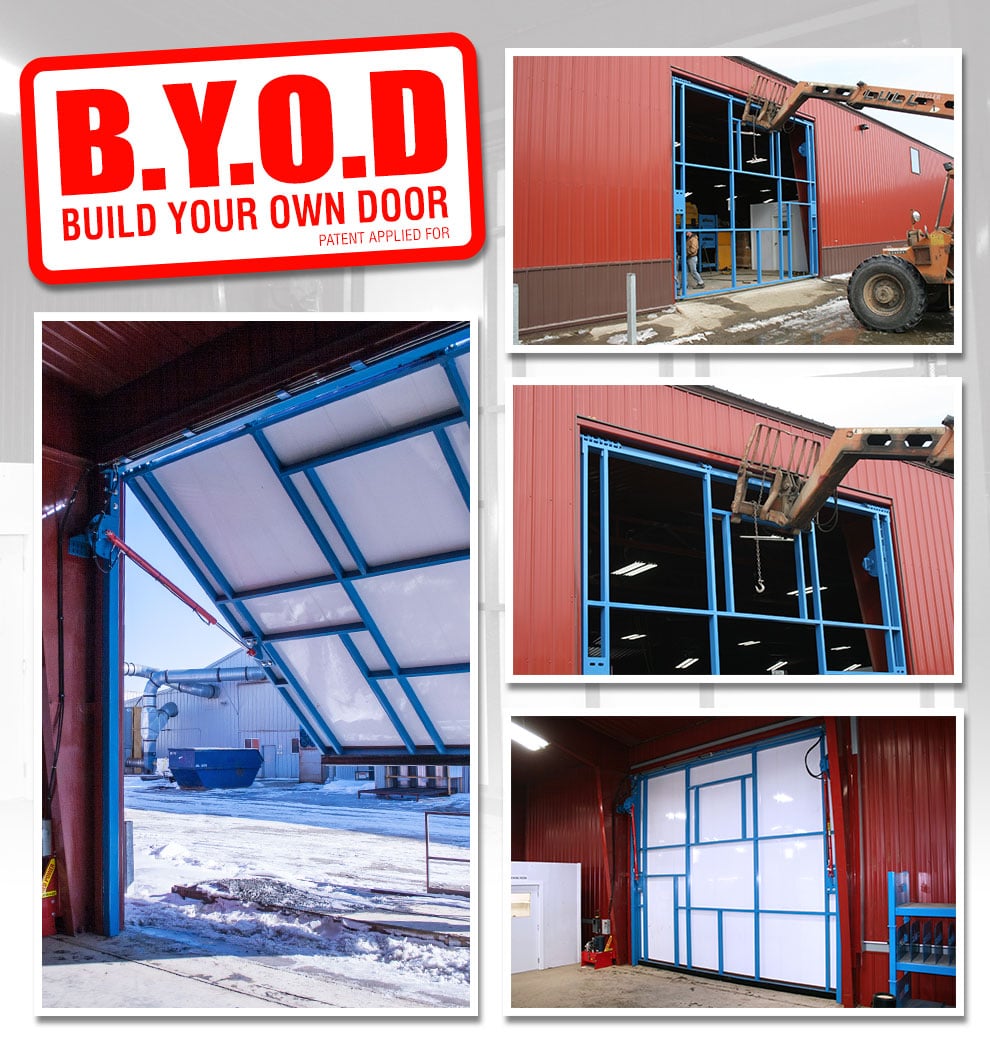 BUILD YOUR OWN DOOR KIT
Schweiss has designed and figured out a simple way for customers to build their own hydraulic doorframe, but more importantly, without sacrificing the Schweiss quality and the unique design features we offer!
Benefits of building your own door are not only rewarding, but it can save thousands of dollars. We have customers that start out with one door and soon after they are ordering their second and third doors.
We realized the great demand for the popular Schweiss Hydraulic Door Design and figured out a way for customers who are willing to weld their own steel doorframes together to purchase our major hydraulic door components that are properly sized from Schweiss Doors.
The challenge when figuring out the Build Your Own Door Kit, was to be able to develop a hinge that comes preassembled, prewelded, and is robust in design. By going back to the drawing board the design team had its work cut out for them - the end results were very rewarding. In the design process we figured out a uni-body hinge design that wraps around the steel doorframe members, making it the strongest, most reliable hinge design in the door industry. It now includes the first of its kind hydraulic hinge on the market with grease zerks where hinges can be greased from inside the building. Others either have no grease zerks or must remove the outside rubber gasket at the top of the door to get to the grease zerks; very costly, time consuming, and hard to get to. So, guess what? The hinges are most likely left unlubricated! The Hydraulic Door Kit consists of a complete set of new heavy-duty end and center hinges with grease zerks, a factory wired Red Power hydraulic unit and all the seals necessary to provide a weathertight door.
A New Innovation from Schweiss Doors
SCHWEISS HYDRAULIC DESIGN SOFTWARE
Schweiss' newly designed door software, extensive engineering, and new "patent applied for" door components make the door kit possible. It's now easy and simple for customers to manufacture the steel doorframe with these door components, making the door kit user-friendly, thereby allowing hydraulic doors to be built in your own shop. The Schweiss design software provides all the necessary door specs, weights, forces, and detailed information needed when designing your building structure for a hydraulic door.
The (BYOD) Build Your Own Door Kit reduces delivery cost to the end-user, even as steel and fuel prices increase. Our door components are easy to ship and can be easily installed, and your doorframes can be welded at any location, worldwide.
You will appreciate the Schweiss Door Kit design, and the ease and convenience of welding your own doorframe in your own shop. The complete kit includes everything necessary to give you the same quality Schweiss Advantage.
Schweiss understands what keeps a business going. Schweiss is a dependable door company that manufactures a better and safer product.
Build Your Own Doorframe
Save More Money
Afford More Doors
(B.Y.O.D.) Build Your Own Door Kit... Only from Schweiss Doors!
Do It Yourself... Cut out the "Middleman" and SAVE MONEY!
"The savings are in your pocket, which allows you to afford more Doors."
100% satisfaction guarantee... The Schweiss Warranty!
IF YOU HAVE A WELDING SHOP, IT CAN ALSO BE A GREAT WAY TO MAKE EXTRA MONEY!
SCHWEISS HAS A KIT NOW AVAILABLE FOR THOSE WHO ARE WILLING TO BUILD THEIR OWN DOOR!
WE PROVIDE THE PARTS YOU NEED TO DO IT YOUR SELF!
Major Components
Schweiss provides all the key components to manufacture your own hydraulic door, Schweiss provides the Red Power hydraulic power unit advantage and 2 powerful cylinders with spherical bearings. Schweiss provides all necessary hardware and components, less the steel frame members.
Wraparound... Strong, Quality Hinges
Easy weld-on unibody hinge assemblies, premade from the factory. Unlike others on the market, every hinge comes with its own grease zerks. Schweiss is the only door company that has easy to get to grease zerks.
Removable Hinge Pins
Schweiss uses heavy-duty 7/8" hardened removable hinge pins. Others are using smaller hinge pins welded into place, making removing them almost impossible!
BUILD YOUR OWN DOOR KIT...
B.Y.O.D. - Only from Schweiss Doors
WELD YOUR OWN DOORFRAME
Schweiss furnishes an easy-to-read blueprint and complete steel list to get you started building your own doorframe. Hinge components are pre-welded into an assembly for your convience; simply position the hinges and weld them on!
Schweiss door design uses solid tubular steel frame members. We don't use wood or C-channels.
Manufacturing plans from the Schweiss Design Team are included with each hydraulic doorframe. All welding and fabrication of the subframe and doorframe will be done by the customer, under Schweiss direction.
SUBFRAME SYSTEM
Subframe and doorframe design limits the amount of additional stresses the door, and its operation, exert on the building structure. Expert engineered one-piece prehung frame allows trouble free installation.
Subframe Header Size 5" x 5"
Subframe Vertical Legs 4" x 5"
DOORFRAME SYSTEM
Typical Doorframe sizes 2"x 4" members on 60" centers.

Schweiss has an all-steel doorframe - Schweiss never uses wood on their doorframes!

Schweiss is the only door manufacturer that specifies double cylinder push tubes 2" x 4".

Note: Some companies space hinges with vertical 2" x 3" members every 10'... Lighter weight design!

Hinge Assembly

Hinges wrap around the horizontal doorframe and vertical uprights.
Easy weld-on hinge design, only from Schweiss.

Greasable Hinge

Easy to get to from the inside... The Schweiss Advantage! Unlike others who have no zerks or must remove the top rubber gasket which is time consuming, difficult, and likely will never get done!

Removable Hinge Pins

Nice Feature... Some weld them in solid!
PRINTS AND LAYOUT DESIGN OF THE SUBFRAME & DOORFRAME MEMBERS.
Schweiss Provides

All member sizes
Exact lengths
Door specifications, sheeting and trim measurements for the hydraulic door

Manuals

Step-by-step installation manuals
Maintenance and general operation details manuals
Safety Placards

Standard

Tractor fittings
Wind pins

Available Options

Walk door, windows, insulation, and liner panel kit are all available
Remote Controls
Battery Back Up
Hydraulic doors can be operated by AC/DC
SPHERICAL BEARINGS
Spherical bearings are fixed on each end of the cylinder brackets to allow cylinder maneuverability as it opens or closes the door, preventing stress or damage to cylinder or doorframe. Schweiss Doors introduced the important safety feature of spherical bearings to the hydraulic door world. It wasn't long after that we had followers doing the same, but there are those who haven't caught on yet!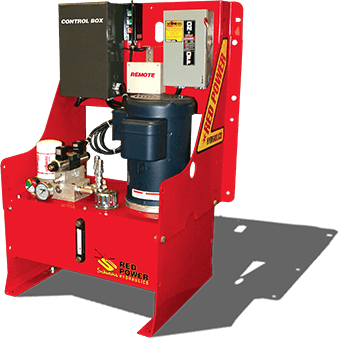 FEATURES
Remote controls can be added
Pump has multiple standard mounting options
Built-in emergency lowering is standard on all Schweiss Doors, in case of power outages!
Really a great feature
BACKUP SYSTEMS
Drill driven backup to raise or lower the door
Tractor backup fittings
Battery backup
Self-contained aux. pump and motor
A Well-Thought-Out Design...
Red Power Pumps... "One-of-a-Kind"
They're powerful and smooth operating pumps... We're talking THE most efficient pumps with standard motors designed ready to lift any size door, at any time, all the time! This system was absolutely designed for quiet, fast, and smooth operation!
THEY'RE QUIET.......
This amazingly smooth, quietly operating pump system didn't just happen on its own! Schweiss Doors knows what you need, so we provide it - every time!
THEY'RE RELIABLE...
Schweiss Doors cares about quality. We only offer safe, carefully designed hydraulic pumps that operate at 95% efficiency. Don't settle for less!
YOU get it all with the Red Power pump/motor hydraulic system from Schweiss Doors - a compact hydraulic power package complete with motor, pump, all gauges, and so much more - all-in-one neat hydraulic unit. Red Power hydraulics are shipped as a complete package!
SUPERIOR DESIGN
"WRAPAROUND" HINGE ASSEMBLY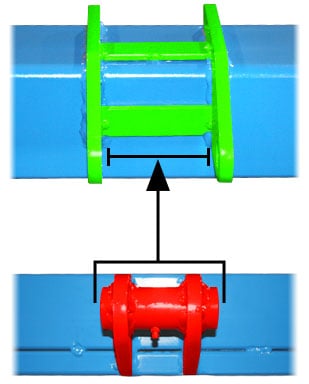 Grease Zerk
Superior Design
Schweiss Doors has developed and designed the strongest hydraulic door hinge in today's market. Superior hinge bracket design that wraps around the subframe header, adding more support.
END HINGE ASSEMBLY
Vertical Subframe Connection Bracket
Schweiss Doors has engineered the strongest hydraulic door hinge on the market today. Superior design, wraparound hinge bracket that attaches to the vertical doorframe members.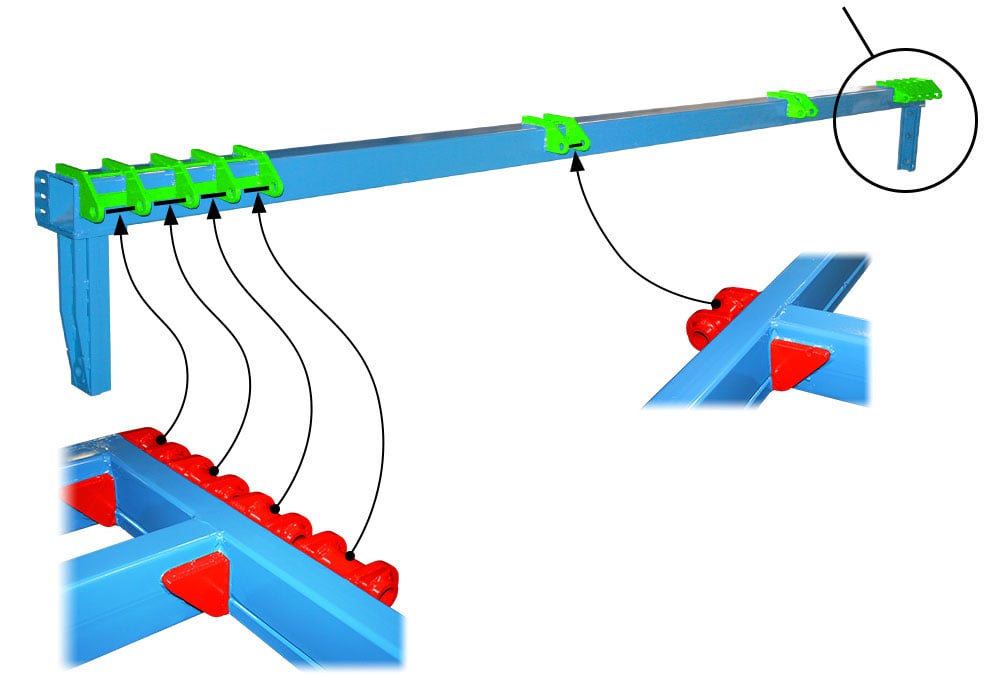 Center Hinges
Each vertical upright member on the doorframe has its own hinge attached to it for additional support. Schweiss hinges are typically located 60" on center. More hinges make a stronger, more secure door!
Outside Hinge Assembly
Schweiss designed a unique hinge assembly for each end of the door. They are unlike anything on the market, with multiple robust hinge supports. The end hinge assemblies support the majority of the forces each hydraulic cylinder exerts when raising and lowering the door. All Schweiss doors have double push tubes on each side of the door, included to add additional support to the frame and hinges.
Top Cylinder Mounts
Hydraulic doors raise and lower with two powerful hydraulic cylinders. Each cylinder attaches to a mounting bracket near the top of the door. The top cylinder mounts / brackets carry the entire weight and forces of your hydraulic door, these brackets must be robust and properly built to carry the forces and weights of your hydraulic door. Poorly designed top cylinder brackets may snap / break off, bringing your door down fast; no safety devices will stop your door from falling when the top cylinder brackets break.
The hydraulic cylinders attach to the top cylinder brackets. Those brackets are mounted to the vertical subframe columns on each side of the door's opening. The cylinder rods, pointing downward, while the door is closed, are mounted to the doorframe. While opening the door, the cylinder rods extend downward, pushing on the doorframe's vertical members, moving the door in an outward motion. The cylinders continue to extend outward until the door is fully open.
Vertical Members
The vertical upright members are directly attached to the light gauge horizontal member near the top of the doorframe, with the hinges welded to the top side of that member.
It is common practice for door manufacturers to weld the vertical height halves to a horizontal tubing member of the doorframe and attaching / welding the hydraulic door hinge to the horizontal doorframe member.

New Hinge In Action
Through the entire door opening and closing process there are tremendous forces exerted by each powerful hydraulic cylinder on the doorframe members, hinges, and subframe structure. Schweiss has designed a wraparound hinge that carries those forces through the hinge and onto the door's main subframe structure. This prevents the doorframe members and hinges from being destroyed by the forces exerted by the hydraulic cylinders and the weight of the moving doorframe.
NEW DESIGN
"Wraparound" Hinges & Brackets
The new hinge design with wraparound brackets better connects the top doorframe and vertical members together. It distributes the loads of the doorframe and the forces the cylinders exert on the doorframe and hinges more evenly. This helps to prevents doorframe and hinge failures.
Double Push Tube Vertical Members...
Only From Schweiss
Two vertical steel members provide additional strength where the hydraulic cylinders attach to the doorframe and exert forces to raise and lower the door.
Grease Zerks - the easiest way to lubricate hinges. For years customers have been begging for a simpler way to keep the door hinges lubricated, Schweiss' uniquely designed hinges create an easy method to keep your door hinges lubricated at all times! Schweiss uses easy to get to grease zerks on every hinge. Open the door and easily grease each hinge from the inside of your door opening.
Schweiss Doors comes across scenarios of door failures caused by others who don't understand how to manufacture a safe working hydraulic door. This door crashed down because the top hinges pulled off the subframe header tube. The forces from the cylinders destroyed the doorframe.
Hinges Pulling off the Doorframe
Over the years you may have heard of hydraulic doorframes tearing apart, hinges pulling off the doors subframe, welds breaking, the list goes on about hydraulic door failures. When door manufacturers weld their door's hinge to a horizontal light gauge tube frame member, the doorframe pulls apart leaving the customer hanging with a broken doorframe!
Grease Zerks... Almost impossible to get to / Poor design Others try to get the job done by putting zerks on the top side of the hinge; that requires removing the top rubber gasket every time the hinges need greasing - it's time consuming and costly. Others try to get by using self-lubricating bushings; bushings wear out and then you're left with no way to grease the hinges.
TOP DOORFRAMES PULLING APART AT THE HINGES
The doorframe is ripping apart! Poor design...
WHO WILL FIX IT?
This door company is no longer in business... That's why they're unable to service any of these doors, leaving the door owners with safety issues.
Poor Design Caused Unfortunate Results
When manufacturers don't understand that forces and eccentricity keep increasing as the doors get larger and larger, you end up having a door that, over time, may fail. When using poorly designed cylinder brackets, poor hinge design, a doorframe that is too light, and underrated cylinder brackets the door is likely to fail.
All the safety devices in the world will not prevent the door from falling when the hinges and cylinder brackets rip apart!
One hydraulic door owner recently told us,
"After seeing my door fail, I do not trust it any longer!"
Working Under Your Door
Some door owners brag about working under their hydraulic door because they love the extended shade area it provides! They are told their door is safely locking open with its great hydraulics and the so-called safety widgets that are incorporated into the hydraulic system! But what if the door crashed down because the top cylinder brackets broke off at the top of the doorframe? The door failure had nothing to do with the safety of the hydraulic system.
Understand Large Doors:
Safety should be a top priority for any hydraulic door. With all the hype you encounter and slick marketing that goes into the door market, you can be mislead to believe that the door you are considering is the best door on the market. It could be, but you must select a reputable door manufacturer - someone who has many years of building expertise with a "Trusted Brand Name" and a product to back it up! You need to realize what keeps a business going is a dependable company that manufactures a better and safer product, that is there for you, to service and provide you with the correct door data information, to make your door safe and functional for many years! SCHWEISS DOORS
Before You Purchase:
Do your homework and know who you are dealing with when buying your next door! You can see what happens when someone doesn't understand door safety!
Hidden Hydraulic Door Dangers
There are no safety gizmos that will prevent the door from crashing downward when there is a structural failure in the top cylinder brackets, hinges, or when the doorframe pulls apart. What happens? Door crashes down. The door will not stop until it hits the ground or an object! When a door structure failure occurs... No load control, drop in pressure in the hydraulic system, sensors, hydraulic hose breakage, or safety gismo's will prevent the door from crashing downward, as seen in these photos. Understand who manufactured your hydraulic door, when you need help, see if the manufacturer is still in business and willing to fix the broken door!
WHAT TO LOOK FOR ON YOUR EXISTING HYDRAULIC DOOR, DO A VISUAL INSPECTION!
Things to visually inspect include:
Top cylinder brackets - for cracks and broken welds
Top cylinders brackets - excessive bending or moving while operating the door
Top hinges and brackets pulling off the light-gauge subframe
Cylinder push tubes, near the top of the doorframe, ripping or tearing off
Doorframe - for any cracks or tearing apart
Top cylinders - pins bending or wearing
How would you operate the door in case of a structural failure? Impossible to do in a safe way... Order a replacement door? Are there any part kits available? No spare parts kits are available for your door when there are broken cylinder brackets or hinges! Especialy when the orginal company has gone out of business. How much does a door like this cost to maintain? Maybe double or triple the cost! You're better off purchasing a better quailty door system, from someone who has a better understanding of how to manufacture a better designed door!
WHEN THE TOP ATTACHMENTS BROKE OFF, THE HOSES WERE THE ONLY THING SUPPORTING THE CYLINDERS AND THE COMPANY WHO MANUFACTURED THIS DOOR IS NO LONGER AROUND!
Under-designed top cylinder brackets may snap or break off and the door could come down quite fast. No safety devices will stop your door from falling when the top cylinder brackets break.
The top cylinder brackets on both sides of the door failed at the same time. The bracket twisted and tore off the hydraulic door subframe and the door came crashing down.
It's costly to remove and replace an existing door that is destroying itself!
Schweiss understands what keeps a business going.
Schweiss is a dependable door company that manufactures a better and safer product.
When purchasing a hydraulic door, purchase the door from a reputable door company that is there to service and provide you with the correct door information to keep your door safe and functional for many years!