Haug Dealership
We're not selling iron, We're selling performance

"We're no longer just selling iron. Today we're selling precision farming products and that requires special training of both our personnel and our farm customers," says Paal Haug, general manager of Haug Implement with stores at Willmar and Litchfield.

The firm dates back to 1918 when his great grandfather Gunder Haug started a machinery dealership in Pennock, MN when horses were indeed the primary source of horsepower on farms. But times they are a changing!

Thanks to the advent of GPS farming, today this major John Deere dealership (52 employees) has a classroom setup at their Litchfield store with specially trained staff personnel doing classroom training for farmers on all aspects of GPS technology. Plus there's lots more real time on-farm instruction on how to operate a particular system.

Reflecting on the past 20 years of their farm implement business, Haug said the introduction of GPS (global position sensing) in 1994/95 opened their dealership to the explosion of new technologies and new machinery hitched to these new technologies.

"We could see this was generating an entirely new future for the farm equipment industry. That's when we hired our first fulltime Precision Farming Specialist. Still in its infancy in those days, a GPS system that permitted yield mapping in our combines was the first development," related Haug who gives credit to his dad Don Haug for having the vision to see the exciting potential that GPS farming was likely to deliver.

And what a remarkable acceptance! Virtually every new John Deere tractor, and combine, is factory equipped with the wiring and electronic harness to permit plugging into a variety of technology capabilities be it Auto Steer, Yield Mapping, VSR (variable seeding rate), even Row Command on planters.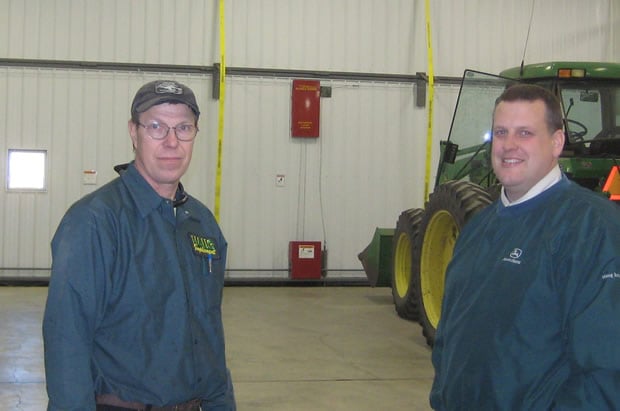 Also precision farming with on-board yield monitoring information and yield mapping gives a farmer much better information for comparing tillage systems, variable planting rates, even comparisons of drainage systems within a field.

"You virtually become your own experiment station on your own farm. And that's the most important information you can have. Being able to document information both at planting time and harvest gives a significant base for making right decisions," said Matt Rohlik, AMS (Agricultural Management) Consultant for Haug Implement.

These new technology features cost a few bucks. The John Deere Green Star system for example offers three choices of Auto Steer capability. The SF1 package costing about $10,000 provides 10-inch accuracy. SF2 gets accuracy down to about 4 inches and costs about $16,000. But rapidly becoming the popular choice of row crop farmers, especially sugar beet growers, is the $20,000 RTK system with repeatable accuracy of 1-inch or less.

"Repeatability was our primary reason for going the RTK route," said Joe Sullivan, Sullivan Farms, Renville County, MN which runs 3 RTK units on their various power units and combines plus 2 SF2 units on big tractors doing mostly tillage work.

"It takes only about three minutes to switch a unit from a tractor doing tillage work to a tractor doing the planting. So the RTK guidance system lets us preprogram each machine to travel virtually the same wheel tracks each pass through a particular field. It's like permanent row tracks regardless the particular task being done," explained Sullivan.

"Everything about production agriculture keeps getting more exact. We now have 10 years of yield data on some fields. That's enough history so we're looking at more variable rate planting; even variable rate fertilizer programs applied as directed by our yield maps."

Thanks to 2007 and 2008, two super strong farm income years, farm equipment sales haven't slowed for Haug Implement during this 2009 recession year.

"We have a tremendously strong ag base in our area with lots of crop diversification and a significant livestock industry. Maybe 2010 will see a slower season but we're grateful for the strong ongoing support from area farmers."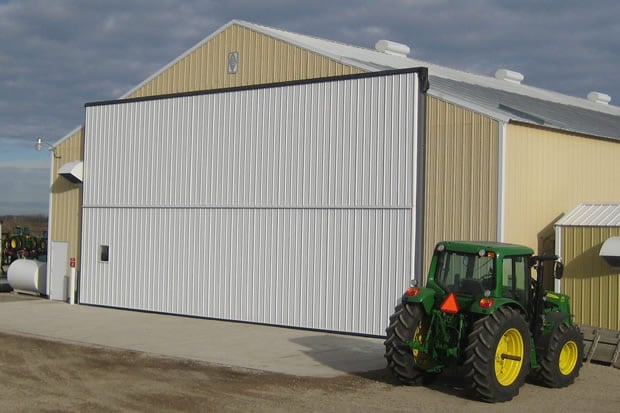 New Assembly Building
Good evidence of their ever-growing business of Haug Implement was the complete retrofitting this year of an older 60' x 150' cold storage shed into a spanking new insulated and heated Set-Up Shop for the assembly of big farm equipment assisted with a 4-ton lift crane sitting on parallel tracks on both sides of the building.

This new facility also sports 40 new high-intensity lighting fixtures, a 500,000 Btu capacity heating system burning used crankcase oil (obtained from the dozens of tractors serviced), an insulated concrete floor and 12 high pressure air outlets running full length on both walls. At each end of this special facility are Schweiss Bifolds, an 18' x 45' door on the west end; and an 18' x 37' door on the east end.

Explained Paal, "Last fall we had a big spike in new equipment sales. That created an issue for us because we had to assemble that equipment for spring. Setting up equipment in cold storage is no fun. That's the reason for a complete rebuilding of that older shed."

"We now have a great work area," says Chuck Nichols, Shop Foreman. "It's perfect for setting up new machinery. With access to air lines along both walls we use air-powered tools and that greatly speeds our work. Plus we've got comfortable air temperatures, even during our sub-zero weather."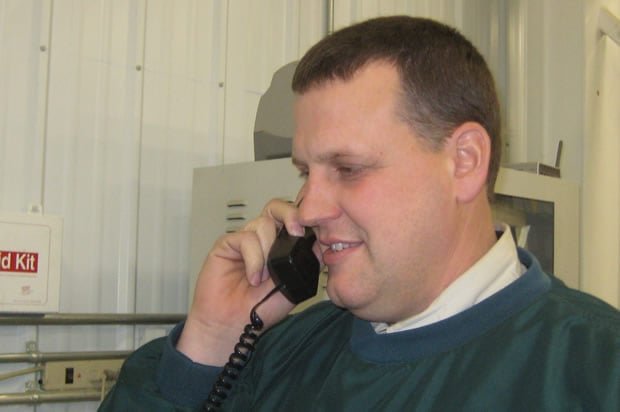 "These big bifold doors on both ends are great. They open and close quickly. They've been completely trouble free. And big doors for moving big equipment is a real treat and even gives us a drive through option with big combines if needed."

Haug Implement has two other Schweiss bifolds so they were already aware of the reliability and strength of the Schweiss system.

"We just think the Schweiss doors are top quality. That lift strap system is simple, quick and reliable. And we especially appreciate the quality. We deal in iron all the time so have a high regard for manufacturing excellence. Plus Mike Schweiss is a good guy to deal with," summed up Paal. "We looked at some other brands too just so we knew what was out there but the Schweiss doors just stood out."

GPS farming is now rolling nationwide as farmers constantly strive to become ever more efficient. "It's exciting and predictable, especially for the farmer looking for repeatability in everything he's doing in his cropping program. In essence it lets you get back to the same exact spot, the exact row. You could spray in the same exact row tracks; run your combine in the same exact row tracks. Its popular for guys getting into strip tillage," summed up Haug.

And to make RTK accuracy work regardless of what fields you are doing, Haug Implement much like other farm equipment dealers across America, has developed their own RTK Network, a series of nine 100' tall towers which permits overlapping GPS accuracy regardless of where your rig is running within the five-county area of their Willmar and Litchfield stores.

So stay tuned. As incredibly helpful as GPS systems already have become, they will get better. Summed up Kevin Paap, Minnesota Farm Bureau President and a GPS farmer (Blue Earth County), "It's saving fuel. It's making us more efficient on every acre. And it's certainly less stressful. If you would have told me even 10 years ago that I would be in the field with a tractor that's steering itself and while that's happening I'm on my Blackberry twittering a message to my Congressman in Washington, I would have said you're nuts. But that's the amazing technology at our fingertips today."