California bike transit station utilizes three
Schweiss glass designer doors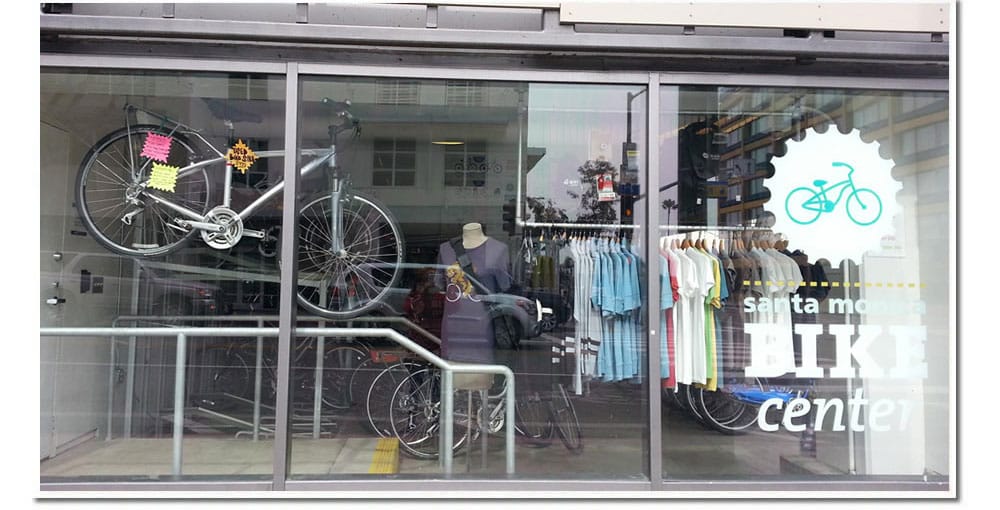 To promote the use of non-auto transportation and bicycling, the city of Santa Monica, California built a new bike center and shopping center in its downtown core. Included in the project were three Schweiss glass Bifold designer doors.
The California Bike transit at night.
Who you gonna call when you need three top of the line glass bifold straplift doors for a bike transit station in California? You have two choices. You can go directly to Schweiss Doors in Minnesota or call a company that sells and installs Schweiss Doors. That would be McKendry Door Sales & Service of Santa Fe Springs.
McKendry Door Sales & Service (MDS) advertises themselves as being a company that aligns themselves with the best and most specified products and brands in the industry. Maybe that's why they looked to Schweiss Doors in Minnesota to provide them with three custom made 19' 5.63" x 7'1.56" straplift bifold glass doors for a bike transit project in Santa Monica, California.
Bikes are taking over America. Major cities like New York, Chicago and San Francisco are launching public bike sharing systems for the first time, joining Boston, D.C. and Denver. In these metro areas most auto trips are two miles or less. Giving up that short trip in the auto saves cash on gas, parking, tickets and time in traffic. It also limits car trips in and out of the city by the sea.
There are other advantages to biking. The average person loses 13 pounds their first year commuting to work by bike. Just three hours per week of cycling reduces the risk of cardiovascular disease by 50 percent. It costs about $8,500 a year to own, operate and maintain a motor vehicle where at the Bikes@Work program you can check out bikes on weekdays for up to 1.5 hrs for $45 a year or purchase a monthly pass for $15 or annual pass for $99. Bike storage is $15 a month or $100 a year.
Santa Monica is a busy gathering place for locals and visitors traveling from one point to another in the Bay Area of California. It contains numerous shops and attractions to make it that way, but more than anything it serves as a location to get to work, for tourists, or just for a joy cruise on beach paths like the Pacific Palisades loop. Half of the centers business comes from foreigners. Santa Monica city officials revamped this area a couple of years ago on the groundfloor of the Santa Monica Place mall for that purpose.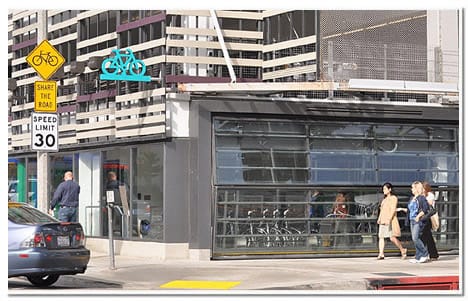 The Santa Monica Bike Center has been a big money generator for the city. It has generated well over $100,000 in revenue and with an average of 3,000 paid member visits a month it is expected to hit the million dollar mark soon since opening in November of 2011.
The Santa Monica Bike Center is located in Downtown Santa Monica and offers two convenient locations. Just off Colorado Avenue overlooking the ocean at Santa Monica State Beach Park and another just a couple of blocks away.
The sites offer secure bicycle parking, showers and lockers, bicycle repairs, rentals, guided bike and Segway tours, bike education and encouragement programs and retail products.
When the Bike Center opened its doors in Santa Monica in 2011, Metro billed it as the largest bike parking facility in the United States. In two separate facilities, the Center houses 5,300 square feet to 360 dedicated spaces and has over 300 members who can access those spaces at anytime. The center at times sees more than 3,000 member visits a month. When the Exposition Light Rail Line opens in 2016, city officials hope more people will choose to leave their cars at home and bike to a nearby rail stop which ends just two blocks from the center.
City officials said the bike center provided $106,826 in revenue to City Hall since its opening in November 2011. The partnership between Bike and Park and the City of Santa Monica is turning into a profitable one. While the two have a revenue sharing agreement, the city wasn't counting on any money from the bike parking company except rent. In 2012, Bike Center wrote a check of over $75,000 in revenue sharing with the city. The center hopes to make a million dollars in revenue soon with the retail side the biggest generator followed by membership fees which help pay for ongoing maintenance.
The Schweiss bifold doors are put to good use each day. For safety purposes the doors were ordered with photo eye sensors, door base safety edges and have an emergency backup hand crank should there be a power outage. Keyed up/down switches insure that only those who need to operate the door can do so. Galvanized side rails were put on the doors due to their close proximity to the ocean as a rust preventative.
MDS has a staff of engineers that can design even the most difficult applications and who will make a call when they need a specified high quality door. This wasn't the first time MDS called on Schweiss Doors for a special project. A good case in point was their design work at Red Bull Headquarters 105,000 sq. ft. building in Santa Monica which used a skateboard ramp as its focal point and which had a 40' x 28' Schweiss Bifold 10 ton glass designer door on it.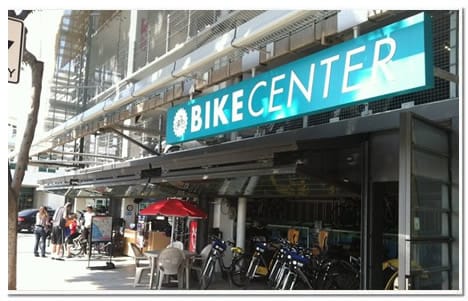 Three Schweiss Liftstrap Bifold glass designer doors were installed at the Santa Monica Bike Center. The share of people accessing work by bicycle in Santa Monica increased by almost 30 percent from 2007 to 2010. It is also a big tourist and pleasure biking attraction.
Founded by Steve McKendry in 1952, MDS has since branched out to Northern California and all the way to the border of Mexico.
"Since McKendry bought the LA branch we've made great strides in being a privately held company. We've taken on all different types of product lines to general contractors we do business with and gotten a lot of exposure. We've expanded into the dock business, selling dock lifts, levelers, etc. We recently did a really large project on the Bay Area Rapid Transit (BART) station San Francisco," said Senior Project Engineer Bill Paulsen.
He said he was first introduced to Schweiss Doors about four years ago on the Woodbury University job in Burbank. When he also came across an installation job or help in repairing existing products he looked at opportunities and sought out architects to drive people toward Schweiss products.
"The bicycle transit people are very happy with the Schweiss doors, in fact they had used Schweiss doors two years prior on a different project. This was a very interesting job in that everything was sloping upward from the ocean. We needed control points which the existing structure didn't have and the base of the door was not there yet," noted Paulsen. "I think Schweiss doors are understandable and a good product."
MDS has expertise in constructing education, hospital, government, military, public and event center building projects. Some very prestigious names fall under these categories such as the Nokia Theater, Staples Center, Kodak Theater, Dodger and Angel Stadiums, Beverly Hills Hotel, UCLA, St. Jude's Hospital, John Wayne Airport and Camp Pendleton to name just a few. McKendry has worked on just about every event center in the Southland and event center experience is essential. Typical schedules for these and education projects are citrical and fast track jobs. Demands for military projects are extensive and General contractors are graded after each job. They only get called back if they do the highest quality work with highly specified products that are "Made in America."
McKendry Door Sales
MDS has become an established contractor specializing in sales and service of overhead doors and related products in the greater Los Angeles, Orange, San Diego and San Bernardino counties.
In addition to full service industrial, sectional, sound and sight door sales and repair they also provide dock equipment, custom gates and other types of doors. They are also an access control company that installs and activates all their equipment. They pride themselves on prompt, professional and accurate sales professionals, engineers and draftsmen. They also pride themselves in making deadlines all the time, every time.
McKendry Door Sales and Service is located at 12930 Sunnyside Place, Santa Fe Springs, California. They can be contacted by calling 800-993-6677 or 562-531-2576. They can also be located on the web by Googling McKendry Door Sales.