Point Me North for Departure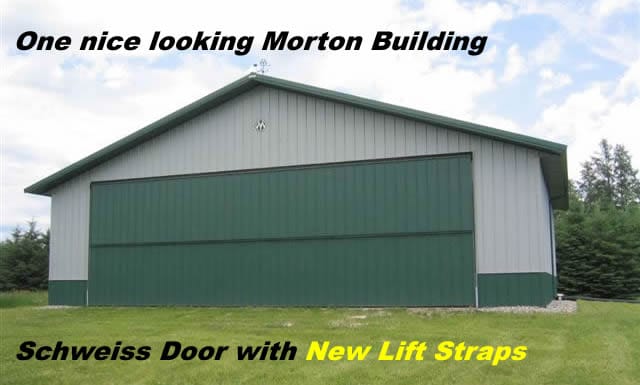 Flying since he got the bug when working the fishing canaries in Alaska, Eric Hutchins, Grand Rapids, MN, has a rather diversified agenda these days. For example he runs a year-round Dairy Queen in this bustling tourist center town. He also does some part-time law enforcement work and occasionally flies fire detection with the MN DNR. When time permits, high on his agenda is getting together with his snowmobile buddies for a few miles through the beautiful lake and woodland country of Itasca County. And of course cranking up his Bellanca Scout for an aerial view of this lake-country landscape only adds to the pleasure of making life work for Hutchins.
After going to college for a criminal justice career, he worked as a deputy sheriff for several counties and as a Trooper. He also trapped Gray Wolves with the USDA before getting into the restaurant business and being self employed. Owning a Dairy Queen guarantees 'full time' year-round employment and the ability to pursue his interests on his own schedule.
"It's a good business, but 'fast food' is a pretty intense job too," relates Hutchins. With a year-round population of about 9,000, which virtually doubles during the 'tourist season.' his Dairy Queen truly is a Grand Rapids gathering place.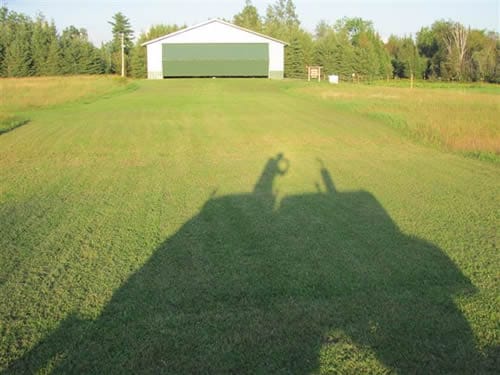 Itasca County brags about having 1,000 lakes so little wonder that tourists and fishermen drive the entire economy. Plus the area has lots of 'retired seniors' with summer cabins but a good share of that gang heads south each winter.
Hutchins has yet to meet Mike Schweiss even though a big Schweiss bifold door hangs on his 45'x 54' Morton hangar at his airstrip on the north end of Dixon Lake. But he did meet Mike's friend, 'Bubbles' (Gene Buboltz, a Fairfax area neighbor) at a fishing resort at the west end of Dixon Lake this winter.
Explained Hutchins, "I was talking with Bubbles about fishing, soon we got to talking about flying. He told me he used to fly out of Bemidji flying Queen Airs and eventually SAABs when he worked for Republic Express and others. He really enjoyed talking about his experiences flying SAABs. He also said he's a good friend of Mike Schweiss," relates Hutchins.
"I told him I didn't know this Schweiss guy but I had a Schweiss door on my hangar. He asked where I had a hangar. I told him I had an airport strip at the other end of this lake. He chuckled, "Airport? We're in the middle of the Chippewa National Forest. About the only thing you could land up here would be a helicopter.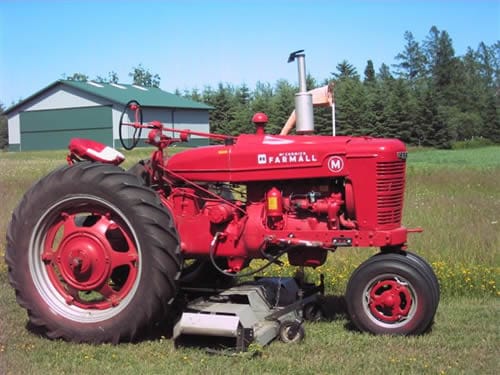 "I told him to jump into my truck and I'd show him my airport. By now it was dark but we drove around the lake to my strip. Bubbles couldn't believe his eyes. That just goes to show that aviation is a pretty small, and tight-knit community. You meet somebody, start talking airplanes, and sure enough you know someone that he knows. And this Bubbles guy apparently knows lots of people. He even gave me a pretty good pitch that I had made a good decision putting in that Schweiss door."
Getting the itch to fly happens naturally when you work in Alaska claims Hutchins. "The typical Alaskan uses his airplane much like we depend on our SUV's down here," he notes. "I worked the canneries going through school in the 1980s. When I had saved a little money I joined the Civil Air Patrol down here. They have an Aeronca Champ owned by the organization. I got my pilots license back in 1990 for about $1500. Gas was $2 back then."
In 1999 Hutchins bought his first plane, a Scout (made by Bellanca at Osceola, WI) in Wenatchee, Washington which he still hangars at his own strip. Flying mostly 'puddle jumpers' Hutchins has about 1800 hours flying time in 20 years. With two other partners, his next wings was a 90 Hp Champ. "What a great little bird that was. You strap on a Champ and you become part of it," he explained.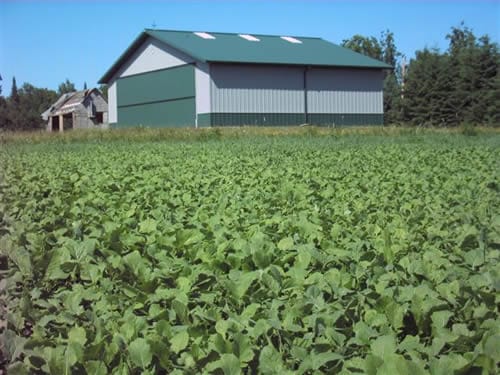 He carved his airstrip out of a wooded pasture area adjacent to Dixon Lake. It's a short strip not good for a Cessna smiled Hutchins. But he says it works for a Taylorcraft, Champ, Scout, or Super Cub. Housing for his airplane, and other items like his boat, mower tractor, and snowmobile is provided by a 54' x 45' Morton built in 2005.
He had the 90 Champ fitted with floats especially for special fishing jaunts. Hutchins says he put on about 300 float hours and doubles that with the skis on. "That rig did at least 15 trips into Canada and as far north as the Artic and Hudson Bay to view whales and Polar Bears. "Its nice to have enough hangar space. Now I'll be fitting skis on my Scout for winter flying. But I don't do any sub-zero flying anymore. Been there, done that. I've gotten older and wiser. Winter flying is a lot of work."
His hangar sports a 42' x 12' Schweiss bifold. "The two guys that came in with the Schweiss door were young guys, early 20's I'd guess. Gosh, they were all business. Got that big door hung in half a day," said Hutchins.
"I could hardly get a conversation going with them they were so intent on getting the job done. Kind of like watching a good hunting dog when you're pheasant hunting. The dog won't stop for a treat; you can't distract them once they've got a whiff of that bird. It was actually kind of funny to me. Usually when you've got a couple of young guys on a job they don't mind a break now and then just for gabbing. But not these two guys. Maybe they didn't realize how damn far up north they were when they got to my place. Then there was the mosquitoes and 10 miles of dirt road," chuckled Hutchins.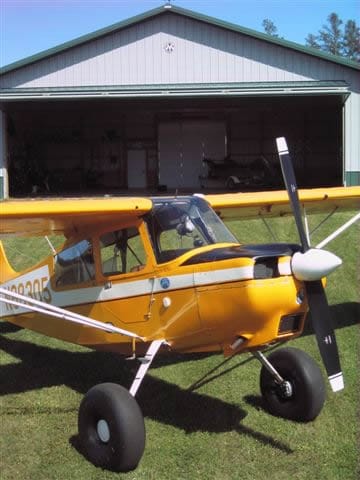 He's been to Oshkosh for the EAA show a bunch of times. At this big show he noted the Schweiss doors exhibit booth. "I've never talked to Mike Schweiss at this show but I always noticed a line at his booth," said Hutchins. "You never know when someone walks up, stops at your booth and that becomes a bonafide sale. So just one visit is sometimes all you need at EAA." Also Hutchins as parked at a few airstrips across the Upper Midwest so Schweiss doors were nothing new to him.
"That door has been up for five years now and never a problem. But if I had an issue with that door, I felt comfortable that they'd come up and help if necessary. Fairfax, MN, where Schweiss Doors is located is all farm country, horizon-to-horizon. Country folks will help you out. That was a factor in my purchase of their door. Up here in the northwoods reliability is pretty darn important," says Hutchins.
His strip had two feet of fresh snow when contacted December 9. "I've got skis here in my hangar. So my next job is pulling off the tundra tires and slapping on the skis. Then we're good to go for the winter."
But why his own air strip 'out in the woods' so to speak? Hutchins speaks with candor. "I think some of these municipal airports have gotten greedy. They've jacked up hangar rentals so us parttime pilots can't afford the space, we need to seriously consider other options.
"I think they're missing the boat. Your municipal airport should be a place that attracts traffic and provides commerce and potential new businesses to your community. But if you've got an airport half empty because local pilots can't afford or won't afford the rent, then you're going backwards.
"A municipal airport doesn't need to be self-sufficient. If it has commercial value, and economic development potential, then let the city pay for part of its operational costs. They've got hangar rental up to $175 now and some are sitting empty." Also troublesome to Hutchins is that fact that the same Erect-A-Tube style hangar rentals in other area communities are often $50 to $85 less than Grand Rapids. All these factors were considered before Hutchins decided to build.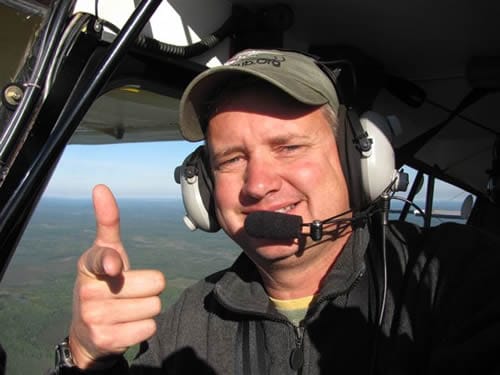 Shopping for hangar doors can save some dough too. "My Schweiss bifold cost less than a Wilson and some other competitors. And it works regardless the weather. I wanted a door that could be raised in case of power outage. The Schweiss bifold cranks easily with the handle provided for emergencies."
Hutchins is 45-years old and shares the sky with his girlfriend or a Yellow Lab named Jack. He's viewed Caribou herds and bears in the far north, flies the Scout to Alaska, and has viewed the beauty of Glacier National Park from his airplane. But airports with heavy traffic and requiring a transponder as part of your radio gear aren't big on his list. He concluded, "Point me north for departure!"