Built to be Different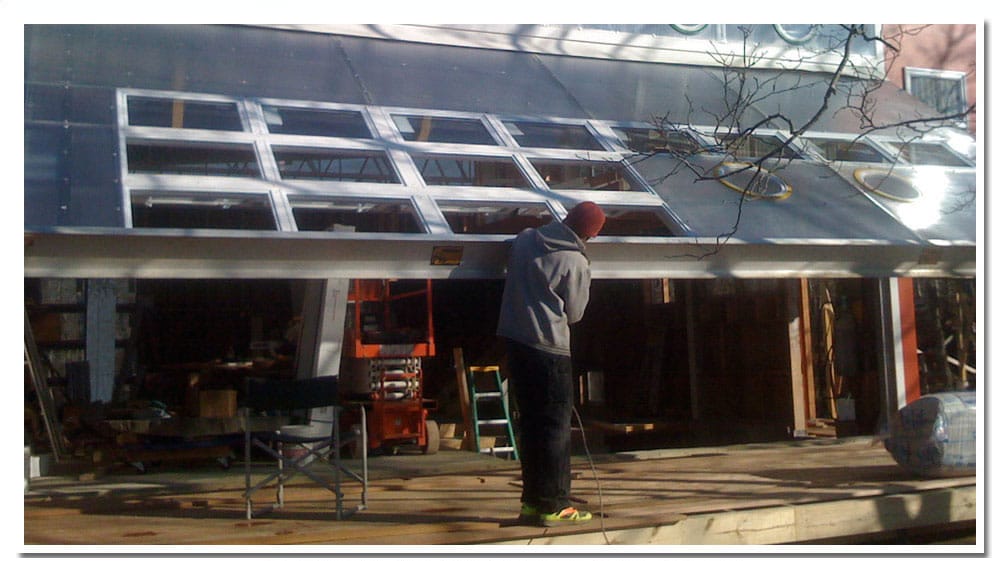 Fancy Hydraulic Door has Several Different Styles of Windows
At 27 years of age, film maker/artist/author Travis Wood appears to be adding architectural design to his intriguing resume. Evidence of this new dimension is a most unique structure, a combination studio/guest house that he and his father are constructing on their vacation property on Martha's Vineyard, hugging the south shore of Massachusetts.
With a degree in filmmaking from Harvard, Wood explains, "I needed a break from filmwriting. Construction and architecture has been in the family for some time so taking on this project was no big uphill battle."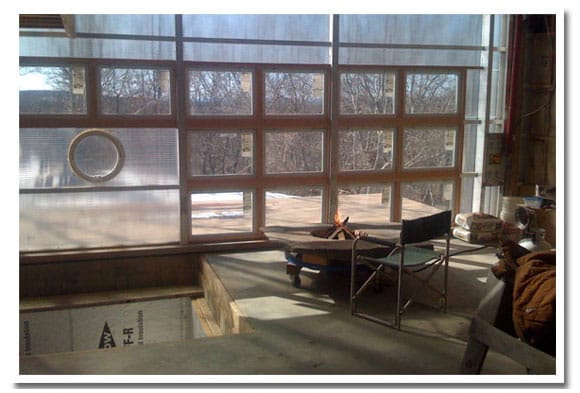 Windows and Opaque Panels Allow Lots of Natural Lighting in
With his dad Benjamin Wood, age 63, involved in business projects from his Shanghai, China location the Martha Vineyard's project virtually became a full time, 'hands on' effort for Travis Wood. He describes the structure as a bit of an experiment. He calls it a studio barn, somewhat fitting to the Island's architectural history. And he indeed let creativity creep into his imagination

"We originally started this as a traditional wood-framed barn which is quite common here on the Vineyard. But we got excited about trying some different things. We decided to have some fun and went with a steel frame structure with the idea of using unconventional resources," explained Travis. Added his father, "Yes, this guest house is very experimental, off the grid with solar and windpower, lots of multi-wall polycarbonate panels and a large 'inflatable' clerestory on the north wall."

That led to more ideas. His Dad is a pilot. He liked the idea of incorporating a hangar door into the structure; in essence let an entire wall be hinged to 'power open' at the touch of a button. Surrounded by Martha Vineyard's greenery and the beckoning waters of Buzzards Bay, the Woods decided this structure should be an open invitation to readily view Mother Nature at her best, regardless the season.

"We checked the Internet for airport hangars and found Schweiss, this Minnesota firm that apparently builds doors to any dimension. Their web site showed all sorts of unique installations. And that's how the idea of a 'window wall' came into being. The entire project just sort of ballooned from there," explained Wood.

Located just outside of the quiet village of West Tisbury, the Wood family earlier had built a hilltop 'summer camp' area overlooking this new structure. They permitted for this new studio however West Tisbury residents are allowed to have 'summer tent' camps without special permitting. Noted Travis, "One of the perks of being a West Tisbury resident." And ideal for providing a unique environment for the extended Wood family.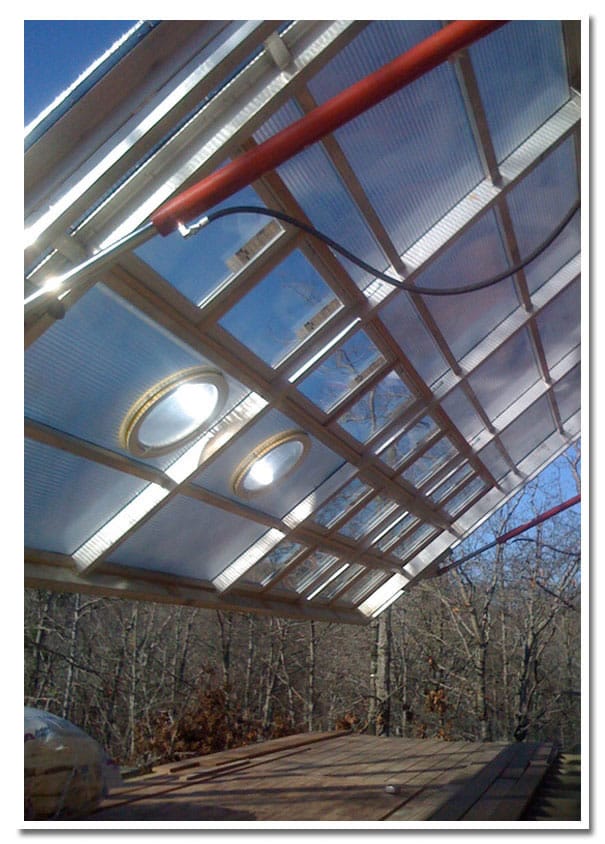 Open Powerful Hydraulic Door used Many Styles of Windows
Already a bridge/skywalk has been constructed from this summer campground area to the second floor of his new studio building, a 40' x 30' dimension structure with a Schweiss Red Power door prominently occupying virtually the entire west wall.
Relating to the engineering pledge of Schweiss being able to fit the customer's needs, the aluminum framework of this Schweiss hydraulic 'window wall' measures 25',9" wide by ll', 4 1/8" tall. That indeed is building to tight dimensions! Added Wood, "Using a steel frame for the building turned out to be quite fortuitous, as we were able to weld the door's steel header and side supports to the frame of the house for increased strength."
With framework designed for six windows the Schweiss door weighed 1,439 lbs. 'empty'. With the special combination (MacroLux) polycarbonate and glass siding, finished weight is 1,743 lbs. Two circular 'porthole' windows rather conspicuously dominate the window wall. Travis obtained the portholes from a French company, Aluminalia.
When the door is closed, it provides a glass background for a bar counter occupying 6' of the window wall. The two 'porthole' windows center above the bar, which wraps into a U-shaped configuration inside the studio. On a colder, windy day the port-hole windows open so service is readily provided even to 'outside' guests.
The MacroLux polycarbonate sheathing was also used for the clerestories in the building. Explained Wood, "This allows us to let light in while maintaining a slightly higher insulation value. Plus the polycarbonate is much lighter which lessens the load on the door and it is less expensive than glass." They used ceramic paint on the ceiling and the interior walls to cut down on heat loss, as well as Ondura 50 percent recycled asphalt roofing.
Martha's Vineyard is a windy environment and conventional electric service can be a challenge. So technology to the rescue! Wood installed three wind turbines (AirBreeze) atop the building (5' diameter generating 400 watts each with a 30 mph wind). Also six roof-mounted 2' x 4' solar panels capture more of nature's free energy. This dual energy package charges a bank of batteries for studio lighting, also including a 12-volt marine-grade battery that powers the hydraulic lift system that opens and closes their 1700-lb. 'window wall' door.
"One battery easily handles the door. But we have backup batteries just in case," chuckled Wood indicating that backup energy is almost a necessity when living in the unpredictable weather hazards of Martha's Vineyard.
When finished the hillside studio will be an entertainment delight for friends to observe the sunset beauty of Martha's Vineyard. "Our window wall presents some great ocean views. People are absolutely amazed when they see the entire western wall opening to the outdoors."
Because he specializes in large format paintings, the open interior provides generous display space for his large paintings and by using a variety of interior wall materials his artwork is conceptually enhanced. The 'presentation wall' which abuts the Schweiss window wall is slotted mahogany. "It's a system we designed to make it easy to hang art work without having to drill. Sheet rock and polycarbonate are other materials put to use in this building. A high-efficiency pellet stove is also on the agenda but because this is not a year-round residence we weren't concerned about high R insulation values."
Summed up Travis Wood, "Martha's is a wonderful escape. It's like a venture to a foreign country. But it's a great environment for the creative, adventuring soul. Winters can be a bit bleak out here but the ferry runs daily to the mainland so we have ready access to the noise, traffic and bright lights of the New England mainland."

Unique Hydraulic 'Glass Wall' Offers a Unique Look for the Studio