Schweiss has the Best Hydraulic Pump and Door on the market
SCHWEISS DOORS HAS TAKEN EXTREME PRIDE IN INTRODUCING ITS NEW POWERFUL RED AND GREEN POWER PUMPS TO THE WORLD.
From the minute you press the control button on your handy remote control, you'll be amazed at how this door functions. It's everything you want it to be and more.
The unit has all the bells and whistles and comes with single or 3-phase electrical components. Easy to read psi pressure gauge, service filter and fluid temp gauges let you know that the door is always working properly and at full capacity. Everything is in one compact hydraulic pump unit powered by 2, 3, 5 or 10 horsepower motors to safely lift even the smallest or heaviest doors and seal them tightly.
The Schweiss Safety Advantage allows the door to lock up and down or safely lower or raise your door in case of electrical failure. Each unit comes with a standard tractor hydraulic hookup; lower the door at any time; very handy for agricultural or industrial applications. Specially designed built-in manual override allows the operator to lower the door in case of a power outage. Battery backup features that use a DC battery or drill to operate the door in either direction in case of an emergency, giving you a superior backup system for your door and peace of mind.
A WELL THOUGHT-OUT DESIGN... RED POWER PUMP... ONE OF A KIND
They're powerful... We're talking THE most Efficient Pumps with standard motors designed ready to lift any size door, at any time, all the time!
They're Reliable... Safe, Carefully Designed Hydraulic Pumps that operate at 95% efficiency.
They're Quiet... This amazingly smooth, quietly operating pump system.
MOUNTING STYLES:
Over the years Schweiss factory engineers rolled together customer comments, combined with high-tech design knowledge and experience to come out with perfection in a compact pump unit ready to be mounted anywhere you want it.
• Wall Mount • Floor Mount • Under the Bench • Back Room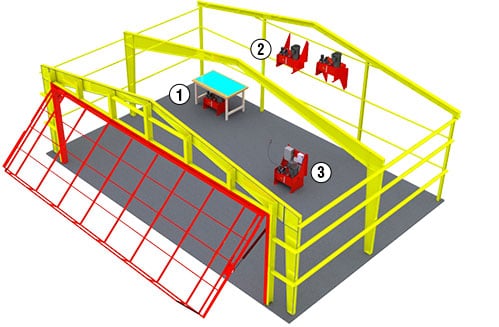 MULTIPLE PUMP MOUNTING OPTIONS... NICE FEATURE
1
- Under Workbench - Hydraulic power unit can be
placed under a workbench or anywhere in the room.
2
- Wall Mount: Up or Down - mount anywhere away
from the door opening or even in another room.
3
- Stand Alone Unit - Complete stand-alone hydraulic
unit can be placed anywhere in the building.
4
- Up/Down/Stop Switch - Mounted near the door opening.
5
- Electrical Control Panel - Can be mounted independently
from the hydraulic pump.