Never Been Done Before!
West Coast Self-Storage is a brand new 92,598 sq. ft. Class A storage facility that had to look very high end to blend in with the surrounding downtown area. The finished look was so clean that its hard to tell its a storage facility at all!

Owner Drew Bowlds got a brainstrorm one day to use two Schweiss bifold doors to create a covered loading area that looks like the rest of the buildings when in the closed position. He showed his architect pictures and he said, 'You realize this has never been done before!' The innovative solution allowed him to make the building larger and take space normally used used for fencing and converted it into profitable square footage. The door sizes are 35' x 19' and 27' x 19'.
Facebook Post from

Schweiss Bifold Doors
• Link to Schweiss Facebook
• Learn More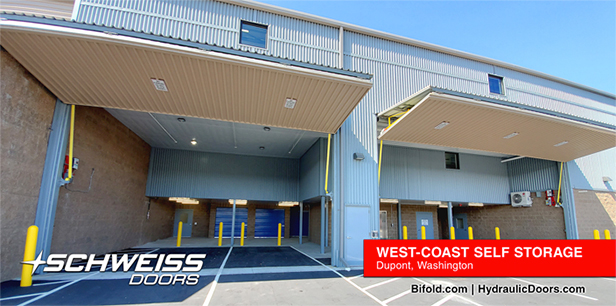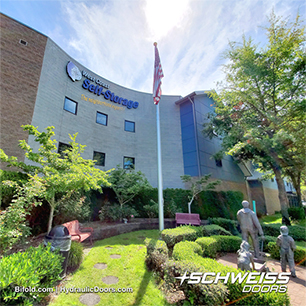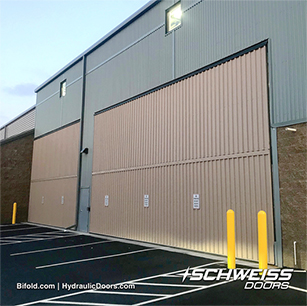 Looking For A Big Door?
Building big doors are Schweiss Door's specialty. This door in our factory is 120' wide, opens 28' clear when in the open position, overall height is 36' tall. Big enough to get your big equipment into your building. Door builders Ryan and Dan are busy getting this door welded up and ready to ship out. It's going to be installed on a hangar in Leesburg, VA.
Facebook Post from

Schweiss Bifold Doors
• Link to Schweiss Facebook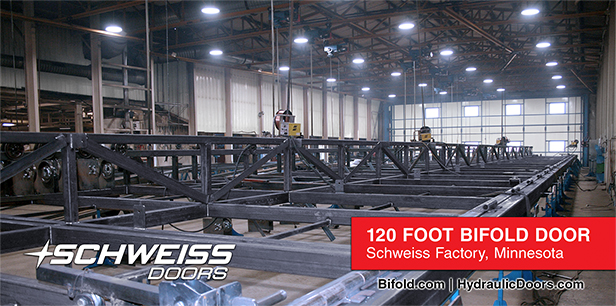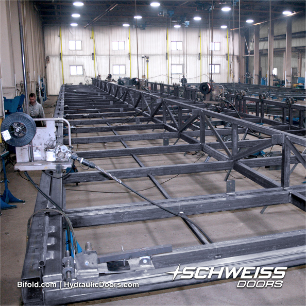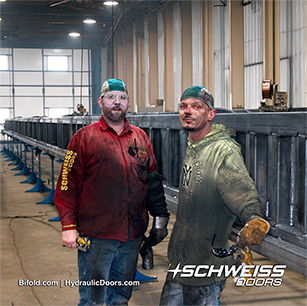 Hangar Door Displays Trophies and Memorabilia
Gary Huffman's mancave door is lined with an amazing assortment of hunting trophies and memorabilia. He spends a lot of time in his southern Michigan hangar that houses his 1978 Cessna 206 Stationair and 1948 Stinson 108 Voyager. The 44' x 11' Schweiss hydraulic door-wall opens completely for easy access to the outdoors.
Facebook Post from

Schweiss Bifold Doors
• Link to Schweiss Facebook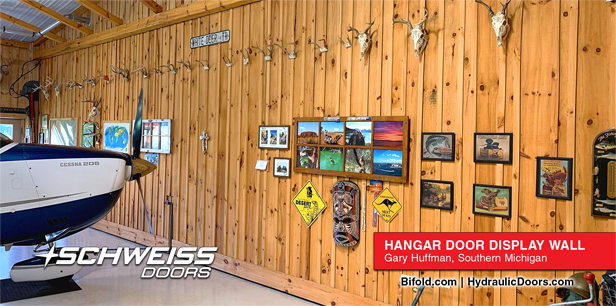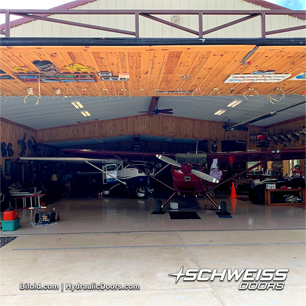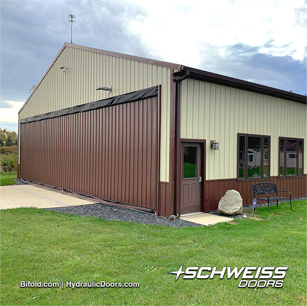 Schweiss Glass Doors Used At Vikings Practice Facility
The new Twin Cities Orthopedics Performance Center and Vikings football practice facility has two glass 20' x 14' Schweiss bifold liftstrap doors in the weight room. These doors lead outside to the outdoor practice fields. The weight room spans over 6,100 sq. ft. With scores of racks, weights and other conditioning machines. The campus sits on about 35 acres just south of Interstate 494 in Eagan. (Photos by Bergerson Photography)
Facebook Post from

Schweiss Bifold Doors
• Link to Schweiss Facebook
• Learn More