Important Information About Automatic Bifold Door Safety
Upgrade Equipment for your Automatic Bifold Door
While your Bifold Door opener provides convenience and security, it is important to follow some
basic safety practices. Your Bifold Door is probably the largest piece of moving equipment on
your building and can be potentially dangerous if adequate protection is not used. We offer
additional entrapment protection for your Automatic Bifold Door. You have a choice of upgrade
equipment.
Door Safety Tips
Do not use an open door canopy as an extended work area.
Do not stand, walk under, or ride on a moving door.
Do not let anyone play "beat the door."
Do not let children play wih or use the bifold door, transmitter, or remote controls
The push button wall control should be mounted out of the reach of children.
Unlatch the side latches before operating the door.
Never leave the electrical controls while the door is operating.
Keep door in full view and free of obstructions while operating.
POWER SHOULD ALWAYS BE DISCONNECTED whenever installing, wiring or servicing a door operator
or automated door system.
Visually inspect the door and its hardware monthly for worn or broken parts and out of adjustment conditions.
Keep the cables and liftstraps the proper tension and in good condition.


Diagram for any potentially hazardous locations related to operation of door.
Your door has a ______inch Wedge.
(Dimension D from A-1 Spec. Sheet)
Do not operate or overtravel
your door beyond its rated
Clear Height Opening
Note: This measurement
will be the same as the
clear opening height on
the original door contract
_______ft______in
This is the Clear Opening
Height for your Bifold Door.
(Dimension B from
A-1 Spec. Sheet)
Outside Of
Building
Inside Of
Building
Finished Floor
Distance for your Bifold Door.
ft.
in.
FLOOR LINE
3' Minimum
THREE FOOT MINIMUM
INSIDE GRAY AREA
3' Minimum
THREE FOOT MINIMUM
INSIDE GRAY AREA
6' or More depending
on door size
(This area varies depending
on your door height)
CANOPY GRAY AREA
(Varies with door size)
"STAY CLEAR AREA"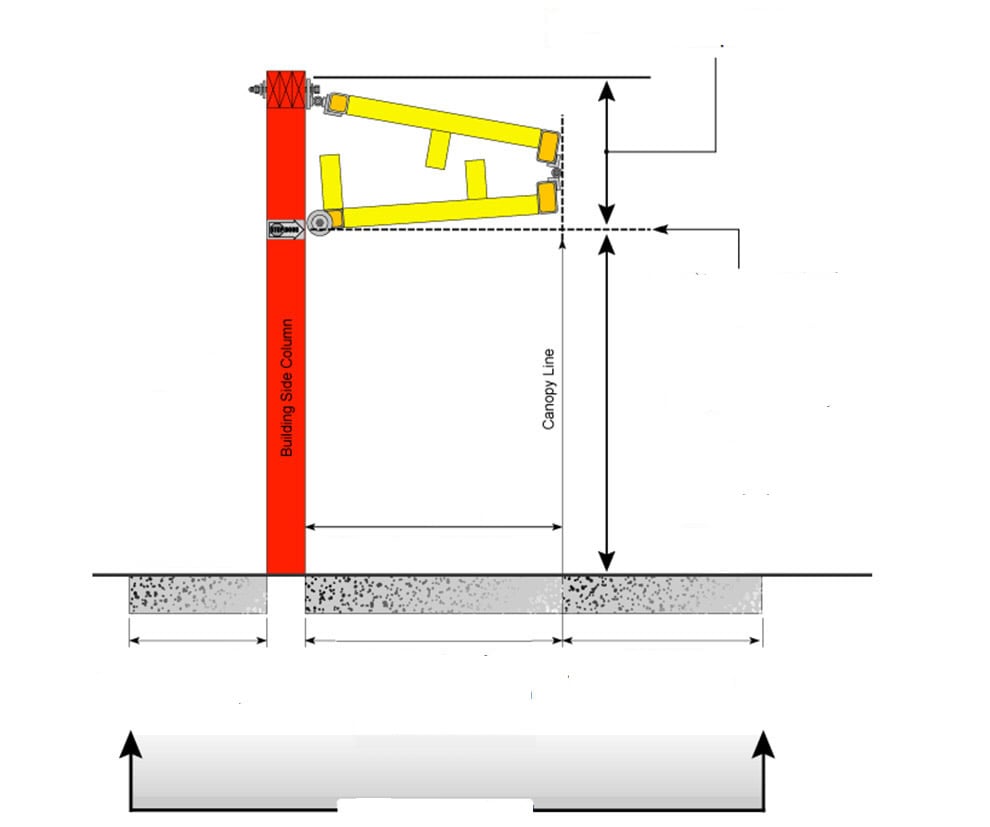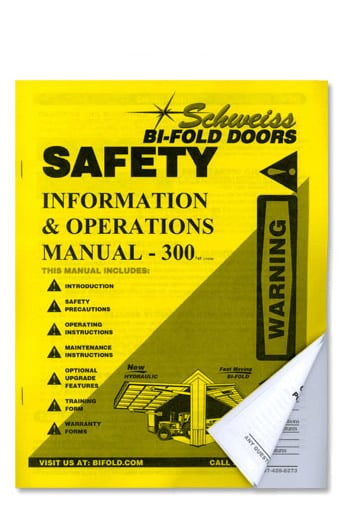 SAFETY INFORMATION
AND OPERATIONS MANUAL
DECAL PLACEMENT GUIDE