Push Button Convenience
Just push a button and your door will go up or down. Our doors are
powered with heavy-duty motors. We use aircraft cables or lift
straps on our power winches to raise and lower the door. You may stop
the door at any desired height and the door will shut off automatically
when it reaches the top or bottom. All of our doors are fused for safety!
It's So Easy! It's So Simple!
The beauty of it all is that it takes the chore out of opening and closing
your doors. Sliding doors are usually half closed, dangling in the wind,
and not very neat looking - but with an "Automatic Bifold," it's so simple!
A push of a button and your door will be closed, it's no longer a chore!
Up/Down Switch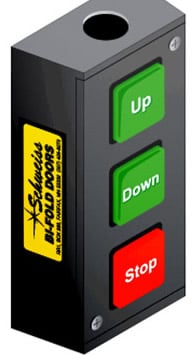 Automatic Limit Switches
Heavy-duty limit switch box interlocked with motor controls automatically
shuts the door off when it reaches its fully open or closed position. Each
bifold door has a recommended clear opening setting, by the
manufacturer. Do not over travel the door beyond the
recommended setting.
Front View - (8.5" x 0.25")
Cover Removed

An improper limit switch setting
could lead to severe property
damage, injury or death
IMPORTANT: DO NOT OVERTRAVEL
YOUR BIFOLD DOOR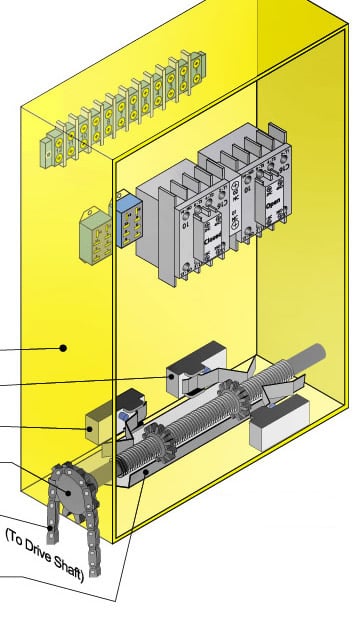 View From Standing
Inside Of The Building
Limit Box
Down Limit
Up Limit
Limit Sprocket
Limit Chain
Depression Plate

We provide an Electrical Disconnect to completely disable the door, for
service, maintenance and emergency backup operations. Mount the
disconnect so it is accessible from the floor level.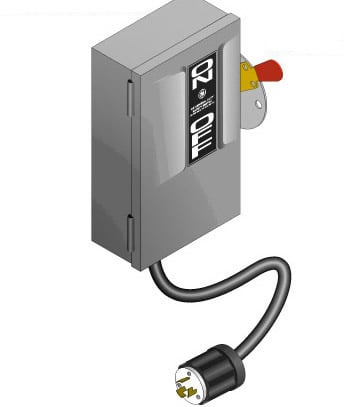 Fuse Disconnect Box
Kill Switch

Motor Sizes
We provide ample h.p. so you can stop your door at any position and change direction without lack of power. Motor sizes are 3/4
HP - 1 HP - 1 /12 HP - 3 HP - 5 HP. Each door has its own requirements. Motors are factory wired with high starting torque, reversible,
continuous-duty, class A insulated, comply with NEMA MG 1, and are sized to start, accelerate, and operate door in either direction from
any position. All electrical motors are fused and have overload protection.
VOLTAGE / PHASE - Electric Requirements for the bifold door:
We offer 110 volts or 220 volts single phase (3 phase is optional) - your choice. Door operators are pre-wired and factory tested,
complete with 24 V.A.C control system. Purchaser provides and installs conduit required.
Up/Stop/Down Switch (Standard)
The 3-way button lets you open/close/stop your door at any height. The motor stops when door reaches either the full open or
closed position.

Left Inside
LEFT OR RIGHT
Right Inside
The Bottom Drive Motor Assembly Is Pre-wired At The Factory Up/down/stop Switch.
Fuse Box, And Off Switch Are Included with your door.
Lay the electrical along the side of the height halves, string the cord through
any internal trusses on your door.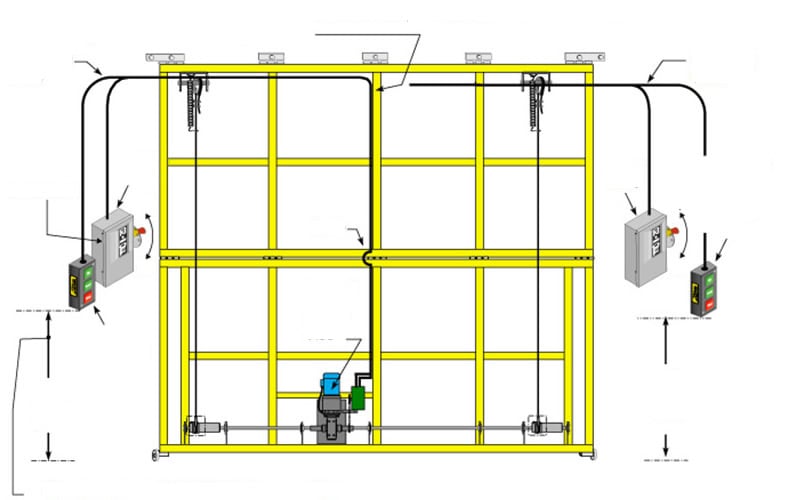 Fuse
Box
Kill Switch
Fuse
Box
Electrical
Cord
Electrical
Cord
Up/Down/
Stop
Control
Station
Up/Down/
Stop Control
Station
on
on
off
off
Loop
Bottom
Drive
Motor
Ass'y
5'
From
Floor
5'
From
Floor
Mount The Control Strip About 5' Off The Floor

The gear motor is equipped with an electric brake to stop and hold door in any position of door travel. Electric
operator is pre-wired and fully assembled. The motor and gear box and all necessary hardware are included.
All drive bearings come standard with grease fittings. Our heavy-Duty Components ensure you many years of use.
Bottom Drive Operators - Standard
Bottom Drive assembly can be easily inspected and maintained.