RV doors are taller than standard residential garage doors. Most large recreational vehicles (RVs) exceed 12 ft. in height, so in order to park them you need a tall and fairly wide door. Many people recommend a 14' x 14' clear opening on the door to avoid regretting buying too small a door. Double check the height of your RV; measure from mirror-to-mirror and from air conditioner to the floor. If the RV goes upward into the slope of the garage, your RV will gain height and you'll need a larger door. With fifth-wheels you need to measure the height of the truck/RV when they are hooked together. It will be easier to reduce your door size than to put a wider, taller door on the building. Plan your RV garage for your next bigger RV. RV's are getting bigger so RV doors need to get bigger too. When planning your door make sure there is room for your RV's side mirrors when going in and out of the garage door. Plan for the future, make your RV garage doors large enough to park your dream RV. You may want a door with enough room to move other equipment in and out while your RV is parked. A wider door can make room for an extra car, ATV, snowmobile or truck to sit alongside your RV.
Garages tend to be more expensive than a comparable carport, but it is with good reason to invest in a garage. Garages protect against sunrays at every angle and this will reduce exterior paint fading and not deteriorate the interior fabric. Garages can be built weathertight keeping seals tight and water damage away. Carports are open on the end and are susceptible to temperature changes and bad weather. This difference is even more apparent when the garage is insulated. Preventing extreme temperatures will prevent your RV battery from being worn by freezing temperatures. Garage doors can be opened to let in fresh air. Overall, the RV will have a better look, have less rain, sun, dirt, ice, and extreme temperatures to fight against. This will reduce depreciation of your RV for better resale and will give the RV a longer lifespan leading to less repairs and less upkeep.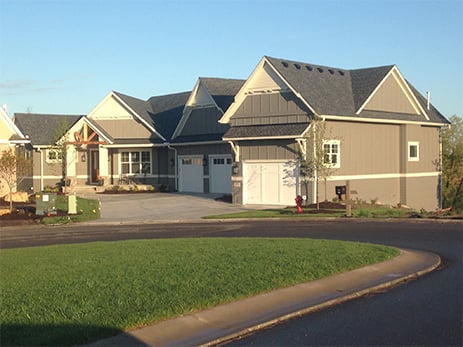 Bifold Doors are a great fit for your RV garage, and can protect your RV by securely locking. Schweiss Bifold Doors can lock with either Manual Latches, Strap Latches, or Arm Latches; your choice. Bifold Doors are designed to meet your needs, the door is custom built to handle expected load of desired cladding. These doors can be clad to match thr look of any surrounding buildings, and to meet zoning restrictions. Bifold Doors lift up and don't retract in; leaving space above your RV to work on the RV roof. This kind of door seals tight and saves on heating and A/C bills. Foam seal kits and weather stripping stops air from leaking around door. These doors can also be insulated well, further reducing heating and cooling bills. Snowloads needs to be considered with big doors. Snow can build outside the door. Snow removal outside the door will be less of an issue, because the door lifts up eliminating shoveling to get your door open. There is less stress on buildings with a bifold door. Strap doors have less parts, less problems, less maintenance and open faster than comparable cable doors.
Windload on doors needs to be considered. Replacing a damaged door can be costly in high wind hurricane and tornado prime regions of the country. A strong RV garage door is important to outlast hurricanes, strong winds, and tornadoes and can add strength to your building. Your door has to be designed for the windload of where the door is installed. Bifold Doors can be wind rated for 100 mph plus.