SCHWEISS HAS THE BEST PUMP ON THE MARKET
SCHWEISS DOORS HAS TAKEN EXTREME PRIDE IN INTRODUCING ITS NEW POWERFUL RED AND GREEN POWER PUMPS TO THE WORLD.
From the minute you press the control button on your handy remote control, you'll be amazed at how this door functions. It's everything you want it to be and more.
The unit has all the bells and whistles and comes with single or 3-phase electrical components. Easy to read psi pressure gauge, service filter and fluid temp gauges let you know that the door is always working properly and at full capacity. Everything is in one compact hydraulic pump unit powered by 2, 3, 5 or 10 horsepower motors to safely lift even the smallest or heaviest doors and seal them tightly.
The Schweiss Safety Advantage allows the door to lock up and down or safely lower or raise your door in case of electrical failure. Each unit comes with a standard tractor hydraulic hookup, lower the door at any time, very handy for agricultural or industrial applications. Special designed built-in manual override allows the operator to lower the door in case of a power outage. Battery backup features which use a DC battery or drill to operate the door in either direction, in case of an emergency, superior backup systems for your door and peace of mind.
A WELL THOUGHT-OUT DESIGN... RED POWER PUMP... ONE OF A KIND
They're powerful... We're talking THE most Efficient Pumps with Standard Motors designed ready to lift any size door, at any time, all the time!
They're Reliable... Safe, Carefully Designed Hydraulic Pumps that operate at 95% efficiency.
They're Quiet... This amazingly smooth, quietly operating pump system.
MOUNTING STYLES:
Over the years Schweiss factory engineers rolled together customer comments, combined with high-tech design knowledge and experience to come out with perfection! Perfection in a compact pump unit ready to be mounted anywhere you want it.
• Wall Mount • Floor Mount • Under the Bench • Back Room
Wood on a moving doorframe...
Did you buy an all-steel door? Did you expect to get wood on your steel door? Substituting wood in place of steel doesn't add structural value to the doorframe. It makes for a poor connection and weaker doorframe assembly. Wood may shrink over time and may split! Tec screws used to fasten wood to the doorframe may wiggle loose over time, weakening the connection.
SCHWEISS
NEVER

USES WOOD ON THEIR HYDRAULIC DOORFRAMES
BUILDS A BETTER DOOR!
LARGE CYLINDERS
WITH
SPHERICAL BEARINGS
DOORS ARE ALWAYS MOVING AND FLEXING
Hydraulic doors are large in size and just like an airplane wing, the door frame flex during operation. The hydraulic cylinders on each side of the doorway are connected to the door frame and the building using spherical bearings. The spherical bearings accommodate the flexibility of the door frame while at the same time allowing the cylinders to raise and lower the door without binding on the hydraulic cylinder pins and brackets. Spherical Bearings on both ends of the cylinder allow the cylinders to stay straight through the full range of motion.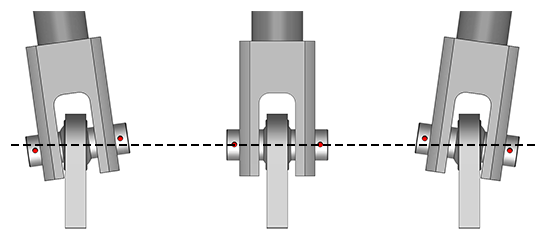 Allows for Flexing
Stays Straight
Allows for Flexing

Rod Stays Straight
Pins have even forces on them when the door is in any position
Lower tear drop plate is mounted to moving doorframe
"No one else in the industry offers this unique feature" only on Schweiss Doors...
"OUR NEW WRAP-AROUND HINGE DESIGN SETS THE NEW STANDARD FOR HYDRAULIC DOORS"
SCHWEISS FOUND A BETTER WAY OF DOING IT!
Schweiss doorframes are designed with double push tubes that are tied directly into the wrap-around hinges that connect both vertical push tubes directly to the header tube. The advantage of double push tubes is that forces of hydraulic cylinders are evenly distributed to the doorframe and the wrap-around hinges.
"There have been hydraulic doors with hinge welds that failed, literally tearing off the doorframe and destroying the door," Schweiss says. "Our design team provided a more durable wrap‑around hinge with grease zerks that are accessible without removing the top rubber seal."
Strongest hinge assembly on the market
The Push Tubes Tie directly into the hinge assembly
( Patent Pending )
ROBUST HINGES SELL THE DOOR
Schweiss has engineered a robust hinge design unlike anything available on the market today!
SCHWEISS ROBUST HINGES
The Schweiss robust hinges are designed to withstand the door weights and hydraulic forces of the cylinders as the door opens.
ONE SET OF TOP HINGES
Hydraulic doors operate with one set of top hinges. These hinges need to be strong enough to support the door weight and the hydraulic cylinder forces when opening; unlike a bifold door that shares the load between the top hinges and the center hinges.
UNIQUE HINGE DESIGN
The unique hinge design incorporates heavy hinge plates that wrap around each vertical push tube for added rigidity. Without this wrap around design, the doorframe members can be overstressed and begin to tear apart from the door weight and hydraulic forces over time. This won't happen with a Schweiss Door!
THE HINGES MAKE THE DOOR...
Your door is only as good as its hinges!
Take one look at the Schweiss hinges and you will clearly see the workmanship, strength and functionality of each hinge. The Schweiss hinges are bigger... stronger... heavier.
THEY ARE THE BEST HINGE ON THE MARKET!
The door weight and hydraulic forces pull down on hinge when door is opening.
WHAT DOOR CUSTOMERS ARE SAYING...
• "The hinges sold me."
• "The Schweiss team hit a home run by putting grease zerks in their hinges."
• "Now that's a Serious Hinge, You guys have it figured out!"
• "Oh My, nothing comes close to it. Professionally done!"
• "Nothing on the market that even come close to the Schweiss hinge design."
REMOVABLE HINGE PINS...
• Removable hinge pins are a better design... They are never welded in solid on a Schweiss door.
• Schweiss hinges can be easily greased for a longer hinge life.
• Schweiss hinges distribute the door loads evenly across the doorframe and header tube for longer hinge life,
giving you longer door life!
THE SCHWEISS QUALITY...
• GREASEABLE HINGES for longer hinge life... No bushings to wear thin.
• We take no shortcuts... All hinge pins are removable.
SCHWEISS WRAP AROUND HINGES MAKE ALL THE DIFFERENCE
COMPARE THE HINGES FOR YOURSELF YOU WILL SEE THE DIFFERENCE!
( Patent Pending )
OTHER HINGE DESIGNS BELOW . . .
Have nonremovable hinge pins - welded in solid.
Use lighter weight hinge pins.
Are impossible to grease, without grease zerks on the hinges.
Use bushings that can wear thin over time.
Are difficult to maintain / repair.
GREASELESS HINGES ARE NOT A SOLUTION . . . JUST A SHORT CUT!
Surface welded hinges.
Have grease zerks that are not easily accessible.
Have light gauge hinge connections.
Use smaller hinge pins.
THESE HINGES HAVE BEEN TRIED BEFORE . . . AS YOU CAN SEE THEY DIDN'T HOLD UP!
HINGES TORE OFF THE HYDRAULIC DOORFRAME HEADER
WELDS BROKE LOOSE
WHAT'S AN ORPHAN DOOR?
A few short years ago, another company went belly up. Its customers told us they lost deposits, and were left with an "Orphan Door". They had doorframes and hinges tearing apart, and no company left to call on for support. Don't let yourself end up with a mess like this.
DON'T GET STUCK WITH AN ORPHAN DOOR!
Schweiss Doors has been doing doors over 36 years and is still going strong
FAILED ORPHAN DOOR
Problems getting their door
Problems getting their door components
Door was recieved, less the major components hydraulic pumps or cylinders
Paid the door deposit required to start the order and has been waiting and waiting
Stopped taking calls
SCHWEISS WILL MANUFACTURE YOU A DOOR AND DELIVER IT!
ESTIMATED 6 WEEKS DELIVERY TIME
DO YOUR RESEARCH BEFORE YOU PURCHASE YOUR NEXT DOOR!