Schweiss Lift Straps vs Cables
Schweiss offers the choice of Lift Straps or Cables because the customer comes first and we want that customer to be happy with their Schweiss Bifold Door. Both are great choices. Please read the following to learn more about their benefits.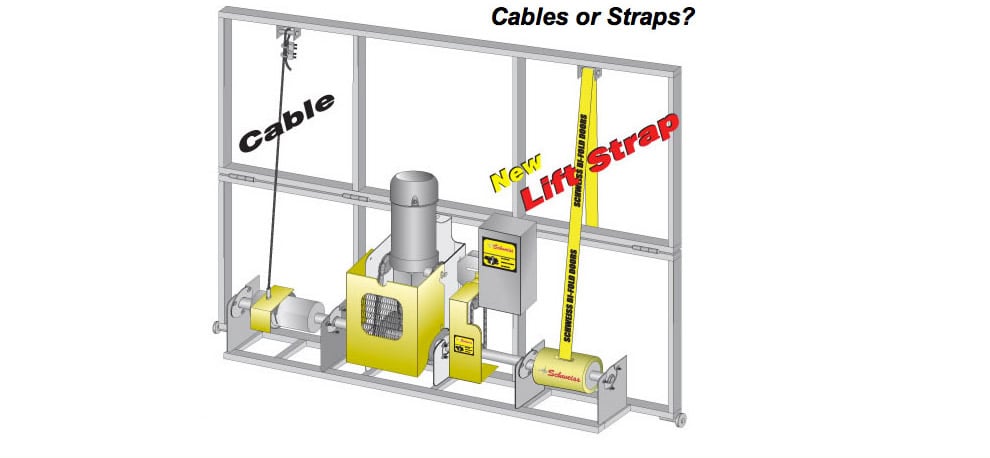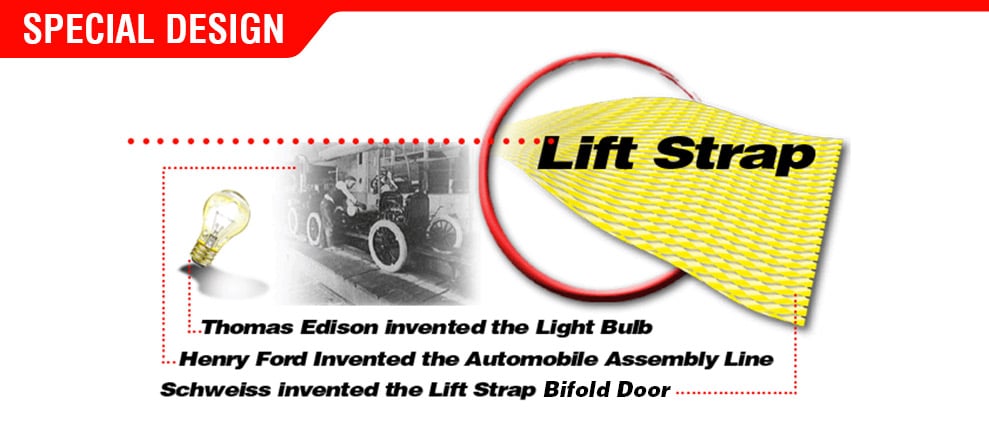 The Lift-Strap System utilizes polyester material, which quietly wraps on a take-up spindle when the open or close button activates an electric motor. Tensile strength of this poly strap is a whopping 29,000 lbs! The polyester straps never rust, making them more durable and longer lasting than steel cables. Heavy duty poly strap replaces noisy, high- maintenance steel cables. The patented poly strap system is unique with Schweiss Manufacturing. Virtually every Bifold door sold by Schweiss now leaves the rural Minnesota plant with the LIFT-STRAP system included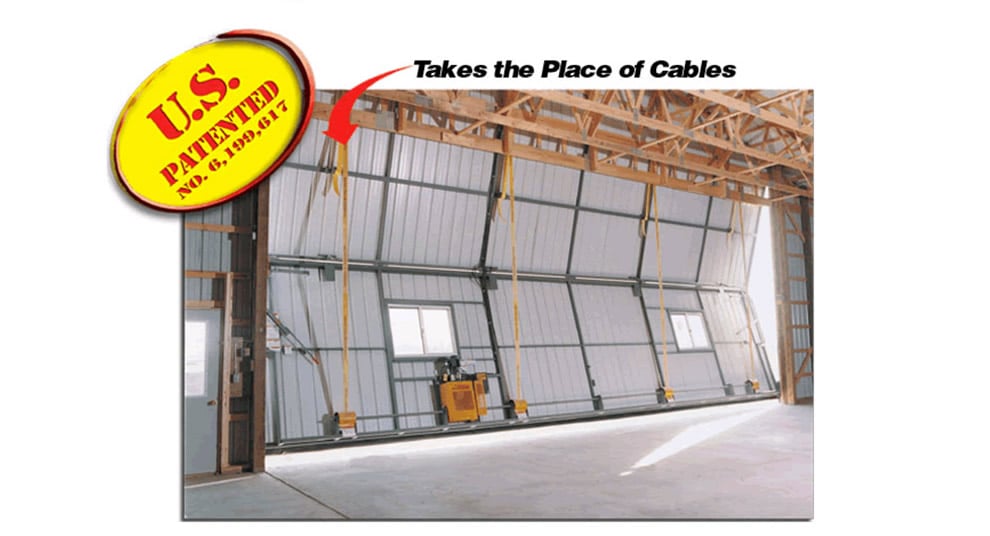 We have introduced a new way to lift our bifold doors. Now available are our new patented, "lift straps" that take the place of steel cables to raise and lower your door. The lift straps make our door Faster, Safer, Simpler, Easier, and Quieter than any other bifold door available to you on the market today. Schweiss Bifold Doors is constantly on the move, trying new and better ways. Our business Goal: Give the best money can buy at very affordable prices.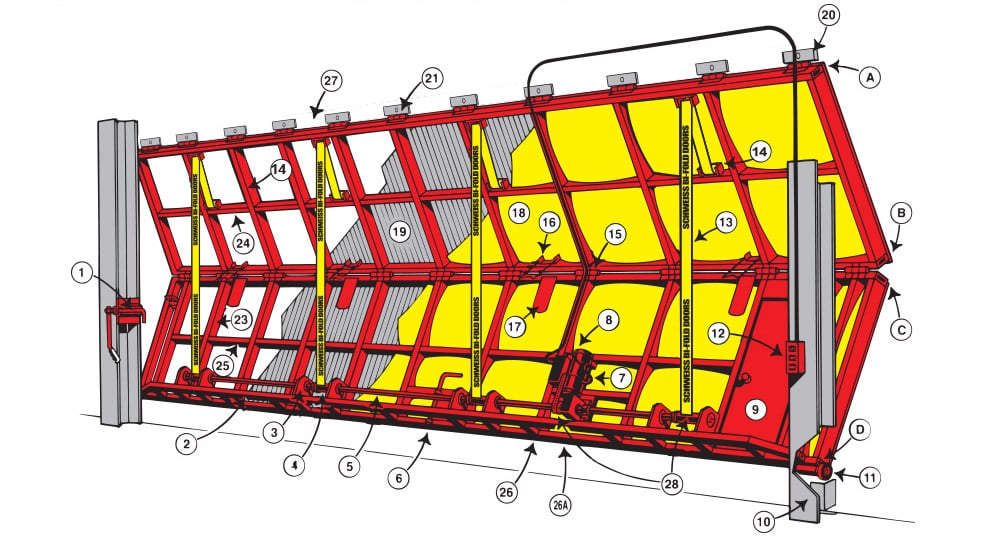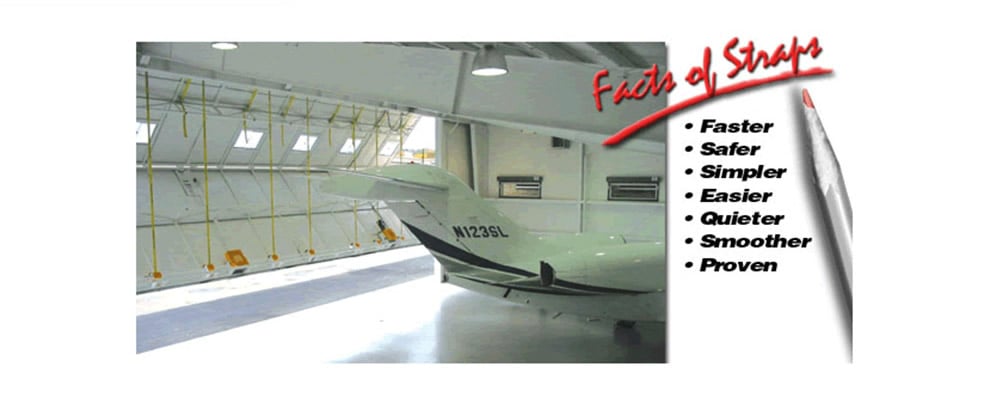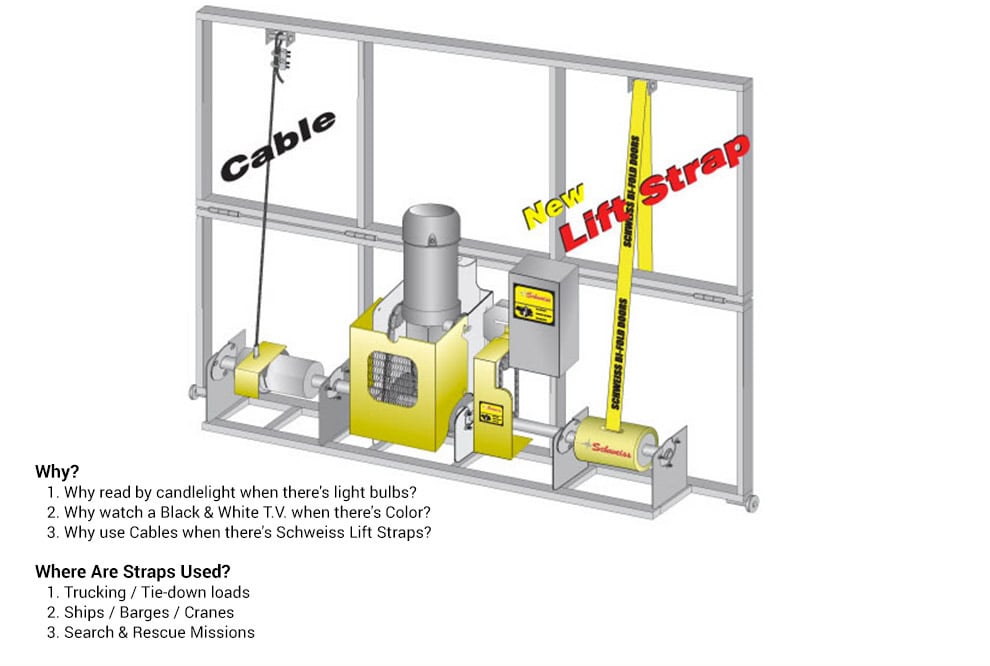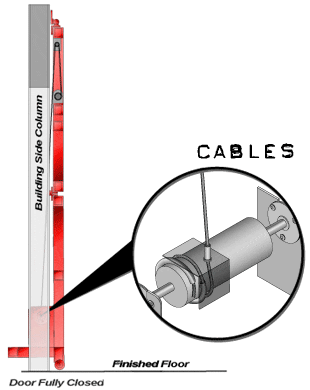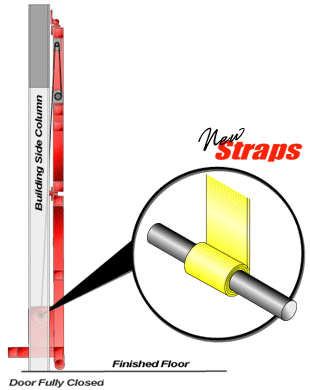 How does the new "LIFT STRAP" work?
The strap wraps around the lift drum as the door opens, increasing the circumference of the drum. The larger the drum's circumference, the faster the door opens. It's ideal: the door opens slowly then picks up speed. It's a clean, strong design. It's quiet, it's simple, and the door opens faster.
Why Did We Switch?
Because customer satisfaction is our #1 mission. And when customer after customer comments, "Your lift strap system is perfect," about all we can say is THANK YOU! But we'll keep trying to make it even better! And what better proof of a 'better mousetrap' than satisfied customers? Since the first Lift Strap system was installed in 1998 on a 40' Schweiss Bifold door on a Hector, MN airport hanger, Mike Schweiss reports:
We have yet to hear of a failure!
We have yet to do a replacement!
We have "Lift Strap" systems in place on Bifold doors in all 50 states, Europe and Asia.
How Do You Know The Straps Are So Reliable?
All our straps are made of polyester material that has an indefinite working life. We did vigorous in-house testing of the New Lift Strap System, the equivalent of 20+ years of conventional usage, without a single malfunction. The polyester material we are using has remarkable strength. That is why we confidently provide a 10-year warranty on our Lift Strap system. Like the 'Energizer Battery'our customers are finding Lift Strap systems keep working and working and working.
Can I Still Get Cables?
The cable lift system is still avaliable, but that is rapidly changing. Already 90% of our doors get ordered with the new Lift Strap System so it is obvious customers are catching on fast and for all the right reasons...faster, safer, easier, and quieter.
Can I Put Straps On My Existing Schweiss Bifold Door?
Yes, our older Bifold doors can be retrofitted with the Lift-Strap System. Yes, the Lift Strap System can work on Schweiss doors, depending upon the construction and mechanics of each particular door. However, I would not advise that it would work properly on EVERY bifold door, regardless of manufacturer.

FASTER
Straps will increase the opening/closing speed of the door because the strap wraps on the lift drum, the drum circumference increases, which in turn increases the "wrapping speed."
SAFER
Definitely Safer - no frayed cable strands to contend with. 3" strap can lift 29,000 lbs where as 1/4" cable can only lift 7,200 lbs.
FLEXIBLE
Straps are very flexible, which means longer life span than cable.
QUIETER
Straps are 100% quieter because it's fiber against steel instead of steel against steel.
SMOOTH
Straps run smooth, so there's no such thing as a "jerk" start.
ALIGNMENT
Straps never get tangled or crisscrossed.
LOAD
Straps evenly distribute the load on the door.
LIFE
Straps will outlast cables by three times the life of cables. The polyester straps are more durable than steel cables.
WARRANTY
We offer a 10 YEAR WARRANTY on original lift straps.
CONVERTING
Schweiss has conversion kits available to adapt most present doors with cable lift to the new "Lift Strap." Check with factory.
STRAP STRENGTH FACTOR
Safety factor on the straps is well over 5:1 safety factor. Strength-to-weight ratio on our straps is extremely high.
• 3" Straps are rated at 29,000 lbs.
• 1/4" cables are rated at 7,200 lbs.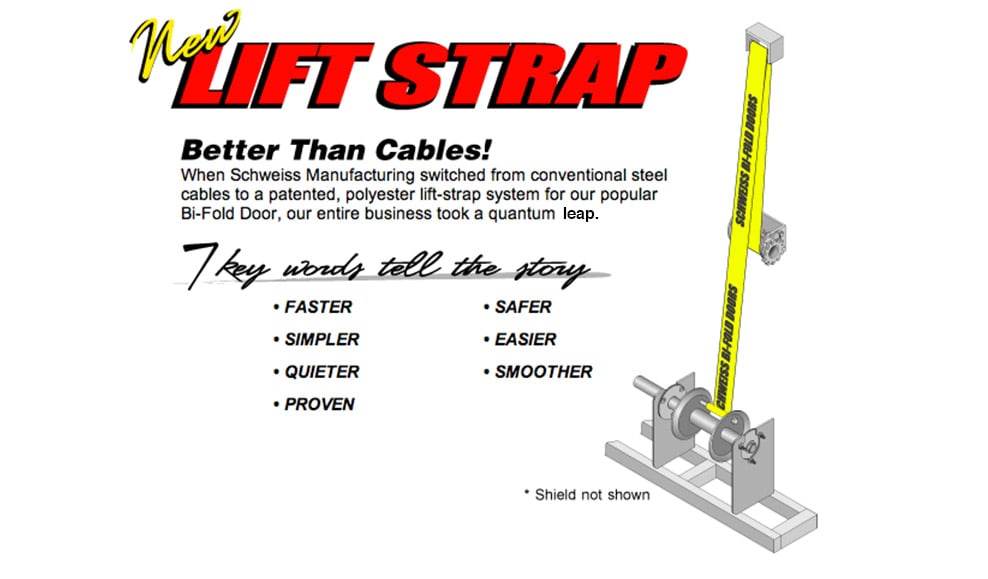 Cables have been a standard with our Schweiss Bifold Doors for many years because they really work nice. We provide you with a strong aircraft type grade cable, which provides security, safety and an even lift.
On Cable Doors...
We use heavy 1/4" aircraft galvanized steel type lifting cables. The number of lift cables depends on the size of the door. All cables are sized and the lifting drums are in sufficient amount to give 5:1 safety factor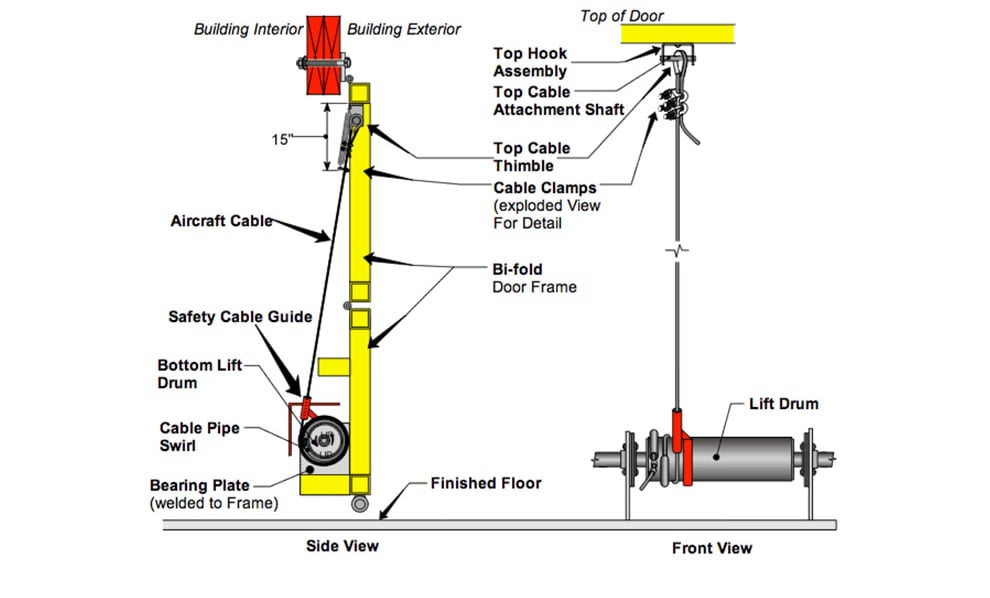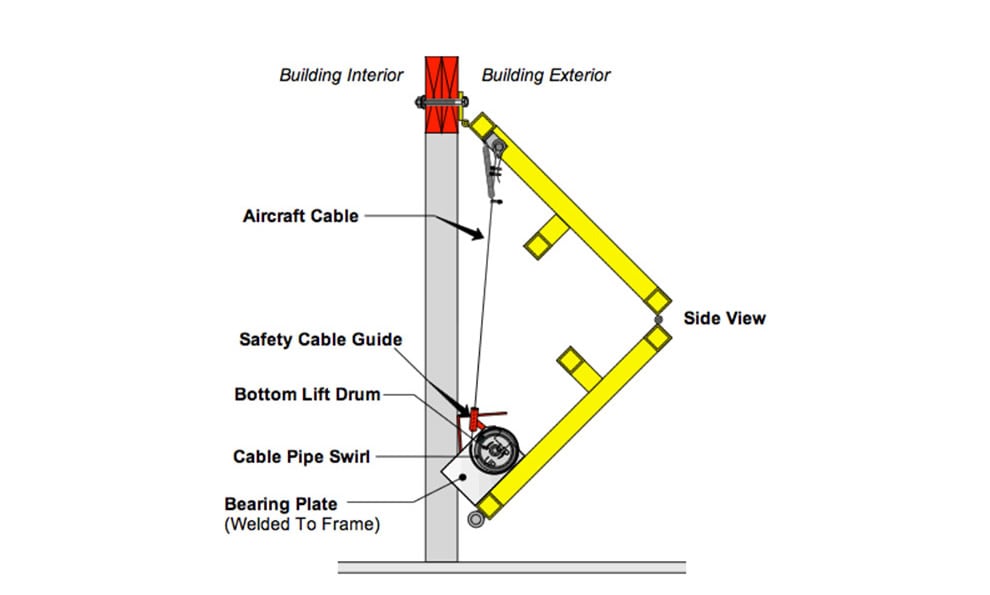 Company Goal
Our company's goal is to provide the customer with options that will meet or exceed their needs.
This is why we offer both Cables and Lift Straps