Customers Welcome Greasable Hinges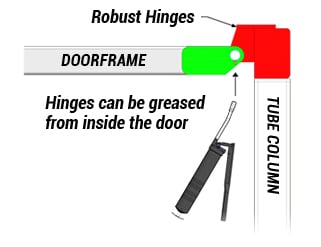 HINGE SURFACE AREA
Hinge surface area is critical on large moving doors. Over the years, we all have heard of hinge failures on others doors. Large hydraulic cylinders are putting extreme forces on each of the outer hinges of the doorframe. Schweiss has designed and patented a robust hinge with more surface area to evenly distribute the loads of a moving one-piece doorframe. Look at the hinge surface area. The stresses on the very outer hinges are immense. With that being said, take one look at the patented Schweiss hinges and you'll clearly see the workmanship, strength and functionality of each hinge.
GREASEABLE HINGES
It's very important to be able to grease the door hinges with a heavy viscosity grease. When grease is used on the hinges of a large moving door it avoids unnecessary wear and adds longer life to the hinge and the doors operation. It's a common manufacturing practice to use grease on the critical wear points and load points to avoid unnecessary wear just like in the industrial equipment world with implements such as payloaders, skidloaders and other industrial equipment that are being operated around the clock.
The new hinge design with grease points on every hinge segment enables owners - whether they be private individuals or commercial customers - to periodically grease their hinges from inside the doorframe without having to go through the cumbersome process of first removing the top rubber weather seal.
Advantages of Grease
Using grease on the hinges is a better method of lubrication.
Using grease on the hinges is the industry standard.
Using grease on the hinges makes for a quiet door.
Using grease on the hinges makes for a smoother operating door.
Using grease on the hinges extends hinge life
Greasable hinges last forever.
Look at the Schweiss hinge, it has more lubricated surface area to give you longer life
Others rely on bushing FOR LUBRICATION
Doors move and flex as they open and close. The forces on each hinge vary during operation.
Not all bushings wear evenly.
Bushing wear thin over time.
Worn bushings offer less lubrication.
Less hinge surface area to distribute the door loads across the door header tube.
No way to inspect the bushings when the hinge pins are welded in - not removeable for inspection.
Almost impossible to replace the bushings when the hinges pins are welded in solid.
greasEable hinges LAST FOREVER!

. . . only manufacturer to offer greasable hinges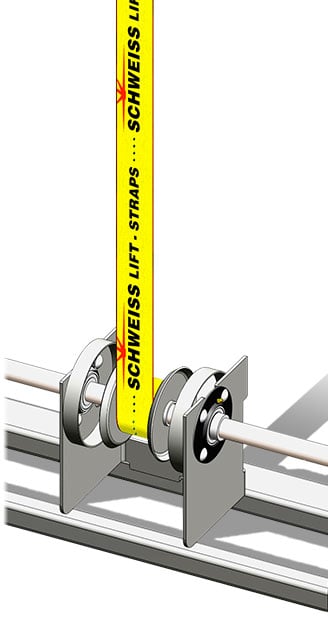 STRAPS
IN USE FOR 20 YEARS
TRIED, TESTED, PROVEN Patented
LIFT STRAPS
LIFT STRAPS

ARE A BETTER SOLUTION
LIFT STRAP BIFOLD DOORS...
Straps are rated
for 29,000 lbs
LIFT STRAPS ARE BETTER THAN OUTDATED CABLES
Some manufacturers still continue to try and sell outdated cable lift bifold
doors - cable doors that not only require frequent maintenance due to fraying,
overwrapping or strands breaking, but also open much slower, are hard to adjust,
are not as reliable as straps, and are noisier than liftstrap doors. Straps are a better design !
Once You Try "Lift Straps" You'll Never Go Back to Cables
Schweiss's excellent success with the New Lift Straps has revolutionized the door industry. It's a no-brainer. Why bother with cables? It becomes obvious when you understand why the new patented Lift Straps are the smarter way to raise and lower your bifold door. Smoother, safer, faster and quieter. Like a customer once said, "My strap bifold door is the envy of my fly-in community. I'm happy I bought the Schweiss Door!"
"Lift Straps" Tested and Proven
For years, bifold doors have been lifted and lowered by the conventional means of steel cables. Schweiss Doors have been using the popular, long-lasting lift straps for over 20 years. Now 99 percent of our customers are demanding polyester lift straps for this function. Why? Because lift straps offer more lifting ability, won't fray or overwrap! The strength-to-weight ratio on straps is extremely high. The 3-inch straps are rated at 29,000 lbs, where 1/4" cables are rated at only 7,200 lbs. In addition, the safety factor on straps has well over the standard 5:1 ratio.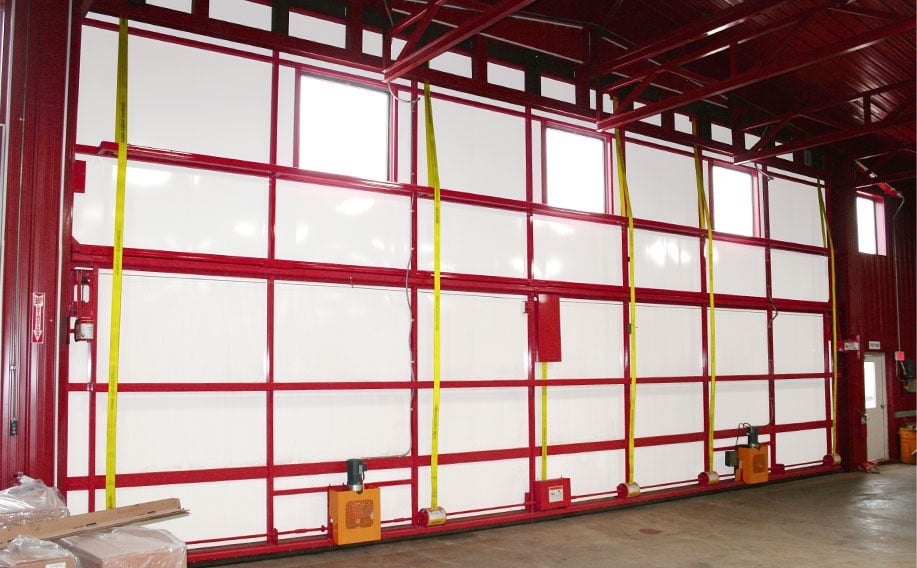 P.S. Has anyone ever converted a strap door back to cables . . . I don't think so!
OTHER CABLE DOOR MANUFACTURERS ARE FIGHTING BACK
BY ADDING NUMEROUS LIFT POINTS
The only reason a cable door manufacture would add more cable lifts to a door is because cables are not as strong as lift straps. More cable lifts means more maintenance, more expense - why fight the outdated cable concept and costs involved! Using more cables may translate to less load per cable, but who wants more cables if cables are already known to cause headaches and loss of time to replace (they are known to break when you least want them to, for example during harvest, in 20-below weather, etc.)
BY OFFSETTING THE CABLES AS THEY WRAP UP ON THE LIFT DRUM
Offsetting the cables during lifting of a bifold is a great concept, until your cables don't have the proper tension. Then you end up with messed up cables again! Unlike straps that wrap on top of each other. Tension is never an issue with lift straps nor do they get messed up. Straps are a perfect design... trouble free. Using lift straps saves you from all those headaches.
STRAPS ARE A BETTER DESIGN THAT
SOLVES ALL THE OUTDATED CABLE DOOR ISSUES
Schweiss Lifts straps have proven to be by a far superior method of lifting any bifold door. Lift straps wrap on top of themselves by design, elimnating any common cable issues, like overlapping, rubbing and fraying. Lift straps are much quieter than cable doors!
STRAP CONVERSION KITS:
YES, "STRAP CONVERSION KITS" ARE AVAILABLE. "THE WORD IS OUT!"
Schweiss will do strap conversions on other brand bifold doors, no matter the make or model. Schweiss has recieved thousands of calls from existing outdated cable bifold door owners wanting to retrofit their outdated cable door system to the "Schweiss Patented Liftstraps"
Best Testimonial Ever
Schweiss has received thousands of calls from owners of existing outdated cable bifold doors
wanting to retrofit their outdated cable lift system with the Schweiss "Lift-Straps system."
WITH A BIFOLD DOOR - YOU GET MORE...
The bifold doors have been around for many years and the unique design has made Schweiss bifold Doors the leader in the market. Schweiss Bifold Doors have design features built into the door that make the bifold door stand out in a class of its own. Below we list some of the designs that make the bifold a good choice.
NEW "LIFT STRAPS" - OPEN DOOR EVENLY, SAFELY & PROVIDE LONGEVITY
The bifold doorframes are raised open with our patented heavy-duty lift straps that are evenly located throughout the entire doorframe to provide even lifting of the doorframe. bifold doors are lifted upward with nylon lift straps rated at 29,000 lbs. tensile strength. The nylon straps attach to the bottom of the doorframe at multiple locations that provide even lifting of the doorframe. These straps never bind or make noise like a cable lift door.
NO PULLEYS NEEDED WITH LIFT STRAPS
• Lift straps wrap around a spool to raise and lower yout door while increasing the operating speed and make a very quiet door.
• Lift strap doors DO NOT require pulleys. A very nice design. Less parts, less problems, less maintenance.
TWO-PIECE BIFOLD DOORFRAME
• Bifold doors have two sections, a top half and a bottom half that provide many design advantages.
WHY A TWO-PIECE DOOR?
• A two-section door hangs out half the distance of other doors - putting less stresses on your building.
DOOR WEDGE - MEANS LESS STRESS ON YOUR BUILDING STRUCTURE
When a bifold opens the doorframe folds into a "V" or a wedge acting as a huge truss supporting each of the two bifold door sections. The larger the wedge the less stress it exerts onto the building structure.
HINGES
Bifold doors are designed with two sets of hinges to share the loads of the the doorframe.
Schweiss believes in strength and safety.
MULTIPLE LIFT POINTS
Our door in the open position has multiple lift points that evenly support the door. The multiple lift points are spaced evenly across the entire width of the doorframe that attaches to the building structure, carrying the door loads more evenly to the attaching points on the building resulting in less stress on the building.
WEATHER ELEMENTS
Bifold doors when in the full open position have a slight slope to provide drainage to your door... The unique design is standard on all Schweiss Bifold Doors and is the only door on the market that allows any moisture, water or snow to flow off the door section in the open position.
When a door is mounted on a side wall of the building all the roof moisture that comes off the building onto your open door must be able to flow off the door covering. This is all possible with a bifold door because of the natural slope built into the bifold door wedge.
BIFOLD DOOR PARKING
Bifold Doors Lift Up And Out As The Door Opens
Bifold doors have a huge advantage when opening, they start by raising upward, requiring less operating space in the front of your building. The area in front of your large door opening is very valuable space, the two-piece bifold allows more usable space in front of your door opening. Bifold doors are simply a real space saver.
YOU GET MORE....WITH A BIFOLD DOOR