Schweiss Doors of Fairfax, Minnesota, USA have been on the market for over 30 years. We manufacture two great styles of doors, the New Red Power Hydraulic doors and the famous "Lift-Strap" Bifold Doors - successfully for 14 years. What some people don't know is that they've evolved with the times and many improvements have gone into them, creating a product that everyone is wanting!
Market Shaking Invention
The most obvious 'market shaking' improvements for the Bifold Door is the addition of the patented lift-straps and the strap autolatch systems - two features not offered by any other door manufacturer. Schweiss Lift Straps have revolutionized the door world by opening and closing much more quickly. quietly and effortlessly. Not only are they safe, but they're also easy to install, and they're much longer lasting. It's a win-win for the customer and strap doors are leading in the door world. Word is spreading fast.
"Lift Straps" Tested and Proven
For years, bifold doors have been lifted and lowered by the conventional means of steel cables. Schweiss Bifold Doors have been using the popular, long-lasting lift straps for over 14 years - now 94 percent of our customers are demanding polyester lift straps for this function. Why? Because lift straps offer more lifting ability, won't fray or overwrap! The strength-to-weight ratio on straps is extremely high. The 3-inch straps are rated at 29,000 lbs, where 1/4" cables are rated at only 7,200 lbs. In addition, the safety factor on straps has well over a 5:1 ratio.

Everyone's Fed Up With Cable Doors
Cables are the old way. Everyone knows cables can over time have a tendency to fray. Frayed cables can break and doors can come crashing down on aircraft, machinery or even people. Cables require more servicing, are hard to work with and difficult to replace. Replacing cables with cables is a timely and costly expense, and can be a real safety issue if the cables are not kept in good condition.
Once You Try "Lift Straps" You'll Never Go Back to Cables
Schweiss's excellent success with the New Lift Straps has revolutionized the door industry. It's a no-brainer, why bother with cables, it becomes obvious. You'll understand why the New patented Lift Straps are the smarter way to raise and lower your bifold door, smoother, safer, faster, quieter. Like a customer once said:
Huge Advantage - 10 Year Warranty
The strap advantage is huge, straps are longer lasting, never rust, never tangle, are flexible, open a door faster and are 100 percent quieter than steel-on-steel cables. With lift straps, door owners get a "soft start" and "soft stop", adding to the life of the bifold door. Schweiss stands behind the "New Lift Straps" by carrying a 10-year warranty and straps outlast cables well over three times.
"How Can You Say that "Lift Straps are the Best?"
Schweiss has been receiving calls from door customers all over the country asking if they can modify or retrofit the "Schweiss Lift Straps" on their existing doors that currently are operating with a cable system.
"I know it's not your bifold door, but can we buy just the 'Lift Straps' and
change my door over?"
"We have seen our neighbor's doors with your lift straps, would it be
possible to convert/switch over my door to the 'Schweiss Lift Straps?'"
I just purchased a new Schweiss Door six months ago with lift straps and
we have two of your Schweiss doors with cables. Do you have a kit to put
'Lift Straps' on my older cable doors? We are really happy with the New
Strap design!
"I have an older model Schweiss Bifold Door, can we change over
to the 'Lift Straps', what's the cost, and is it possible?"
Schweiss has designed and figured out a way to modify any bifold that's ever been manufactured. Retrofitting an existing cable door over to the Patented Schweiss design "Lift Straps" has brought relief to the customer with the old vintage cable bifold doors. Finally the customers with cables can be at ease, they're able to do away with the antiquated cable lift design and retrofit any style door over to the latest and greatest Schweiss Patented "Lift Straps."
Comments from customers who did the conversion:
• " The Strap conversion made my door better than new! "
• " What a nice Improvement to an older door! "
• " The straps and auto latches -- what a great improvement! "
• " You guys are good, thanks for the neat invention! "
• " Should have done the strap conversion years ago! "
• " If anyone asks. send'em my way and I'll be your salesman. I love my door now! "

We have introduced a new way to lift our bifold doors. Now available is our new, patented, "lift straps" that take the place of aircraft cables to raise and lower your door. The lift straps make our door Faster, Safer, Simpler, Easier, and Quieter than any other bifold door available to you on the market today. Schweiss Bifold Doors is constantly on the move, trying new and better ways. Our business Goal: Give the best money can buy at very affordable prices.
Schweiss designed and patented a custom made polyester Lift Strap that provides a new alternative to steel cables unlike any on the market to open bifold doors. The Schweiss Lift Strap is durable and lasts longer than steel cables. It requires less maintenance and it is very easy to replace. Eighty percent of our customers are demanding the popular "New Lift Straps" on their Schweiss Bifold doors.
How Does the new "Lift Strap" work? The strap
wraps around the lift drum as the door opens,
increasing the size of the drum. The larger the drum's
circumference the faster the door opens. It's ideal: the door
opens slowly at first and quickly picks up speed, a nice safety
feature. It's a clean, strong design. It's quiet, it's simple, and
the door opens faster.
With the new "Lift Strap," Schweiss also offers a new strap tightener system which takes up
slack in the belting. This is a real nice feature for keeping the proper tension on the "Lift Straps"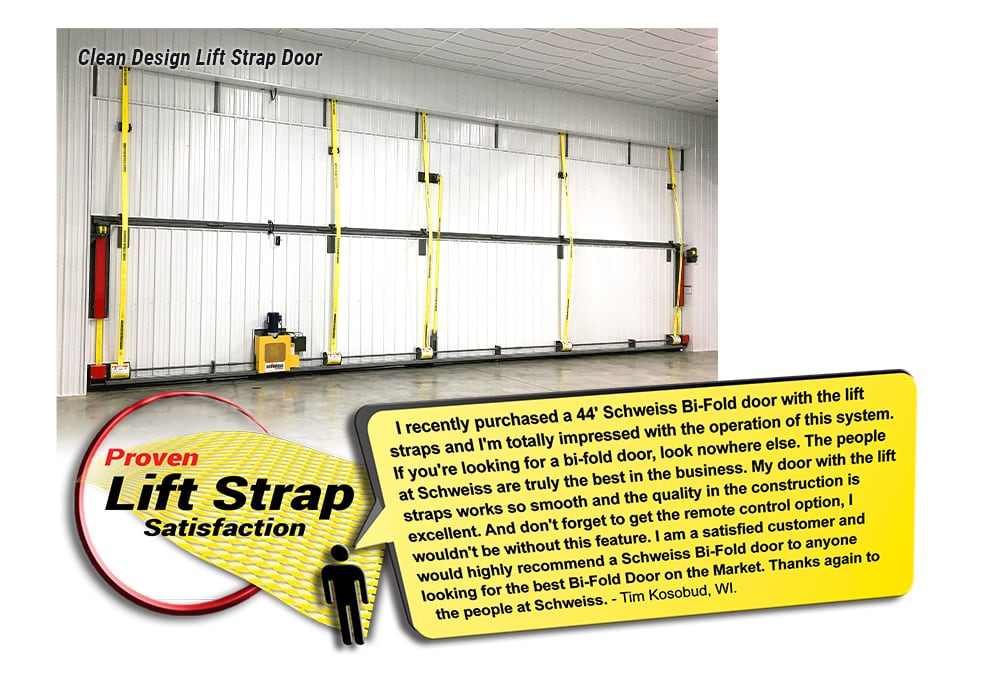 All straps are polyester, they never rusts, making it more durable and longer-lasting than steel cables.
Straps are flexible, which means longer life span than cable.
Straps are 100% quieter and smoother running on the door.
Straps will increase the opening/closing speed of the door due to the size of the drum circumference. The door is opened
slowly at first then speeds up, a good safety feature. You get a Soft Start and a Soft Stop. It doesn't get any better.
Straps never get tangled or criss-crossed.
Straps evenly distribute the load on the door.
Straps have three times the life of cables.
When it comes time to tighten the straps, it's easier to use a ratchet tightener.
Cost of straps are competitive to the cost of cables.
NOW offer a 10-Year Warranty on original lift straps. Read More...
Schweiss has "Cable-Lift"-to-"Lift-Strap" conversion kits that adapt to most presents doors with factory.
Safety factor on the straps is well over 5:1.
Strength-to-weight ratio on our straps is extremely high.
3" straps are rated at 29,000 lbs / 1/4" cables are rated at 7,200 lbs.
That is why the Schweiss Lift-Strap System has a NEW 7-YEAR WARRANTY!!

A Note From Schweiss
When our patented lift-strap system became such a popular choice with door customers, it was
only logical that the competition would come out swinging, especially if a cable system is the only
system they offer. New Technology is wonderful, even in the door business.
What Is The Competition Saying?
• Cable systems are more durable, more reliable, and safer than straps.
What Do We Say?
• NOT SO! In fact, our "Lift-Strap" system beats the competition on all three of those
factors. However, Schweiss continues to offer cable doors should the customer want a
cable system. We believe in offering the option. You see that in many other features
available to our customers.
The Bottom Line:
• Why bother with cables? Lift Straps are faster, safer, simpler, and quieter. End of debate.
• Our Lift-Strap system outlifts, outlasts outsells any cable system.
• Today, 80% of Schweiss Bifolds are ordered with Lift Straps.
• Since we introduced our Lift-Strap package, cable systems have become hard to sell.

Why are Schweiss Lift Straps the best way to lift Bifold Doors?
• Faster - Gear Ratio changes as the door opens.
• Safer - 29,000 lb. Tensile strength, compared to 7,900 lbs. Cable.
• Easier - Install a strap, or install a cable. What a difference.
• Simpler - Never will lift straps tangle. How can they lift?
They wrap onto themselves.
Specific Facts on Straps:
• Straps outlast cable.
• Straps are very low maintenance.
• Straps are clean, neat looking. No abrasive strands.
• Straps will stretch with use, so we designed a simple strap tightener.
Give it one or two clicks and your strap is tight again. How simple does it get?
How Do You Know The Straps Are So Reliable?
All our straps are made of polyester material that has an indefinite working life. We did vigorous in-house
testing of the New Lift Strap system, the equivalent of 20 plus years of conventional usage, without a single malfunction.
The polyester material we are using has remarkable strength. That is why we confidently provide a 7-year warranty on our Lift Strap
system. Like the 'Energizer Battery' our customers are finding Lift Strap systems keep working and working and working.
Can I Still Get Cables?
The cable lift system is still the standard but that is rapidly changing. Already 80% of our doors get ordered with the new Lift Strap
System so it is obvious customers are catching on fast and for all the right reasons...faster, safer, simpler, easier, and quieter.
Can I Put Straps On My Existing Schweiss Bifold Door?
Yes, our older Bifold doors can be retrofitted with the Lift-Strap System. Yes, the Lift Strap System can work on Schweiss doors,
depending upon the construction and mechanics of each particular door. However, I would not advise that it would work properly on
EVERY bifold door, regardless of manufacturer. And there is no logical, or legal thought that we would endorse the use of our
patented lift-Strap System on another manufacturer's door.
We Took The Work Out & Put Safety In By Keeping The Proper Tension
On Our Lift Straps - It's Win-Win For The Customer.
We have yet to sell a REPLACEMENT LIFT STRAP! They simply last, and last and last. And that is time, labor and $$$'s saved for the
door owner. The 29,000-Lb. Tensile strength is a tremendous safety factor. That is why the Schweiss Lift-Strap System has a 7-YEAR
WARRANTY!
SOFT START / SOFT STOP:
The 'mechanics' of our lift-strap system are uniquely simple: As the strap wraps on the lift drum the door quietly opens quicker until it
reaches the automatic stop position. Should you stop the door at any position, the door GENTLY comes to a stop. You get a Soft Start
and a Soft Stop. It doesn't get any better.
The Lift-Strap System utilizes polyester material, which quietly wraps on a take-up spindle when the open or close button activates an electric motor.

Tensile strength of this poly strap is a whopping 29,000 lbs! The polyester straps never rust, making them more durable and longer lasting than steel cables.

Heavy duty poly strap replaces noisy, high maintenance steel cables. The patented poly strap system is unique with Schweiss Manufacturing. Virtually every Bifold door sold by Schweiss now leaves the plant with the LIFT-STRAP system included.
Unheard of in the commercial door world is a 10-year warranty. But not for Schweiss Bifolds! Customer satisfaction has been so
universally supportive that Schweiss Doors, world leader in the manufacture and marketing of the famous Schweiss Doors, is now providing a 10-year warranty on our popular Lift-Strap mechanism
Since our patented Lift Strap was introduced 12 years ago, we have yet to replace a system due to mechanical failure. Remarkable,
considering that Schweiss Doors have now been marketed across America and into other countries. With its 29,000-lb. tensile
strength, this nylon strap is virtually fail safe.
Initially marketed with a 3-year warranty, Mike Schweiss said, "Engineering competence and rugged durability are trademarks
of our products. Extending to a 10-year warranty on our Lift Strap units is simply showing our customers that they can expect
total performance on a Schweiss door system."
Schweiss continues to be the door leading manufacturer always on the cutting edge, offering both Hydraulic and Bifold choices.
Below are testimonials and comments from customers who had outdated, older style cable lift doors that have been converted to the "New Liftstraps". . . And happy customers who have purchased the number one selling lift strap doors.
---

---

"The straps run the door up faster and safer and I like the 10-year guarantee."

"I'm thrilled with liftstraps, they're great, and they open my door 10 times faster than before. I absolutely will recommend them to everyone."

---

---

"We also like the convenience of the liftstraps being faster than the old cables on our door."
Mark Delaney

"I really like the liftstraps and autolatches. They definitely lift the door faster and that's one reason why I got them."

---

---

"We were having some trouble with frayed cables. I'd recommend liftstraps to anyone."

"Straps are nicer than cables. We had issues with older cables. My door goes up a lot faster."

---

---

"I was replacing cables that were always fraying and hoping for more door speed, which the straps give me."

"I do like the liftstraps. they're a lot less maintenance, faster and quieter."

---

---

"The decision to get liftstraps on my bifold door was more of a safety issue for me."

"The cables wouldn't spool the way our door was set up 50 years ago. It also had unlevel lift and caused problems. The straps are a really good solution."

---

---

"We're having zero problems now with the liftstraps."

"Cables were breaking on our big hangar door and we knew the lift straps were a better system."

---

---

"I'm very happy with the liftstraps and I wouldn't be without the auto latches."

"I can't say enough about your liftstraps, I wish I'd done it originally."

---

---

"So far so good on the strap conversion, I'm very happy with it."

"Our door with liftstraps now works really well - a 100 times better than before. Our cables broke on us and that was a mess."

---

---

"The straps are faster and just keep feeding up with no problem. I'd recommend them."

"A lot of guys are coming to look at our door. I'm sure you'll be selling more Lift Straps, we like 'em!"

---

---

"The straps are a 1000 times better than cables. My cables were breaking and keeping them adjusted was a big hassle - it was not a safe deal. I'm very pleased with the liftstraps and would recommend them to anyone."

"We were having troubles with the cables and replacing them once a year. Cables were difficult to adjust to make them lift equally on each side. The straps are lifting our doors smoother and faster now."

---

---

"We converted to liftstraps for reliability and aesthetics."

"The liftstraps work good and lift faster - the cables were so slow, the door works great now."

---

---

"The straps were pretty easy to install. They are quieter, quicker and safer, and the safety shield system is really nice. I'm real happy with it."

"The straps are rated for so much more strength, and now my door opens faster! We wouldn't order a door without "Lift Straps on them, they are working great."

---

---

Now you have read their strong testimonials above, you'll ask yourself...

"Straps are the only way to fly - no noise, no creeps, no crunches. Cables wear out."

---

---
"Why would anyone ever consider purchasing an outdated cable door, when Schweiss Doors is years ahead of the competition?"

When we introduced our patented nylon Lift Strap system 16 years ago, we didn't expect customer response to be so overwhelming.
In no uncertain terms, virtually 94% of our new customers INSIST on the Lift Strap package. Here's what you are telling us: "They are
so much smoother." "It looks and sounds professional like the best technology, system." And the comment we treasure the most:
"Thank you for simply providing the very best
door opening/closing system in the Bifold Door
Industry!" You bet we like our customers call-
ing this shots. Best of all we've NEVER had a
malfunction, never had to do a replacement
on a Lift-Strap door.
That is unheard of with cables. And that
is why we now offer Lift Straps with
every Schweiss Bifold order.
Out customers are telling us what they
want. We're delivering it! -- The New Lift
Straps -- a Home Run for the end user!