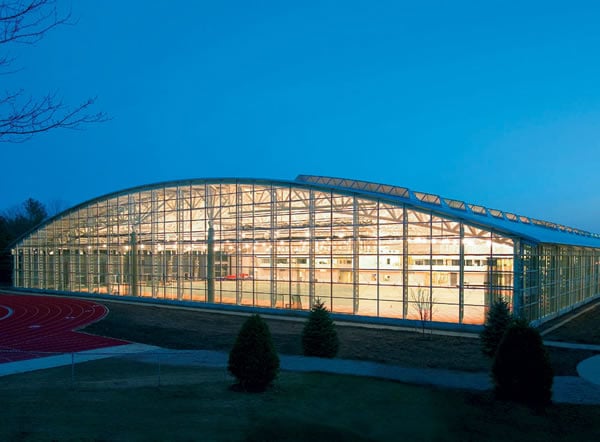 Glass bifold door at Ohio College
"I wouldn't have any problem recommending a Schweiss Bifold door to anyone in the construction industry. The materials in the door, the construction accuracy, even the on-site training they provided to our construction workers was right on the money." Speaking is Steve Smith, ASI Limited, Indianapolis project manager of an $80 million facility called the Center for Fitness, Recreation and Athletics, Kenyon College, Gambier, OH.

This new health center has 283,000 square feet under roof and the unique closure on this huge building is a 25 ½' wide x 14 ½' tall Schweiss Bifold, with double-pane glass skin and weighing approximately 6,500 pounds. Boston Architect-Graham Gund Associates recommended the Schweiss Bifold door for this unique campus facility.

"Though this was our first acquaintance with Schweiss Bifold, we are solidly impressed by the quality of their product," declared Smith. Because the glass panels were an on-site installation, Schweiss provided technical assistance during the installation of the door.

Because of unique features, quality inputs and a proven manufacturing process, Schweiss Bifolds continues as the acknowledged leader in the bifold door market for the aviation industry, industrial warehouses, and the agricultural complex. As contractors and architects become aware of the ability of Schweiss Bifold to design and provide a closure for most any new construction project, their market expands into new dimensions. A most recent example is a special bifold enclosure for the new Guthrie Theatre, Minneapolis. For more information call 800-746-8273.