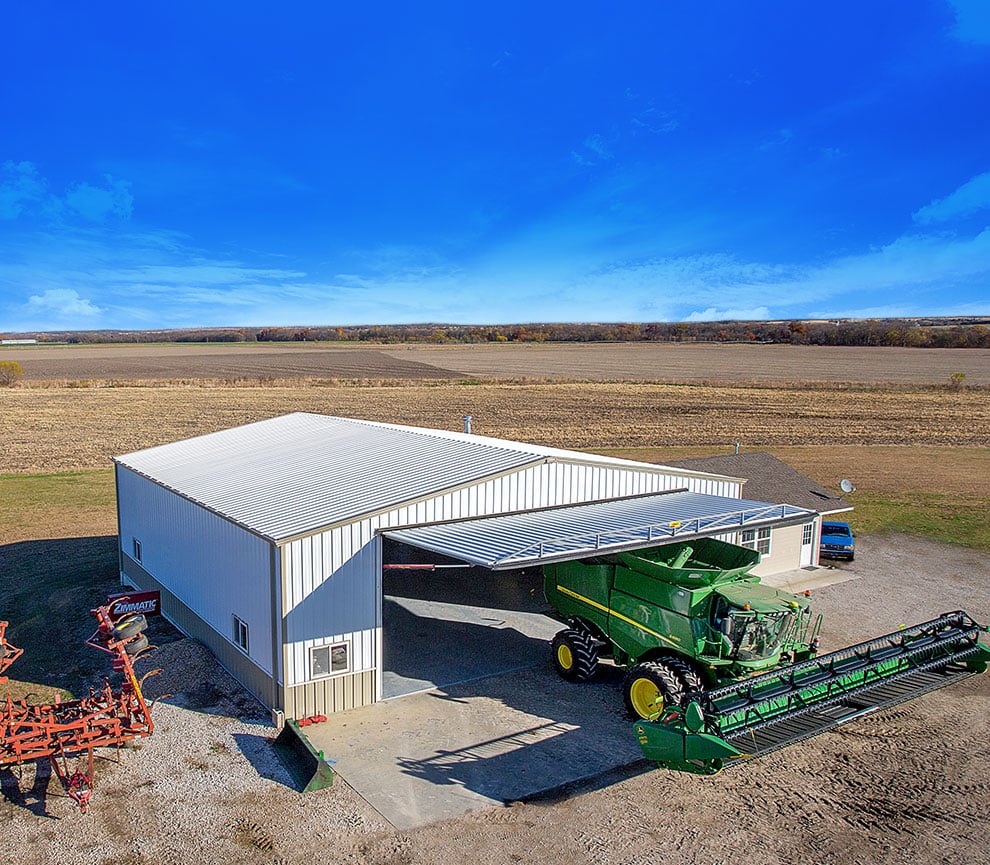 HYDRAULIC LIFT


"ONE-PIECE" DOORS
AGRICULTURAL DOORS
ABOUT HYDRAULIC PUMP PLACEMENT
MULTIPLE PUMP MOUNTING OPTIONS
1
- Under Workbench - Hydraulic power unit can be placed under a workbench or anywhere in the room.
2
- Wall Mount: Up or Down - mount anywhere away from the door opening or even in another room.
3
- Stand Alone Unit - Complete stand-alone hydraulic unit can be placed anywhere in the building.
4
- Up/Down/Stop Switch - Mounted near the door opening
5
- Electrical Control Panel - Can be mounted independently from the hydraulic pump
You have mounting options with the
Schweiss Hydraulic Pump
Stand-Alone Unit
Can be placed anywhere within the building structure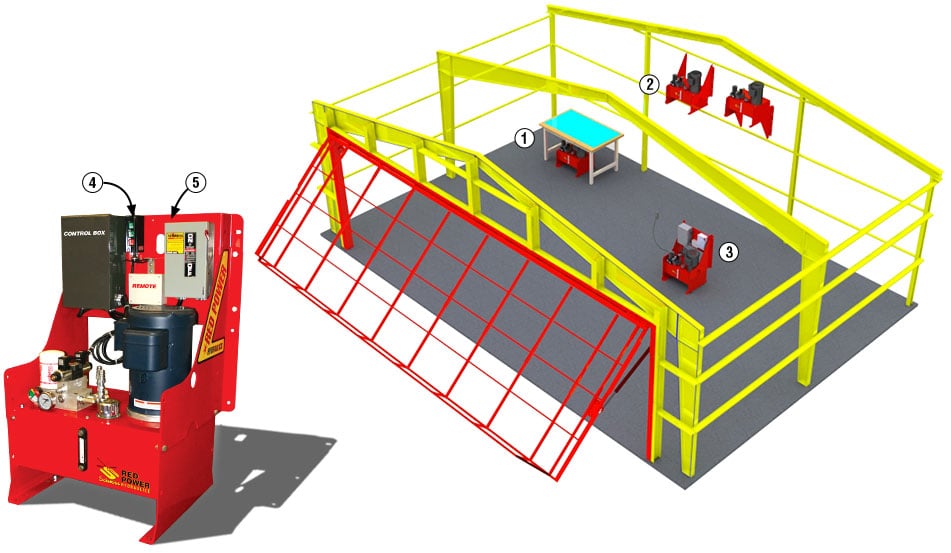 HYDRAULIC DOORS by SCHWEISS
Schweiss hydraulic doors are custom made to fit any size opening for your building. Each door is built to fit your clear opening without using up existing headroom. There is no such thing as an odd size door or a job too small. You dream it, and we make your dreams come true.
HYDRAULIC DOORS
Schweiss Doors is proud of its new hydraulic doors that swing outward. Already a leader in the bifold door industry, Schweiss Doors now offers a better hydraulic door. The door design requires zero headroom, comes pre-hung, is watertight, easy to install, easy to operate with the push of a button, easy to insulate and swings out to provide a canopy when the door is in the open position.
SIMPLE UNIQUE DESIGN
Powered by a powerful hydraulic pump, two heavy duty cylinders activate the hydraulic doorframe. Hinges across the top of the doorframe allow it to swing out and away from the building to the full open position. The hydraulic pump can be located away from the door opening to keep a clean look.
EMERGENCY BACKUP SYSTEMS
TO USE IN CASE OF POWER LOSS
3 SYSTEMS NEATLY PACKED INTO ONE UNIT
1 - BACKUP TRACTOR FITTINGS - STANDARD
2 - DC BATTERY BACK UP - 12 VOLT
3 - CORDLESS DRILL - SCREW GUN
YOUR DOOR WILL ALWAYS OPEN
"ONE WAY OR ANOTHER"
THE CHOICE IS YOURS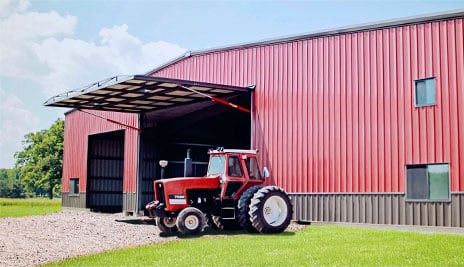 1
BACKUP TRACTOR FITTINGS
- STANDARD
THE SCHWEISS RED / GREEN POWER PUMP HAS MANY BACKUP FEATURES
BUILT-IN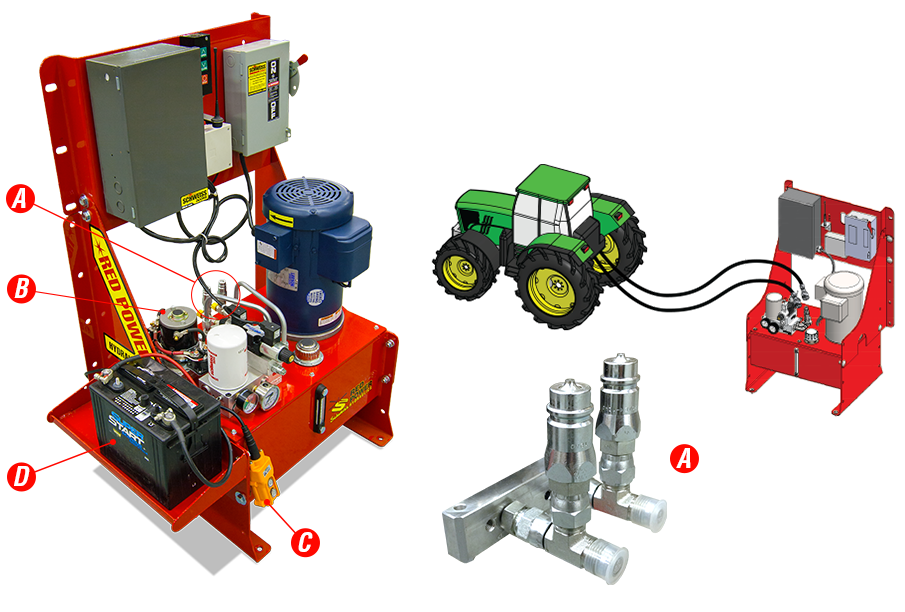 IN CASE OF A POWER LOSS
Backup - Tractor Fittings standard on all Schweiss Red / Green Power Pumps

2
12 VOLT DC BATTERY BACKUP
- OPTIONAL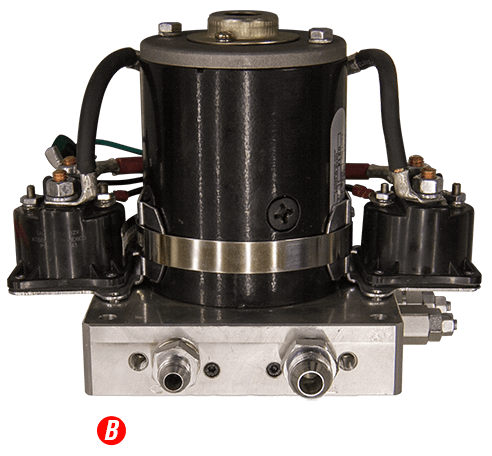 12 Volt Electric Backup Motor
BACKUP SYSTEM FEATURES
B - 12 volt DC motor used to raise and lower the door
C - Handheld up/down control pendant - with 10 ft cord
D - 12 volt battery powers the DC backup motor
IN CASE OF A POWER LOSS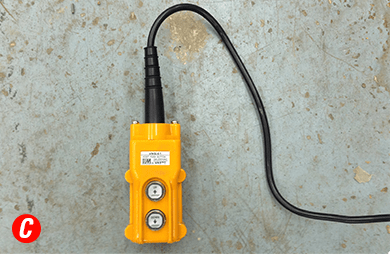 Its own Up/Down control pendant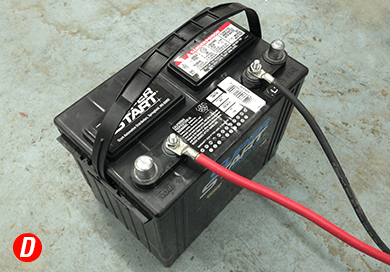 12 Volt Battery powers the system

3
CORDLESS DRILL BACKUP
- OPTIONAL
THERE'S A BACKUP WITHIN A BACKUP
GUESS WHAT

- There's another backup on standby!
Grab a cordless drill and run the door up!
Scenario - 1
Let's say you go to raise your door in an emergency with the
battery backup only to find out the battery is dead . . . Now what?
Scenario - 2
Highly unlikely, but for some reason the hydraulic gear
pump motor took a puke.
Auxiliary Backup Pump
The auxiliary pump in the tank will raise and lower the door with a handheld drill. If you arrive at your door and the battery is dead, now you have the option to use a cordless drill to open or close the door!
HOW DOES THIS WORK?
The DC motor has its own stand-alone auxiliary hydraulic pump. On the top of the DC motor is a hex-head nut - use a cordless drill to open your door!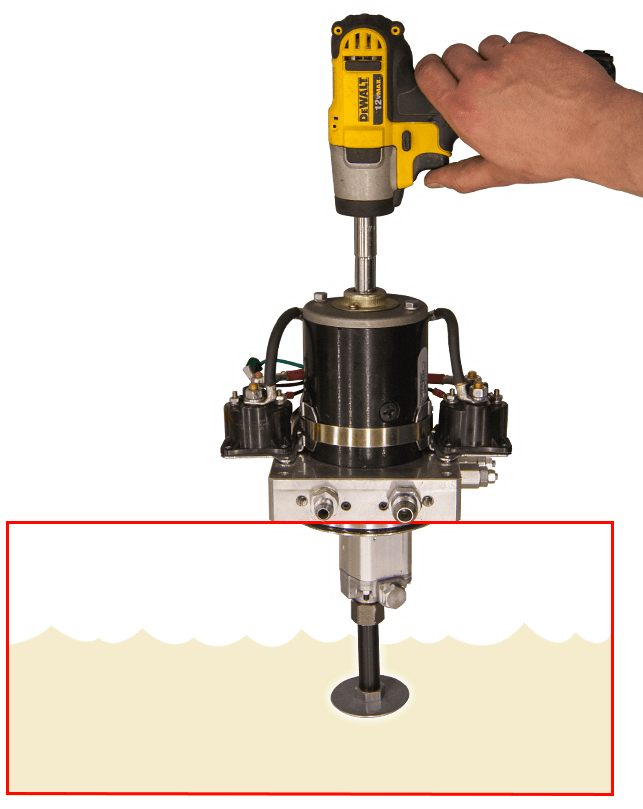 HAS ITS OWN HYDRAULIC PUMP
When you order the Battery Backup System,
it comes with its own gear-driven auxiliary pump.
SCHWEISS ADVANTAGE HAS YOU COVERED
The Backup Systems ensure that
you can get your door open or closed under most conditions.
Cordless Drill Operation

Easy operation with any handheld drill.
Oil Reservoir
(Inside the tank)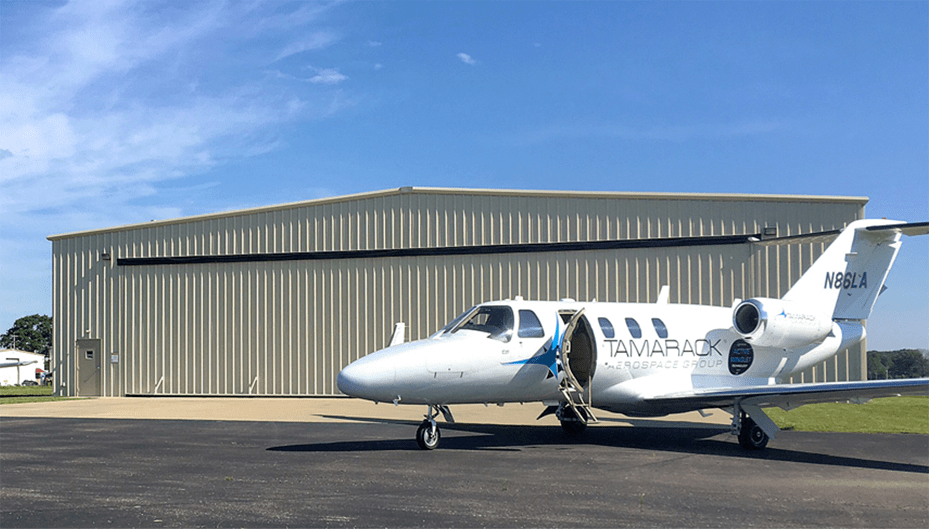 AVIATION DOORS
---
ONLY FROM

HINGE DESIGN...
NEW
"OUR NEW WRAP-AROUND HINGE DESIGN SETS THE NEW STANDARD FOR HYDRAULIC DOORS"
Schweiss doorframes are designed with double push tubes that are tied directly into the wrap-around hinges that connect both vertical push tubes directly to the header tube. The advantage of double push tubes is that forces of hydraulic cylinders are evenly distributed to the doorframe and the wrap-around hinges.
"There have been hydraulic doors with hinge welds that failed, literally tearing off the doorframe and destroying the door," Schweiss says. "Our design team provided a durable wrap-around hinge with grease zerks that are accessible without removing the top rubber seal."
---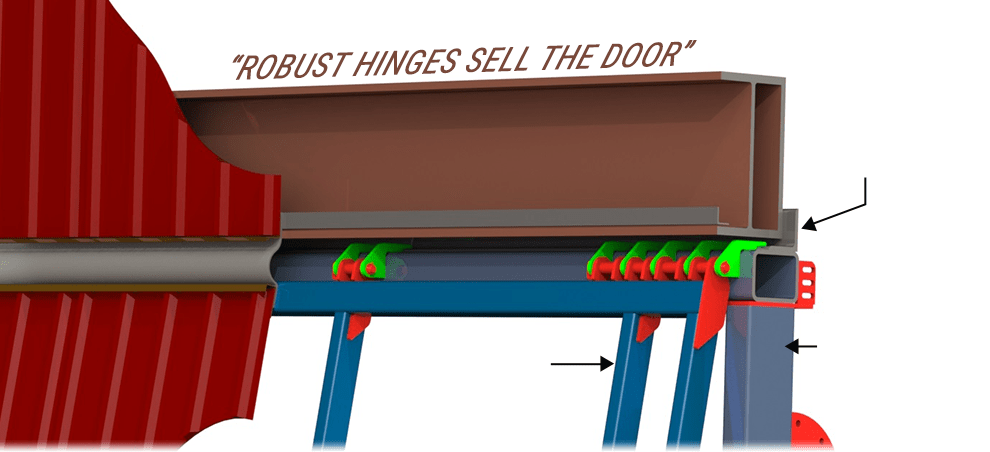 Wrap-Around Hinge Design
Self-Supporting Framework
Double Push Tubes
Tie directly into
the hinge assembly
( Patent Pending )
THE STRONGEST HINGES ON THE MARKET!
SCHWEISS ENGINEERED A NEW ROBUST HINGE DESIGN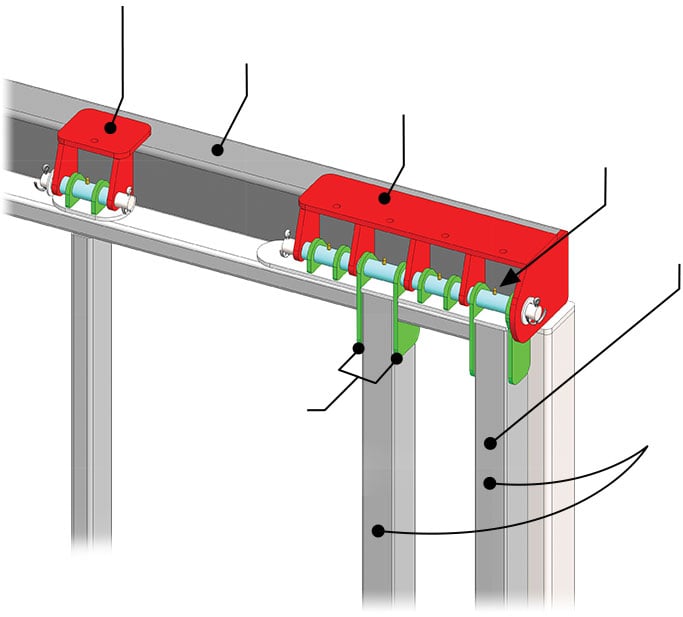 Robust Center Hinges
Tubular Self-Supporting Subframe and Columns
Robust End Hinges
GREASE ZERKS ON ALL HINGES
Doorframe
Wrap-Around
Hinge Brackets
DOUBLE
PUSH TUBES
Patent Pending
Patent Pending
Strong doorframe!
EVERY DOOR HAS ITS OWN SELF-SUPPORTING SUBFRAME
Schweiss hinges distribute the door loads evenly across the
self-supporting subframe greatly reducing stress on the building structure
THE HINGES SELL THE SCHWEISS DOOR
The Schweiss robust hinges are designed to withstand the door weights and hydraulic forces of the cylinders as the door opens.
Your door is only as good as its hinges! Take one look at the Schweiss hinges and you will clearly see the workmanship, strength and functionality of each hinge. The Schweiss hinges are big... strong... heavy-duty.
GREASE ZERKS
REMOVABLE HINGE PINS
• Removable hinge pins are a better design.
• They are never welded in solid on a Schweiss door.
• Designed for easy maintenance.
• All hinge pins are removable.
The hinge makes the door...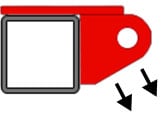 The weight of the door and hydraulic forces exert loads on the hinge while the door is operating.
so it had better be STRONG!
The unique hinge design incorporates heavy hinge plates that wrap around each vertical push tube for added rigidity. Without this wrap-around design, the doorframe members can be overstressed and begin to tear apart from door weight and hydraulic forces over time. This won't happen with a Schweiss Door!

Hydraulic doors operate with one set of top hinges. These hinges need to be strong enough to support the door weight and the hydraulic cylinder forces when opening; unlike a bifold door that shares the load between the top hinges and the center hinges.
WHAT DOOR CUSTOMERS ARE SAYING...
• "The hinges sold me."
• "The Schweiss team hit a home run by putting grease zerks in their hinges."
• "Now that's a Serious Hinge, You guys have it figured out!"
• "Oh My, nothing comes close to it. Professionally done!"
• "Nothing on the market will even come close to the Schweiss hinge design."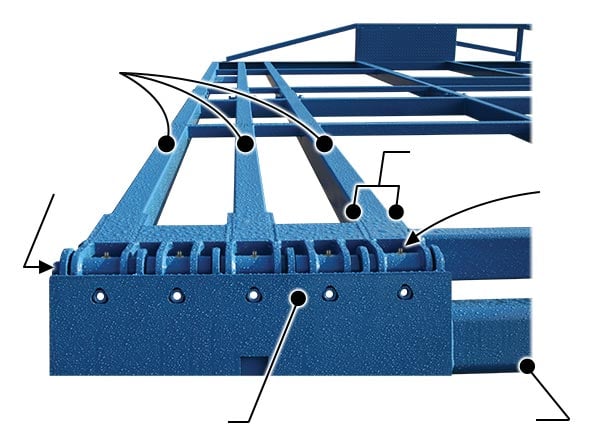 Removable hinge pin
Wrap-Around Hinge Brackets
Tubular Self-Supporting
Subframe Header and Columns
TRIPLE PUSH TUBES
ROBUST END HINGES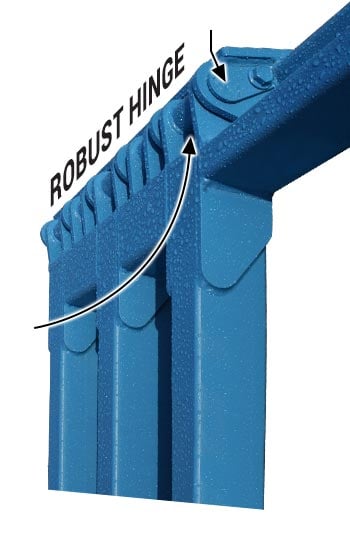 Removable hinge pin
GREASE ZERKS ON ALL HINGES
Hinges can be greased from underneath the door
TRIPLE PUSH TUBES
SCHWEISS
is the only manufacturer to offer hinges that can be greased from underneath the door without removing the top weather seal.
Now That's Heavy-Duty...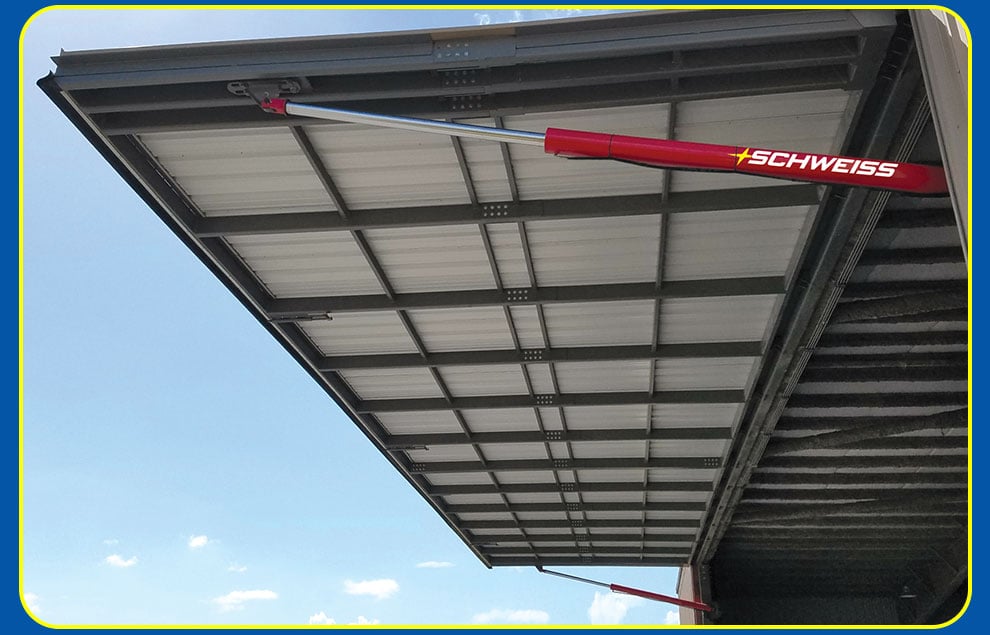 While other doors may
appear to be the same on
the surface, there is really . . .

NO COMPARISON!
Customers Welcome Greasable Hinges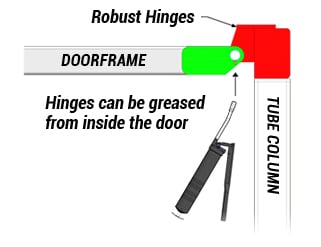 HINGE SURFACE AREA
Hinge surface area is critical on large moving doors. Over the years, we all have heard of hinge failures on others doors. Large hydraulic cylinders are putting extreme forces on each of the outer hinges of the doorframe. Schweiss has designed and patented a robust hinge with more surface area to evenly distribute the loads of a moving one-piece doorframe. Look at the hinge surface area. The stresses on the very outer hinges are immense. With that being said, take one look at the patented Schweiss hinges and you'll clearly see the workmanship, strength and functionality of each hinge.
GREASABLE HINGES
It's very important to be able to grease the door hinges with a heavy viscosity grease. When grease is used on the hinges of a large moving door it avoids unnecessary wear and adds longer life to the hinge and the doors operation. It's a common manufacturing practice to use grease on the critical wear points and load points to avoid unnecessary wear just like in the industrial equipment world with implements such as payloaders, skidloaders and other industrial equipment that are being operated around the clock.
The new hinge design with grease points on every hinge segment enables owners - whether they be private individuals or commercial customers - to periodically grease their hinges from inside the doorframe without having to go through the cumbersome process of first removing the top rubber weather seal.
Advantages of Grease
Using grease on the hinges is a better method of lubrication.
Using grease on the hinges is the industry standard.
Using grease on the hinges makes for a quiet door.
Using grease on the hinges makes for a smoother operating door.
Using grease on the hinges extends hinge life
Greasable hinges last forever.
Look at the Schweiss hinge, it has more lubricated surface area to give you longer life
Others rely on bushing FOR LUBRICATION
Doors move and flex as they open and close. The forces on each hinge vary during operation.
Not all bushings wear evenly.
Bushing wear thin over time.
Worn bushings offer less lubrication.
Less hinge surface area to distribute the door loads across the door header tube.
No way to inspect the bushings when the hinge pins are welded in - not removeable for inspection.
Almost impossible to replace the bushings when the hinges pins are welded in solid.
Greasable hinges LAST FOREVER!

. . . only manufacturer to offer greasable hinges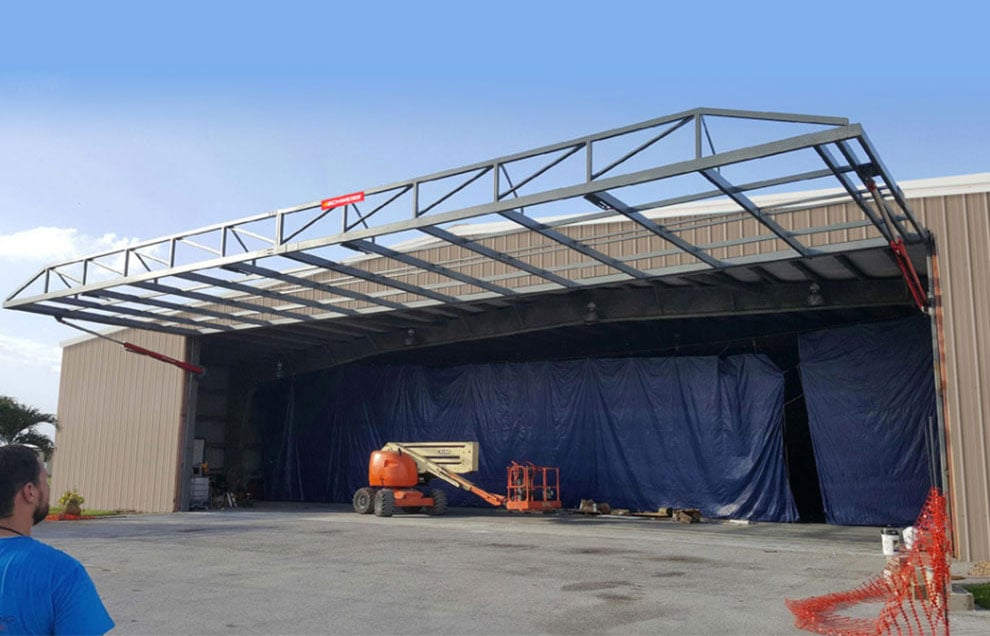 IT TAKES LARGE CYLINDERS TO OPEN A LARGE DOOR
STRONG, BEAUTIFUL, FUNCTIONAL
• STRONG PUSH TUBES FOR ADDED STRENGTH
• SELF-SUPPORTING SUBFRAME ON EVERY DOOR
SCHWEISS QUALITY
GAIN HEADROOM . . . FAST MOVING . . .EASY TO INSTALL
LARGER CYLINDERS
WITH
SPHERICAL BEARINGS
"No one else in the industry offers this unique feature" only available on Schweiss Doors. . .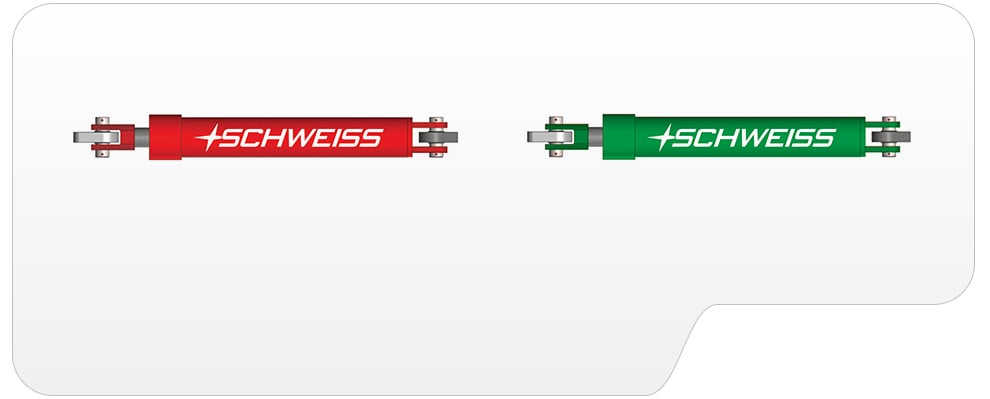 Hydraulic doors are large in size and just like an airplane wing, the doorframe flexes during operation. The hydraulic cylinders on each side of the doorway are connected to the doorframe and the building using spherical bearings. The spherical bearings accommodate the flexibility of the doorframe while at the same time allowing the cylinders to raise and lower the door without binding on the hydraulic cylinder pins and brackets. Spherical Bearings on both ends of the cylinder allow the cylinders to stay straight through the full range of motion.
STRONG WORDS FROM OUR CUSTOMER
"Soon as I saw and understood the spherical bearings design it was a no brainer. I was immediately SOLD on the Schweiss Hydraulic Door !"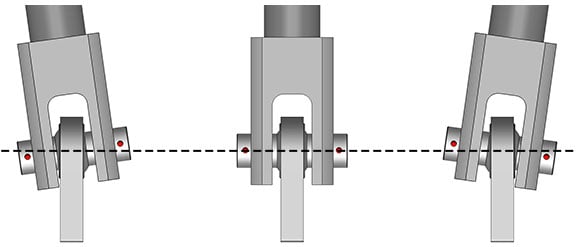 Allows for Flexing
Stays Straight
Allows for Flexing
DOORS ARE ALWAYS MOVING AND FLEXING
Spherical bearings reduce stress and wear on the
cylinders, cylinders pins and clevises during operation

Rod Stays Straight
Pins have even forces on them when the door
is in any position
Lower teardrop plate is mounted to moving doorframe
ALL-STEEL DOORFRAMES ARE BETTER!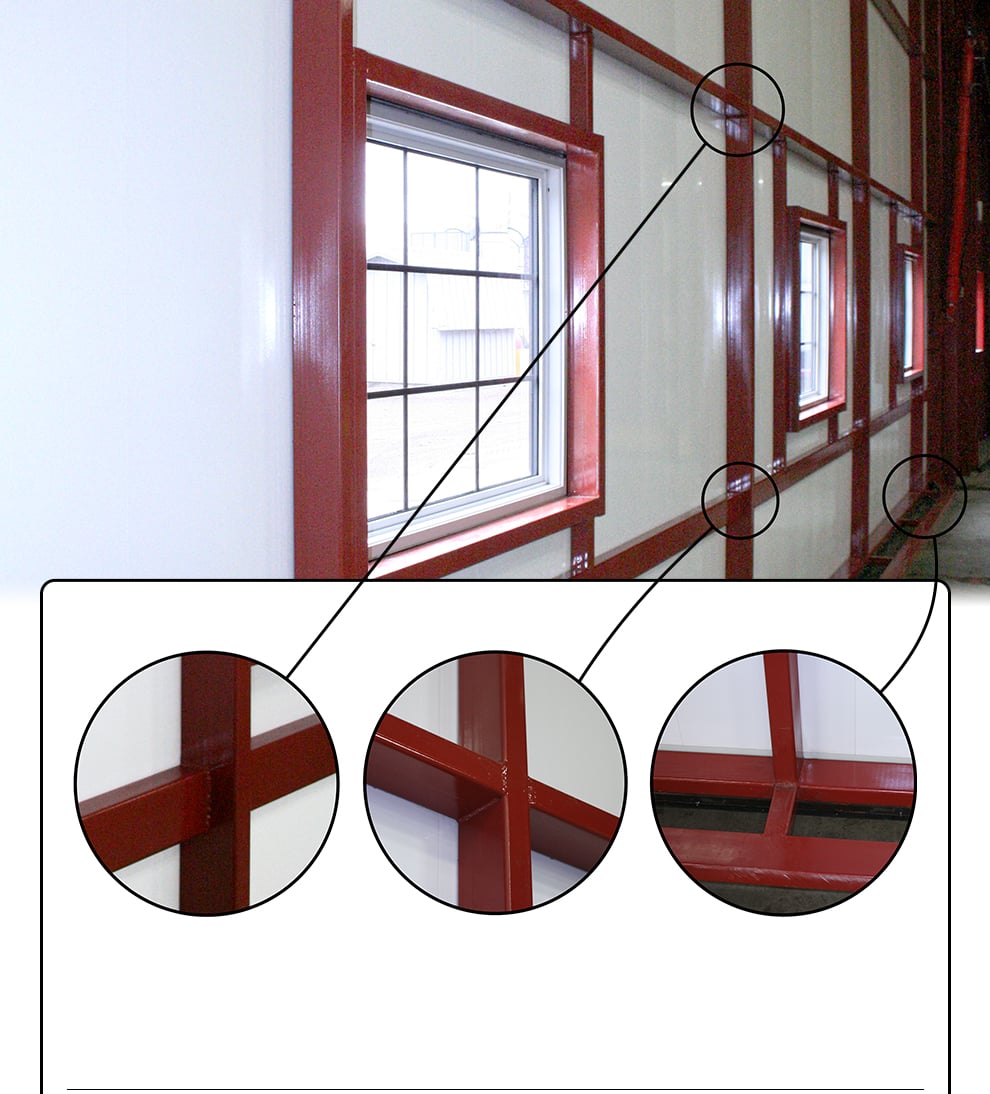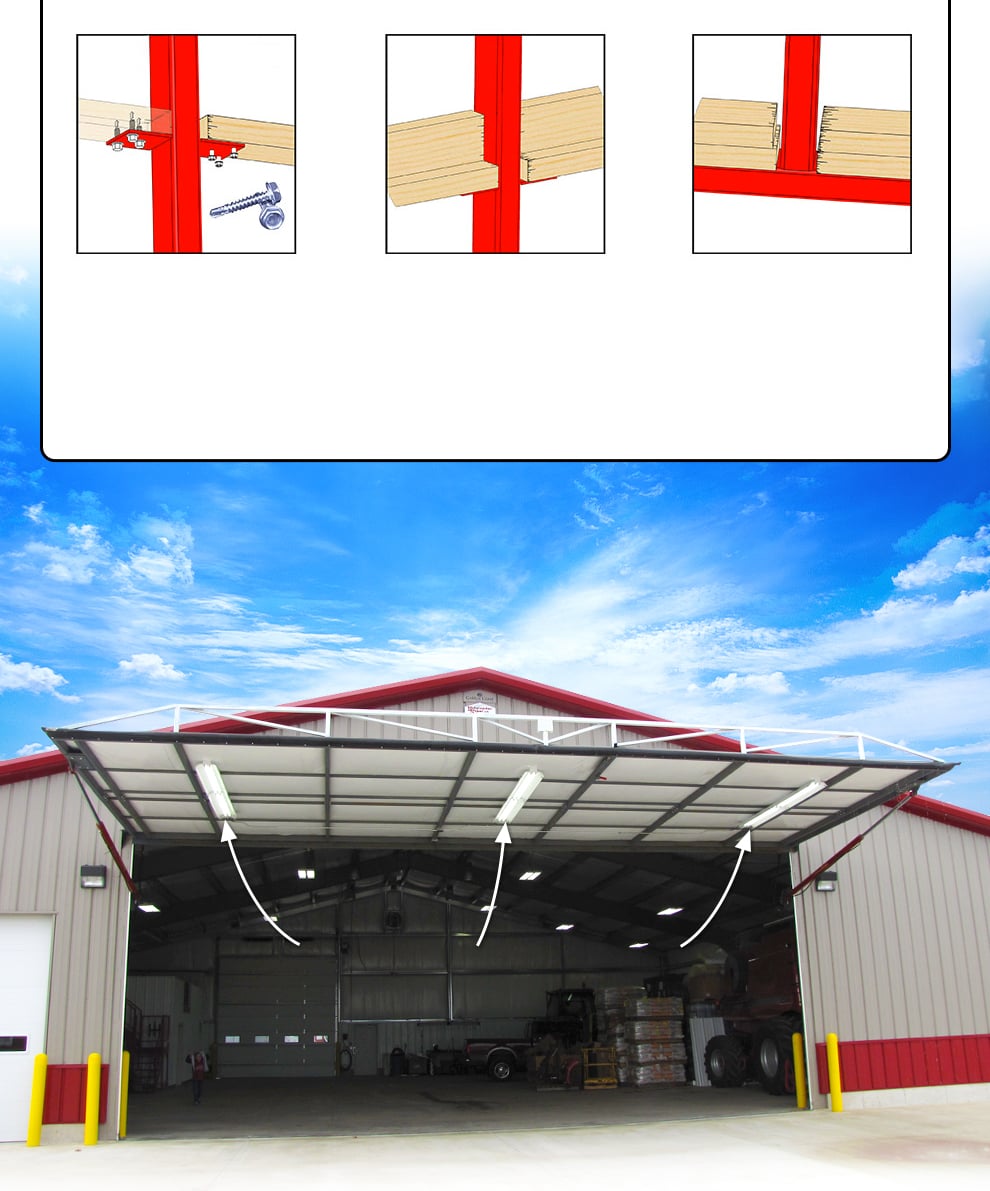 Schweiss Uses All-Steel Members
Internal Truss on this door External Truss is available
ALL-STEEL
STRONG CONNECTIONS
CLEAN DESIGN
STEEL HORIZONTAL CROSS MEMBERS
SCHWEISS MANUFACTURES ALL-STEEL HYDRAULIC DOOR FRAMES
A 2x3-14 gauge steel member welded all around is good for about 120 PSF of wind. The steel is shop-welded, meaning no field labor is required. Every member of a Schweiss all-steel door is securely welded in place. Welds are strong and permanent and never need to be adjusted or tightened.
WOOD HORIZONTAL CROSS MEMBERS


As you open the door, it flexes due to the variable wind load and its own weight. Tec screws or bolts in the end of a 2x4 are good for about 40 PSF of wind if the screws or bolts don't split the wood. Tec screws or bolts used to fasten horizontal wood cross members to the doorframe may work loose over time. Wood may shrink over time. The screws or bolts may shift in the the horizontal wooden cross member, eventually working their way loose.
NO DOOR TOO SMALL...

NO JOB TOO BIG!
LIGHTS INSTALLED ON THE DOOR
WHAT DO YOU GET WITH A SCHWEISS HYDRAULIC DOOR?
1 - HYDRAULIC CYLINDERS
Spherical bearings, an industry first!
Bigger cylinders.
Adjustable teardrop plate to ensure a
proper fit every time.
2 - HYDRAULIC FRAME
Each door comes pre-hung with frame.
Pre-assembled, pre-welded and delivered pre-hung within its frame for ease of installation.
Bolted frame connections for shipping, no welding, easy to install.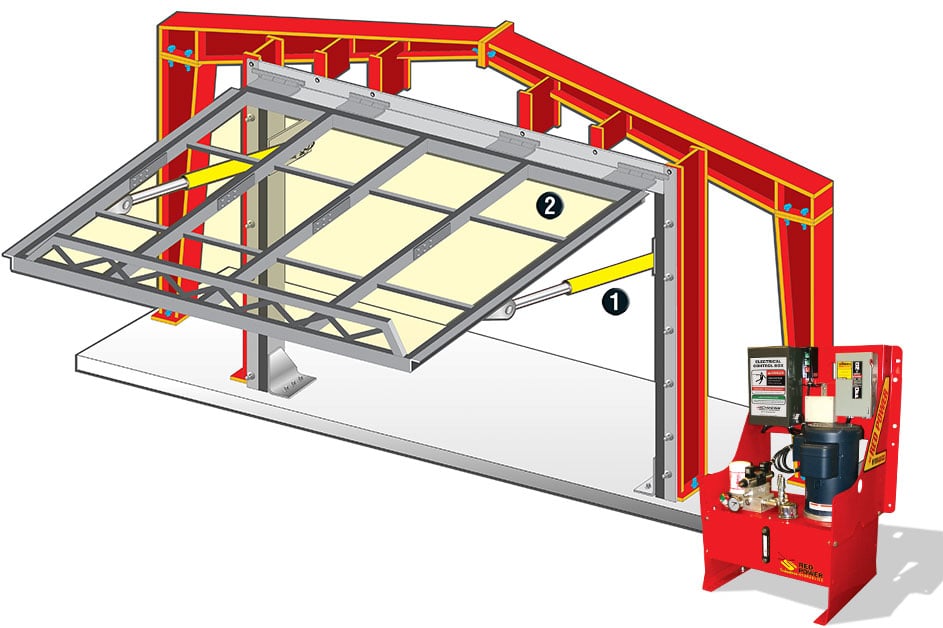 SCHWEISS HYDRAULIC
ADVANTAGES
Best hydraulic pump on the market.
All-Steel doorframe! No wood!
Quieter, smoother operation.
Multiple pump mounting options.
Bigger, better hydraulic cylinders with spherical bearings.
Built-in backup systems.
Remote door control available.
Easier to install.
COMPACT HYDRAULIC POWER UNIT

Schweiss now offers both

RED

and

GREEN

Hydraulic Pump
and Cylinder Paint Colors
CLEAN DESIGN
ALL IN ONE

COMPLETE POWER UNIT
ELECTRICAL COMPONENTS
BACKUP TRACTOR FITTINGS
BATTERY BACKUP

( OPTIONAL )
REMOTE CONTROLS
SITE GLASS
"LOOK FOR QUALITY, LOOK FOR PRICE, YOU'LL BUY SCHWEISS"
The Schweiss Red or Green Power pump and manifold has a clean, crisp design. It features a polished finish, no exposed plumbing lines and a filter drainport that allows oil to drip back into the tank preventing messy oil puddles. Includes a filter clogging indicator showing when to change your filter element. 3000 PSI pressure gauge is standard and gives you the reading of the pump pressure used to open the door.
Auxiliary screw-on oil filter is easy to change. Our best quality filter that protects the hydraulic pump from impurities. Oil filter / breather cap / filler port has a rich looking polished finish. Clean looking! The easy screw-on cap has a built-in screen to keep debris out; important when adding oil. Sight glass displays the oil level and temperature in the oil reservoir tank. Red Power hydraulic oil reservoir has a heavy-duty, long-lasting powder-coated tank with a drain plug.
SCHWEISS RED and GREEN POWER HYDRAULIC PUMP FEATURES:
Schweiss Doors has set new and higher standards in hydraulic pump development and safety features.
SCHWEISS ELECTRICAL SYSTEM:
The Red and Green Power pump/motor system from Schweiss Doors offers superior electrical components that stand leagues above others. Why? Our Red or Green Power Pumps come equipped with a stand-alone electrical control box. The unique design of the Red and Green Power Pump motor system is designed with safe UL listed compo- nents. Plus, it's composed of common components, standard in the electrical industry throughout the world. These electrical control boxes are also designed with ample space to safely house all required electrical components, such as contactors, transformers, relays, motor timers, rectifiers, and control fuses. Motor assemblies must be wired to National Electrical Code (NEC) standards.
MOTORS:
Schweiss Doors uses top-quality heavy-duty, brand name LEESON motors, totally enclosed, fan cooled, with a common 56C face mount standard shaft size, powering a single gear-driven pump. Plus, these quality continuous-duty motors are safety-backed with fuses and overload protection.
THESE STANDARD FEATURES COME WITH EACH RED AND GREEN POWER
HYDRAULIC MOTOR/PUMP SYSTEM:
Locks door up or down and holds the door safely in all positions.
Locks and holds the door in the closed position... Never creeps open.
The doors will lock up and hold if a hydraulic line bursts or leaks.
Doors operate evenly in either direction.
Allows you to safely lower door in an emergency from the ground level, no ladders needed.
Prevents thermal expansion in the cylinders. Releases excess pressure and oil back into the tank.
Hydraulic directional control valve has a built in manual override in case the coil burns out.
You can push the override on the valves to manually get the door to move in either direction.
Low voltage control stations... only 24 volts DC, safer working with low voltage!
Low voltage coils... lighted 24 volt DC coil connectors are safer to work around.
STANDARD BACK-UP SYSTEMS ARE ON ALL SCHWEISS HYDRAULIC DOORS:
Tractor fittings to raise or lower the door are standard on all Red Power hydraulic units from Schweiss
STANDARD EMERGENCY LOWERING:
Built in emergency lowering feature is standard on all Schweiss Doors. No tractor is needed in case of a power outage!
OPTIONAL DC BACKUP SYSTEM:
DC backup - Includes battery operation and drill-driven back-up.
Has its own auxiliary self-contained pump and motor!
MULTIPLE MOUNTING STYLES:
Complete stand-alone hydraulic unit can be placed anywhere in the building.
Hydraulic power unit can be placed under a workbench or anywhere in the room.
Wall mount - mount anywhere away from the door opening or even in another room.
With Schweiss you have options!
REMOTE CONTROLS:
Remote controls can be easily added at any time
UPGRADE EQUIPMENT
- SCHWEISS "One-Piece" HYDRAULIC DOORS
1. Electric Photo Eye
2. Door Base Safety Edge
3. Warning Lights and Horns
4. Top Override Jiggle Switches
5. Entrance Lights
6. Remote Control Operated Doors
7. Multiple Emergency Backup Systems
"One-Piece" POWERFUL
HYDRAULIC DOORS
Each door comes prehung with its own frame.
Bolted frame connection for shipping.
No welding and easy to install.
Pre-assembled, pre-welded and delivered prehung
with its frame.
Building does not have to be made taller.
Easy to install with detailed pictorial instructions.
Heavy duty hinges included.
Webbed external truss.
Internal truss available at no extra cost.
Self-contained power unit, easily placed anywhere
in building.
DEAD MAN CONTROL STATION... ONE STEP OPERATION
The door automatically stops when you take
your finger off the control station.
ELECTRICAL SAFETY DISCONNECT
Allows you to disable the door for service,
maintenance, and emergency backup operations.
INSTALLATION MANUALS PROVIDED WITH ALL
HYDRAULIC DOORS
The Hydraulic Install Manual has detailed instructions
with each door.
Easy to install Safety Information and Operation
Manual. -The manual is designed to help you become
familiar with the safe and proper operation procedures
of your Schweiss Hydraulic Door, safety decals
placement guide manual.
Included is a complete set of Safety Warning Decals to
be placed on your building and door.
FAST DOOR SPEED...
Hydraulic Door Speeds When Opening and Closing
Cycle time: approximately 30 seconds.
We can vary the speed of the door, just ask for it.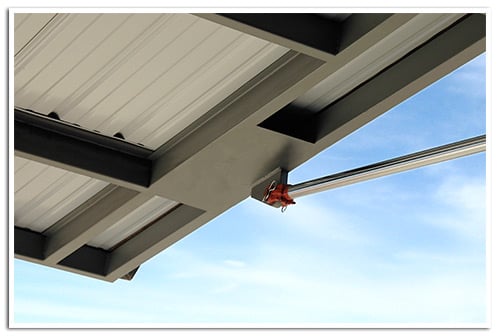 HYDRAULIC DOORS LOWER BUILDING COSTS AND SAVE HEADROOM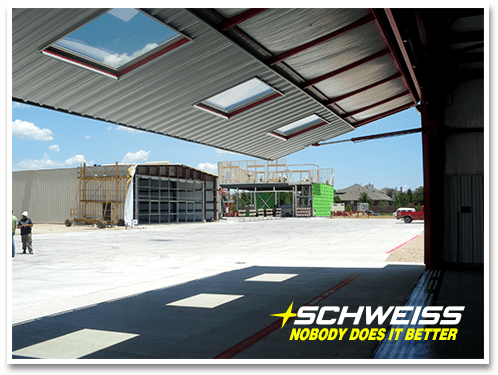 AUTOMATIC LATCHING...
Self-Latching and Holds the Door in Place.
Hydraulic cylinders automatically pull the doors in tight against your building and will keep the door in a locked position
to provide a tight seal.
Push a button to automatically lock and unlock the door to the closed position.
The hydraulic pump has a built-in positive-hold valve that maintains and keeps the door locked in the closed position,
providing a constant weathertight seal.
MOUNTING STYLES - Includes Header Tube / Its Own Framework
Flush Mount... (H Style) Requires 5" Headroom. Each door comes prehung with subframe.
Outside Mount... (M Style) Lose No Headroom. Each door comes prehung with subframe.
ADDITIONAL WIND LOAD/GENERAL DESIGN CRITERIA
Wind-loaded doors (to meet standard local codes).
Engineer stamps available and approved in all 50 states.
PAINT FOR HYDRAULIC DOORS
Every Schweiss door is properly prepared for painting. The doorframe members and parts are finished with gray primer.
We offer matching touch-up paint to take care of any slight nicks or scratches.
Custom paint jobs - Upon request, we will custom paint your door to match your building.
ALUMINUM GALVANIZED HYDRAULIC DOORS
Schweiss is ready to shift gears at any point. This is the key to our success. Whether it be marketing, designing or creating new products. With this attitude and flexibility we have introduced new Aluminum galvanized doors. Call for special pricing.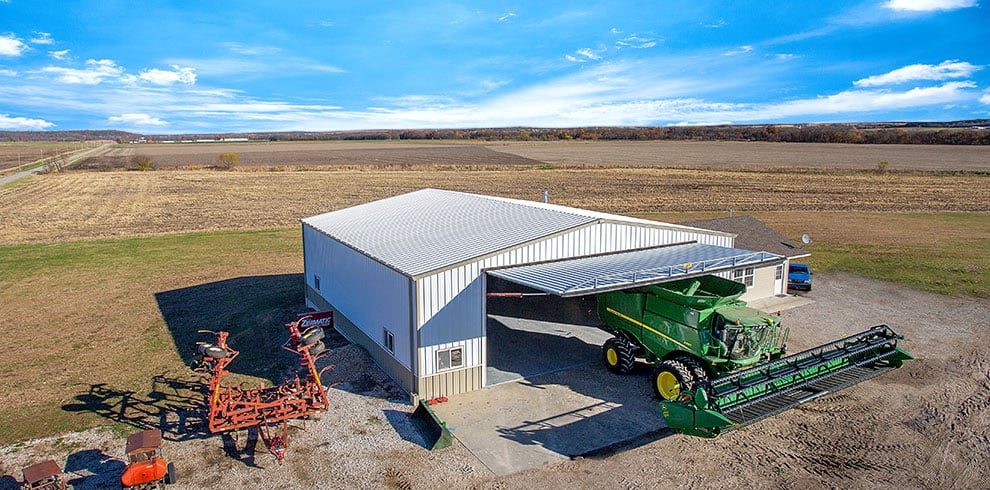 ---
A NAME YOU CAN TRUST
DOORS
Manufacturing Doors Since 1980
We Do Doors, More Doors and Better!
DID YOU KNOW . . .
SOME FOLKS ARE HAVING
ISSUES WITH THEIR HYDRAULIC DOOR SUPPLIER
SUCH AS:
Problems getting their door
Problems getting their door components
Door was received, less the major components, hydraulic pumps and/or cylinders
Paid the door deposit required to start the order and have been waiting and waiting
Stopped taking calls
DO YOUR OWN RESEARCH AND LEARN MORE!
Do they have a factory?
Do they even manufacture their own doors?
Do they seem too eager to take your deposit?
Some telltale signs -
Examples
If you call in and there's no salesperson available to talk to you.
If you call in and you are told " I'll have someone call you back. "
If you call in and you only get voicemail.
Is there a slow response to emails . . . or no response at all.
THE SCHWEISS WAY . . .
NO CUSTOMER'S LEFT BEHIND! We want to earn your business
Call in . . . speak with a live salesperson
Need a door quote ? . . . Get one immediately
Have additional door questions that need to be answered ? . . . just call in!
Delivery time estimated at 4-6 weeks
Give Schweiss a call and we will answer 507-426-8273
GIVE US A TRY! LET SCHWEISS MANUFACTURE AND DELIVER YOUR NEXT DOOR!
WE PROMISE YOU WILL NOT BE DISAPPOINTED!