CANADA PATENT
United States Patent Number 6,199,617, and their most recent Patent 6,866,080 granted on March 15, 2005 entitled:
Method and apparatus of Opening and Closing a Bi-Fold door."
2016 United States Patent Numbers US D761,078 S, US D761,634 S, US D761,076 S and US D761,077 S
2017 United States Patent Number US D804,282 S PIN LATCH
THE SCHWEISS ADVANTAGE
New
BETTER, STRONGER
HINGE DESIGN...
ONLY FROM
The hinge makes the door... So it had better be STRONG!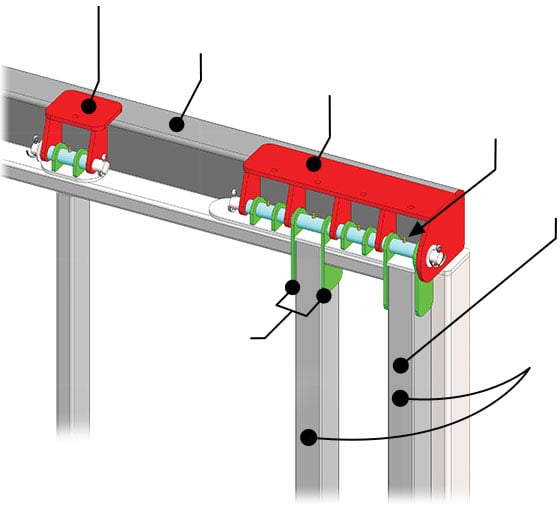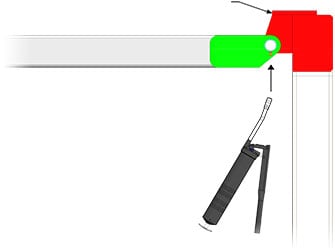 Robust Hinge
Doorframe
Tube Column
Robust Center Hinges
Tube Header
Robust End Hinges
Grease Zerks On All Hinges
Doorframe
Wrap-Around
Hinge Brackets
DOUBLE
PUSH TUBES
Hinges can be greased from underneath the door
Strongest Doorframe on the Market!
Patent Pending
No Wood used on Schweiss Doors!
SCHWEISS
is the only manufacturer to offer hinges that can be greased from underneath the door, without removing the top weather seal.
"OUR NEW WRAP-AROUND HINGE DESIGN SETS THE NEW STANDARD FOR HYDRAULIC DOORS"
SCHWEISS FOUND A BETTER WAY OF DOING IT!
Schweiss doorframes are designed with double push tubes that are tied directly into the wrap-around hinges that connect both vertical push tubes directly to the header tube. The advantage of double push tubes is that forces of hydraulic cylinders are evenly distributed to the doorframe and the wrap-around hinges.
"There have been hydraulic doors with hinge welds that failed, literally tearing off the doorframe and destroying the door," Schweiss says. "Our design team provided a more durable wrap‑around hinge with grease zerks that are accessible without removing the top rubber seal."