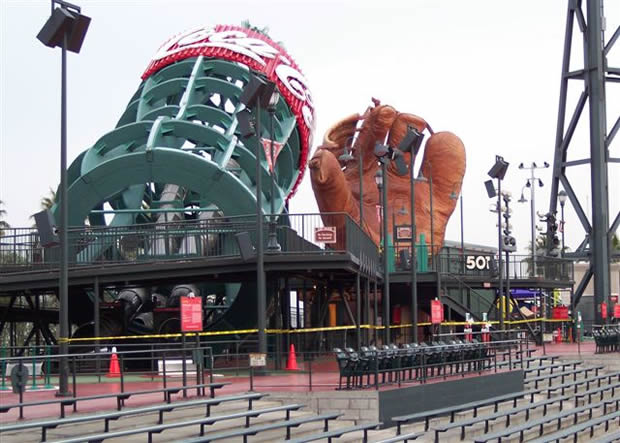 Morning coffee generates creative input for bifold door at Giant Stadium
Not only does the morning coffee shop jump-start your day, it can also jump-start your creative juices. At least it did for Sade Borghei, designer with Holt Hinshaw, a San Francisco architectural firm.

Borghei relates, "I live up the street from a coffee shop which is my usual first stop of the day. Our firm did the architectural work on the new San Francisco Giants stadium. In the left-field bleacher section, we needed a special door to give public access to a retail shop that sells Teddy Bears. I noticed the entrance into my morning coffee shop was a bit different. It was a bifold structure that essentially was the front wall of the coffee shop, which used to be a two-car garage."

"That's when it struck me that this sort of a closing mechanism could be just what we needed for this special shop in the new stadium. I found the manufacturer's tag on the door. It was Schweiss Bifolds out of Minnesota. At that point, Schweiss was an unknown firm to me. I made the phone call, had a good discussion with one of the Schweiss people, and as is often said, the rest is history."

The history means a 11' x 20' Schweiss Bifold is now the access door for hundreds of Giant baseball fans who might want to do a little shopping for Teddy Bears while attending a game. In fact this entire left field pavilion area beyond the bleachers was designed as a family 'hang out' area before, after, and even during ball games. It's complete with a miniature ballpark, some playground equipment, food vendors, and other gizmo stuff to entertain and delight during the course of a San Francisco Giant's baseball game.

Borghei's impression of the Schweiss Bifold door? "It looks great. It fits exactly what we wanted. They fabricated the door with the same metal skin that is used in the pavilion matching both color and texture exactly."

So even though this was his first use of a Schweiss product in his architectural career, he gave a one-word answer to the question of recommending a Schweiss door for future projects. "Definitely."

Added Bill Ringstad of Soule Building Systems, major contractor on this project, "The stadium manager is happy with the system. Because this is a heavy pedestrian traffic area, they needed a closure system that provided security and public safety. This Schweiss door, factory equipped with the matching metal skin plus the automatic door locking mechanism, seemed a near perfect product."

Custom-made doors to fit a variety of architectural and builder tastes have rapidly become the main stream of Schweiss Bifolds which routinely was doing 80 percent of its marketing to the aviation and the agricultural sector. But not so anymore.

"Giving customers the choice has dramatically changed the marketing world for Schweiss Bifolds," says Julie Schafer, sales team leader. She credits the architectural trade for being a huge catalyst in the growing market for specially designed doors.

"We like to say Designer Doors are now in vogue and we just happen to be the manufacturer that can produce just about any style, any color, any look a particular project needs." Adds general manager/owner Mike Schweiss, "We have very skilled people. We find a way to work each request through the manufacturing process one way or another. If it means restructuring certain cutting and welding procedures, that's what we do."