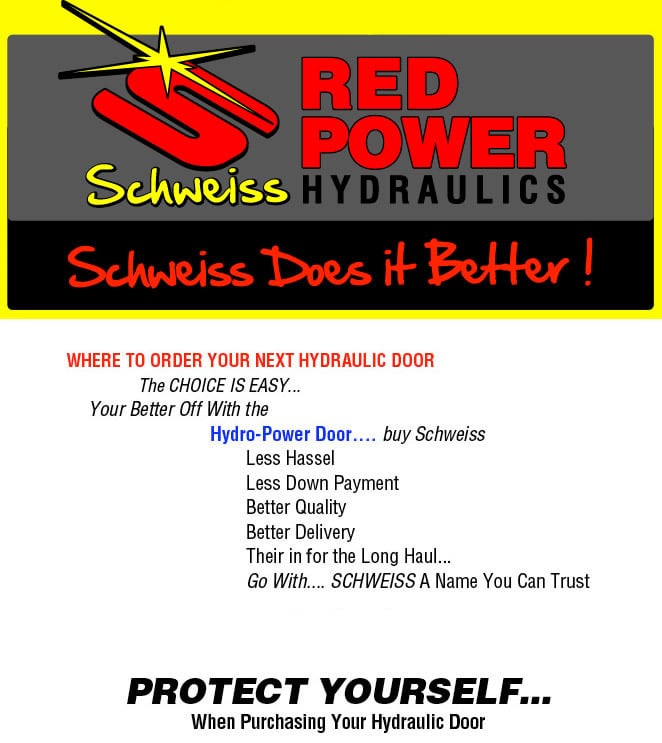 Others are Taking Deposits And NOT delivering the doors on time

Limit Your Door Amount to 25%


You'll be saving 25% if things do not work out!


Hang onto your checkbook... Be Careful!
How to Speed Up the Delivery Time

You may be asked to PAY for the door in Full


Why..? Easy Way to Raise CASH!


DON'T EVEN CONSIDER THIS OPTION...NEVER, NEVER!
Red Power Doors by

Schweiss. We accept and are more than happy with a single 25% deposit. The less you pay down, the less you stand to lose if something goes wrong!
Purchase Agreement

Have your ATTORNEY read it first!
Door Style

Are you getting the Cheap Door or Good Door?


Say No to C - Channels


Say No to Tek - Screws
Freight Rate

Freight Rate...may change at any time?


If Delivery date changes...Can you get your deposit back?

Sales Tax...Gimmick

Sales Tax may NOT included in the total price


Read fine print...Sneaky


Grand Total.... May Change if someone forgets the sales tax.