Schweiss Bi-Fold Lift Strap / Auto-Latch Doors are cornering the worldwide market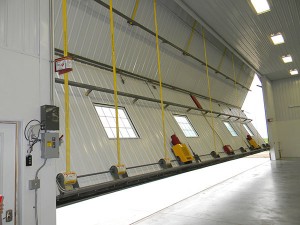 The popular Bi-fold door, produced by Schweiss Doors of Fairfax, Minnesota, USA has been on the market for over 35 years. What some people don't know is that they've evolved with the times and many improvements and safety factors have gone into them.
The most obvious and 'market shaking' improvement was the addition of the patented liftstraps and autolatch systems — two features not offered by any other door manufacturer.
For years, bi-fold doors have been lifted and lowered by the conventional means of steel cables. Schweiss Doors still offers cables, but now 99 percent of their customers are demanding polyester liftstraps for this function. Why? Because liftstraps offer more lifting ability! The strength-to-weight ratio on straps is extremely high. The 3-inch straps are rated at 29,000 lbs, where 1/4" cables are rated at 7,200 lbs. Add to this, the safety factor on straps is well over a 5:1 ratio over cables, which over time can have a tendency to fray. Frayed cables can break and doors can come crashing down on aircraft, machinery or even people.
Straps are longer lasting, never rust, never tangle, are flexible, open a door faster and are 100 percent quieter than steel-on-steel cables. With liftstraps, door owners get a "soft start" and "soft stop", adding to the life of the bifold door.
Straps are competitive in cost to cables, carry a 10-year warranty and will outlast cables by three times. In addition, they can be retrofitted to Schweiss Bifold Doors that currently have a cable system.
Customers also love the Schweiss Automatic Latch (Auto-Latch) system for their bifold doors. This unique system also utilizes liftstraps. With just a push of a button, your door is automatically secure, sealed from the weather and wind.
Schweiss offers additional upgrades and safety equipment for these doors:
• Top Override Jiggle Switches automatically disconnect power to the door if the limits are overridden. This is a key safety feature designed to keep the door from traveling beyond its recommended clear opening height.
• Side Latch Jiggle Switches eliminate possible damage if door is opened while in the locked position.
• Electric Photo-Eye Sensors prevent or stop the door from closing when an obstruction breaks the detection beam.
• Two-button Constant Hold Control Station is a dead-man switch which prevents the operator from leaving the control panel while the door is in motion.
• Door Safety Edge has an electrical sensing switch built into the bottom of the door to stop the door if it comes in contact with an obstruction.
• Warning Lights and Horns alert persons in the area that the door is moving. These features are especially recommended for doors that will be equipped with radio/remote controls.
• Emergency Back-Up Hand Cranks easily open bifold doors in the event of a power outage.
• Remote Controls let you open, stop or close your bifold door from your vehicle or aircraft.
• Walk Doors and Window Designs can be built in to any door.
• Door Sheeting (covering) options vary from steel to Schweiss Designer Door applications of glass or other decorative cladding. Automatic Schweiss Bifold Doors and one-piece Hydraulic "Red Power" Doors continue to be the answer to today's door problems. No longer is it necessary to spend wasted time tugging and pull sliding doors. No chipping ice away from doors, no shoveling snow before you can open your door. They adapt to any building, large or small, lose no headroom, have less moving parts and can be insulated to save energy.
Visit the Schweiss Doors website: www.schweissdoors.com or call toll free at 800-746-8273 to see what the Schweiss team has to offer and how others have utilized and love their Schweiss Doors.
Previous Post Back to List Next Post