For Plane Lovers . . . (Part 8 of a 14 part series)

Schweiss Doors Help Dreams Come True
This corporate business owner took the extra step to fulfill what many had dreamed of for years. He is just one of a few of Schweiss bifold and hydraulic door customers, and Schweiss Doors had a part in making his dream come true.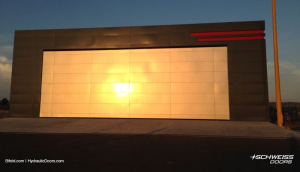 Ciudad Obregon is a historic and beautiful Mexican city of 405,000 population located near the Gulf of California about 395 miles north of Mazatlan and 400 miles straight south of Tucson, Arizona. One particular building in this scenic city, is a very modern and attractive hangar that houses a custom-made 72' 2" x 22' 11" Schweiss Bifold Autolatch Liftstrap door.
This hangar is owned by Mirage Appliances Company and is used to house a Hawker Beech Craft Premier A1 owned by Mirage Company's owner Don Pedro Dabdoub and located at the International Airport in Obregon. Dabdoub uses the aircraft to commute between his corporate offices in Mexico and California.
The material covering the hangar and the bifold door makes it shine like a big light. It is called ALUPANEL, a aluminum composite material made of plastic, aluminum and many other layers of different material. It is made for outside use and its beautiful finish has a special protective film for self-cleaning. The inside of the door is insulated due to the heat and humidity in that area.
Once the door arrived, it was put on the hangar by a local installer. He spoke perfect English, so it was easy for him to follow the instruction manual provided by Schweiss Doors. The door arrived on perfect time. After some Internet research, making phone calls and explaining what they needed, some of the other suppliers recommended Schweiss as well.
"It has been wonderful to have this door. It has made Mr. Dabdoub and the aircraft captains lives easier. The door is very much in use and although the plane sometimes is not here; the door gets opened and closed every day," noted Mirage Corporate translator Yolanda Felix
Felix said an architect on the project came up with the design, but Jeremy Rieke at Schweiss Doors helped clarify details for the corporation.
"Without Jeremy's help we wouldn't have been able to have this done. He helped us understand better our needs and paid attention to certain details to make the door work properly," added Felix.
---
Previous Post Back to List Next Post