For Plane Lovers . . . (Part 7 of a 14 part series)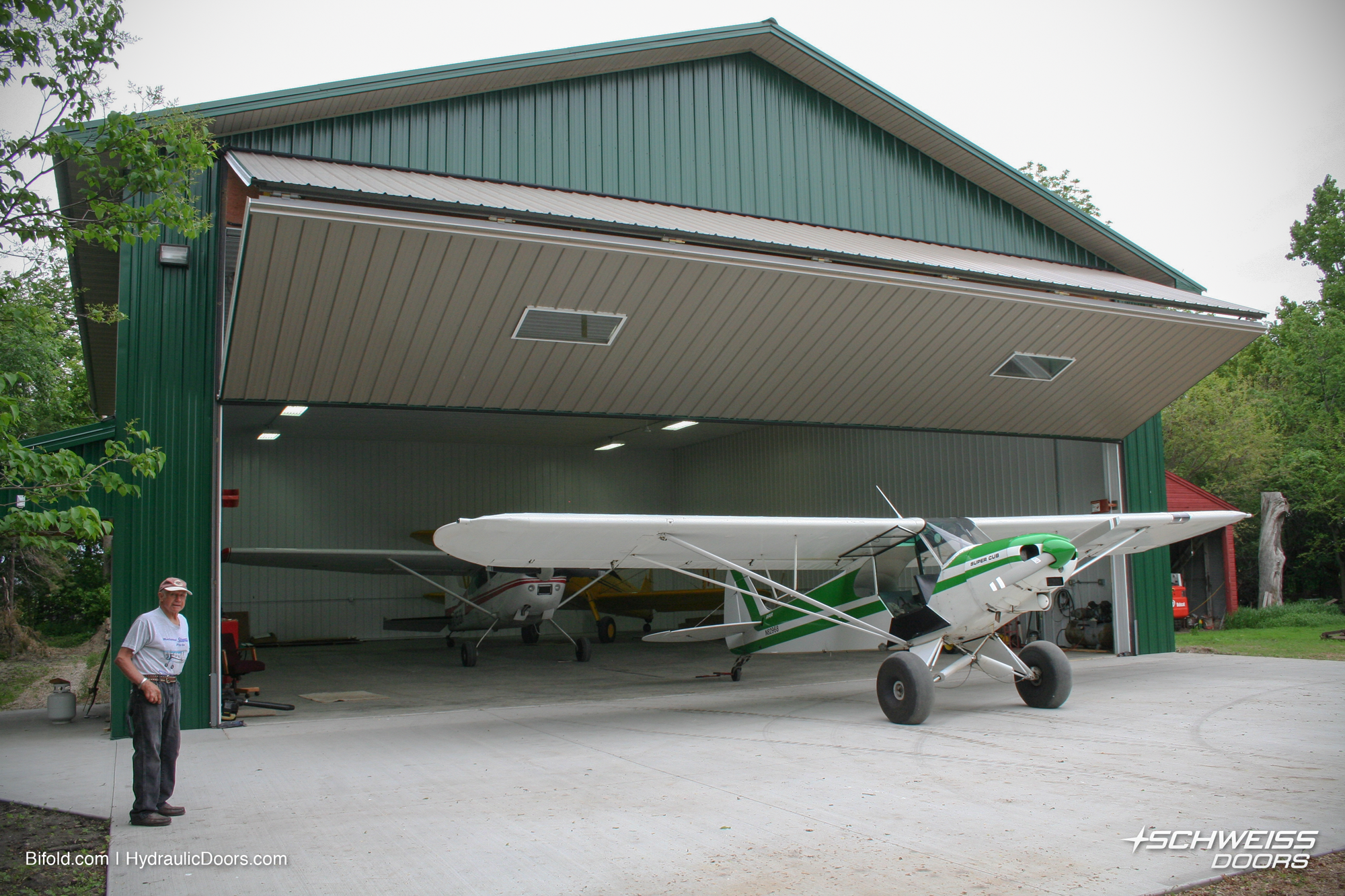 Schweiss Doors Help Dreams Come True
This pilot and farmer took the extra step to fulfill what many had dreamed of for years. He is just one of a few of Schweiss bifold and hydraulic door customers, and Schweiss Doors had a part in making his dream come true.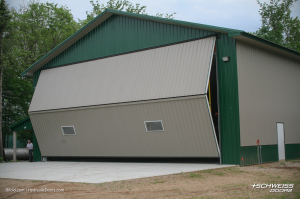 If Gene Fuchs of Morgan, Minnesota had been born at a later date he most likely would have been a World War II fighter pilot. Fuchs is not a big man in stature, but he's alway been big on flying. Fuchs is now 82 years old and just as spry as he was in his earlier years. When you talk flying with him, his eyes light up. He still does a lot of flying in his assortment of planes; a 1942 Stearman PT 13D, 1976 180 Cessna and his bush plane, a 1997 Super Cub fitted with big tires or hydraulic skis or floats. He calculates he probably has over 10,000 hours logged in the skies over every state in the Union, Alaska and Mexico.
"I farmed all my life — never had a job," said Fuchs with a smile on his face. "I had 500-plus feeder cattle and did custom corn shelling for about 20 years, mostly in the 50s." He still lives on the farm with his wife and favorite hunting dog Tuffy.
He thought he got his first Schweiss hangar door, a bifold 36 footer, in the early 80s and had read about them from ads Schweiss Doors placed in Trade-A-Plane, and also knew of him when he was working in Fairfax.
"That first door still works real good, never had any trouble with it. Me and my neighbors installed it. It was easy with my loader. The only thing I had to do with that door was replace a V-Belt on the electric motor this winter, even the original heavy duty cables are still on it. I never had a problem with this cable door either it still works like a clock and from day one it always wound up straight," said Fuchs. "I also have a 45×18 ft. bifold liftstrap door on my machine shed at the farm. Sometimes I have three planes in there. I like the straps on my big machine shed door, they work fine, it winds up a little faster, and all my doors seal very well."
---
Previous Post Back to List Next Post