Schweiss Doors Europe to attend Sywell Aerodrome Aero Expo UK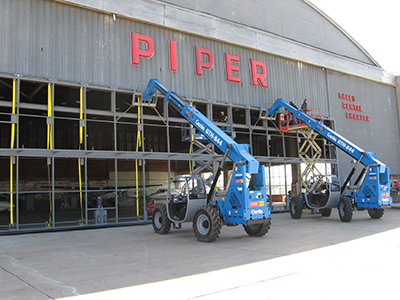 Schweiss Doors Europe takes the aeronautical hangar business seriously. They prove it every month as they produce and ship out hundreds of Schweiss Hi-Swing hydraulic and Straplift Bifold doors to the entire European aero industry worldwide.
Doors for aeronautical hangars are a booming business and Schweiss Doors Europe has been able to keep ahead of the pace at its modern Doseley, Telford, UK factory and newly added line of quality Schweiss Hi-Swing hydraulic and patented Straplift Hi-Fold bifold doors.
To keep up with industry trends, Schweiss Doors Europe will be among 160-plus exhibitors displaying at the annual Aero Expo at the Northhamptonshire Sywell Aerodrome three big days from March to June, where 10,000 members of the UK's General Air Aviation community will be in attendance. That will include aircraft enthusiasts and aeroplane club and military aero club members from all parts of the Commonwealth and beyond. Pilots and enthusiasts will also attend to demo fly their aeroplanes and aircraft, look at pre-owned cost efficient aircraft for sale and visit the Aero Festival of Aviation Exhibition Hall.
Of course aeroplanes are a primary interest, but there are also very astute aircraft enthusiasts that want to see what's new and upcoming in hangar doors. That's where Schweiss Doors Europe steps in to ultimately satisfy even more customers.
In the past, Schweiss Doors Europe has had extensive experience installing doors for aircraft hangar owners. That, fortunately has given Schweiss Doors Europe Straplift Bifold and Hydraulic " One piece "door company a spin-off business to where aircraft executives are asking for Schweiss exclusive Designer glass and aluminum doors for their corporate offices and other airport building facilities.
Another up and coming faction has been increased interest coming from the air ambulance crews who have appreciated the fast opening and dependable hydraulic or straplift bifold door when minutes mean lives. Air emergency medical crews at hospitals also have Schweiss doors installed on their rooftop helicopter hangars.
The list goes on and on from ground level hangars to aerospace facilities where dependable Schweiss Doors continue to fulfill everyday demands for discriminating Schweiss door buyers in the aircraft, residential, commercial and agri-industrial levels. From hangar doors to commercial, biomass, crane doors and residential designer doors, Schweiss Doors Europe has the experience and know-how to supply you with the best door on the market.
Previous Post Back to List Next Post