First choice for hangar owners and pilots are the Schweiss Hydraulic and Bifold doors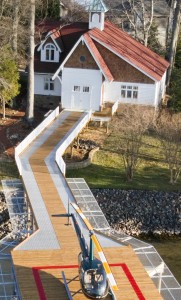 Pilots and hangar owners around the world have relied on the dependability and quality of Schweiss doors. Already a leader in the bifold door industry for over 35 years,  Schweiss Doors, a Minnesota-based, locally owned company, is also proud of its one-piece "Red Power" hydraulic door and Bifold liftstrap door. Both styles are used extensively for large and small individual and corporate airline hangars, T-Hangars, helicopter hangars and owners of hangar homes. Schweiss Doors can retrofit to any building or be custom designed to match any roofline. Pilots prefer Schweiss Doors because they lose no headroom. Schweiss Doors will wind load the doors to the specifications of any region or state. Our doors will not bow or sag. All Schweiss Doors can be easily installed by the owner or by the Schweiss Door installer teams.
Schweiss "Red Power" Hydraulic Doors:
The top of the line Schweiss Hydraulic one-piece door with its newly designed "Red Power" pump unit and spherical bearing system can't be beat.
If you need a one-piece, sturdy, quick opening and closing door, with no loss of headroom inside your building, this door fits the bill. Schweiss hydraulic doors are pre-built with a special bottom truss that provides added strength, something very important in high wind conditions. Hydraulic doors are extremely weathertight. The door frame is opened with heavy duty hydraulic cylinders and a new hydraulic "Red Power" pump unit. Using a top-quality brand name LEESON motor, this system also offers superior electrical components all in a stand-alone control box.
Location of the pump system is a real selling point. Customers like to have a flexible choice of where to locate their power unit. Some choose floor mounts, others ask for a wall mount. It can be top-hung, under-hung or placed out of sight at a different location. LEESON motors come in varied horsepower (2 h.p to 5 h.p) depending on the size and weight of your door. They have standard readily available features, so they can be replaced locally. Standard means you pay less! Red Power pumps are 95 percent efficient. That also saves you money in the long run.
The safety advantage system in the Schweiss hydraulic door is second to none. Three backup systems are available which can be used during a power outage. There's a battery back-up, drill-driven back-up, using a 7/16-inch hex head. A tractor hydraulic backup comes standard with every hydraulic door and can be used to raise or lower a door at a safe and controlled speed. What's nice is Schweiss Doors doesn't charge a penny more for this new pump feature.
Don't be fooled by the "Small Vertical Pumps" offered by other manufacturers. Their motors are underpowered, squeal and have a tendency to burn out. They don't hold a candle to the Red Power hydraulic pump system.
Another important new feature on all Schweiss hydraulic doors is the use of spherical bearings. The design crew at Schweiss Doors found spherical bearing to be the perfect answer to a stronger and longer lasting door. Spherical bearings are located between the teardrop area and cylinder plates at each end of the doors lifting and closing power cylinders. Doors are always moving and flexing, buildings and headers have some movement also. That's where the spherical bearing come into play — they allow the cylinders to stay aligned and straight. Cylinders are not designed to bow, our spherical bearings prevent that from happening. No one else in the industry has adopted this unique feature. Beware of doors that have self-lubricating hinges. Our beefed up hinges are second to none. Others seem to prefer to take shortcuts, making their doors and cylinder connections rigid, using a very poor and of course cheaper design. Cheaper is not better, it  will cost you money down the line.
Schweiss Bifold Doors with the Lift Straps:
Schweiss Bifold doors with their patented lift straps and autolatch systems are also a proven choice for aviation, agricultural, commercial, industrial and designer door applications.
Lift straps carry a 10-year guarantee and provide a faster, quieter lift with a soft start and stop. They never rust, fray or overwrap and provide three times longer life span than cable systems. The 3-inch polyester strength to weight ratio strap is rated at 29,000 lbs., whereas a 1/4-inch cable is rated at 7,200 lbs. The safety factor on straps is 5:1 over cables and priced very competitive to cables. Straps can also be retrofitted to replace your current cable system. Over 99 percent of Schweiss Bifold Door customers now insist on straps over cables and they also ask for the exclusive Schweiss Autolatch strap system which locks and seals our doors better than any latch system on the market.
All doors are electric operated, pre-wired, can be insulated or clad to your specifications and are made to fit any size building. A beefed up hinge system on our Bifold Door incorporates removable hinge pins for durability and easy installation.
Upgrades and Add-ons:
Do you want the security of a backup system? Schweiss Doors has several to choose from for both style of doors. Also available are optional upgrades such as remote openers, top override jiggle switches, electric photo eye sensors, 2-button constant hold control stations, walk through doors, windows, entrance lights, warning lights and horns to mention a few.
Service Above and Beyond the Competition:
Schweiss Doors will work with you, your architects, contractors or building supplier to ensure a perfect fit in your building. We supply door weights, engineering data, windload and design specifications to make sure you have all the necessary information needed for the design of your building. This information ensures smooth and safe installation and years of maintenance free operation.
Related Links:
Upgrade Equipment
Lift Strap
Hydraulic Doors
Bifold Doors
Back to schweissdoors.com
Previous Post Back to List Next Post