'Country Style' Helicopter Hangar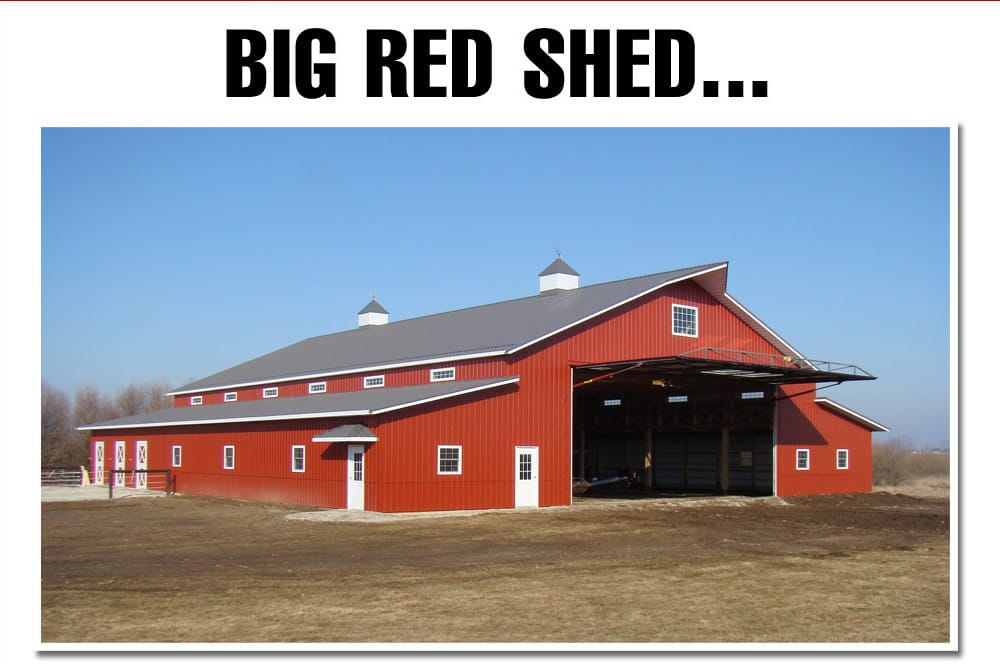 The Reynolds' Aerial Service Eye Catching Company Headquarters / Horse Barn / hangar
'Country Style' Helicopter Hangar
It's big, 60′ wide and 104′ long. It reaches 46′ tall at the peak. It's got a big 40′ x 16′ hydraulic door neatly built into the front. Its 'country red'. Its handsome roof line is punctuated with two 4′ x 4′ cupolas and a widows peak. It also sports matching 16′ wide 'lean-tos' on both sides of this beautiful country structure that looks like an 'old time country barn'. But barn it isn't.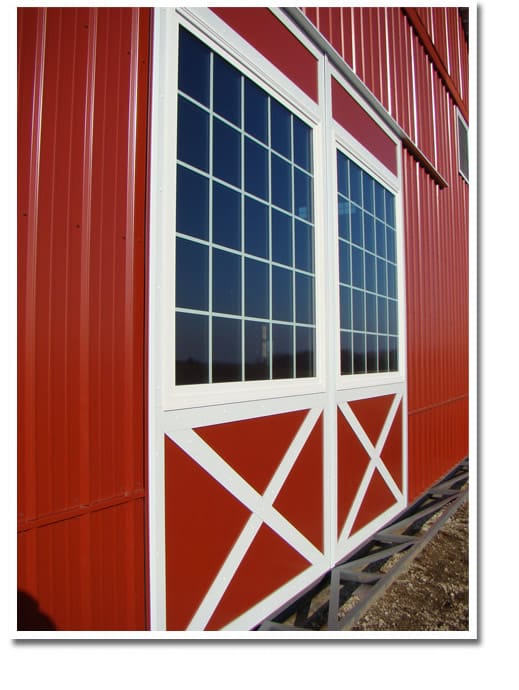 The 'fake' slider doors give the barn a country look. This is the new headquarters of Reynolds Aerial Service, Mansfield, IL. Owners are Paul & Kimberly Reynolds. Parked inside are his two Bell 47 helicopters equipped with 80 gallon tanks and 32′ wide spray booms. The South 'lean-to' is the business office and farther down the line three horse stalls for the part-time pleasure of the Reynolds girls', horseback riding in their country neighborhood. The 16′ x 104′ 'lean-to' on the other side of the building will likely be a gathering place for some trailers and tractors, And of course extra space for the tools, paraphernalia, shop gear, etc., that just always tends to show up when you build a structure big enough to 'attract all this other stuff'."We're just so totally pleased with this new structure. Perhaps bragging just a bit, but with the added extra touches of his wife Kimberly, Noah and his crew, it really is a handsome building. " Commented Paul Reynolds.Contractor was Graber Buildings Inc., Sullivan, IL, about an hour from Reynolds property. Construction started the first week in December with finishing touches added the first week in February. Noah Kauffman, co-owner with his brother-in-law, said he had a six-man crew on this project. Weather was mostly great for a mid-winter construction challenge.'Yes, this got to be a fun project. Paul's wife, Kimberly, had some neat ideas for some special touches such as the extra windows with special white frames," said Kauffman. He added, "We had a great crew on this project and that's what makes these projects so good. Also that big hydraulic door fit perfectly. I'm just very satisfied with the Schweiss door people and so are the Reynolds," said Kauffman.Those special touches added included a 'fake' 12′ x 12′ slider door built into the front edge of the big hydraulic. Complete with white cross bucks and windows, this 'fake' slider door does indeed add a country touch to the big structure. "It was important that this building had some character and country charm, with two separate roof lines with windows between them, the traditional red color, and the extra windows built into the Schweiss door accomplishes this" Commented Kimberly.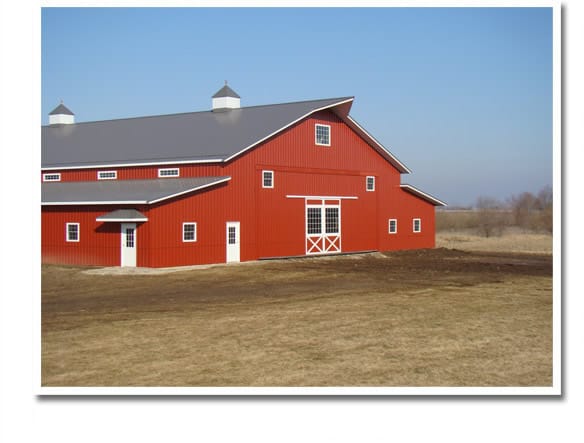 Where's the Door! Multipurpose Structure! The hydraulic door is a Schweiss Red Power unit built by the Minnesota manufacturing firm famed for Schweiss doors on airport hangars across America. Schweiss is also rapidly getting the construction and architectural world aware of the fact that Schweiss also manufactures a great line of hydraulic powered doors. And it's this 40′ x 16′ Schweiss Red Power that captured the fancy of both Kauffman and Paul Reynolds. Graber Buildings had some earlier experience with  a Other Brand hydraulic door and it wasn't good. "We had to tear out that door. It was an engineering failure. But now we've installed five Schweiss units and their quality is suburb; so too is their service. Anyone looking for a great hydraulic door should certainly consider the Schweiss brand," commented Kauffman.The entire building has steel siding and steel roof. Eventually an in-floor heating system and interior insulation will make his a year-round facility for maintenance work of the spray equipment and nurse trucks.The aerial spraying business of Reynolds Aerial Service is in its fifth year, and with their 21-year old daughter Kelsy, who is also a licensed pilot, flying both airplanes and helicopters, could very well be piloting with her father eventually.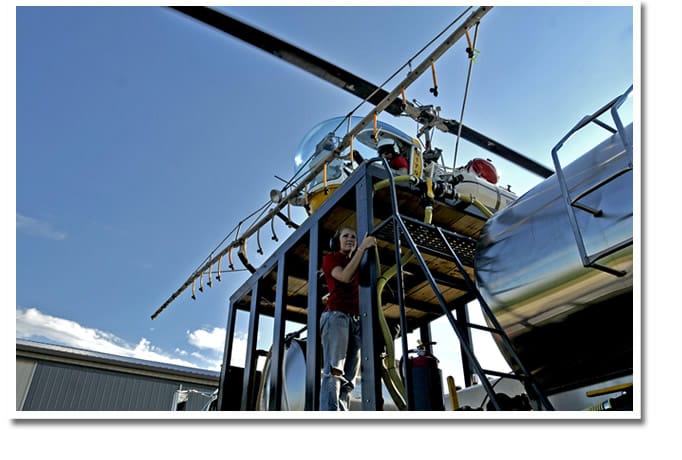 Helicopter is filled up and ready to fly! Summed up Paul Reynolds, "We wanted a building that complements our home. We live in the country outside a small farming community. We needed an office for our home business, the aerial spraying, we needed a big door so that we could easily pull our helicopters inside without having to fold and unfold the spray booms each time. We will set our choppers on small trailers for quick access to this new indoor shelter shop. "He chuckles that this new structure ended up bigger than he anticipated. "We did a lot of research on what we needed, even making scale models of both the structure and our helicopters and different equipment that's part of this business. Moving these scale sizes items around inside the scaled drawing of our potential new structure we could see we might be building too small. "Then my wife added another 16′ to the length of the building after we had already signed the contract with Noah. But you know what? She may have better vision than I do. Already that 'extra space' seems to be coming into use. "The south side 'lean to' houses the business office, plus restroom and utility room, heated workshop and the three horse stalls, each equipped with 'Dutch Doors' for more of that extra touch. The two cupolas also sport copper weather vanes.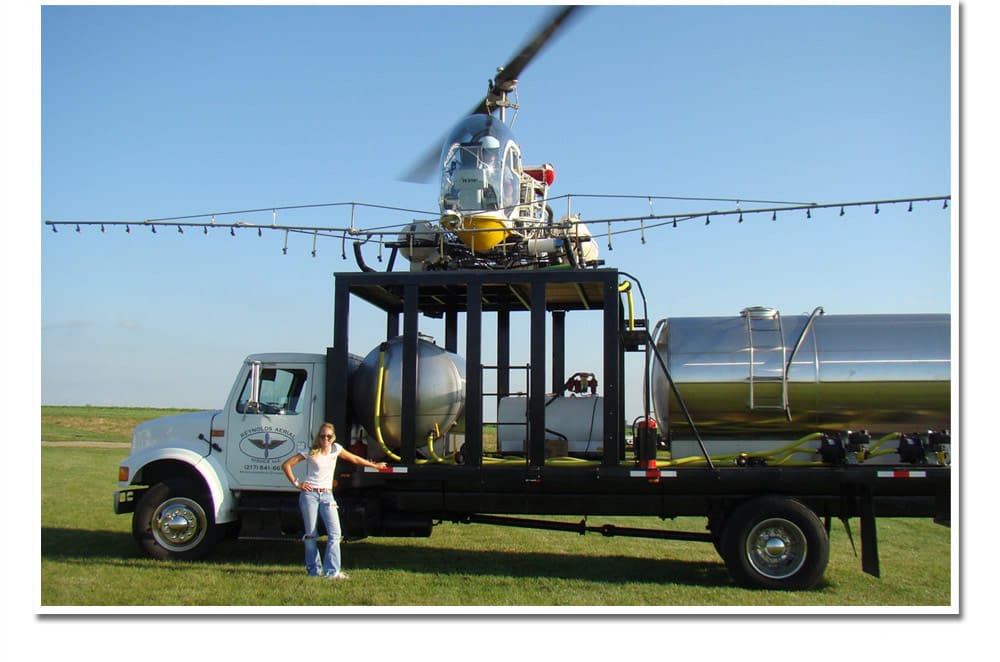 Paul & Kimberly Reynolds' daughter, Kelsy, is also a licensed Pilot. Portable Landing Pad – fill and go!! Even the big hydraulic door had some 'cosmetic surgery'. Factory equipped with black rubber sealers across the top line, Reynolds noted that black hinge line 'stood out like a sore thumb'. So he went to Otto Canvas in Arthur, IL, an Amish community, and had them sew on a red canvas fabric used for outdoor awning. His comments on the Schweiss door?  "Quality and engineering design is really good. The hydraulic power units work smooth and quite fast. The remote control for opening and closing is convenient. So far the door is perfect and it gives us exactly the look we want for the total building while still letting us enjoy the benefits of what the door provides for our business.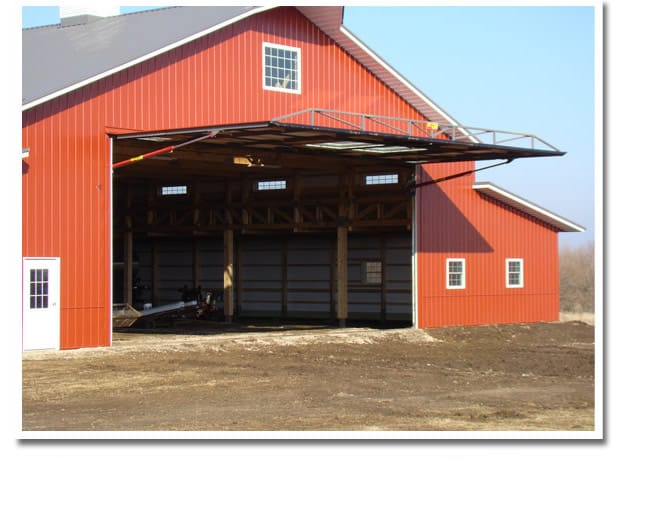 The large 40′x16′ Schweiss Hydraulic Door lets Reynolds pull their spray helicopter in without taking it apart. "Also I wanted a building that could be heated and I had some severe questions if a sliding door would give you the seal around the bottom and edges for good heat. This Schweiss hydraulic fits like a glove. It's going to be super easy to insulate and to keep the heat inside the building."Noah Kauffman's first acquaintance with Schweiss was at a trade show. But he also suggests people should take a look at the Schweiss website. "It packs a bunch of really good information and suggests lots of ideas for different uses of Schweiss doors, both the hydraulic and their bi-fold versions," noted Kauffman. His firm now builds between 80 and 100 structures yearly. And he graciously acknowledges the strong income of farmers in recent years has been a real boom to his construction business be that machinery sheds, horse barns, some commercial business structures. Reynolds was in the heavy equipment and aggregate sales his previous 20 years until the 2008 economic bust hit America, and his industry. His flight training was courtesy of Uncle Sam right out of high school. The Desert Shield/Desert Storm stint in the early 1990s was his last hurrah with the U.S. military. However he stayed current on his flight certificate and five years ago farmers began asking him to take on an aerial crop spraying business. Helicopters perhaps give you more precise spraying patterns. Today 90 percent of his business is fungicide applications on corn and soybeans. And he too is very grateful for the strong farming economy that keeps ramping up the crop protection programs too.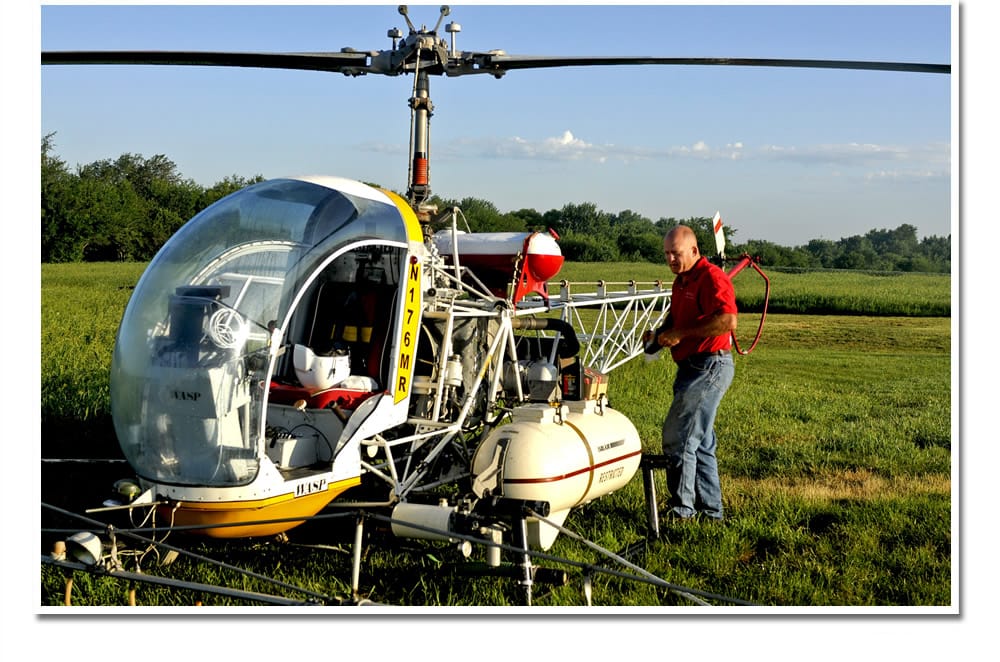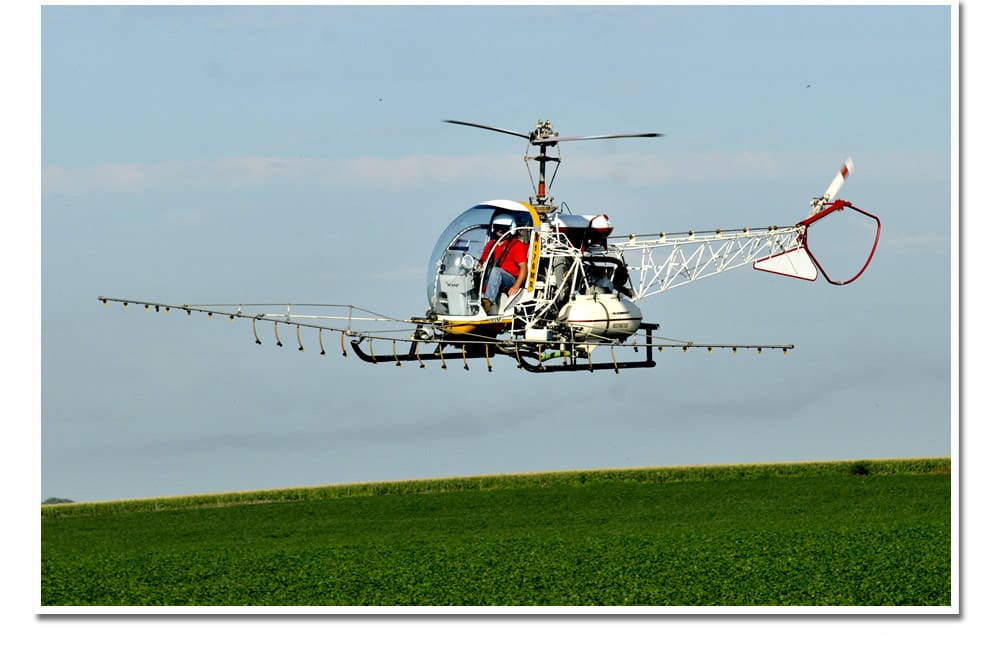 Related Links:
Hydraulic Doors
Bifold Doors
"Red Power" Pump
Remote Control
Back to schweissdoors.com
Previous Post Back to List Next Post